Best Lint Removals 2017
How often were you faced with the problem of lint on a favorite sweater or a home plaid? Today housewives all over the world
are rejoicing, as with lint removal invention they can give a second life to obsolete thing. Check our top-5 lint removal review and pick your assistant!
....Read more
....Read less
What Is It
Articles of apparel tend to wear out over time. Even if it is high quality, after several wearings and washings there are pills appear on most of the clothes that spoil the look. When you face such problem, there is no need to throw away clothes and spend money on a new dress or sweater. Modern and functional machine for removing the lint will help to solve this problem.
This tiny appliance will return a previous form to your sweater, pants, blankets and even furniture in minutes. Its principle of work is similar to the electric shaver. Carrying device for a fabric surface, you capture the pills into the small holes with sharp edges. There are hidden knives behind the mesh, which remove matted strings. As a result you get a completely safe device that will return to your clothes smoothness and attractiveness.
If you are a perfectionist in everything, then we also recommend you to pay attention to the device Garment Steamers which is perfect for care of clothing and household textiles.
...Read more
...Read less
What To Look For
Design and Ergonomics
When you are choosing a lint removal, pay attention to ergonomics, since they have different shapes and sizes. Compact device that easily fits in your hand is much more convenient to use. But you should not expect too much from the speed of such product. If you plan to frequently use the device for cleaning of large surfaces, we advise you to give preference to models that has a big fuzz bin and wide blades. You won't need to interrupt the cleaning process too often in order to release the bin and clean the machine. If the shaver will be used rarely, a small fuzz bin will be enough.
Power Supply
Also, pay attention to the type of power supply as they can be recharged either from batteries or from an adapter. Both of those types are absolutely identical in power capacities. The only difference is that the former is a mobile device that you can take with you during the trip or simply to move freely around the house. By working with second type of devices, you have to constantly look for a new outlet during the process. The lineup of some manufacturers includes the shavers running on batteries. This enabled to extend their service offline. In general, a machine aim to cut the lint from dense fabric, however if you use it carefully, it can handle even the clothes of thin and lightweight materials.
Features and Package
Different of lint removal will help you to keep neat any of your stuff. For example, the models may differ in size of holes in the mesh. The big holes are able to collect pills of bigger sizes. The number of blades may vary from 3 to 6 pieces, the more knives the faster will be a cleaning process. Also, a shaving surface of the device can affect the speed of lint removal. Some models include an adjusting function of the blade position relative to the height of the steel mesh, that allows removing not only the big pills but also the small ones from thin and delicate fabrics.
Some items include a special pad for mesh that covers the small holes so they are not clogged with a pile of clothes. Also, there are a bag for storage and transporting, a cleaning brush and special oil for blade lubrication. Such set of additional elements is not so much a necessity, but a help for comfortable work with the device.
...Read more
...Read less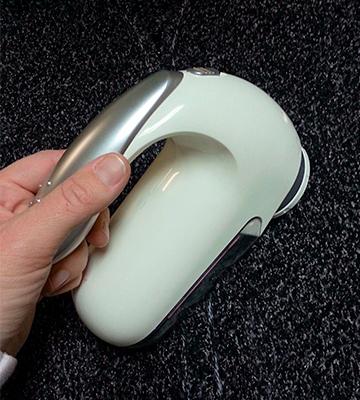 Home-it Fabric Shaver, Clothes Shaver, Lint Remover
Home-it Fabric Shaver, Clothes Shaver, Lint Remover
Power Supply
This device can be powered by AC adapter or 4 C batteries which must be purchased separately. Using the second option, you receive the mobility of the device and you can move freely around the house. By using the adaptor, you can process the fabric surfaces continuously without worrying that the batteries run down. Its capacity won't change anyway, so it is just a question of your comfort. This device is the best solution for home use.
Ergonomics
A U-shape device that is comfortable to handle and continue a cleaning process long time. A fuzz bin is big enough which allows to provide several procedures without releasing it. Thanks to its 2.5-inch shaving surface, that is one of the biggest sizes, you will complete the shaving in minutes. Now there is another solution than just discarding your "old" plaids or sweaters! A lint removal Home-it will restore your clothes and furniture to an initial look easily and quickly.
Features and Package
In general, such kind of devices was created for removing the pills from dense fabrics that are used for making plaids, for example. However, this is a high-quality model that can be used even for the most delicate materials. It is able to collect the tiniest pills without ruining it. So you don't have to worry about your expensive cashmere scarf or silk underwear, this device will gently process your clothes.
---
VIDEO
Toshinecare Deluxe Clothes Fabric Shaver & Lint Remover REVIEW
Home-it Fabric Shaver, Clothes Shaver, Lint Remover
Conair Battery Operated Fabric Defuzzer - Shaver
Conair Battery Operated Fabric Defuzzer - Shaver
Power Supply
This lint removal uses several options of the power supply. You can simply put in 2 pieces of batteries AA type, but please note that the batteries are not included in the package. As an alternative to AA type, you can buy rechargeable batteries that have some advantages among other options. They will certainly last longer which will save your money to buy disposable ones. When they run down, just put them to charge and then use again.
Ergonomics
Basically, all the fabric shavers that exist on the market are presented in one color - white or black. However, Conair offers its customers a variety of colors. Thus, this device is available in white, black or blue colors. Thanks to its U-shape design, you feel very comfortable using this device for long time. Moreover, you can easily control a fuzz bin filling due to its translucent color. Usability is one of the key point of this device. The manufacturer took care for the future users and created really convenient model.
Features and Package
You can easily adjust the cutting height of three sharp blades, in order to handle with different surfaces of fabrics like a wool sweater for example. Also, there is an intresting offer from the manufacturer. You can buy a travel-size shaver that is small and could be a good assitant during the long trip. Both big and small item comes with a special pad on the diffuser for closing small holes. Thanks to this shaver, you will return the previous look to your clothes.
---
VIDEO
Conair Battery Operated Fabric Defuzzer Review (Save money on clothes)
Conair Battery Operated Fabric Defuzzer - Shaver
The Ultimate Fabric Shaver Cordless Electric Fabric Shaver
The Ultimate Fabric Shaver Cordless Electric Fabric Shaver
Power Supply
The power capacities of this shaver is enough to remove the lint from any kind of fabrics. The Ultimate Fabric Shaver Cordless - Powerful 6 Blade Motor Easily Remove Lint powered by rechargeable 2 pcs batteries AA type, which are included. Also, the item comes with USB cable that you can plug to the socket or your computer. You can also use simple batteries type AA, which are placed in the handle.
Ergonomics
Like many other models of lint shavers, this device also has a U-shape design which is very convenient to hold in the hand. However, unlike its competitors, this shaver looks bigger and its diffuser is significantly different from the rest. A fuzz bin is placed under the shaving surface and thanks to its diaphanous color , you can see when it is full. One more advantage of this model is different size of holes in the mesh. It means that a shaver is able to collect the pills of any sizes.
Features and Package
This fabric shaver has a mesh with a larger number of apertures for lint cutting and 6 sharp blades 6 inside of it, whereby the device processes the large surface areas. Just clean the device with a special brush after the shaving and it will serve you forever. As a result, this model will save your time and money for shopping . Think twice before saying "Goodbye!" to your favorite coat and give the second life to it.
---
VIDEO
The Ultimate Fabric Shaver
The Ultimate Fabric Shaver Cordless Electric Fabric Shaver
Kitchi Products Battery Operated Fabric Shaver
Kitchi Products Battery Operated Fabric Shaver
Power Supply
Kitchi Products Battery Operated Fabric Shaver works from two types of batteries. The cheapest way is to use 2 batteries AA type, that will last for several shavings. Alter one's mind is to use rechargeable batteries which cost more expensive but you won't need frequently change them. None of the options doesn't come with an item. Its power will be enough for working on all types of fabrics, but is especially common in synthetic, wool and cotton.
Ergonomics
Its U-shape perfectly fits any hand and you can use it for hours with minimum effort. A smooth surface of the fine mesh slip on any material and completely cuts the lint from the clothes. The batteries are located in the handle. Moreover, due to the small dimensions of the shaving surface the device easily handle with tricky areas such as underarm zone, collars and area around the pockets. As a conclusion, the device is perfect for everyday use.
Features and Package
From time to time, you should check a fuzz bin since it has small dimensions and quickly gets filled. From another hand, the fuzz bin is semi-transparent and you can see when it needs to be cleaned. The device comes with a special plastic pad which protects your delicate clothes. So if you don't want to spend hundreds of dollars renewing your wardrobe, this fabric shaver will bring new life to your old clothes.
---
VIDEO
How to Remove Fabric Pills with Kitchi Battery Operated Fabric Shaver / Electric Lint Remover
Kitchi Products Battery Operated Fabric Shaver
Remington Battery Operated Fabric Shaver RTFS-2
Remington Battery Operated Fabric Shaver RTFS-2
Power Supply
Remington Battery Operated Fabric Shaver RTFS-2 can be powered by several options. One of the most common options is to insert 2 pieces of batteries AA type. From another hand, if you decide to use batteries, better to chose the rechargeable ones. They will definitely work for longer period of time and as soon as they run down you can recharge them and use again. However, any of the options is not included in package, so you should buy it by yourself.
Ergonomics
Thanks to its blob-shape, the device is easy to handle and you can use with minimum effort. Due to its compact size, you can take it to the trip and this shaver won't take too much place in your bag. One more convenient option is that the fuzz bin is translucent, so you can see when it is full. Despite the fact that this model is the most lightweight on the market, its capacity will be enough to handle any fabric.
Features and Package
Three sharp blades provide smooth cutting and completely remove pills from your clothes, home textiles such as curtains, bedding, and even furniture. The convex shaving surface gets the lint even in hard-to-reach places. This small device is a perfect assistant for repairing clothes and saves you from frequent visits to the dry cleaners. You can spend the saved time on a walk in the park wearing the "new" old sweater.
---
Remington Battery Operated Fabric Shaver RTFS-2