Ice crushers are a must-have at any party and commercial establishment that serves drinks. One of these ice crusher machines will
allow you to crush many pounds of ice in a snap and add the necessary finishing touches to the best snacks and drinks.
...
Read more
...Read less
X
This site is a free online resource that strives to offer helpful content and comparison features to its visitors. Please be advised that the operator of this site accepts advertising compensation from certain companies that appear on the site, and such compensation impacts the location and order in which the companies (and/or their products) are presented, and in some cases may also impact the scoring that is assigned to them. The scoring that appears on this site is determined by the site operator in its sole discretion, and should NOT be relied upon for accuracy purposes. In fact, Company/product listings on this page DO NOT imply endorsement by the site operator. Except as expressly set forth in our Terms of Use, all representations and warranties regarding the information presented on this page are disclaimed. The information which appears on this site is subject to change at any time. More info
Waring Pro IC70 Professional Stainless Steel
Improve Your Party Game
With Waring Pro IC70, you'll be able to make your next party the one to remember. It will let you create the most elegant appetizer platters, keep hors d'oeuvres nice and cold, or simply add some crushed ice to your favorite drinks. The model has many advantages over your average crusher like that.
The size is definitely up there. Though it is relatively tall, standing at 19 inches, the crusher's length and width add up to 6.5 x 9.5 inches, so you should be able to find enough space for it.
The model's large and really convenient ice chute comes equipped with a funnel attachment for easy feeding. Plus, the ice chute is removable, making storage particularly easy.
The only problem here is that the crusher doesn't come supplied with a pusher, so you'll have to buy one separately. Without it, pushing the ice down the ice chute will prove a little challenging.
Other than that, we really like the model's 3-Qt plastic container that is able to hold up to 12 cups of crushed ice. We can't say that we necessarily dislike the heavy-duty stainless steel crushing blades too as well as what they add to the durability equation.
Bottom line, Waring Pro IC70 is the best ice crusher here for bars and restaurants. That said, it isn't bad for home use too. There's very little this ice chipper won't be able to do.
Additional Info
Last updated price

$

0.00

Stock
May be out of stock
ASIN

B0009XAHG0
---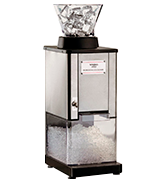 Waring Pro IC70 Professional Stainless Steel
VIVOHOME 440lbs/hr
Massive Ice Production
This VIVOHOME crusher doesn't go with the "pro" title but the model is just as good and overall capable as the biggest, most expensive products on the market right now. It is able to shave 440 lbs of ice per hour. With production like that, the model is perfectly suitable for commercial use.
It is built with food-grade stainless steel hopper and blade. The materials here are as hygienic as they come and pretty rustproof too.
The model's effective performance is possible thanks to its dual stainless steel blades. These things are able to shave ice easily and more completely.
With performance like that, it makes sense that the crusher wouldn't be able to stand still on its own. That's where the sturdy base comes in. It is able to offer a stable workstation with very little vibration and noise.
The ice outlet isn't necessarily the model's most standout characteristic but it is definitely up there. Designed 7 inches from the base, the outlet lets you catch the ice with just about any object you want/need.
As far as we're concerned, the only issue with this ice grinder's construction is that the handle doesn't incorporate non-slip grips.
Aside from that, this VIVOHOME ice crusher is easily the most effective product on the list. The model's sturdy construction is built to last. It is perfect for preparing slushies, snow cones, frozen drinks, and cocktails.
Last updated price

$

0.00

Stock
May be out of stock
ASIN

B07FZYS38P
---
VIVOHOME 440lbs/hr
Zeny 300B
Quality Safety Mechanisms
Zeny 300B isn't flawless but the model definitely has its moments. What we like in particular is just how safe the crusher is. The model's water-resistant "on/off" switch makes for an overall safer operation. The power immediately cuts off and the blade stops rotating automatically whenever the hopper handle is opened to avoid any injury cases.
Its heavy iron-cast stable base and 4 plastic rubber feet work wonders adding extra stability to reduce vibration and noise in the largest extent. Incorporating multiple outlets for heat dissipation on the base and high power, the crusher is perfectly capable of working for 20 hours straight.
The model's rotation speed is pretty impressive too. Able to reach 2000 runs per minute, it takes this little appliance but a few moments to complete the crushing process.
Now, we're being a bit coy with the "little" part there. Measuring 8" x 17.5" x 12" in overall dimensions, the model is actually relatively massive.
The feet aren't the crusher's only rubberized part. Equipped with non-slip inserts, the handle is particularly practical and perfectly safe to use with wet hands.
In short, Zeny 300B is an overall practical ice crusher with solid performance and many effective safety mechanisms. The stainless steel parts are waterproof and rust-resistant. The design is sleek and elegant enough to fit your typical kitchen.
Additional Info
Last updated price

$

0.00

Stock
May be out of stock
ASIN

B00OUPHB12
---
Zeny 300B
VIVOHOME 143lbs/hr
Ahead in Aesthetics
VIVOHOME Electric Dual Blades Ice Crusher Shaver is very similar to the company's crusher that we've reviewed earlier. That being said, there are many small and not-so-small differences here and there that separate these products. The size is definitely different. This particular crusher features 6" x 14" x 12.5" in overall dimensions, making it a little more compact than the previous model.
With a similar silver profile but a smaller frame, the crusher's definitely ahead in the aesthetics department. It will work wonders for homes, canteens, restaurants, bars, snack stands, fairs, many different commercial establishments.
The model's double safety lids make sure that you'll never come in contact with the blades. Another little detail that adds safety points is that the blade automatically stops rotating when the hopper handle is opened. It's a small thing but it does help avoid injuries.
On paper, the crusher incorporates an identical sturdy base that is there to reduce vibrations and noise. However, the model is noticeably louder than its more expensive counterpart. It isn't necessarily too loud but you can definitely tell the difference.
VIVOHOME Electric Dual Blades Ice Crusher Shaver is a mid-range model that comes at a more or less budget price. Its shaving capacity isn't enough to compete with the most effective crushers on the market today but it is a lot better than anything that comes at a similar price. It should perfectly fit your countertops.

Last updated price

$

72.99

Stock
In stock
ASIN

B07GRLWHWV
---
VIVOHOME 143lbs/hr
Victorio VKP1126
A Manual Touch
Victorio VKP1126 is by far the cheapest product on the list. The biggest difference lies in the model's operating principle. It isn't electric but mechanical. You can't just press the power button and watch the appliance crush the ice. You have to use the manual crank and do the job yourself. On one hand, that is definitely a downside.
On the other hand, the crusher's price reflects that a lot. Plus, the model is truly portable. You can use it anywhere you want. It doesn't tie you to the closest electrical outlet.
The model measures 5.5" x 4.5" 9.5" in overall dimensions, so it is a lot more compact than your average electric ice crusher. The suction base lets you place it on any non-porous surface. Just turn the suction lever counterclockwise and you'll have a nice secure hold. By the way, you can turn the manual crank counterclockwise for coarse ice or clockwise for finely crushed ice.
The crusher's construction is a little hit-and-miss. The aforementioned manual crank is really good, reinforced to make sure it doesn't warp over time. However, the metal parts and the blades are susceptible to corrosion.
All in all, Victorio VKP1126 is very affordable, very portable, and, in some ways, very practical and convenient. It isn't necessarily the most durable product on the market right now but that's understandable and justifiable considering the price tag that this manual ice crusher comes with. Of course, the size makes it great for home use too.
Last updated price

$

31.10

Stock
In stock
ASIN

B00AVRZEFS
---
Victorio VKP1126
What Is an Ice Crusher?
There's no party without the ice. You need it for cold platters, salads, dips, and many other snacks. It is the best way to keep these foods cold. Lemonade, iced tea, iced coffee, different adult beverages, and many other drinks do not work without the ice, hence the "ice" part in their names. So, what do you do?
You buy one of these ice crushers, naturally. These models will let you crush many pounds of ice in a moment's notice. The shaving capacity varies between different models but every single crusher here is effective enough for home and commercial use. That being said, we would recommend keeping certain characteristics in mind when you go looking for the right crusher.
You want a model that comes equipped/supplied with a plastic container or a stainless steel bowl for crushed ice. You want a model that incorporates non-slip/non-skid feet/base so that you're able to work with different surfaces. Finally, you want a model that doesn't take too much space but is still convenient and practical enough for daily use.
These beverage refrigerators and cooler bags will work wonders with an ice crusher.