A breast pump is on the must-have list of all prospective moms. With this ingenious unit, you may enjoy intimate nursing moments
and still have a flexible schedule! Our 5 best breast pumps review will help you choose the model to your liking!
...
Read more
...Read less
Medela Pump in Style Advanced
Type and Frequency of Use
Medela Pump in Style Advanced Double Breast Pump is designed for active young moms getting back to a full-time work. A superior double electric breath pump meets all requirements and standards put towards such device. Remember that a breast milk is the best-ever food for your adorable baby. Hence, use an incredible Medela breast pump every day to easily collect the milk to feed your little one. Even when you are at work or somewhere out this advanced breast pump offers portable convenience for discreet pumping anywhere. The unit is compact and quiet. And surely, every mom will love the opportunity to preserve breast milk nutrition of her infant with almost no efforts.
Operation
Modern double electric breast pump from this famous manufacturer is known to make the process of breast milk expression comfortable and customizable. Active young mothers will definitely appreciate the option of collecting the milk both from one and two breasts simultaneously which will significantly save their precious time. While pumping you may adjust the suction speed/ vacuum to your comfort and fully rely on the sensitive 2-phase expression technology of your Medela electric breast pump. This unique technology mimics the two distinct phases of how the baby breastfeeds. During the first phase soft and quick movements will stimulate the breast and a slower, deeper suck will ensure efficient milk expression. Additionally, you can use a let-down button to skip or reduce the stimulation phase and activate the expression phase. For extra convenience, the electric breast pump set includes 24-mm PersonalFit™ Breast shields that will suit most women. Other shields sizes are optional.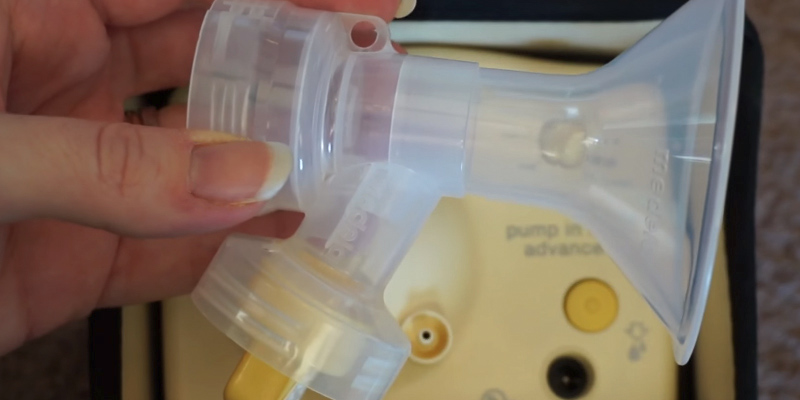 Usability
Medela advanced double breast pump is fitted with a maximum number of accessories making it extremely easy and convenient to use. You can take a nice-looking tote bag with an integrated pump to work, vacation or even a business trip. If you plan a long-term absence, you have 4 bottles that allow making a breast milk stock for your kiddie until you return home. And an amazing removable cooler carrier with an ice pack will guarantee that your breast milk will stay fresh all day long. Both AC power and battery backup provide for easy and quick milk expression almost anywhere. For your ultimate convenience, the tote bag features bottle holders and tubing storage pocket. Moreover, for quick and appropriate cleaning all removable top-rack parts are dishwasher safe . And all components that come into contact with the milk are made of BPA-free plastic that is extremely important for the baby's products. Medela double electric pump is an exceptional choice for a young mom to keep the fast pace of everyday life!
---
VIDEO
Unboxing: Medela Pump In Style Advanced with Tote Bag
Medela Pump in Style Advanced
Spectra Baby USA S2
Type and Frequency of Use
Spectra Baby USA S2 breast pump is an outstanding hospital-grade electric breast pump system. Therefore, this magnificent unit will become an ultimate solution for new mothers facing the problem of low milk supply or trying to induce lactation and under any other circumstances that complicate or exclude breastfeeding. Keeping breast milk nutrition in mind, a powerful and secure electric breast pump will tackle most of your lactation and breastfeeding issues. Spectra S2 breast pump is designed to make your life easier and let you really enjoy the motherhood and intimate moments with your newborn baby.
Operation
This top-rated electric Spectra breast pump comes with everything you need to support both single and double pumping. If you are a mom of lovely twins double pumping is a must-have to cope with a tight feeding schedule of two babies. Completely flexible and comprehensive controls will help you to select the pump suction cycle and vacuum to your comfort, and the LED display allows you to see your program. Spectra S2 breast pump mimics the natural suckling motions of your baby. Starting from stimulating massage mode it automatically switches to a deeper and stronger suction. Such operation ensures fast and highly efficient milk expression. And the timer will help you to control the process. At night you may use the backlight as a convenient night light not only to pump the milk but also to change your baby's diaper without turning on the major light. Similar to other models, this double electric breast pump comes with a standard 24-mm flange or 28-mm breast shields that are most commonly used.
Usability
Despite its versatility, this sophisticated double breast pump features a simple sleek design. A convenient handle makes the unit highly portable. And the bottle holders allow you to stop pumping and place the container without spills. The set also includes 2 separate bottle stands and 2 bottles to store the pumped breast milk. A distinctive feature that really sets this superb electric breast pump apart from other models is its closed system. It means that a backflow filter prevents milk from flowing into the tubes and the motor. It prevents mold spores and bacteria getting into the breast milk and ensures higher hygiene level. But still, Spectra S2 breast pump needs a regular deep cleaning and sterilization. All parts contacting with milk are absolutely safe BPA-free plastic. This functional and effective breast pump boasts every possible innovation for every new mom to set efficient lactation, increase the milk supply or even get back to work and maintain breast milk nutrition.
---
VIDEO
Spectra Baby USA S2 Breast Pump Review!
Spectra Baby USA S2
Philips Avent Manual Comfort
Type and Frequency of Use
Philips Avent is a simple manual breast pump that will be just perfect for occasional use, once a day or even less. This efficient breast pump has all the features that make it attractive for many moms. This extremely lightweight and compact device is a lucky find for new mothers who stay at home with their babies but from time to time they need to be away for a while. Some mommies say that milk expression with a manual Phillips breast pump seems the most natural. Moreover, this model offers the best price to quality ratio making it an ultimate solution for moms on the go.
Operation
Keeping your entire convenience in mind, this high-performing manual Avent breast pump is uniquely designed for easy operation and a more relaxing and comfortable expressing position to encourage the milk flow. Unlike other breast pumps, it does not require you to lean forward allowing you to sit comfortably upright while you pump. The flange features a velvet soft cushion with five textured petals that gently massage the breast and mimics your baby's natural suckling patterns. Such rubber inlayer fits most mums, but a large size is sold separately. Furthermore, an ergonomic handle ensures comfortable and easy one-handed operation.
Usability
With this user-friendly Philips Avent breast pump, you will surely benefit from quick and comfortable expressing session without any fuss. 2 pad sets delivered with the pump will provide confidence and additional protection between pumping and breastfeeding sessions in case of excessive milk production. It is remarkable that this handy manual breast pump is compatible with other Natural and Classic Avent bottles similar to the one included in the set. Another distinctive advantage of this model is the natural nipple made of extra soft silicone. It imitates the breast shape making your baby's transition between breast and bottle easy and smooth. Meanwhile, you can cover the bottle with a sealed lid and use it as a milk storage container. All breast pump parts are made of high-quality BPA-free food-grade polypropylene suitable for sterilization and dishwasher cleaning. To sum up, this highly portable grab-and-go breast pump is an excellent choice for occasional pumping at work, during the flight, on vacation or during a long drive.
---
VIDEO
Philips Avent Manual Breast Pump Review
Philips Avent Manual Comfort
The First Years Sole Expressions
Type and Frequency of Use
The First Years Breast Pump is a high-quality electric breast pump that will become a wonderful acquisition for minor expressions and regular use at home or away from home. This quiet, quick and efficient unit is designed to help you breastfeed. It is an outstanding solution when you cannot nurse your baby but still want to give your infant all the nutrients, vitamins and minerals contained in a breast milk. This lightweight and compact electric breast pump is made for new moms to get some extra "me time" ensuring the necessary comfort and providing your little one with the best-ever meals.
Operation
Though this electric breast pump is a single pumping unit, it boasts high performance and if you have some time it will not put you a lot of troubles. A simple one-hand expression is easy to adjust to your comfort and preference by means of the 8-level suction control button. And the LED lights indicate the current operation level. A soft Flexi-fit™ breast shield ensures proper adherence for your ultimate comfort and efficient pumping. This notable electric breast pump features extremely easy hassle-free operation to help you breastfeed longer and maintain stable milk supply.
Usability
Owing to its sleek design and noiseless operation this electric breast pump is incredibly easy to assemble and operate. A nice-looking tote bag makes the unit highly portable for discreet travel use. A stand-like pump cradle contains 4 AA batteries allowing you to use this electric breast pump without connection to the mains and making it an excellent on-the-go unit. 5-oz GumDrop™ milk bottle comes with a slow flow nipple for easy and comfortable baby's latch-on to remove the air and prevent colicky pains. Hence, your little wonder will enjoy a sound sleep and you will enjoy tranquil restful nights.
---
VIDEO
Review of First Years Double Mi Breast Pump, BreastFlow Disposable Bottle System & Ziploc Bags
The First Years Sole Expressions
Medela Harmony Manual Breast Pump
Type and Frequency of Use
Medela Harmony is a first-rate manual pump designed for occasional use by moms who intend to breastfeed their babies on the regular basis but still want to have some private time leaving their infant with a babysitter. Using this simple yet efficient pump you will easily and pretty quickly express the necessary amount of breast milk sufficient for several feeding sessions. Hence, you will have several hours to spend with your friends, visit the beauty salon, fitness center or enjoy a romantic dinner with your husband. And you will be sure that your little one has the best-ever healthy food.
Operation
This is a single pumping unit allowing you to express one breast at a time. Meanwhile, it is one of the few manual breast pumps that features innovative 2-phase expression technology for more milk output. Twisting the swivel handle you can express the milk in two different stages imitating the baby's nursing pattern. This hand-powered Medela breast pump utilizes medium-size 24-mm Personal fit breast shield for more accurate and efficient pumping. Commonly, such size is suitable for most women. Anyway, if necessary, you can optionally select another size for your individual comfort.
Usability
Developed with simplicity and efficiency in mind, Medela Harmony breast pump offers intuitive assembly and high portability. It comes with 3 items - two 5 oz BPA-free plastic bottles, a nipple with a collar, and a cap. Thus, using the nipple with collar type you can immediately feed your baby with freshly expressed milk or cover the bottle with a cap and store in a fridge. In addition, a convenient bottle stand will be really helpful to fix the bottle and prevent spills. Thanks to its ergonomic and compact design, this elegant Medela breast pump will easily fit in almost any bag and become a real find for traveling moms. Light, discreet, comfortable and gentle! It does not require electricity or batteries and is just great both for individual use and as a backup to an electric pump.
---
VIDEO
Medela Harmony Manual Breast Pump
Medela Harmony Manual Breast Pump
What Is a Breast Pump?
Nobody will argue that a breast milk is a natural and the most appropriated food for newborns. It contains the whole complex of nutrients and vitamins required for a healthy and active baby growth. However, the nursing may be hindered by certain circumstances. For example, it may be an urgent need for the new mom to get back to a full-time work or studies. Sometimes breastfeeding may become impossible because of the baby or mother staying in the hospital and there is a vital need to induce and maintain lactation. No doubt, the mothers suffering from plugged duct will appreciate a device that will protect them from negative consequences such as breast lumps. Of course, you can adopt hand expression. However, more mothers rave about a breast pump since hand milk expression is more tiresome and less efficient. This really fabulous unit contributes to your breastfeeding practice allowing you to pump the milk with little effort. Hence, our review of best breast pumps will help you to make up your mind about the type and model of the breast pump you need.
During pregnancy or right after baby's birth parents have to make many important decisions about comfort and wellbeing of their little one. And everybody searches for the baby monitors and the best crib for the sound and healthy sleep of their infant. Our highly informative reviews will save your time and guide you to the right choice.
What Features to Compare
Type and Frequency of Use
The whole variety of breast pumps available on the market falls into manual and electric units. Modern manual pumps will be helpful and efficient for occasional use (once a day or even less). These pumps are just ideal for short-term separations when a mom leaves her baby with a sitter every now and then.
An electric pump will become a real benefit for mothers who often experience a long-term absence from home or feeding their little one themselves when they get back to full-time work or study. This breast pump type is activated by a special electric pump saving your time and facilitating the expression procedure to the maximum. Hospital-grade electric breast pumps are actually the type of electric appliances. First of all, such high-performance breast pump is an ultimate solution in case of trouble breastfeeding, especially during the first weeks after birth. These extremely powerful electric units are vitally important to initiate and maintain lactation for efficient breastfeeding and stable milk supply. Meanwhile, some moms use such breast pumps for everyday comfortable milk expression.
Operation
Breast pump operation depends on the type of pumping, controls, and breast shields. A pump's effectiveness is generally based on a cycle or suction speed and vacuum or suction strength. With a low cycling rate, the pumping tends to be longer and may cause nipple and breast pain. Similarly, too high vacuum rate may cause severe pain and damages. As for the type of pumping, there are two major types of pumping actions. Single breast pumps which allow for only one breast milk expression. While double breast pumps stimulate both breasts for more efficient and quicker expression. Some sophisticated models feature 2-phase milk expression technology. The first phase starts from quick to intensive suction, while automatically switching to the second phase which starts from stronger to deep suction, mimicking the baby's suckling behavior. Such breast pumps have a let-down button for an independent switch to the second phase to reduce expression time. Commonly, the breast pump set comes with 24-mm breast shields. It is an average size that fit most nursing women. Some flanges are made from soft materials while others are fitted with special inserts for a comfortable and efficient pumping close to a natural breastfeeding.
Usability
Your breast pump usability is mainly determined by the pumping system type and power options. In a closed system, there is a diaphragm separating the tubing from the collection bottle and the breast cup. This system is considered more hygienic and significantly facilitates cleanup. While in the open system the milk flows to the tubes and they require regular deep cleaning. Basic breast pump set consists of a pump, connection kit, milk bottle and a breast shield as well as some other extra accessories. A handle on a pump body contributes to its portability and the breast shield prevents leakage during pumping. For your ultimate convenience, some models feature a pump embedded in a tote bag or the tote bag is included in the set as a separate item. The majority of breast pumps come with a milk bottle. You can attach the nipple to the bottle and feed the baby with a fresh nutritive meal or cover it with lid and use as a storage container. Power options of electric breast pumps usually include the mains, internal built-in rechargeable battery or external standard AA batteries. A combination of several power options ensures maximum usability of your breast pump allowing you to use it almost anywhere.