A breast pump is on the must-have list of all prospective moms. With this ingenious unit, you may enjoy intimate nursing moments
and still have a flexible schedule! Our 5 best breast pumps review will help you choose the model to your liking!
...
Read more
...Read less
X
This site is a free online resource that strives to offer helpful content and comparison features to its visitors. Please be advised that the operator of this site accepts advertising compensation from certain companies that appear on the site, and such compensation impacts the location and order in which the companies (and/or their products) are presented, and in some cases may also impact the scoring that is assigned to them. The scoring that appears on this site is determined by the site operator in its sole discretion, and should NOT be relied upon for accuracy purposes. In fact, Company/product listings on this page DO NOT imply endorsement by the site operator. Except as expressly set forth in our Terms of Use, all representations and warranties regarding the information presented on this page are disclaimed. The information which appears on this site is subject to change at any time. More info
Spectra Baby USA S1Plus
A Hospital-grade System for Home Use
Though milk production is a natural process for a woman with a newborn, it often happens that the amount of milk produced is insufficient and many new moms face the lack of lactation. Whatever the issue, a good breast pump like the S1 Pluss model from Sectra Baby can help handle that.
Created with breast milk nutrition in mind, this breast pump boasts a powerful motor to maintain consistent performance and works to mimic the natural breastfeeding process to ensure efficient and comfortable milk expression. Thus, a massage mode will stimulate the milk inflow and speed up the pumping stage, which is meant to squeeze out the milk. Meanwhile, you are free to choose out of as many as 12 pumping intensity levels to customize the suction pattern and speed to your needs. And the timer option will help you closely control the whole process. One more nice thing is that the unit will remember your last settings and can re-apply them next time.
To proceed, the Spectra breast pump comes complete with everything you need to support both single and double pumping. If you are a mom of lovely twins double pumping is a must-have to cope with a tight feeding schedule of two babies. So, two sets of accessories are included to collect milk right into the feeding bottles (that also come in the pack) and feed your babies straight away or make some stock in the fridge. Besides, the package contains 4 flanges in 24 cm and 28 cm sizes accordingly to comfortably fit any breast size and configuration.
Thanks to two backflow protectors coming in the set, you'll enjoy no-spill and leak-free pumping. By preventing the milk backflow from the tubes to the pump, those protectors will not only prevent the mess related to leakage but also ensure overall hygienic design to eliminate the risk of mold and bacteria growth inside the system.
Whisper-Quiet
Fitted with an electric motor, the Spectra Baby breast pump offers dual power sources. It can be either powered directly from the mains, which is great for home use or juiced by a built-in rechargeable battery, which is a nice option for on-the-go use. At the same time, unlike other electric pumps, this model boasts almost silent operation. With the noise level below 45 dB, it can be safely used at night without disturbing your little one and other family members who are asleep. A special night light further contributes to convenient night use of the pump and will even save you the need to turn on any added lighting.
To cut a long story short, the Spectra Baby USA S1 Plus is a highly functional breast pumping system that will help every new mom set efficient lactation, increase milk supply, or even get back to work and maintain breast milk nutrition.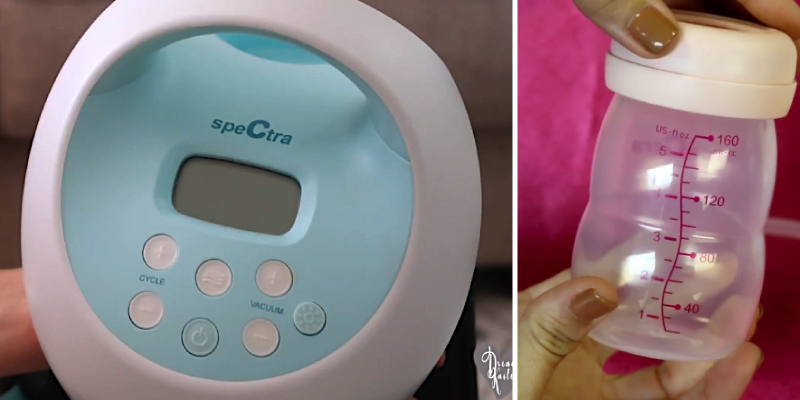 Additional Info
Last updated price

$

199.99

Stock
In stock
ASIN

B00DBKFFJM
---
Spectra Baby USA S1Plus
Medela Advanced Double with Tote
For Active Moms on the Go
The Advanced double breast pump is designed for active young moms getting back to full-time work. Meeting all requirements and standards put towards such device and packed with a powerful electric motor, it will let you easily collect the milk to feed your little one. Even when you are at work or somewhere out, featuring dual power sources (both AC power and battery backup), this advanced breast pump offers portable convenience for discreet pumping anywhere. And dual voltage (110-240V) makes it fit for use while traveling somewhere outside the United States to preserve breast milk nutrition of her infant with almost no efforts.
As the name suggests, this model from Medela allows expressing milk either from one breast or from two breasts simultaneously, which is a good thing when you need to get more milk relatively fast. While pumping you can adjust the suction speed/ vacuum to your comfort and fully rely on the sensitive 2-phase expression technology from Medela that mimics the two distinct phases of how the baby nurses. During the first phase, soft and quick movements will stimulate the breast and a slower, deeper suck will ensure efficient milk expression. Additionally, you can use a let-down button to skip or reduce the stimulation phase and activate the expression phase. The included 24-mm PersonalFit™ breast shields will suit most women providing a snug and comfy fit. Yet, other shield sizes are still available optionally.
With an Eye on Convenience Features
Functionality aside, the Medela electric breast pump is a model created with every convenience feature in mind. To make it truly portable, the manufacturer fitted the pump into a special tote bag with bottle holders and tubing storage pockets to take all the breast pumping essentials with you. Notably, you can choose between three bag styles, also including a backpack and a Metro bag to meet your lifestyle and daily needs as well as to simply fit your personal taste.
Yet another benefit of this model is an included kit of four bottles and a removable cooler carrier with an ice pack breast milk allowing you both to make a stock for your kiddie until you return home and to keep that milk fresh all day long. All the parts getting in contact with milk are made of BPA-free food-grade plastic, so, you can rest assured there will be no harmful chemicals in your breast milk. Meanwhile, all removable parts are top-rack dishwasher safe to maintain hygienic breast pump system cleanliness.
To resume, offering the ultimate functionality and ease of use, this electric double breast pump from Medela stands out for excellent portability ideal for busy moms who want to get back to work and being able to run errands while ensuring their little ones get the best natural food ever.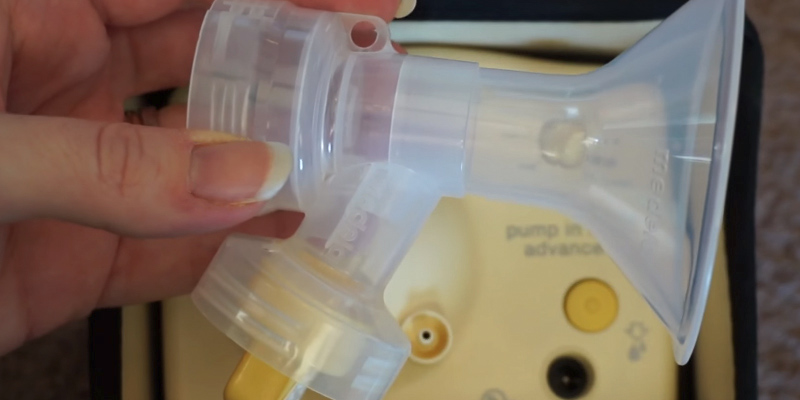 Additional Info
Last updated price

$

299.00

Stock
In stock
ASIN

B07SWD7WDN
---
Medela Advanced Double with Tote
Bellababy Double
Perfectly Customizable Performance
Though all meant to stimulate and maintain milk production, some breast pumps fail to do that in practice. Mainly it happens due to the lack of suction settings where more versatile suction customization is needed. An electric breast pump from Bellababy really shines in this concern and can even outperform some top-tier models.
What makes this very model stand out straight away is a whole bunch of suction settings controlled and adjustable via a handy control unit with an LCD screen. Fitted with dual pumping kits to collect milk from two breasts at the same time, this pump offers as many as 4 suction modes with up to 9 intensity levels. As a result, sucking patterns vary from massage to normal suction, continuous suction, and the mode with intermittent frequencies to help induce, set, and increase milk supply even in hopeless situations when you are about to lose milk or the milk production is very low. At the same time, you can customize the suction speed in the process to find your perfect comfort zone. Other than that, petal-shaped cushions on the breast flanges made of soft silicone not only ensure airtight fit for better suction power but also work to gently imitate the baby's sucking with no feeling of discomfort or pain.
To continue, powered by a 2200 mAh rechargeable battery, this electric breast pump offers the freedom of cable-free operation. Besides, a control unit can be easily charged from any USB-enabled device via a USB cable included in the package. So, if the battery runs low out of a sudden, you can juice it up from your tablet or smartphone. On the other hand, though, a single charge will suffice for several pumping sessions.
With Varying Needs in Mind
Not inferior to AC powered breast pumps in terms of suction performance, the Bellababy can also cater to various needs. Thus, it both provides the convenience of collecting milk into bottles to feed your little one in a couple of hours and enables building up a milk stock for those cases when you have to be away from your baby for a longer time.
In a set along with two baby bottles, you'll get 10 storage bags and two special adapters to pump milk right into those bags. Fitted with sealed closures, the bags can be stored in the freezer. Besides, it's worth noting that milk adapters are compatible with any zippered milk storage bags of the same kind. The only thing to remember is that adapter clamps feature metal parts. As such, they are not microwave-safe.
That said, distinguished by high power and exceptional portability, the Bellababy electric breast pump is a great choice for moms who have to pump several times a day while a variety of suction settings makes it fit for tackling different lactation issues.
Last updated price

$

0.00

Stock
May be out of stock
ASIN

B07CZZN1VX
---
Bellababy Double
Evenflo Feeding Advanced Hospital
The Ultimate Level of Comfort and Suction
What sets the Evenflo electric double breast pump apart from the rivals is a thought-out design developed with the support of professional lactation consultants to make the milk collection process maximum quick, efficient, and comfortable. The unit will deliver hospital-grade performance while being extremely portable and reasonably priced, which is not the last thing to consider as well.
First and foremost, you can take this unit anywhere with you since a compact pumping unit together with two bottles is really compact and will fit into pretty much any average-sized handbag or backpack. Besides, multiple power options including an AC adapter, car adapter, and battery backup provide the freedom of using the pump virtually anywhere, be it your workplace, plane, or just when you stroll about the park.
As compact and portable as it is, the Evenflo breast pump is a mighty milk sucker. While a powerful electric motor ensures failure-free performance, 8 suction levels and 4 varying speeds will let you individualize your pumping sessions to maximize the milk expression and maintain consistently high natural lactation process. So, with the Evenflo, you can be sure your precious little angel will get the best natural nutrition in full.
Though some women claim milk expression to be somewhat unpleasant and uncomfortable, it won't be the case with this breast pump from Evenflo. In fact, pumping shouldn't hurt or even cause discomfort and the manufacturers really did their best to make this process as comfy as natural breastfeeding. Thus, the pump set comes complete with three kits of flanges 30mm, 28 mm, and 24.5mm in diameter accordingly to neatly fit different breast sizes and configurations. Besides, those flanges are made of premium-quality soft silicone and are velvety to the touch. Hence, they won't rub your skin and won't sit too tight.
Great Choice for First-time Moms
Widely popular among experienced moms, the Evenflo is a great choice for first-time moms as well. Distinguished by foolproof operation, consistently smooth suction performance, and personalized settings, this model will help induce lactation and quickly set it up even if you've never breastfed before. In addition, with the Evenflo breast pump, you'll get access to two practical video programs that will not only provide the first-time lactation guide and introduction to proper breastfeeding techniques but also contain instructions on how to use breast pumps in the right manner and even on how to overcome some lactation problems or inconveniences. As such, the entire Evenflo breast pump package works to promote breastfeeding by maintaining healthy lactation.
All things considered, the Evenflo is hands down the best breast pump for working moms and active moms of several kids as well as for first-time moms seeking to maintain healthy milk production.
Additional Info
Last updated price

$

0.00

Stock
In stock
ASIN

B00EVRT5ZO
---
Evenflo Feeding Advanced Hospital
iAPOY Electric
Price-to-quality Ratio Winner
Really good and functional electric breast pumps might get pretty high in price that makes them quite an investment, especially taking into account all other essentials and baby stuff a young parent normally needs to buy. Thus, if you look for a quality electric pump that won't cost you a fortune, this model from iAPOY is definitely worth a try. At the price of a manual breast pump, the unit offers all the benefits of hands-free pumping and decently high suction performance.
Just like any other electric double breast pump, the pump package contains everything to collect milk from two breasts simultaneously that will cut down your pumping time and allow you to quickly milk for tweens. In the meantime, the unilateral expression is also available, you just need to remove one tube and close it with a plug to preserve airtight hygienic system design.
In contrast to hospital-grade units that often appear pretty bulky or even lack portability, the iAPOY pump is a fairly compact unit that generates enough punch to ensure flawless operation and boasts multiple charging options to ensure convenient on-the-go use. Complete with a USB cable, it can be charged from a power bank, PC, tablet, and even a car lighter or you can buy an AC adapter to power the pump directly from the mains.
Despite a budget-friendly price tag, this breast pump comes complete with multiple accessories even some more expensive models lack. Along with a standard pumping kit, you'll also get a handy fabric bag for convenient unit storage and handling and a whole baby feeding set. There are two nipples to fit onto the included bottles to feed your baby right after pumping and a bottle thread change that will let you use this pump with any smaller baby bottles 3.5 cm in diameter. Meanwhile, dust caps will keep flanges clean till the next pumping session. It's also notable all parts contacting milk are made of safe BPA-free materials and can be sterilized if needed.
... and a Smart Little Pal
Though small, the iAPOY breast pump is very powerful. It provides really strong suction, yet, is very gentle that makes it a real find for women with sensitive breasts. Fitted with petal-type silicone flanges, it will work to suck out milk in a confident but delicate manner without rubbing your skin or pressing too hard. Other than that, adjustable operation settings will let you personalize your pumping experience and make it rather enjoyable than irritating. While, in automatic mode, the pump will start from a massaging pattern to stimulate milk secretion and gradually proceed to pumping, you are also free to choose between 8 suction frequency levels to match your individual comfort. And a memory function will save the last settings to apply them next time you'll use the pump. Thus, once you'll find your comfort spot, there will be no need to adjust the suction performance time and again.
Summing up, the iAPOY breast pump is a really efficient breast pump that is distinguished by the best price to quality ratio and will add to the arsenal of any breastfeeding mom. Whether your baby is a lazy nurser and you seek to maintain high milk supply not to use formulas or you simply want to make milk expression less of a chore, you can't go wrong with this electric pump.
Last updated price

$

0.00

Stock
In stock
ASIN

B0816GKP2L
---
iAPOY Electric
What Is a Breast Pump?
Nobody will argue that breast milk is a natural and the most appropriate food for newborns. It contains the whole complex of nutrients and vitamins required for healthy and active baby growth. However, nursing may be hindered by certain circumstances. For example, it may be an urgent need for the new mom to get back to full-time work or studies. Sometimes breastfeeding may become impossible because of the baby or mother staying in the hospital and there is a vital need to induce and maintain lactation. No doubt, the mothers suffering from a plugged duct will appreciate a device that will protect them from negative consequences such as breast lumps. Of course, you can adopt hand expression. However, more mothers rave about a breast pump since hand milk expression is more tiresome and less efficient. This really fabulous unit contributes to your breastfeeding practice allowing you to pump the milk with little effort. Hence, our review of the best breast pumps will help you to make up your mind about the type and model of the breast pump you need.
During pregnancy or right after baby's birth parents have to make many important decisions about the comfort and wellbeing of their little one. And everybody searches for the baby monitors and the best crib for the sound and healthy sleep of their infant. Our highly informative reviews will save your time and guide you to the right choice.
What Features to Compare
Type and Frequency of Use
The whole variety of breast pumps available on the market falls into manual and electric units. Modern manual pumps will be helpful and efficient for occasional use (once a day or even less). These pumps are just ideal for short-term separations when a mom leaves her baby with a sitter every now and then.
An electric pump will become a real benefit for mothers who often experience a long-term absence from home or feeding their little one themselves when they get back to full-time work or study. This breast pump type is activated by a special electric pump saving your time and facilitating the expression procedure to the maximum. Hospital-grade electric breast pumps are actually the type of electric appliances. First of all, such a high-performance breast pump is an ultimate solution in case of trouble breastfeeding, especially during the first weeks after birth. These extremely powerful electric units are vitally important to initiate and maintain lactation for efficient breastfeeding and stable milk supply. Meanwhile, some moms use such breast pumps for everyday comfortable milk expression.
Operation
Breast pump operation depends on the type of pumping, controls, and breast shields. A pump's effectiveness is generally based on a cycle or suction speed and vacuum or suction strength. With a low cycling rate, the pumping tends to be longer and may cause nipple and breast pain. Similarly, too high vacuum rate may cause severe pain and damages. As for the type of pumping, there are two major types of pumping actions. Single breast pumps which allow for only one breast milk expression. While double breast pumps stimulate both breasts for more efficient and quicker expression. Some sophisticated models feature 2-phase milk expression technology. The first phase starts from quick to intensive suction, while automatically switching to the second phase which starts from stronger to deep suction, mimicking the baby's suckling behavior. Such breast pumps have a let-down button for an independent switch to the second phase to reduce expression time. Commonly, the breast pump set comes with 24-mm breast shields. It is an average size that fits most nursing women. Some flanges are made from soft materials while others are fitted with special inserts for comfortable and efficient pumping close to natural breastfeeding.
Usability
Your breast pump usability is mainly determined by the pumping system type and power options. In a closed system, there is a diaphragm separating the tubing from the collection bottle and the breast cup. This system is considered more hygienic and significantly facilitates cleanup. While in the open system the milk flows to the tubes and they require regular deep cleaning. The basic breast pump set consists of a pump, connection kit, milk bottle, and a breast shield as well as some other extra accessories. A handle on a pump body contributes to its portability and the breast shield prevents leakage during pumping. For your ultimate convenience, some models feature a pump embedded in a tote bag or the tote bag is included in the set as a separate item. The majority of breast pumps come with a milk bottle. You can attach the nipple to the bottle and feed the baby with a fresh nutritive meal or cover it with lid and use it as a storage container. Power options of electric breast pumps usually include the mains, internal built-in rechargeable battery or external standard AA batteries. A combination of several power options ensures maximum usability of your breast pump allowing you to use it almost anywhere.