Knowing how difficult becoming a parent can be, the market offers a whole load of products to simplify parents' life, and a baby
food maker is one of them. With the help of a baby food maker, it's so much easier to wean your baby, introducing your sweetie with tasty and nutritious baby meals.
...
Read more
...Read less
X
This site is a free online resource that strives to offer helpful content and comparison features to its visitors. Please be advised that the operator of this site accepts advertising compensation from certain companies that appear on the site, and such compensation impacts the location and order in which the companies (and/or their products) are presented, and in some cases may also impact the scoring that is assigned to them. The scoring that appears on this site is determined by the site operator in its sole discretion, and should NOT be relied upon for accuracy purposes. In fact, Company/product listings on this page DO NOT imply endorsement by the site operator. Except as expressly set forth in our Terms of Use, all representations and warranties regarding the information presented on this page are disclaimed. The information which appears on this site is subject to change at any time. More info
Beaba Babycook 4 in 1
A Must-have for Any Busy Family!
Since 1989, the Beaba company has been creating the most beautiful and functional baby's products in the world, and this baby food maker is no exception. It's an ingenious 4-in-1 system that steams, blends, defrosts, and reheats. Actually, this small appliance can replace a steaming pot setup, food processor, potato masher, and a microwave (or other tools for reheating), thus saving your money on electricity bills and space on your countertop. The unit has a modern, sleek and compact design and is available in 8 trendy colors to suit your kitchen interior best.
It has a multipurpose 4.7-cup bowl that's capacious enough to prepare large quantities of baby food to keep your freezer stocked. However, if you wish, you can use it for single meals as well. This all-in-one system allows users to create fresh homemade purees, sauces, steamed vegetables, soups, and other healthy foods not only for your baby but for your entire family. The machine performs the following functions perfectly:
Steaming. It can steam vegetables and meats in less than 15 minutes while retaining the nutritious value and flavors. It saves the condensed water after steaming, thus allowing you to preserve as many vitamins and minerals as possible.
Blending. It can puree food to the desired baby-friendly consistency, making it super soft, smooth, and chunky.
Reheating/Defrosting. It stands out from most other models by its ability to quickly reheat and defrost foods.
But the best thing is that the unit has only a few parts to clean up afterward, not too many fiddly bits to take apart. And all the parts are dishwasher-safe and can be easily placed on the top rack of your dishwasher. The bowl is made of BPA-free polypropylene, while the basket is made of transparent polypropylene. Plus, it saves not only mess but also time for preparing baby food. No more steaming/boiling and then draining and transferring food into the blender. Undoubtedly, it's expensive but so time-saving. A real must-have for any family that values time.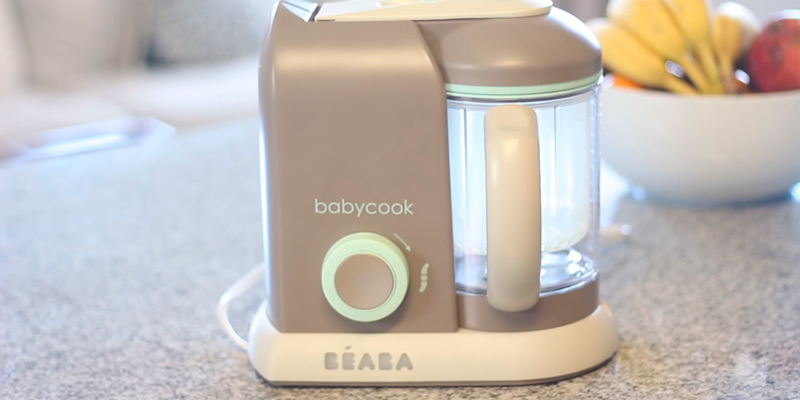 Useful Extras
Once you've read the included instructions carefully, the machine is very easy to use. It comes with some useful extras, including a spatula, timer, auto shut-off, and a recipe book.
The integrated spatula will minimize risks of burns when removing hot baby food.
The timer will let you set the cooking time, and the flashing icon will signal you when the cycle is over.

Auto shut-off will prevent dangerous situations.

The recipe book will encourage you to diversify your baby's menu by introducing your sweetie to many new tasty meals. Besides this book, you can find a fantastic collection of recipes on the official Beaba website.

Additional Info
Last updated price

$

149.95

Stock
In stock
ASIN

B01CD21BFU
---
Beaba Babycook 4 in 1
MLITER All in One
So Smart!
The MLITER baby food maker is a very smart appliance that can make moving your baby from milk to solids an easy and enjoyable process. It's a full-featured device that can not only steam, blend, chop, defrost, and reheat but also sterilize! This means that even if you're one of those conscious parents who buy everything in advance, you'll be able to use this wonder for sterilizing pacifiers and bottle parts from the very first days after delivery.
This food maker is easy to use, durable, efficient, and safe. All surfaces that come in contact with food and nipples are BPA-, lead-, and phthalate- free and completely approved by FDA. The unit features three separate steaming baskets allowing you to steam up to three different foods at a time and then puree them together in a large mixing bowl. The largest jar is 25 oz, while the additional baskets are 12 oz and 5 oz. The jar is transparent, meaning you can check the water level anytime without opening the water reservoir. However, if you're far away from the cooker, you don't need to worry. The cooker is packed with an anti-dry function that automatically turns off the appliance in 10 minutes if no water is detected.

This handy-dandy machine is featured with an LCD screen and a digital timer. Operating the machine is a breeze as all processes are completely programmable and once one process is complete the unit signals that. This food maker offers 2 speed options so you can blend both soft ingredients and solids with no problems. And the smart LCD screen makes it easier to monitor the working status.

What Is it Best For?
So, we have already briefly covered the tech specs of the device and now we would like to go deeper into details. The cookers can serve as:
Baby Food Steamer. 3 baskets with different capacities can steam food at the same time. The most optimal time for steaming fruits makes 5-15 min, 10-20 min for vegetables, 15min for fish, and 20 min for meat. You can select the most appropriate time setting using the timer on the control panel.

Baby Food Blender. You can blend fresh fruits, veggies, and meat in the largest jar. With a 200W motor and 2 speeds, the machine's able to squeeze the puree to any consistency you need.
Baby Food Warmer. The unit can warm, reheat, and defrost baby food. The reheating requires approximately 3 - 8 min, while defrosting takes from 10 to 17 min.
Last updated price

$

0.00

Stock
May be out of stock
ASIN

B07B3NXYCD
---
MLITER All in One
Nutribullet Baby Bullet
Make Baby Food in Advance
If you need something cute, effective, and affordable for blending soft ingredients into a puree or even smoothie, this magic bullet system might be right up your street. It works as advertised and can really help you make a week's worth of organic healthy baby food in a matter of minutes. Using the blending blade, you can chop and puree soft ingredients like fruits and steamed vegetables, while the milling blade can help you mill harder foods like rice or oats, allowing you to create baby-friendly rice puddings and some other recipes. By the way, this baby food processor comes with a recipe book that will guide you through creating your own baby food, giving you a good place to start. It includes recipes up to the toddler age.
But no product is flawless, and this one is certainly not the most powerful out of food processors available on the market. Equipped with a 200-Watt motor, it does limit what you can do. Though it's perfect for soft fruits like banana, apple, and grapes, it won't be able to create a consistent puree from a raw carrot, for example. But it's quite OK for a steamed carrot. Another slight flaw is that it's rather noisy just like most blenders. It can really disturb the sleep of your baby, so it's best not to use it during a nap time.
The food maker is very easy to operate. All you have to do is add your ingredients into the blending cup, screw the blades on to the cup, place the cup onto the base, and turn it on. In less than 5 minutes, you can make a whole week's worth of yummy food. And thanks to the additional batch tools, you can store the all-natural food in a fridge or freezer. The Baby Bullet is supplied with 6 refrigerator-friendly storage cups and a silicone batch tray. So, if you want to save both time and money by making yummy baby meals for a whole week, get this.
Keep Track of Time
As we've just touched the topic of batch tools, we would like to mention that they all, including blender parts, are dishwasher-safe. So, you can throw everything into your dishwasher, and it will come out clean without damage. This silicone batch tray enables you to freeze up to 12 ounces of puree and pop it into the freezer. As for storage cups, their design is just admirable. They are totally cute like the appliance itself. But the best thing about the cups is that they come with a tip-proof tray and have exclusive date-dial lids. You can set any date as an indication of when the food was packed or might expire.
Additional Info
Last updated price

$

92.89

Stock
May be out of stock
ASIN

B004V5BTUA
---
Nutribullet Baby Bullet
QOOC QOOC01 4-in-1 Mini
So Compact
If free kitchen space is an issue for you but you still want to get a decent multi-functional cooker, the QOOC 4-in-1 mini baby food maker is the ideal solution. As the name suggests, this compact appliance possesses 4 powerful functions allowing busy parents to steam, blend, defrost, and reheat tasty homemade baby food. It's equipped with a premium precision blade that can successfully chop everything from fruit to nuts. For your convenience, this little beauty pulses every 5 seconds to grind. By repeating the blending cycles several times, you'll able to reach the desired consistency of your purees. Prior to blending, you can thoroughly cook raw ingredients in a steaming cup.
Using this versatile baby food maker, you get an opportunity to produce a batch of purees out of fresh fruits or steamed vegetables and then refrigerate them for the future use. And if your sweetie happens to get hungry quicker than usual, you'll be able to defrost or reheat prepared food in less than 15 minutes. The machine can really make mealtime more enjoyable for both you and your babies if some preparations are already done.
Convenient Design
The mini design means you can store this baby food maker conveniently out of sight. Also, it means that the cleanups won't take you much effort and time. What further adds to the convenience of use is that all components are dishwasher safe. The appliance is produced from durable innovative materials that are BPA-, lead, and phthalate-free, so you can create healthy meals for your baby with a total peace of mind. And the materials are not only 100% baby-safe but also shatterproof, meaning the cooker is highly resistant to impacts.
Yet, what really makes this device so convenient for new moms and dads is one-handed operation. This design can really save you lots of problems while you are looking after your baby or doing housework. Another feature many parents admire is low-noise operation. The machine is nearly silent even when it blends something. So, you can be sure that it won't disturb your baby's sleep.
Additional Info
Last updated price

$

69.95

Stock
In stock
ASIN

B071LJJJ39
---
QOOC QOOC01 4-in-1 Mini
HOMIA Infano 36533 Bebe
Truly Sophisticated Machine!
Being a mom is much easier if you have a sophisticated multi-cooker that can do it all! And that sounds exactly like the Homia Infano 36533 baby food maker. This super-versatile machine boasts 7 different functions and can do everything from steaming, blending, chopping, defrosting, and reheating to disinfecting and cleaning. It's really hard to find any other baby food maker that can accommodate so many functions in one small appliance. The Homia Infano 36533 7-in-1 can process all types of food including meat, fruits, vegetables, fish, and more. And to help you diversify the menu of your baby, this food processor comes with different healthy recipes recommended for kids of the certain age. Plus, you can find more recipes on the website.
The unit has a small footprint and a chic design that's pleasing to look at, so you can always keep it on your counter rather than store away after use. It will surely add a modern touch to your kitchen interior. Though the unit looks very compact and is actually smaller than a coffee maker, it can hold up to 20 ounces (5 baby food jars) of food to keep you from doing new servings every day. Low on counter space? Low on free time? This mini all-in-one baby food maker is for you.
Easy to Use
There's a smart and intuitive control panel at the top of the Homia Infano 36533 baby food maker. By pressing touchscreen buttons, you can choose "Steam", "Auto Blending", "Pulse", "Auto cleaning", "Disinfect", "Reheat", or "Defrost" options and set the timer. Using the Homia Infano 36533 baby food maker is the easiest thing ever. All you need to do is pour water, add food, and then choose steam and chop settings. In less than 15 minutes, you'll have several batches of baby food. Thanks to the TeflonTM wide tank opening, pouring water inside the reservoir and cleaning it when the cooking is complete are easy. The included stirring cup is made of FDA-certified Tritan plastic (BPA-, Phthalate- and Lead-free) and thus can be simply washed in a dishwasher. Better yet, the Homia Infano 36533 has an auto-clean and disinfect function which will let you keep everything in top-notch condition and prevent the mold buildup.

For extra safety, the item has two safety switches that disable operation should the stirring cup (or its cover) be not in place. And if it overheats or the water level drops lower than necessary, it automatically turns off. So if you need an appliance with double protection, choose this.

Last updated price

$

0.00

Stock
In stock
ASIN

B075VCRGD9
---
HOMIA Infano 36533 Bebe
What Is a Baby Food Maker?
There are so many first things to come for your little baby - the first scream, the first smile, the first steps, the first solid foods... And here you face a dilemma - to buy pre-mushed homogenized baby food or to make your own baby-friendly puree? The problem with store-bought baby food though is that it is usually rather low in nutrients, which is bad enough already, and that it is also quite expensive. That's where buying a baby food maker can become a wise investment. Many new moms find a baby food maker to be a real lifesaver as it allows for preparing fresh and nutritious purees quickly and effortlessly. Cooking food yourself means you can achieve the desired puree consistency and adjust recipes so that they best suit your baby. A baby food maker is a multi-functional appliance, made of BPA-free materials that are completely safe for infants. Unlike the usual way of cooking baby food involving multiple jars and bowls for steaming and blending ingredients, with a baby food maker machine, you will only need one single container, which is extremely convenient. Also, you will not need to spend as much time. A baby food maker will do most of the work for you.

One other appliance that can simplify the life of any new parent is a bottle warmer.
What Features to Compare
When choosing a baby food maker, you should take into account a few factors.
Type
There are a lot of baby food makers out there, yet all of them fall into two main types - all-in-one machines and blenders. As it's easy to figure out from the name, all-in-one cookers can both steam and blend ingredients. They may come with one or two bowls for each cooking stage. Models with a single chamber collect steaming water at the bottom and once the steaming is over turn on a homogenizer that further blends food mixed with remaining water into pureer while preserving all minerals and vitamins. It goes without saying that all-in-once cookers are more convenient in use, however, they are usually bulkier and more expensive than the second type, that is blenders. Blenders, in turn, are budget-friendly and simpler overall. Blenders are designed specifically for chopping. And this means you will still need to steam and cook food afterward.

Capacity
You should also think about how much food you will need to make daily. Prior to a purchase, ask yourself whether you're going to prepare batches of food or make single servings, and whether you're going to make food for more than one baby. If you answered "yes", then you will need a baby food maker with a big basket in which you'll be able to prepare several baby meals. Needless to say, capacious models are a real godsend for all busy moms who usually have to divide their time between baby care and household duties.

Extras
While most baby food makers are designed to perform only one task, namely making baby food, there are models that can offer you a few extras. For instance, you can find baby food makers that will allow you to preheat baby food jars and bottles. High-end cookers will also combine the function of sterilizer, becoming an indispensable appliance from the first days of your baby's life. Finally, there are baby food makers that can be used not only for making soft baby meals but also can act as true pans allowing you to cook tasty soups and various cream-based meals. Such models could be really useful for a whole family.

In the end, do not forget to check out how easy the selected baby food maker is in use, what materials it's made of and if it can go in a dishwasher. Learn how many parts it consists of and how long it will take to disassemble the thing.

Did you know?
How to feed babies and when to give them solid food are hot topics that have been raging in Mommysphere for centuries. But you even can't imagine what crazy things new moms used to do in the past. Check out these facts about baby food.
People Used to Feed Babies Just a Few Days After Birth
In the 1960s, some doctors thought that baby had to eat solid food within the first days of birth. Walter Sackett, the Miami physician advocated feeding kids cereals at "at 12 noon and at 12 midnight" just 2-3 days after the birth.
Another strange belief was popular in the early 1900s. Doctors strongly recommended parents not to feed their kids fruit and veggies until the age of 2. They warned that fruit and vegetables made kids prone to fevers and diarrhea. But this theory failed when scientists finally discovered the importance of vitamins and minerals that fruits and vegetables were full of.
When Did Mass-market Baby Food Appear?
The first industrial baby food hit store shelves in the 1920s. It was quickly embraced by working women and just those who were sick and tired of making own baby food at home. The marketed products were even considered much healthier than homemade food, as people believed that machinery could make more finely-sieved food. The baby food was so popular that by 1948 it became the most commonly purchased thing in America. The nearest competitor was the evaporated milk that was also bought mainly to feed babies.
It wasn't until the 1970s when food safety concerns along with inflation forced many moms to return to homemade baby food, and this DIY movement is still supported by the majority of moms today.
Another interesting fact is that for a long time, infant food was released in simple tin cans. Only in 1931, a glass jar for baby food was introduced. One of the first canned baby products was liver soup by Gerber. The company advertised this soup as very tasty and rich in vitamins A, B, and C.
Also, it's worth mentioning that today you can hardly find baby food with sugar, but until the 1970s, adding lots of sugar in baby food was extremely common. Nutritionists believed that sugar could give infants more energy.
In 2009, the Gerber brand surprised many parents worldwide. While most baby foods were vegetable or fruit based, Gerber released some kind of a novelty. It created full dinner options with exotic flavors - Ramen and Chicken Orzo Zucchini.
And summing up the topic of marketed baby food, we couldn't skip the crazy fact that though store-bought foods is quite expensive, usually, American people seem to pamper their pets even more. An average American spends four times more on the pet food and snacks rather than on the baby food.
What Is Baby-led Weaning?
You're probably heard about baby-led weaning becoming more and more popular in the recent years. It is a completely new approach to feeding the child. What this approach assumes is that kids make all food choices themselves. In practice, baby-led weaning suggests moving straight to solid foods skipping spoon feeding and soft purees. The philosophy behind this approach is simple: babies do a lot of things (crawling, walking, talking) at their own pace and so they do not need their parents forcing them to eat what they "must". Followers of baby-led weaning believe that babies should take the initiative, while they should only make sure to put the age-appropriate food in the plate for them. If this approach sounds interesting to you, here you can check what solids can be introduced to your baby at each stage of development.