Book geeks, this review is for you! A good reading light can reduce the negative effects of reading in the dark to your eyesight
significantly. In addition, a reading light will help you not to disturb your partner sleeping beside you. So, choose one of the best book lights and never deprive yourself of reading at night.
...
Read more
...Read less
Power Source / Max Battery Life
X
This site is a free online resource that strives to offer helpful content and comparison features to its visitors. Please be advised that the operator of this site accepts advertising compensation from certain companies that appear on the site, and such compensation impacts the location and order in which the companies (and/or their products) are presented, and in some cases may also impact the scoring that is assigned to them. The scoring that appears on this site is determined by the site operator in its sole discretion, and should NOT be relied upon for accuracy purposes. In fact, Company/product listings on this page DO NOT imply endorsement by the site operator. Except as expressly set forth in our Terms of Use, all representations and warranties regarding the information presented on this page are disclaimed. The information which appears on this site is subject to change at any time. More info
LuminoLite (Vekkia) BH-01 Rechargeable 12
Two Heads are Better Than One
If you need an ultra-powerful lamp for illuminating quite large areas, you'll be hard-pressed to find a better option than this. As you've probably noticed, the Vekkia BH-01 is designed with two gooseneck arms that can light two large pages of notes, two full pages of any-sized books, different craft projects, and many more. Actually, it's capable of illuminating 3x broader areas compared to normal LEDs, and since the lamp has two flexible arms rather than one, it allows you to focus light exactly where you want. Even better, each unit can be controlled independently, allowing you to set different brightness levels.
The lamp has 12 LEDs in total that provide 2 brightness levels with no ability to set color temperature. It emits only 3000K warm light that is considered to be easy on eyes and is especially great for kids who often read in the dark. Additionally, it's fitted with diffusor optical lenses that provide very soft light and don't disturb people around you.
Speaking about the design, the base is wide enough for clipping either on a book or on a bedside drawer (if you want the light to be more stationary). Also, it can stand on its own, but in this case, it won't be very stable and may even topple. The lamp works best when clipped to something. And to protect your books from scratches, it's made with soft foam pads.

All this makes the Vekkia BH-01 perfect for reading, study, music, crafting, and other hobbies. It's designed to the highest standard and can help you c
reate a home-warm ambient reading space thanks to the soft light it emits.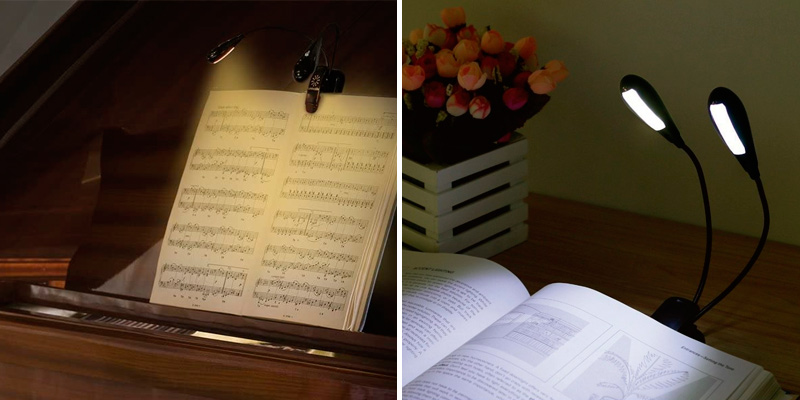 Last updated price

$

16.99

Stock
In stock
ASIN

B073RFW8WD
---
LuminoLite (Vekkia) BH-01 Rechargeable 12
Raniaco JRRL001 Rechargeable 12
Just Touch It
The LED Clip by Raniaco is an incredibly smart reading light. It has a versatile design with a clamp that can be opened up to 2.36 inches. Therefore, it can be easily clipped not only to a book but also to your laptop or even the headboard of your bed. Its neck is very flexible and can be bent up and down as well as rotated up to 360 degrees to let you direct the light exactly where you need it. Also, you can use the clamp as a stand. Thanks to the anti-slip silicone pad, it will sit perfectly on your desk or any other flat surface.
The lamp offers 3 brightness levels for different needs - Soft, Bright and Strong. However, the best part is that you can adjust the light just by touching the base. On the lowest setting, it's dim yet bright enough to let you read at night without influencing your partner's sleep. The light is very natural and gentle on eyes. The lamp has a built-in 1000mAh lithium battery and can work up to 24 hours in a dim setting, 12 hours in medium mode, and 6 hours in the brightest mode. The lamp is supplied with a USB charging cord and gets charged in 12 hours. Once the battery is full, the red safety charging indicator light turns off. The lamp looks nice and very stylish. It's offered in classic White and Black colors and suitable both for home and office use.
Last updated price

$

13.99

Stock
In stock
ASIN

B01IOMH8H8
---
Raniaco JRRL001 Rechargeable 12
Perfectday Rechargeable 12
Great Value
In case you're a book enthusiast looking for a simple reading lamp, you may like the PERFECTDAY light. It's a frills-free option that comes at a very attractive price tag but can provide bookworms with everything they need for comfortable reading.
To begin with, the lamp seems to be very robust and will surely last you for a good while. It's made from sturdy ABS material and 12 LED eye-friendly lights that have a quite long lifespan. With that, it looks sleek and can light up two standard-sized book pages really well. It's not blueish or too harsh like most other LEDs within its price bracket. It has three power settings (2700K, 3000K, 4000K) and can provide you with warm white light, soft white glow, and daylight glow correspondingly. With that, the light is non-flicker and won't disturb your partner sleeping next to you.
Also, we would like to emphasize that the lamp has a capacious built-in 1000 mAh Li-ion battery that provides a whopping 60 hours of cordless use. As a nice touch, it has a handy indicator light that glows red when the battery is charging and turns green once it's full.
When it comes to flexibility, this lamp is perfect for clipping onto books of any shape and weight. It's not heavy and has a 360-degree head to let you direct the light right where you need it. Overall, this is a nice adaptable lamp that is great for creating the perfect ambiance. It has no extras but does its main job as expected.
Last updated price

$

7.21

Stock
In stock
ASIN

B07VZXKYXW
---
Perfectday Rechargeable 12
CeSunlight Rechargeable
Hands-free Reading
The CeSunlight Rechargeable LED Book Light has quite a lot going for it, but the biggest one of its advantages would be its versatility allowing you to use this light not only for illuminating your book in the dark but also as a handy little torch when hiking, walking, jogging or even doing some repairing jobs at night. The LED's are located on two arms of the book light and can operate independently from each other. They have 4 brightness levels that can be switched by clicking repeatedly a push-button on each side: the first click triggers floodlight, the second one switches on spotlight, the third one activates them both, and the fourth one turns the light off.
With tech specs out of the way, let's move to convenience features and design of this book light. The model we have on hands is very flexible and bendy. You can hang it around your neck and enjoy hands-free illumination. Also, you can customize it as a headlamp and wear over your ball cap when you need to work in the dark, for example. It will stay put after you adjust it in the way you need. Additionally, the light can even stand up and double as a small table lamp.
It uses a rechargeable 700m lithium battery that lasts up to 10 hours and needs only 3 hours to get fully charged. So, you won't waste money on buying batteries. At just 3 ounces, the item is lightweight, compact, and well-made. The flexible arms are manufactured from steel alloy and covered with soft silicone.
All in all, if you need a hands-free light to illuminate your book as you're reading, your feet as you're jogging, or your hands as you're walking, the CeSunlight Rechargeable is a sensible choice.
Last updated price

$

12.99

Stock
In stock
ASIN

B01L6OHWDQ
---
CeSunlight Rechargeable
Hooga Rechargeable
Amber Light
What we have here is a unique product that can make your sleep deeper and more restful. What makes the Hooga Book Light so special is its ability to give off a gentle, amber hue light rather than typical blue or white, among other things. So, if you're quite sensitive to those kinds of lights, the Hooga Book lamp can become a real gamechanger for you.
The amber light is 99.94% free of blue spectrum light, which results in better production of melatonin and reducing eye strain. A lack of blue light also helps your melanopsin receptors to send a signal to the brain so that it knows it's time to prepare for sleep. 
This amber lamp is very calming on eyes and offers three brightness settings (25%, 50% and 100%) for variable brightness levels. The lowest level is perfect when you're trying to read to fall asleep; the brighter light is great for keeping your attention to continue reading; the highest setting is a good choice for those times when you need to concentrate on something.

Besides being sleep-friendly, the Hooga light is also quite lightweight and portable. It has a clip-on design and weighs only 2.5 oz. Plus, a high-capacity 1200mAh lithium-ion battery lasts an impressively long time and charges very quickly, which makes it an ideal option for travels.
In all, the Hoogalite Clip makes a great alternative to blue LED reading lights. It won't disturb your circadian rhythms or suppress the melatonin production. So, if book lights usually keep you awake for hours, you should definitely try this amber lamp.
Additional Info
Last updated price

$

12.95

Stock
In stock
ASIN

B07Q87WJ7M
---
Hooga Rechargeable
What Is a Book Light?
A book light is a great invention for people who can't imagine their life without reading, all day, all night. Reading lights come in different designs and usually have several brightness settings for various lighting conditions. The lowest light is good for the nighttime reading when you don't want to disturb people around you, while the brighter setting is ideal for the daytime. Moreover, some models are made specifically to reduce the glare on e-readers. As for design, the choice is also vast here. You can find clip-on lights that are very convenient to use and can be fastened not only to your book but to the headboard of your bed as well. Plus, some clip-on models can double as freestanding lights, which allows you to put them directly on your desk. If you need a more versatile option, you can go for around-the-neck lights with dual LEDs. They deliver a hands-free reading experience for ultimate comfort. Additionally, they are very handy for working in dark spaces when you need to use your both hands. Considering the power source, you can find lights that use regular batteries or rechargeable ones. If you often read on-the-go, getting a model powered by standard cell batteries is a sensible option, since you can always have spare ones in your backpack and never run out of light. As you see, there are tons of options on the market, and it might be difficult for you to find the one you really need. We hope that our review of the best reading lights will help you with this tricky task.
If you want to protect your eyes while reading or working on your laptop, we recommend you to get reading glasses. Prevention is better than cure.