Smartphones & Accessories
Jawbone BIG Jambox vs Bose SoundLink Color
Product Comparison: Jawbone BIG Jambox vs Bose SoundLink Color
Model
BIG Jambox
SoundLink Color
About the product
BIG JAMBOX turns any mobile device (phone, tablet, media player, computer) into a portable, party-powering, hi-fi sound system that wirelessly delivers amazingly clear, full audio at any volume.
The SoundLink Color speaker suits your active, mobile lifestyle. The body is constructed of durable materials, and its rounded, compact shape fits easily into your bag or backpack. The speaker can connect to two Bluetooth devices at the same time, letting you switch between them quickly—when the first device stops playing, the second can start.
Color
Black
Black (also available in 4 colors)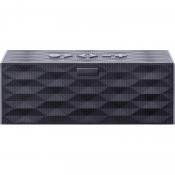 Jawbone BIG Jambox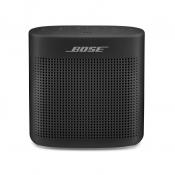 Bose SoundLink Color
Product benefits
BIG JAMBOX has a built-in microphone that lets you enjoy hands-free calls and video chats using Skype, GoogleTalk, and FaceTime. Whether you're in a conference room or cooking in the kitchen, your conversations will come through loud, crisp, and clear.
30 minutes auto-off setting
Features
Exclusive LiveAudio technology lets you experience your music like never before—as if you're sitting front row, hearing it live.
Voice prompts
Accessories
Wall charger, stereo cable, and micro-USB cable
USB charging cable
Bluetooth transmission range (max)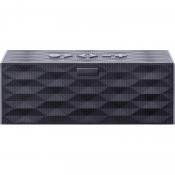 Jawbone BIG Jambox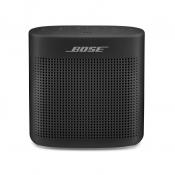 Bose SoundLink Color
Bluetooth version (if specified by manufacturer)
Warranty / Certifications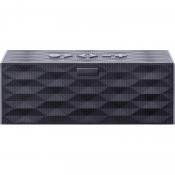 Jawbone BIG Jambox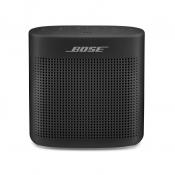 Bose SoundLink Color
Product manuals
http://cdn2.bhphotovideo.com/lit_files/97405.pdf
https://assets.bose.com/content/dam/Bose_DAM/Web/consumer_electronics/global/products/speakers/soundlink_color_ii/pdf/soundlink_color_ii_PDF_ownersguide_ML.pdf