Solitary bees may not give you honey but keeping and housing these little fellows require no training at all. All you have to do
is purchase one of these bee houses and your garden will look better than ever.
...
Read more
...Read less
X
This site is a free online resource that strives to offer helpful content and comparison features to its visitors. Please be advised that the operator of this site accepts advertising compensation from certain companies that appear on the site, and such compensation impacts the location and order in which the companies (and/or their products) are presented, and in some cases may also impact the scoring that is assigned to them. The scoring that appears on this site is determined by the site operator in its sole discretion, and should NOT be relied upon for accuracy purposes. In fact, Company/product listings on this page DO NOT imply endorsement by the site operator. Except as expressly set forth in our Terms of Use, all representations and warranties regarding the information presented on this page are disclaimed. The information which appears on this site is subject to change at any time. More info
The Bees Waggle Mason Bee House
Install the Bee House in Your Garden to Attract Native Bee Nesters
Most of us know honey bees but quite a few people have ever heard of mason bees - one of the best pollinators in the world. Mason bees are quite different when compared to honey bees. They are a solitary species which, unlike honey bees, don't have a colony to lean on. Also, female bees are fertile with the ability to lay both female and male eggs. Mason bees are non-stinging and peacefully coexist with humans. A male mason bee doesn't have a stinger while a female bee can sting only when squeezed or trapped, so they pose no threat when kept in the garden. These bees are perfect for those who want to increase their garden's productivity and add an aesthetic value to their home.
Installing the Waggle Mason Bee House in your garden will attract native bee nesters and give them a place to nest and breed. It's designed to meet the solitary lifestyle of mason bees. This expertly crafted bee home is made from fir wood that is extremely durable and resistant to rotting. It's ideal for adventurous gardeners who want to boost their garden's productivity. The bee house has 6-inch nester hole larvae tubes which provide favourable conditions for the mason bees to thrive and multiply. It fits perfectly for both female and male bees, providing them with sufficient food stores to survive through spring to fall. As an added bonus, the package includes the bee food that is free from GMO and wildflower seeds. You also get an expert guide to know how to nurture these beneficial insects. The guide includes interesting facts about native bees, tips on how to build the perfect bee house and where to set it up. Unlike paper or cardboard insect tubes, the Waggle Mason Bee House has an open design, which allows you to clean the tubes and harvest bee cocoons with ease. The house has an eco-friendly construction and meets the FSC certified standards that provide obvious environmental benefits. This native bee house is perfect for outdoor use due to its solid construction. It mounts securely with a standing base or a double keyhole. Hang this fir wood house against a wall or tree where it will get the morning sun to attract mason bees.

The Waggle Mason Bee House will help attract and keep beneficial native bees in your backyard or garden as well as provide sustainable habitats for them. This nesting house will help increase bee populations as well as pollination of your fruit and veggie yields. It also makes a great gift for gardeners and bee lovers.
Last updated price

$

0.00

Stock
May be out of stock
ASIN

B01G7FCJP0
---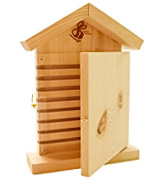 The Bees Waggle Mason Bee House
Gardener's Supply Company Mason Bee House
Keep Your Garden Plants Healthy and Grow to Their Fullest Potential
Mason Bees are a native type of bees that are excellent pollinators of spring fruit trees, flowers, and veggies. Unlike honey bees that visit approximately 50 blooms a day, mason bees make about 1000 blooms within a day that helps greatly increase the productivity of your garden. By nature, they nest in hollow stems, holes, and woodpecker drillings found in woods and trees. Although these bees don't produce honey, yet they play a vital role in the pollination process. Each bee visits about 1000 blooms per day that is 20 times more than a honeybee. If you want to attract native bees to your backyard, then the bee house from Gardener's Supply is a good way to start.

This nesting house makes an excellent home for mason bees. It's spacious enough to accommodate these beneficial insects and provide the sustainable habitat for them. An attractive overall design of this house makes it one of the best homes for mason bees, as it emulates wood holes and crevices that these insects love. It's made of natural bamboo that is resistant to pest infestation and can withstand harsh environmental conditions. The replaceable tubes allow the female bees to lay their eggs and fill them with pollen and nectar that is required for propagating the brood. The house is durable and well made, so it can last for several seasons if unprotected outdoors. It comes with an easy-to-mount metal hanger, which allows positioning the house within easy reach in your garden, for example, on a fence, against a wall or tree. To attract mason bees, the nesting house should be positioned in a place where it can get the morning sun. Mason bees are cold blooded and require the early-morning sun exposure to give them the energy to fly and encourage them to start foraging earlier.

The Gardener's Supply Company Bee House will help to keep your garden plants healthy and grow to their fullest potential in a natural way. Designed to encourage bees to reside in and pollinate your garden, this bee box is an excellent choice for the nature enthusiasts and gardeners. It will help boost the productivity of your garden and ensure the bees are well protected.

Additional Info
Last updated price

$

19.99

Stock
In stock
ASIN

B007XIWY1A
---
Gardener's Supply Company Mason Bee House
Cestari Bee Houses Etc. 01
Provide a Safe Habitat for Bees While Improving Your Garden's Productivity
Native bees are more efficient pollinators than honey bees. These beneficial bees visit 10-20 time more blooms per day. Native bees are great garden guests, as they don't cause any danger to kids and pets.
Installing the Cestari Bee House is an easier way to attract mason bees than investing in beehives and honey bee supplies. By using this nesting house you can provide a safe habitat and help bees thrive while improving your garden's productivity. This bee home is a high capacity nester designed for 140 solitary bee species, including leafcutter, blue orchard, red mason bees, etc. The interior and exterior design of the nester allows the bees to live and multiply without facing any risks associated with habitat destruction, pesticides, or diseases. It also protects the bee larvae from insect pests and predators. The house is crafted from FSC certified pine wood, providing housing that is not only bee friendly but also eco-friendly. The nester is designed with tubes of various diameters, from small to large that attract different bee species. The 75 tubes are over 4 inches long, providing plenty of depth for the pollinators to lay their eggs and for the larva to mature. Each tube is cut from sustainable, long-lasting bamboo to provide a sturdy shelter for the bees while they nest. Smooth tubes don't injure bee wings, keeping them safe, while overlapping roof shelters protect nests from water and wind damage. In fact, carpenter bees also like this bee hotel, so several well-placed bee boxes can keep them away from drilling holes in your house. Set it approximately 4 feet off the ground, on a wall, fence, or tree, in a sheltered area. The bee box lasts for 1-2 seasons, so it provides a lasting habitat with minimal upkeep.
The Cestari Bee House is an excellent choice for a savvy buyer. This insect house is more than a decorative addition to your garden, it provides safe habitat and helps increase the population of native bees. Thus, if you are environmentally-conscious, you should invest in this bee house.
Last updated price

$

0.00

Stock
May be out of stock
ASIN

B01G2QLQU8
---
Cestari Bee Houses Etc. 01
Welliver Outdoors WPBEE
An Ideal Bee-keeping Solution for Adventurous Gardeners
Mason bees do a great job when it comes to pollinating fruit crops, flowers, and vegetables. They are the best to keep within homes as pollinators since these bees are non-aggressive and never excavate their own holes. So, they don't pose a danger to wooden structures.
The bee house from Welliver has an expertly crafted design and offers a perfect home for mason bees. The nester provides low maintenance that makes it an excellent alternative to keeping honey bees. The paper tubes allow the female bees to lay their eggs from March to August in the calendar year. The larvae will develop through the winter months and emerge as adults the following spring. Then the tubes should be thoroughly cleaned or replaced at least after 1-2 seasons of use. Mason bees are very sensitive and may leave the house if not cleaned well or replaced to find a more suitable abode. Replaceable tubes are better than permanent ones, as they help prevent mite infestation in the colony. The Welliver Mason Bee House weighs only 1.45 pounds and has a sufficient number of straws to fill it up. It's easy to mount at a convenient position within your home. Later on, you can buy additional straws to refill. You can place the bee house on the ground near the garden or a woodpile. The openings of the tubes should be placed facing away from the winds.

The Welliver Mason Bee House provides a perfect home and conducive environment for the mason bees to multiply and thrive. It's designed to favour the solitary lifestyle of mason bees. This bee house is an ideal bee-keeping solution for adventurous gardeners who want to increase the productivity of their garden.

Additional Info
Last updated price

$

19.99

Stock
In stock
ASIN

B06XTKYH96
---
Welliver Outdoors WPBEE
Kinsman KMB
Provide an Easy, Ready-made Home for the Orchard Bees
Orchard mason bees are great pollinators of fruit trees, blueberries, raspberries, and strawberries. Unlike honey bees, they are active in colder temperatures and have hairy bodies to carry more of the pollen used for fertilization. Each female bee makes a nest in tubes, sealed with mud. In nature, female bees lay their eggs in dead trees, insect holes, and hollow plant stems. Finding these places is extremely difficult. By setting up the Kinsman Giant Bee Nester, you provide an easy, ready-made home for the orchard bees that is a safe way to encourage these beneficial insects into your garden. Be assured, they'll repay your kindness by pollinating your berries and fruits in early spring.
The Kinsman bee house is a high capacity habitat for native cavity-nesting bees, like leafcutter bees, red mason bees, and other species. The nester is made from eco-friendly materials and has no plastic in its construction. This simple yet effective habitat contains 68 nesting tubes and provides up to 360 bee cells where these non-aggressive and non-swarming bees can lay their eggs. From March to August female bees lay eggs in the tubes, creating a number of cells separated from each other by leaf walls or mud. The larvae will develop in the tubes during the winter months and then emerge as adults the following spring. After that, the females and males mate and the cycle begins over again. By encouraging the bees to nest in your yard or garden you help the conservation of these species as well as increase your crop yields. The house is easy to use and maintain. Place the nester in a sunny, sheltered place facing South or East to catch the morning sun and fix with a doubled rope or drainage pipe clamp. Avoid direct exposure to rain, as the mud-filled tubs can be damaged if they get soaked. Once the bees start to use your nesting house, it will be used year by year as the population increases. You can remove the individual tubes to introduce egg cells to gardens in other geographical areas. As an added benefit, you'll get full instructions that will help you choose the best location to encourage bees to set up home.

The Kinsman Giant Bee Nester is designed to provide a safe place for solitary bee species to lay their eggs, keeping them away from chemicals, predators, and harsh weather. Sure enough, it will make an excellent gift for a beekeeper or anyone who may be interested in observing bees.

Additional Info
Last updated price

$

18.99

Stock
In stock
ASIN

B005FW89MO
---
Kinsman KMB
What Is a Bee House?
Bees are very busy, pollinating trees, wildflowers, and most agricultural products. Today, many pollinator species are facing extinction, so it's important to be more aware of the ecology of these beneficial insects. As a beginning beekeeper, you should decide which type of bees you want to host, honey bees or solitary bees, in order to provide a good habitat for them. Solitary bees are efficient pollinators and, unlike honey bees, they don't live in communal hives. In the wild, solitary bees lay their eggs in natural cavities like hollow stems, woodpecker holes, and insect holes. However, they can use artificial nesting cavities, so you can attract them to your garden or backyard with a bee house. A bee house is a man-made shed, containing a number of artificial holes that mimic the habitat bees naturally use for nesting and laying eggs. It provides a safe place away from predators, harsh weather conditions, and chemicals that can interfere with their reproductive cycle. The bee house allows you to easily harvest cocoons and offers superior protection of the bee larva. Supplying clean holes for nesting, providing a source of pollen in the spring, and harvesting cocoons in the fall guarantee a healthy population of bees in your garden.

If you are passionate about butterflies, embellish the look of your garden with one of our butterfly houses.