Don't underestimate such a piece of your vehicle equipment as wiper blades. Good windshield wipers can prevent a lot of motoring
disasters and save your and other people's life while on the road! Follow the information below to find the set you need among the best wiper blades available!
...
Read more
...Read less
Bosch ICON
Top Performance and Resistance to Any Weather
The Bosch ICON Wiper Blade wipers were designed for the driver's side of the windshield only. Their main features are a highly efficient performance in cleaning and wiping the windshield and long useful life regardless of the weather conditions. It is a result of a new ClearMax 365™ technology implemented in the wiper blade construction. The material used for this purpose is the exclusive synthetic rubber that combines a soft base layer of rubber with a hard polymeric covering. These two components were tied chemically and physically. This design has made the blade really flexible in the cold season, resistant to splitting, chemicals, and moisture. The unique combination of all these features made it possible to extend the useful life of Bosch wipers by 40% compared to other premium brands. We have discovered some other technological advantages of the wipers including their smooth and quiet operation, optimizing visibility under the harsh weather conditions, and steady contact with the windshield at high speeds. We have noticed also that the exclusive spring tension technology fits the device firmly to the windshield ensuring even and stains free wiping. Our overall conclusion is that this model can be used in any weather, and it might be the best solution for the winter season.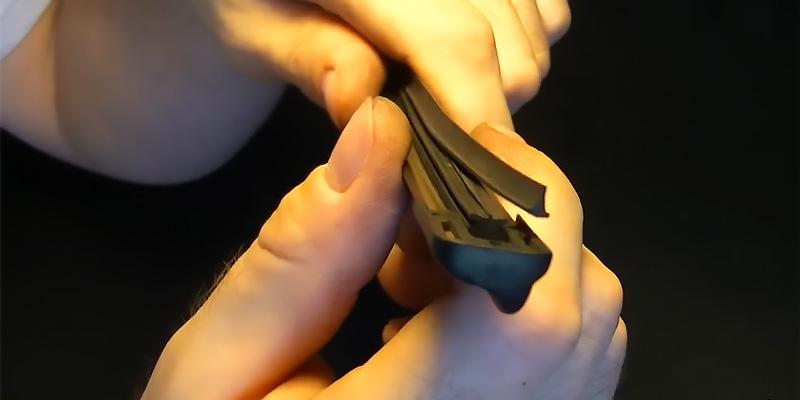 Interesting Facts about Manufacturer
Did you know that the industrial giant Bosch is not only the owner of numerous patents, technologies, and brands but also the first company to introduce the 8-hour working day with 2 shifts as a standard on its plants? The company founder Robert Bosch started his business from a small workshop employing three persons including himself. He had never strived for an immediate gain, instead, he tried to focus on delivering top quality products and meeting his customer's needs. The introduction of a new working schedule was explained by him as a necessary measure to ensure meticulous and diligent work of employees. He strongly believed that losing money could not be the same as losing customers and the latter would be much more tragic. We could quote his words: "I don't pay good wages because I have a lot of money; I have a lot of money because I pay good wages". In fact, Bosch has been engaged in the production of car components since long ago. Its workshops have manufactured the first current generator in the past and continue making spark plugs, electric starters, windshield wipers, and anti-fog headlights today.
More Products to Consider
The Mobil 1 M1-110 extended performance oil filter is a high-quality oil filter capable of holding twice more contaminants than most of the rivals, and eliminating internal leaks through the silicone anti-drain valve.
Additional Info
---
VIDEO
Bosch Product Technology: ICON Wiper Blades
What customers say about this product
The connectors to the wiper arms is very secure and doesn't feel as flimsy as rain-x which is why I had to replace them in the first place (the connector broke and sent my wiper flying off the car!)10/10 will buy again.
The spring of the frame-less blade is a little bit too heavy, causing it to hang up over the glass in the middle if the spring in your wiper arm is more than a couple of years old.
Bosch ICON
Michelin Stealth Winter/Summer Hybrid Wiper Blade
Maximum Protection and Firm Grip
The first thing you notice comparing Michelin Stealth Ultra Windshield wipers with other market proposals is their hybrid construction. The patented Smart Flex technology adapts the wiper to any windshield's shape. In other words, the construction segments are connected with each other independently making the wiper blade extremely flexible and adjusting it to the windshield's curve. Another important feature is the distribution of the pressure among eight suspension points allowing the wiper to grip securely and evenly to the windshield. We should also mention the patented Smart Hinge cover protecting the blade from various debris, ice, and snow. In combination with a natural rubber blade covered with graphite, this protection cover ensures long and useful life of this windshield wiper. Independent tests show that even after 300,000 wiping cycles this accessory performs excellently. We can make a conclusion that Michelin Stealth Ultra Windshield wiper features superior performance wiping the rain, snow or ice out of your windshield as long as its useful life lasts. It is also securely protected from the weather and firmly grips the windshield across the entire blade.
Environmental Consciousness
The name of Michelin is famous not only because of its exclusive high-quality products but also because of the rational consumption of the natural resources supported by the company worldwide. We have learned that the company implements numerous environmental protection programs currently including the "Clean Energy" project. This project involves improvement of controls over the energy consumption by the industrial equipment striving for its reduction in the future. It promotes the usage of solar panels and other alternative power sources like the wind. The company widely utilizes recycled materials in its production processes. For example, the used tires are 100% recycled and processed to manufacture synthetic covers for playfields and sports grounds or fillers for sound-proof walls. Michelin is particularly concerned about protection of biological diversity. Its rubber plantations in the State of Bahia in Brazil having the size over 2,700 acres are maintained free of cultivation. This fact has a positive effect on the forest and wildlife conservation. It should be mentioned that in the last 20 years the company has prevented harmful emissions of over 40 billion tons of the carbon dioxide and helped save 16 trillion liters of fuel.
More Products to Consider
AlphaShades car windshield sunshade is a special sunshade placed under the windshield. It is made of a high-quality polyester and nylon mixture effectively protecting the car interior from the direct sun and ultraviolet radiation.
---
VIDEO
Review of the Michelin Stealth Ultra Windshield Wiper Blade - etrailer.com
Michelin Stealth Winter/Summer Hybrid Wiper Blade
Rain-X Latitude 5079280-2
Winner of the Year
According to the survey of 40,000 people in 2017, the Rain-X Latitude Wiper Blade is the most popular and robust wipe blade on the market. It features a combination of high-quality materials and advanced technologies to provide drivers with great road visibility in all weather conditions. Encased in synthetic rubber, the blade perfectly contours to the windshield which allows it to clear it of dirt and moisture in a quick wipe. Rubber coating also ensures robust all-weather performance. Unlike other materials blends, rubber can easily withstand the elements and survive the harshest snow and rains. In addition to great all-weather performance, the Rain-X Latitude Wiper Blade offers drivers the comfort of use. Fitted with a built-in aerodynamic spoiler, the blade works absolutely noiselessly. Do not hesitate to choose the Rain-X Latitude wiper blades and enjoy superior wipe quality and perfect driving visibility no matter what the weather is.
How to Activate Water Repellent Coating
As it was mentioned above, the Rain-X 5079280-2 Latitude wiper blades can treat the glass of the windshield with a water-repellent coating so that the ice and moisture can quickly vapor away. To activate this technology, make sure to follow these simple steps:
Clean the windscreen and let it dry. Install the blades and remove the yellow cover;
Let the blades work in a dry mode for 2-3 minutes;
Spray washer fluid to activate a water repellency coating. Once activated, the technology is going to be activated automatically every time when it starts to rain or snow.
Universal Compatibility. Effortless Installation
One more advantage of the Rain-X Latitude Wiper Blades is that they are available in a vast array of sizes so that everyone can find the pair that will fit the windshield of his vehicle best. The blades are offered in 14", 16"-22", 24", 26", or 28" size options. Besides the variety of sizes, these blades can be attached to most wiper arm types. No matter whether your car is fitted with bayonet, I&L, large J-hooks, large pin, P&H, PTB, small J-hooks, or small pin arms, the Rain-X Latitude wiper blades will fit any of them perfectly well. If you are not sure how to install new blades properly, there are many video tutorials which you can watch on the official website of the manufacturer.
Additional Info
---
What customers say about this product
Pretty much work as advertised, connection a little strange but works. Nice unit.
What can I say here .. the performance of the blade is exceptional, as I've always experienced with Rain-X wiper blades. What's new is the ease in which these installed. I've *never* installed wiper blades so easily in my life!
Rain-X Latitude 5079280-2
Anco Conventional Windshield Wiper Blade
Superb and Universal
After the tests of more expensive brands with their numerous advantages, we took the Anco wipers featuring the conventional bridge frame and metal flexor. Despite the affordable price, the wiper has one major advantage - a universal use. Its metal frame carries multiple hinged joints pressing the blade evenly to the windshield. The blade smoothly wipes the windshield following its curve. Thus, this item can replace any original wiper with no performance deterioration. We have also discovered that the universal character of these wipers includes the KwikConnect fixing system ensuring their quick and easy installation and replacement. The bridge frame and flexor assure full wiper's compatibility with the original equipment of any car manufacturer, plus the blade is firmly pressed to the windshield. The DuraKlear rubber of the blade provides a clean and clear wipe. In conclusion, we would like to state that this wiper can fit any car arm regardless of the pivot type and windshield shape.
Interesting Information
As soon as the wipers became available on the mass market their design and construction were gradually improved and modernized. Though, only some people know that, in the beginning, electrical wipers could not move in intervals. At that time, constant blade moving irritated many drivers. This fact particularly frustrated the engineering professor Robert Kearns from the Wayne State University of Michigan. Professor and inventor, Kearns has lost an eye at his wedding when a champagne cork struck him. Watching the wiper functioning he tried to invent a mechanism resembling an eyelid. He wanted it to start and stop every few seconds like the eyelid opens and closes. He has invented an intermittent wiper. Kearns offered his design to the Ford Motor Company in 1963. Six years later the Ford Mercury model featured an optional intermittent wiper of the "own design". In 1976 he has disassembled an electrical wiper drive of his son's car and found out that it used the scheme he had invented. Kearns filed lawsuits against 26 car manufacturers and other companies. He wanted Ford only to pay for the patent infringement $141 million. In 1990 the Federal Jury awarded the inventor with $10 million compensation. Professor Kearns died in 2005, in his final years he drove 1978 Ford pickup and 1965 Crysler, none of the cars had intermittent wipers. The story of his lawsuit was used for the movie "Flash of Genius" shot by Marc Abraham in 2008.
More Products to Consider
SAWE - extremely bright EX chipsets is a set of 2 LED lamps to be used in a car, to illuminate the number plate, etc. The chipset has the size of 1.25" and should be powered from 12V DC source.
Additional Info
---
VIDEO
Anco A 24 M Profile Wiper Blade
Anco Conventional Windshield Wiper Blade
Rain-X Weatherbeater
Time-proven Durability
The Rain-X wiper has a remarkable durability. You can judge yourself: firstly, the frame is made of the galvanized steel resistant to rust and corrosion; secondly, the blade made of the squeegee rubber contains natural components that prevent cracking, splitting or tearing caused by extremely high and low temperatures. This means, the wiper is substantially durable and will serve you for a long time. We should also mention that the wiper has multiple pressure points to provide a smooth and even wipe. The blade grips the windshield firmly and follows its shape precisely. The tests have proven that this wiper leaves no stains or streaks behind it. The overall conclusion is that Rain-X wiper can please you with its durability and long useful life, and ensure an effective wiping of snow, rain or road dust from the windshield of your car.
Useful Tips
If you wish you wipers to last longer and remain effective we recommend you to follow our advice as to their servicing and maintenance. You should regularly clean the wiper from dust and dirt that has stuck to it. It is desirable to wash the wiper frequently applying grease-removing detergents available in any shop with car accessories or supermarket. Do not use the wipers in the winter time if they are clogged with ice. Warm the car inside first and defrost the windshield and wipers. If you leave the car parked for a long period of time in winter you should better lift the wipers upwards to prevent their freezing to the window. Though despite all our care the wipers can not be used forever and must be replaced in time. It is the guarantee of your safety on the road.
More Products to Consider
Rain-X 800002243 glass treatment is a special cleaning detergent for the windshield of your car. The detergent was tested by experts of the University of Michigan that confirmed its ability to increase wiping speed and performance in general. The flask contains 7 oz of the detergent.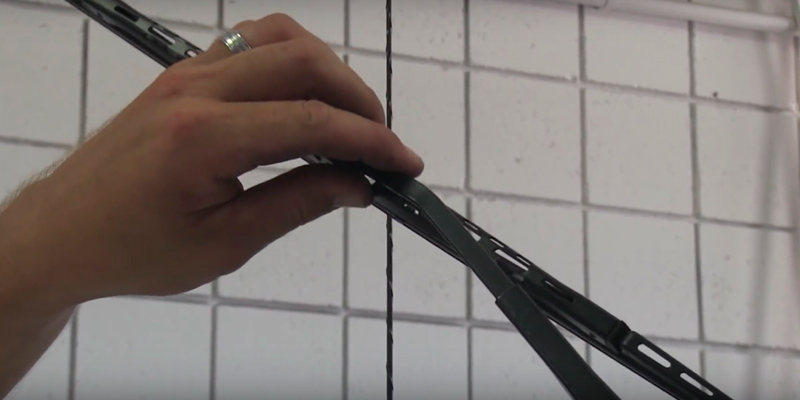 Additional Info
---
VIDEO
rain-x weatherbeater rx30124 wiper blade review 1.wmv
What customers say about this product
I have not had time until today to reach out about this issue, but will try to get the proper connector from the manufacturer.
It has worked very well in both snow and rain. I am much more impressed with this blade than I was with the original. heavier, Rain-X blade that i purchased.
Rain-X Weatherbeater
What Is a Wiper Blade?
It is impossible to imagine driving a car without windshield wipers in bad weather conditions. Windshield wipers provide comfort and safe driving in rain and snow, so it is very important to choose high-quality all-weather wipers that will help you provide perfect visibility while driving a car in any weather. In this review, we are explaining how to choose the right windshield wipers. We are focusing on different types of wipers, as we aim to arm you with the information you need to keep in mind while choosing the right windshield wipers for your vehicle.
Safe driving of all traffic participants is of high importance, so we strongly recommend motorbike drivers to take a look at our selection of the best motorcycle helmets.
What Features to Compare
Type
If you've decided to purchase a new set of windshield wipers, consider the structure, for wipe quality depends on its type greatly. Currently, you can find three types of windshield wiper which are:
Framed windshield wipers are the most popular. They're usually made either of metal or plastic and feature a hinge system. Compared to the other wipers, they are also average-priced and thusly, favored by a big variety of customers worldwide. The only drawback of metal framed windshield wipers is that they are not all-weather resistant and when used in frosty weather may quickly get worn, for the ice built-up on the frame isn't easy to remove. Plastic wipers are more practical in this sense. Their bracket frames are much more flexible and the backlash is also lower.
Frameless or Bracketless windshield wipers (also known as Hingeless wipers or Beam-blade wipers) as the name suggests have no external frame. These are solid wipers with a rubber strip and a spoiler cover, which are fitted with caps from both sides and a mounting support in the middle. Due to hingeless design, frameless wipers are less sensitive to frost and more wear-resistant. They are also pretty rigid and quiet when operate.
Hybrid windshield wipers feature a combination of framed and frameless design. They look very similar to framed wipers but have an outer shell for a lower profile and more aerodynamic shape. This adds to their resistance to snow and ice. Hybrid windshield wipers are obviously the most durable as well as the most expensive.
Blade Length and Material
After the main types of wipers have been covered, the next what you need to consider is the blade properties. To select a suitable set of wipers, firstly, you need to measure the size of your windshield, for it's important that the blade length isn't too short for it. In general, it might be a good idea to opt for longer blades. They can cover a bigger surface and deliver better cleaning results. If your vehicle has two or three windshield wipers, make sure to check whether they park in the correct location, otherwise, your new wipers may not fit and cross one another. Too long wipers aren't a good option too. If the wiper is too long, the distribution of the pressure across the entire length becomes lower, the contact with a windshield gets worse and so, worsens the quality of the wipe either. Thus, it is important to follow manufacturer's recommendations and get wipers of the right size.
You should also consider the frame material to be sure of the quality and service life of the chosen wipers. Today, most wipers are made of combined rubber, however, they say, natural squeegee which contains silicon and synthetic fillers works better and lasts longer. Wipers can also have different coatings among which the most popular are graphite and polymer. Consider the composite materials and only then, make your choice.
Connector Type
Currently, there are many types of connectors presented on the market. The most universal and therefore common type found here and there is a hook, but you can also find some other modifications that include side pin, bayonet, balanced bayonet, pinch tab, American hook, pin-and-hook. Keep in mind, if the wiper is fit, the connector type will not have a big impact on its efficient functioning. Only connectors of smaller sizes might improve the aerodynamic characteristics of wiper blades, especially while driving at high speeds.