Don't underestimate such a piece of your vehicle equipment as wiper blades. Good windshield wipers can prevent a lot of motoring
disasters and save your and other people's life while on the road! Follow the information below to find the set you need among the best wiper blades available!
...
Read more
...Read less
X
This site is a free online resource that strives to offer helpful content and comparison features to its visitors. Please be advised that the operator of this site accepts advertising compensation from certain companies that appear on the site, and such compensation impacts the location and order in which the companies (and/or their products) are presented, and in some cases may also impact the scoring that is assigned to them. The scoring that appears on this site is determined by the site operator in its sole discretion, and should NOT be relied upon for accuracy purposes. In fact, Company/product listings on this page DO NOT imply endorsement by the site operator. Except as expressly set forth in our Terms of Use, all representations and warranties regarding the information presented on this page are disclaimed. The information which appears on this site is subject to change at any time. More info
Bosch ICON
Top Performance and Resistance In Any Weather
Although most vehicles have at least two wipers on the front windshield, the most important one is the one right in front of the driver. Anything that accumulates on the windshield that will obstruct the driver's view can be dangerous, so it is important to have a high-quality and highly effective windshield wiper at least on the driver's side. If you find yourself in need of replacing this particular wiper, the Bosch ICON Wiper Blade wipers were designed for the driver's side of the windshield only. The standout features of these blades are highly efficient performance in cleaning and wiping the windshield and high resistance to weather conditions. This has been achieved thanks to the implementation of the new ClearMax 365™ technology, which ensures effective wiping at all times.
To elaborate on this a bit more, these blades are made of premium synthetic rubber that combines a soft base layer of rubber with a hard polymeric covering. These two components were tied chemically and physically, which helped increase their flexibility in cold seasons as well as made them more susceptible to splitting, chemicals, and moisture. A combination of all these features made it possible to extend the service life of these wipers by 40% compared to other premium brands.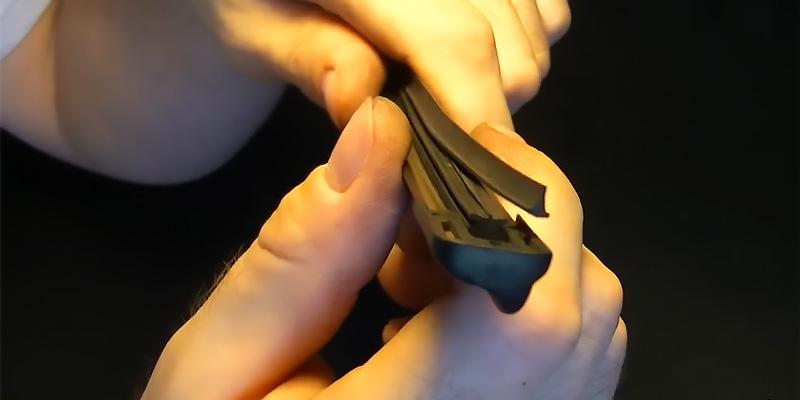 Other Highlights
As you can see from the above, a lot of care and research has been put into this windshield wiper in order to make it the most effective one you can buy. However, what is important for a windshield wiper isn't only that it is effective at its job, but it must also be made to withstand the elements without wearing down as well as providing the most distraction-free wiping possible. The other technological advantages of these wipers include smooth and quiet operation, the ability to provide excellent visibility in all weather conditions, and perfect grip with the windshield at high speeds. Besides that, they boast an exclusive spring tension technology that allows for stains-free wiping, so they certainly live up to all of the important criteria for a windshield wiper.
To conclude, the folks behind the Bosch company have, as always, made sure to produce a high-quality product that can be safely used in any weather conditions. If this sounds exactly like what you need, buying the ICON Wiper Blade wipers will be the right decision. Don't settle for just any old windshield wipers when you can ensure yourself the very best!

Additional Info
Last updated price

$

27.97

Stock
In stock
ASIN

B005JU5W54
---
VIDEO
Bosch Product Technology: ICON Wiper Blades
What customers say about this product
I bought the wrong version of this wiper the first time since Amazon says it fit my car, but it was only the length that Amazon was checking.
After being disappointed by many other brands, these are holding up and are streak free even after a very wet tropical season here in S Florida.
Bosch ICON
Michelin (8518)
Great Wipers From a Trusted Brand
When it comes to various accessories for cars, there is one name that is almost always at the top of the list, and that is Michelin. Although they are best known for their tires, they also have created quite a few high-quality parts for vehicles of any type, and one of the great examples of this is the Michelin Stealth Ultra Windshield Wiper Blade. Although many people may not put too much thought into the quality of the wiper blades they use on their cars, those who want the best ones available should take a look at these.
The Michelin 8518 is a smart wiper that adjusts to the shape of your windshield, so it won't let you down in any bad weather. The blades will maintain contact at all points throughout the course of the wiping action, ensuring that any kind of precipitation is quickly and easily wiped out of your view, giving you clear visibility in any kind of weather. What's more, these blades can be quickly installed and removed, so they are the perfect option for those who may want to keep an extra set in their car that can be used as a replacement in emergencies. The model has even passed the required testing and remains effective after 300,000 wipe cycles, so you won't have to worry about these blades wearing out anytime soon.

Smart Hinge for Effective Wiping
What helps give these wiper blades their ultimate effectiveness are a number of different innovations, with the most notable one being the Smart Hinge. This hinge allows the wiper to fit snugly against the glass with its entire surface all throughout the course of the wipe, so it won't leave any "dead spots" where precipitation doesn't get wiped away. Along with the hinge itself, the patented Smart Hinge cover protects the blade from being clogged by snow, ice, or any kind of debris, so you can rest assured that no amount of snow or ice will be able to stop your blades from working, an especially important point for those who live in cold environments.
Another great feature here is that each blade has its own independent suspension that keeps the blade firmly against the windshield. This means that even with anything possibly blocking or affecting the hinge in some way, your wipers will still remain effective. The blades are available in a large range of sizes ranging from 14 to 28 inches, ensuring that there is a size that will fit just about any vehicle out there. All told, those who are looking for some of the best wiper blades on the market will find that these blades from Michelin are just as good as their brand name implies.
Last updated price

$

15.97

Stock
In stock
ASIN

B00DYSDHCI
---
Michelin (8518)
Rain-X Latitude 5079280-2
Winner of the Year
According to a survey of 40,000 people in 2017, the Rain-X Latitude Wiper Blade is the most popular and robust wipe blade on the market. It features a combination of high-quality materials and advanced technologies to provide drivers with great road visibility in all weather conditions. Encased in synthetic rubber, the blade perfectly contours to the windshield which allows it to clear it of dirt and moisture in a quick wipe. The rubber coating also ensures robust all-weather performance. Unlike other materials blends, rubber can easily withstand the elements and survive the harshest snow and rains. In addition to great all-weather performance, the Rain-X Latitude Wiper Blade offers drivers the comfort of use. Fitted with a built-in aerodynamic spoiler, the blade works absolutely noiselessly. Do not hesitate to choose the Rain-X Latitude wiper blades and enjoy superior wipe quality and perfect driving visibility no matter what the weather is.
How to Activate Water Repellent Coating
As it was mentioned above, the Rain-X 5079280-2 Latitude wiper blades can treat the glass of the windshield with a water-repellent coating so that the ice and moisture can quickly vapor away. To activate this technology, make sure to follow these simple steps:
Clean the windscreen and let it dry. Install the blades and remove the yellow cover;
Let the blades work in a dry mode for 2-3 minutes;
Spray washer fluid to activate a water repellency coating. Once activated, the technology is going to be activated automatically every time when it starts to rain or snow.
Universal Compatibility. Effortless Installation
To cover the needs of most users, the Rain-X Latitude Wiper Blades are produced in a vast range of sizes ranging from 14 up to 28 inch size options. Thus, no matter the windshield of your vehicle, there should be a size perfectly suitable for it. Furthermore, no issue should arise with the installation of these blades as they perfectly fit most wiper arm types, including but not limited to bayonet, I&L, large J-hooks, large pin, P&H, PTB, small J-hooks, or small pin arms, which also favorably stands this set out from many of its rivals. For those replacing blades themselves for the first time, the manufacturer offers a bunch of helpful video tutorials with quick tips on their official website.
Additional Info
Last updated price

$

11.63

Stock
In stock
ASIN

B016NA9WN6
---
What customers say about this product
Pretty much work as advertised, connection a little strange but works. Nice unit.
What can I say here .. the performance of the blade is exceptional, as I've always experienced with Rain-X wiper blades. What's new is the ease in which these installed. I've *never* installed wiper blades so easily in my life!
Rain-X Latitude 5079280-2
Anco Conventional Windshield Wiper Blade
Superb and Universal
Finding the right wiper blades for your car can often be more difficult than it initially would seem. Not all wiper blades will fit or even work well with all vehicles, so it can sometimes take a lot of research in order to figure out which model will be the best. in cases like this, you want to look for wiper blades that are universal, meaning they are meant to be used with most vehicles. At the same time, though, you still want to make sure you get the best model that will withstand the usual wear and tear that wipers go through. The Anco Conventional Windshield Wiper Blade is one such model that fits all of these criteria, giving you a universal option that is also of the highest quality.
Just at first glance, these wiper blades appear to be fairly typical universal replacement blades. They come in sizes ranging from 10 to 28 inches, so you can be sure to find the right size for your particular vehicle. Although the packaging of this blade does seem fairly generic, it's what inside of it that is important. The blade itself definitely feels of high quality and has a sturdy structure, yet at the same time they are flexible enough to easily conform to the shape of your windshield, ensuring that the entire blade makes contact with the glass throughout the wiping cycle, giving your windshield a thoroughly clean wipe. 
DuraKlear Rubber Compound
What gives this blade its sturdy yet flexible build is the exclusive material the blades are made of. The DuraKlear rubber compound that the blade edge uses provides a gentle, clean wipe that gives your windshield consistent visibility even through heavy precipitation. Furthermore, this compound is quite long-lasting, so the blade itself will hold up well over time, without cracking or pieces of the rubber compound chipping away.
Having said all of that, it is worth noting that this blade does have a downside. The lifespan can be reduced under extremely low temperatures, where excessive ice and snow build-up can put undue stress on them. Of course, this is generally true of all wiper blades, but it is still worth noting so those in cold environments can take precautions against this.
Since this is a replacement blade, how easy it is to connect and disconnect can be almost as important as the other factors listed above, and fortunately, this model does not disappoint. The KwikConnect Installation System that this blade uses ensures that you can easily install or remove the blade in just a few seconds and with minimal effort. This along with everything else listed above makes this a worthy replacement blade for whichever vehicle you own.
Additional Info
Last updated price

$

8.99

Stock
In stock
ASIN

B0009IK5TO
---
VIDEO
Anco A 24 M Profile Wiper Blade
Anco Conventional Windshield Wiper Blade
Rain-X Weatherbeater
Time-proven Durability
The Rain-X wiper has a remarkable durability. You can judge yourself: firstly, the frame is made of the galvanized steel resistant to rust and corrosion; secondly, the blade made of the squeegee rubber contains natural components that prevent cracking, splitting or tearing caused by extremely high and low temperatures. This means, the wiper is substantially durable and will serve you for a long time. We should also mention that the wiper has multiple pressure points to provide a smooth and even wipe. The blade grips the windshield firmly and follows its shape precisely. The tests have proven that this wiper leaves no stains or streaks behind it. The overall conclusion is that Rain-X wiper can please you with its durability and long useful life, and ensure an effective wiping of snow, rain or road dust from the windshield of your car.
Useful Tips
If you wish your wipers to last and remain effective longer, we recommend following a few tips.
First things first, you should regularly clean them from dust and dirt that might settle down. Also, it's desirable to wash them sometimes, using some grease-removing detergents that can be purchased in any car shop or even your local supermarket. 
Second, don't use wipers in winter if they get clogged with ice. Warm the car first to defrost the windshield and wipers. If you have to leave the car parked for a long period of time in winter, it's recommended to lift the wipers upwards to prevent them from freezing to the window.
Still, despite all the care, wipers can not be used forever and must be replaced in time. It is the guarantee of your safety on the road.
Additional Info
Last updated price

$

0.00

Stock
In stock
ASIN

B0009JKI90
---
VIDEO
rain-x weatherbeater rx30124 wiper blade review 1.wmv
What customers say about this product
I have not had time until today to reach out about this issue, but will try to get the proper connector from the manufacturer.
It has worked very well in both snow and rain. I am much more impressed with this blade than I was with the original. heavier, Rain-X blade that i purchased.
Rain-X Weatherbeater
What Is a Wiper Blade?
It is impossible to imagine driving a car without windshield wipers in bad weather conditions. Windshield wipers provide comfort and safe driving in rain and snow, so it is very important to choose high-quality all-weather wipers that will help you provide perfect visibility while driving a car in any weather. In this review, we are explaining how to choose the right windshield wipers. We are focusing on different types of wipers, as we aim to arm you with the information you need to keep in mind while choosing the right windshield wipers for your vehicle.
Safe driving of all traffic participants is of high importance, so we strongly recommend motorbike drivers to take a look at our selection of the best motorcycle helmets.
What Features to Compare
Type
If you've decided to purchase a new set of windshield wipers, first things first, consider the structure since it directly affects the quality of wiping. As of today, you can find three types of windshield wipers, which include:
Framed windshield wipers. These wipers are the most popular. Most often than not, they are made either of metal or plastic and have a hinge system. A strong selling point of this type is that it's not very expensive, which makes them an attractive choice for a lot of drivers worldwide. As for the downsides, take note that metal-framed windshield wipers, in their vast majority, are not all-weather resistant and therefore, may quickly get worn come winter, due to the need to clean them of ice and snow very often. In this concern, plastic wipers are more practical. Besides, their bracket frames are much more flexible and the backlash is also lower.
Frameless or bracketless windshield wipers (also known as hingeless wipers or beam-blade wipers). As the name suggests, they have no external frame. These are solid wipers with a rubber strip and a spoiler cover fitted with caps from both sides and mounting support in the middle. Due to the hingeless design, frameless wipers are less sensitive to frost and more wear-resistant. They are also pretty rigid and quiet when operating.
Hybrid windshield wipers. These wipers feature a combination of framed and frameless design. They look very similar to framed wipers but have an outer shell for a lower profile and more aerodynamic shape. Thanks to this, they have better resistance to snow and ice. Out of the three, hybrid windshield wipers are the most durable. Naturally, they are the most expensive, too.
Blade Length and Material
The next thing that you need to consider is the blade properties. To select a set of wipers that will be suitable for your car, measure the size of your windshield to ensure the blade length isn't too short for it. In general, it might be a good idea to opt for longer blades: thanks to the bigger surface coverage, they'll be able to deliver better cleaning results. If your vehicle has two or three windshield wipers, make sure to check whether they park in the correct location to prevent overlapping.
That being said, wipers that are too long aren't a good option, too. If a wiper's too long, the pressure distribution across the entire length becomes lower, which may lead to poor contact with the windshield and consequently, result in deterioration of the quality of the wipe. The best thing to do is follow the manufacturer's recommendations and choose wipers of the right size.
To get a product that won't break during the first couple of uses, you should also consider the frame material. Most wipers are made of combined rubber. That said, as practice shows, natural squeegee that contains silicon and synthetic fillers works better and lasts remarkably longer. Wipers may also have different coatings, with graphite and polymer being the most popular choices. So, it's important that you pay attention to the composite materials before making your choice.
Connector Type
When it comes to connectors, you can find lots of different types. The most universal and hence the most common type is a hook. However, there are many other modifications available, including a side pin, bayonet, balanced bayonet, pinch tab, American hook, pin-and-hook, etc. Keep in mind, though, that a connector type isn't the primary point of consideration and in most cases, if the wipers fit well, won't hamper the functioning of windshield wipers in any way.