Having a bright entertaining toy vacuum at hand, your little kid will certainly pretend to help you hoover around the house. This
toy will bring a lot of fun and develop fine motor skills and hand-to-eye coordination. So, it's time to clean up!
...
Read more
...Read less
X
This site is a free online resource that strives to offer helpful content and comparison features to its visitors. Please be advised that the operator of this site accepts advertising compensation from certain companies that appear on the site, and such compensation impacts the location and order in which the companies (and/or their products) are presented, and in some cases may also impact the scoring that is assigned to them. The scoring that appears on this site is determined by the site operator in its sole discretion, and should NOT be relied upon for accuracy purposes. In fact, Company/product listings on this page DO NOT imply endorsement by the site operator. Except as expressly set forth in our Terms of Use, all representations and warranties regarding the information presented on this page are disclaimed. The information which appears on this site is subject to change at any time. More info
CASDON Dyson DC DC14
Perfect Toy for Developing Motor Skills and Hand-to-eye Coordination
Kids can really play with this vac all day long, copying the motions of cleaning the floors! The Dyson DC DC14 is a super functional and true to life vacuum. Stuffed with the suction and twist action, it can pick up the dirt and lint to perform extremely similar to the real vacuums. Plus, there is a clear canister with soft colorful beads which move inside it to simulate the cyclone action. The vac is also equipped with a debris box that your kid can easily pop up for emptying. This simple procedure will help your little one develop problem-solving life skills. 
The Dyson play vacuum comes with a removable hose and three different attachments that not only spice up role playing but also contribute to the development of fine motor skills. As for some extras, the vac features two modes. The first one activates the movement of small poly beads in the container, while the second one starts a small motor for garbage collection. Note that the vacuum needs 4 C batteries that should be purchased additionally.

To help your kid develop other essential life skills, we advise you to get a set of activity cubes. Bright and fun, they can boost cognitive development.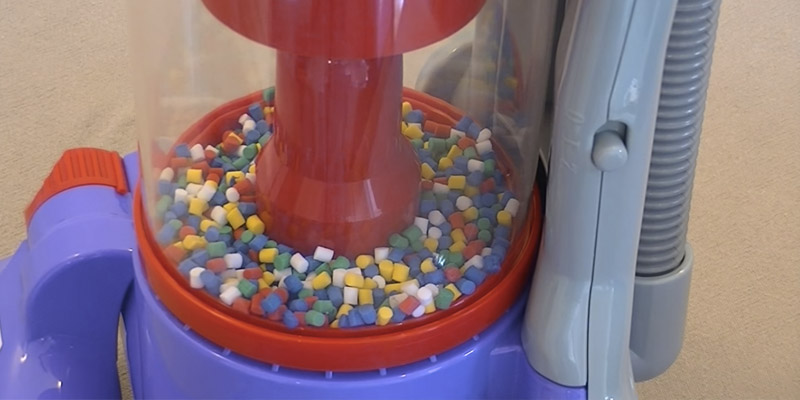 Additional Info
Last updated price

$

46.93

Stock
In stock
ASIN

B000V5CXTK
---
CASDON Dyson DC DC14
American Plastic Toys 20030
For Little Helpers
Children really like multiple-piece toys which boost their imagination and creativity! This toy vac is like that. It has no all those bells and whistles like suction power and funny sounds, still, it can captivate your child for a long time. Aside from a large upright unit, the package includes a small handheld vacuum (you actually get 2 toys for the price of 1)! The little hand vacuum can be stored in the main unit or popped out for "vacuuming" furniture.
When your child wheels the toy around or pushes some buttons, the vacuum makes clicking sounds. The item is well-built and rolls easily even on a carpet. Plus, it doesn't leave traces on the floor. Please note that this kids' play vacuum comes disassembled and you'll need to put all the parts together following the detailed instruction. Assembly is easy and fun; it will take you less than 15 minutes.
If your kid is fond of toy cars, look through our ride-on cars review. These small replicas of famous car models will allow kids to pretend they're Formula 1 drivers.
Last updated price

$

30.95

Stock
May be out of stock
ASIN

B00D4N99DY
---
American Plastic Toys 20030
Dirt Devil Junior Lights Sounds Upright Toy Vacuum
Engage Your Kids in Cleaning!
If your curious kid always follows you and tries to help (being underfoot, of course) when you're doing housework, the Dirt Devil Toy Vac is a go-to toy. It's a small copy of a real upright vacuum from the same brand. The toy is very lightweight and compact (8" x 9" x 26"), and it's good for children above three years old. Although it doesn't have a suction power and can't pick garbage up, it hums and lights up just like a real vac. The realistic sounds and light run for 30 seconds after hitting the button, while the wheels make a clicking noise only when they turn. Therefore, three AA batteries (included in the set) last for a decent amount of time. 
This toddler vacuum cleaner is totally safe. To replace the batteries, you'll need to unscrew the cover (with Phillips screwdriver). The toy vac comes completely assembled, all you have to do is remove it from the card box. It's well-made and extremely durable - no matter whether your toddler will throw the vacuum into the toy box, stand on it, or drag it around, you won't even notice any visible wear on its body.
Give your little helpers this interactive toy and let them spend time with fun while you're cleaning the house. The Dirt Devil will surely become a huge hit in your family!

Last updated price

$

0.00

Stock
May be out of stock
ASIN

B000050B3H
---
Dirt Devil Junior Lights Sounds Upright Toy Vacuum
Fisher-Price Laugh & Learn Smart Stages Vacuum
Explore. Encourage. Pretend.
This is a fantastic vacuum cleaner for the smallest! This cute little vacuum is about 15-inch high, it's very comfortable to move and, most importantly, it can serve as a walker for your baby. The toy boasts an innovative Smart Stages ™ technology that ensures it will grow with your baby. The special switch allows you to choose one of three developing levels for different age. The first level is called "Explore" and it works for children from 6 to 12 months. At this stage, your child will try to reproduce simple words like "Green" or "Triangle". As soon as your baby reaches 12 months, you can switch into "Encourage" level at which your kid should follow some directions like "Let's find a round square". Finally, when your child is 18+ months, he or she will be fascinated by the 3rd level, "Pretend". Playing with the vac will become imaginative, interactive, and creative.
The toy plays 30 sing-along songs, phrases, and tunes that are very important for the cognitive and emotional development of children. It requires just 2 AA batteries for proper operation, and they are supplied in the box. So, you can use the vacuum cleaner right out-of-the-box. Let your child join you on the next spring cleaning!
We also recommend you to purchase a comfy toddler bed for you little one. Perhaps, it's high time to make the transition from the crib!

Additional Info
Last updated price

$

23.99

Stock
In stock
ASIN

B00IWOI3PU
---
Fisher-Price Laugh & Learn Smart Stages Vacuum
CASDON DC22
So True to Life
The Dyson company offers little helpers an interactive copy of the famous canister vacuum cleaner. Just like a real one, the Dyson DC22 does pick up dirt! Featuring suction power, it can collect light and small debris. The small pieces of waste go through a hose into a detachable dust bin. Children can easily take it out, empty, and start hovering all over again! The flexible wand with a comfortable handle is also removable.
Realistic sounds and colorful beads swirling around in the cylinder will make role play even more exciting. The Dyson kid vacuum cleaner has two modes. The first one has no suction, just colored bits spin around in the cylinder, while the second mode activates suction. The toy is very quiet in both settings. The Dyson DC22 is supplied completed with 3 onboard attachments. The nozzles can help your kid get rid of dust and debris in hard-to-reach places. And the process of replacing them develops small motor skills and logical thinking.
We also suggest that you get a marble run, an educational toy that can amuse not only kids but adults as well. Its principle is rather simple - you should build tracks in such a way that a small ball could get to the finish in the shortest time possible.
Last updated price

$

30.54

Stock
In stock
ASIN

B002RLHCVU
---
CASDON DC22
What is a Toy Vacuum?
Children really love role-playing games! They usually pretend to do housework just like mommy and daddy. From cooking to cleaning the house, toddlers will always find something to do! And at this early age, parents should do everything possible to help their kids develop intellectually. It's great if their toys are not only attractive and entertaining but also developing. That's why we recommend you to give your little one a toy vacuum - a small copy of a real vac. It's great for developing fine motor skills and hand-to-eye coordination. With a small vac at hand, your kid will be able to help you with light cleaning chores. As a result, your toddler will grow up a helpful and responsible person. Also, we propose you to get a play kitchen with colorful play dishes so that your little ones can pretend they're chefs.