Whether you are a professional tradesman, an aspiring handyman, or simply someone who would like to get his tools in order, get one
of these tool boxes and you'll be able to organize your instruments the way you see fit.
...
Read more
...Read less
X
This site is a free online resource that strives to offer helpful content and comparison features to its visitors. Please be advised that the operator of this site accepts advertising compensation from certain companies that appear on the site, and such compensation impacts the location and order in which the companies (and/or their products) are presented, and in some cases may also impact the scoring that is assigned to them. The scoring that appears on this site is determined by the site operator in its sole discretion, and should NOT be relied upon for accuracy purposes. In fact, Company/product listings on this page DO NOT imply endorsement by the site operator. Except as expressly set forth in our Terms of Use, all representations and warranties regarding the information presented on this page are disclaimed. The information which appears on this site is subject to change at any time. More info
Craftsman 4 Drawer
A Home for Your Tools
The people behind this drawer chest advertise it as a product that was designed for professional tradesmen and there's certainly some truth to it. Sure, it has its flaws. For example, the whole thing weighs almost 25 pounds, so it isn't quite as small and mobile as some of the other models on our list. But considering that this thing is built like a tank, we're willing to let the weight slide.
The outside of the chest was constructed via strong metal, while the drawer system features equally reliable and rugged stainless steel slides. The drawers, as well as the lid, can be locked when not in use. Plus, there's a padlock that you can use for extra security.
The whole thing features 22.4 x 16.6 x 10.5 inches in overall dimensions, so you will have enough space for all of your tools. And the 4 drawers make this metal tool box as personalized of a toolkit as it gets.
Most mechanics and other professionals in the field seldom put too much stock into the looks. But we would still like to mention the classic design with a Craftsman logo and the red finish that, as the folk at Craftsman have so eloquently put it, serves as a sort of icing on the cake for this heavy-duty tool chest.
In short, this model will prove to be a particularly good choice for the kind of people that would describe their tools as their bread and butter. Sure, it is a bit on the large side, but it is as rugged of a toolkit as they come and it offers quite a lot of storage space.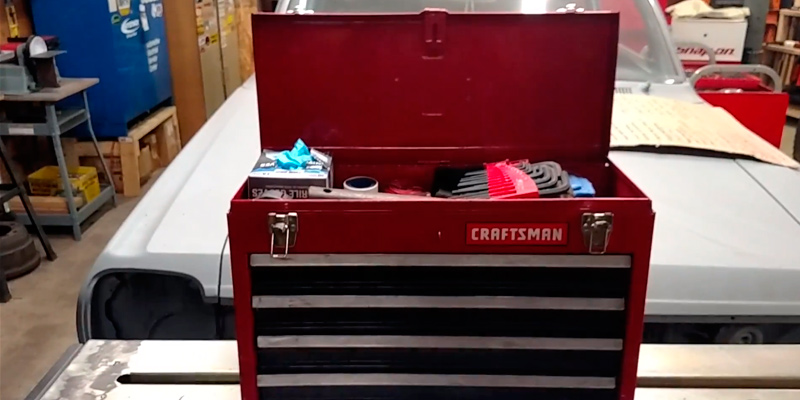 Last updated price

$

0.00

Stock
May be out of stock
ASIN

B004GNK8EA
---
Craftsman 4 Drawer
DEWALT DWST17814
Deep Enough
The DeWalt DWST17814 is a lot of things but impractical isn't one of them. This thing is as deep as they come, it doesn't weigh a whole lot, and it offers more than enough in terms of organization.
First, the box itself comes with a particularly long handle, a nice little touch that will make it a bit more convenient to carry this thing around. But that's not the only thing that it has in stores in terms of transportation and convenience.
In a nutshell, this model consists of a number of stackable dividers. Each divider is connected via side latches. The said side latches are made of rust-resistant metal, so they'll be able to serve you for a long time, keeping the whole thing properly functional. Furthermore, each divider comes with a bi-material handle, so it will be quite easy to lift the units, access your tools, and sort them out.
The dividers in question are part of the top organizer and they'll be perfect for storing and sorting out drills & bits. As for the other big tools and instruments, there's the rest of the deep tool box, with plenty of space inside.
To rephrase our earlier point, the DeWalt DWST17814 is one of the more well-rounded products. You'll have enough "tools" at your disposal to sort your instruments out. The size and the weight make it a pretty decent travel option but you can just as well put it in your garage and use it as a stationary toolkit.
Last updated price

$

34.99

Stock
In stock
ASIN

B01N2IMKYO
---
DEWALT DWST17814
Stanley 028001L
Keep Your Equipment Safe
The Stanley 028001L isn't one of the cheaper options but boy is there a lot to like about it. First, it comes equipped with V-grooves on the top lid, a particularly smart design solution that will let you secure pipe, lumber, as well as other materials for easy sawing and cutting.
Featuring 10 pounds in weight, it isn't necessarily the most lightweight option. But the tough yet soft-grip handle will make it reasonably easy to carry some of the heavier loads. Speaking of which, this 28-inch tool box will provide you with plenty of space to store your gear.
We especially liked the portable tote tray as it is a particularly suitable compartment for carrying hand tools and some of the smaller parts. On top of that, since the tray takes only three-quarters of the length of the whole thing, it won't prevent (or even inconvenience) you from storing the larger tools within the box itself.
While we're on the subject of those larger tools, the model also incorporates a bottom compartment, with more than enough space for power tools and other sizable instruments.

Having said all of that, it is probably not the design but the construction of the whole thing that is the product's strongest suit. The company's patented, all-around water seal will be able to keep your equipment safe and secure. The large, rust-proof metal latches come with a padlock, so you won't have to worry about your instruments falling into the wrong hands.
All things considered, the Stanley 028001L is the optimal choice for professionals who often tend to carry their equipment around with them. The rugged, waterproof structural foam will keep your instruments out of harm's way, allowing you to bring the tool box outdoors. And it isn't a bad organizer either.
Additional Info
Last updated price

$

68.23

Stock
In stock
ASIN

B000KN470Q
---
Stanley 028001L
Stack-On PR-19
Some Steel Reinforcement
The simplicity of the Stack-On PR-19 is definitely the best thing about it. For a smidge above 10 bucks, you will get yourself a perfectly capable organizer.
Sure, with 20 x 11 x 11 inches in overall dimensions, it may seem a bit small. But this 19-inch workbox is a lot more spacious than one might think. Aside from the box itself, you'll have a pretty standard lift out tray. It's not much but it does add a few extra storage and organization options.
That said, we didn't like the model as much for its storing capabilities as we did for its construction. Even though both the main body and the lid are made of plastic, they're connected with a galvanized steel hinge. On top of that, the tool box features large nickel-plated latches that are riveted in place.
Both the hinge and the latches' steel construction is particularly important as they're the glue that keeps the lid and bottom from separating under some of the heavier loads.
The handle is comfortable enough, nothing to write home about but we liked its fold-down design. Plus, the steel rivets that keep the handle in place add an extra layer of durability. Finally, unlike some of the more expensive models, this workbox features a padlock eye, so you'll be able to keep your equipment secure.
All in all, the Stack-On PR-19 is a great choice for a tradesman on a budget. There's nothing fancy about this tool box but it is robust enough and it doesn't weigh a whole lot. Plus, the tray comes with its own handle, a small detail that will prove to be quite helpful in the garage.
Additional Info
Last updated price

$

0.00

Stock
May be out of stock
ASIN

B000KKQUV8
---
Stack-On PR-19
Waterloo PP-1406BK
Now That's Portable
The Waterloo PP-1406BK is another great option for people on a budget. Aside from the particularly modest price, what makes the model stand out is the weight. Adding up to less than 2 pounds in weight, you'll be able to easily carry this thing with one hand. Plus, the comfort-grip handle will do quite a lot in terms of reducing hand fatigue.
Whenever you feel like it, you can tuck the handle into the lid, making for a flush top surface that is perfect for storing or stacking the model with other elements of your workshop.
Inside this portable tool box, you will find a couple of trays that are suitable for organizing hand tools and other smaller instruments. Each tray has its own handle, so you can conveniently move them around, carry them separately, or remove the trays out of the equation to make space for larger tools.
Construction-wise, the whole thing is made of plastic. Some may look at it as a disadvantage but we wouldn't say that it is such an open-and-shut case.
Sure, it isn't as rugged as metal, but the high-impact polypropylene should be able to withstand the toughest environments. And, unlike your standard steel, it will not rust, dent, or mar other surfaces.
Again, the Waterloo PP-1406BK is one of the most modestly priced options on the market right now. The 14 x 7.5 x 6.2 inches in overall dimensions and less than 2 pounds in weight make this tool box more portable than any other product on our list. But it should fit all of your tools.
Last updated price

$

0.00

Stock
May be out of stock
ASIN

B00Y3I224W
---
Waterloo PP-1406BK
What Is a Tool Box?
The name's a bit of a giveaway, isn't it? Any box or a chest that will allow you to organize, protect, and carry your instruments can be considered a tool box. That said, not every tool chest is created equal. Some of them are made of plastic, while others are mostly comprised of steel or other types of metal. The contents of any particular workbox depend on the craft of the owner.
Nevertheless, the manufacturers do tend to make certain changes in design. Some like to include drawers. But most usually go with a simple box and add a number of dividers to help you organize your tools. There's always a difference in weight and size. The latter generally determine the amount of space (the capacity, the volume, whatever floats your boat) that you will have at your disposal. If you're going with a portable tool box, then you should definitely keep in mind the handle since it might be difficult to travel with an impractical handle. The number, the shape, and the form of the dividers also play a certain role in the whole thing, so do not forget to check those out too.
It goes without saying that a toolkit wouldn't do you any good without the tools to store. Fortunately, we have an assortment of those. So while you're at it, check out our reviews of wire cutters, rivet guns, soldering irons, and a number of other tools.