A magnifying glass is a common accessory people use to work with tiny projects like circuitry, jewelry, embroidery, etc. If you are
looking for a magnifier too, we'd like to offer you to read our review and choose one from the list below.
...
Read more
...Read less
What is a Magnifying Glass
At some stage, regardless our work activity, there might be the need to investigate some object in detail. Because it's not always possible to spot some tiny details by eye, a lot of people use a magnifying glass for this purpose. Magni glasses come helpful in many different situations - for reading books, doing crosswords, soldering circuitry, producing jewelry, etc. The scope of applications of a loupe is vast. Therefore, you need to decide what you personally need it for and then, pick the one that ticks all your boxes.

In our review, you will find 5 best magnifying glasses that will help you with many different tasks. For those needing a more powerful optics, we'd like to offer our selection of 5 best spotting scopes or monoculars that will allow you to watch even far-distant objects. 
V- Light VS103B
Ultimate Tuning
V-light company has been manufacturing a great range of optic devices for more than 40 years and become one of the leaders of launching first-rate products. The VS130B loupe is one of their recent products that can be used by a wide audience, including hobbyists, crafters, and sewers. Let's take a closer look at its peculiarities. The VS130B loupe isn't a regular magnifier. Designed to make your work with it more comfortable, it's been fitted with a 22 Watts magnifying lamp and adjustable arm extendable within the range from 32" to 51", allowing you to set it in a position that provides for better illumination. What we believe is a bigger advantage of this loupe is its solid arm construction comprising 4 spring tension system that keeps the lamp fixed in place, with the arm being extended at the full length. Sewers and hobbyists who often work with a loupe and know firsthand how inconvenient it is to hold several things in hands will definitely give justice to this feature. The VS130B loupe is also distinguished by its quality build. Made of stainless-steel, it can be used safely in different environments.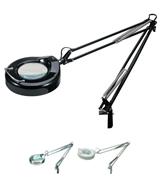 V- Light VS103B
Carson DeskBrite200 LM-20
Simplicity Stands For Stability
The DeskBrite 200 magnifying glass outwardly resembles an ordinary desk lamp.  In fact, it doesn't present a sophisticated engineering solution, nor does it have some fancy features of other models. It's very simple, which what we believe makes it so special. Resting on the flat base, it doesn't require you to use additional clamps or other mounting hardware. It's just not going to fall. This also makes it very portable. Thanks to the flexible neck, this lens can be tilted at different angles, allowing you to use it in different environments. In the set you will find two lenses with the magnification power of 2x and 5x. 
Carson DeskBrite200 LM-20
iMagniphy 77390A 37B
More than Just an Amateur Glass
Someone may think that the iMagniphy magnifying glass is a standard handheld model, though it still has some interesting features that will definitely surprise you. To start with, the glass is supplied with 2 lenses of different magnifying power: 5x and 10x. Hence, the given model can be used for a variety of purposes ranging from reading to engraving. A user can easily shift between the included lenses sizable for the job owing to the simple snap-lock system. Maybe it is not the most appropriate way of changing the lenses as it makes them dirty by handling, though the set comes with a free cleaning cloth for keeping the lenses clean. We should also note that the magnifying glass is designed with a rubberized non-slip handle that will never slip out of your hands. Top it off, the magnifying glass can be used even in low-lit conditions or for illuminating anything you need even in the darkest corners thanks to 2 powerful LED lights embedded into the handle. What's more, the LEDs are eco-friendly and energy-efficient, so you won't have to replace the AAA batteries rather frequently. As you may see, the iMagniphy magnifying glass is more than just a loupe used for reading fine prints since it is a tool that would come in useful for a variety of purposes. 
iMagniphy 77390A 37B
Fancii FC-XL2410X
3 Lenses in 1 Magnifier
What differs the Fancii magnifying glass from many other glasses on our shortlist is that it comes with 3 lenses instead of one or two. The power of the lenses equals 2x, 4x and 10x respectively. What's the catch? The diameter of all three lenses is rather small and won't let you capture a wide area, yet, for most simplistic tasks it will surely suffice. The Fancii magnifying glass will come in handy for travelers and explorers who need to keep one often at hand, and for those who need it for infrequent use. The body and the lens itself are made of durable materials, and you can be sure it's not going to break or crack during transportation. To protect the lens from scratches, the magnifier has been packed together with a travel pouch. With that said, you could safely give it to your kids to use for their project works, to discover and explore things, etc.
Fancii FC-XL2410X
Carson PO-55-P
Simplicity in Everything
What is peculiar about Carson company is that anyone can find an optic to their liking from the range of its products. The glass we've picked is a handheld loupe of a pocket size that can fit your purse, pocket, etc., so small it is. Due to such compact size, you can actually use this magnifier instead of regular reading glasses. For people who hate wearing glasses, this can be a very handy option. Yet, its use isn't limited to certain tasks, and it will surely fit for many more applications but reading. Designed with the aspherics, the lens provides incredibly crisp view without blurs and distortions that are often found in other models. All in all, if you need to have a magnifier at hand and don't want to buy a costly thing, this lens will surely fit the purpose.
Carson PO-55-P