Keeping track of blood oxygen levels helps detect early warning signs of potential diseases. A pulse oximeter can be a personal caregiver
to measure oxygen saturation at any time. Make your health a priority and choose one of the best pulse oximeters from our review!
...
Read more
...Read less
Oxygen Saturation / Heart Rate Accuracy
Power Source / Battery Life
X
This site is a free online resource that strives to offer helpful content and comparison features to its visitors. Please be advised that the operator of this site accepts advertising compensation from certain companies that appear on the site, and such compensation impacts the location and order in which the companies (and/or their products) are presented, and in some cases may also impact the scoring that is assigned to them. The scoring that appears on this site is determined by the site operator in its sole discretion, and should NOT be relied upon for accuracy purposes. In fact, Company/product listings on this page DO NOT imply endorsement by the site operator. Except as expressly set forth in our Terms of Use, all representations and warranties regarding the information presented on this page are disclaimed. The information which appears on this site is subject to change at any time. More info
Wellue 01
Your Portable Health Tool
Oximeters are a must-have for anyone that takes their health seriously. The Wellue pulse oximeter helps you accurately measure your blood oxygen saturation (SpO2), as well as the pulse rate, strength, and waveform.
What's more, all this is done consistently and expertly.
Let's start with this oximeter's design. It won't burden your eyesight like the popular low-tier LED screens do. Instead, it comes with a fresh and upscale OLED screen for more clarity and color. The readings can be viewed in numbers as well as pulse waves. The graphic pulse display scrolls across the screen bottom, which many users will find handy.
This model is also very easy to carry around. It's 3.23 x 2.24 x 2.13 inches and can fit in a small pocket or a wallet with zero fuss. Compact and comfortable, it can be used anywhere at a moment's notice.
As for your finger's comfort, never worry. You can keep this device on and not feel uneasy for some time.
No need to look for batteries to power up this oximeter. Two AAA batteries and a lanyard are included in the package for your convenience. Start measuring the moment you turn it on.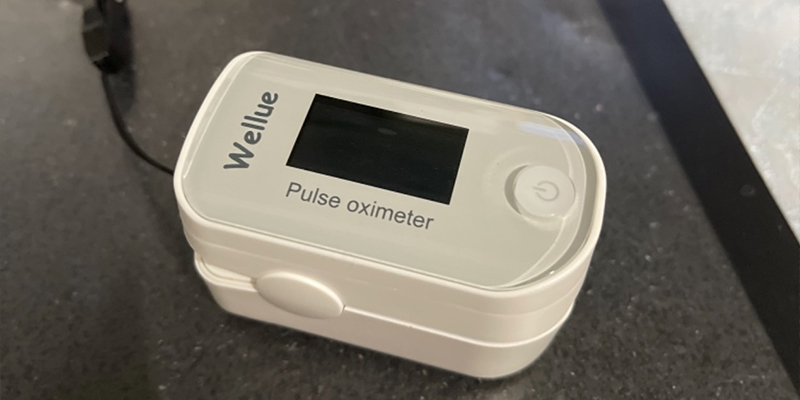 Connects With Your Phone
Now, let's see how this portable pulse oximeter works.
First off, it can be paired up with a smartphone – and you won't have to pay for that. The Wellue's app is free of charge and lets you record/store the readings for up to 10 hours. However, keep in mind that you'll need to relocate the oximeter to other fingers at regular intervals. Be sure to follow the manufacturer's instructions in this aspect.
Thanks to the Bluetooth Smart Technology, you'll be able to sync your readings with the app automatically. No limit on the data storage – you can keep as much as you want. It's super handy for a quick and detailed overview.
The app doesn't discriminate against iOS or Android users. You can install it on both types of devices. The only advice is to double check the app name in the store. The manufacturer has several of them, and you'll need the one for your oximeter.
As for the accuracy, rest assured that your Wellue readings will match those made with hospital equipment. It's quite easy to check at your next appointment.
Overall, the Wellue oximeter will be a real gift for middle-aged and elderly people, pro athletes, or just about anyone that cares about their health.
Additional Info
Last updated price

$

0.00

Stock
In stock
ASIN

B0881PTQH4
---
Wellue 01
Innovo iP900AP
As Accurate As It Gets
How can you make sure you're in the safe blood oxygen/pulse rate? Your best answer may be the Innovo fingertip pulse oximeter. Reliable and accurate, it takes your health as seriously as you do.
Clinically tested and used by nurses, this oximeter offers an impeccable level of accuracy. In fact, if you compare the results with those made at the hospital, they will be spot on. You can check its accuracy following the Pleth waveform (which not every oximeter offers). All the more reason to get this portable device for home or outdoor use.
Innovo is equipped with a high quality OLED screen. This is a big advantage compared to some LED screens that can be hard on your eyes.
This model also comes with an auditory alarm for going beyond the set SpO2/pulse rate limits. The alarm is optional and can be turned off if not needed. This model is really small with 1.97 x 1.97 x 0.79 inches. An easy fit for your wallet, it will also take up next to zero space in your travel backpack or a cycling jacket's pocket.
You can use this oximeter right outside the box. It comes with 2 durable AAA batteries and a lanyard for your convenience.
Quality Measurements, Anywhere
This oximeter comes with two acclaimed features, Plethysmograph and Perfusion Index. They are used to significantly boost the reliability of measurements – and prove that this is really a hospital grade product.
Let's start with the Plethysmograph, which shows your heartbeat visually. Each of the waves represents a heartbeat, and their amplitude, the blood amount in your vessels. If the wave is consistent, this shows a good blood flow. Keep in mind that this waveform is not designed for measuring heart rhythms.
As for the Perfusion Index (PI), it is used to display the pulse strength. When the number's higher, this means that your pulse rate is stronger. Similarly, if it drops below 0.2%, you either have too cold hands or didn't properly position the device. You can experiment and try different fingers to know which one works best. Mind, though, that this device may not be suitable for children or people with small fingers.
Overall, these two functions are your guarantee that the oximeter's readers are accurate to the max. Innovo can be used by athletes, bikers, aviators, or just about anyone keeping a good eye on their health.
Additional Info
Last updated price

$

0.00

Stock
In stock
ASIN

B07YVGZPRZ
---
Innovo iP900AP
Zacurate CMS 500DL
Guaranteed Accuracy!
If functionality and accuracy is your priority, we want to introduce the Zacurate Pro 500DLto you. This is the 2nd generation pulse oximeter, improved and designed for athletes, mountaineers, and pilots. It is also helpful for home use when regular SpO2 check-ups are needed.
In more detail, the 500DL is a non-invasive pulse oximeter. It uses infrared light for measuring pulse rate and arterial hemoglobin of any user over 7 years. This model is compact and lightweight. It can easily fit a small pocket or you can hang it over your neck using a long lanyard that comes in the box.
The upgraded design is what makes this model stand out. The manufacturer has heeded the flaws of the previous model and made some improvements. The new pulse ox has a more sensitive sensor. It detects SpO2 up to 100% even when the blood perfusion is low. In order to make it more sensitive and precise, the body of the unit is made from solid ABS plastic. It stops ambient light so that it doesn't interfere with the sensor.
The Zacurate 500DL features one-button operation so that you could turn it on with one hand. The readings are directed towards the user, so it is easy to read them. The spring system is also improved. It is self-adjusted, so the pulse ox holds snugly on a finger. It is not too tight though to impede the blood flow. The finger chamber is made from medical grade silicone. It is hypoallergenic and soft to the touch.As for the power supply, this device comes with 2 AAA batteries. They guarantee a user 30 hours of operation. For more convenient use, there is a low-battery indicator on the screen. It starts blinking when the charge is low so that the dead battery doesn't catch you out when you need to check your heart rate the most.

Small Details
The Zacurate 500DL is designed with user's convenience in mind. So, its every feature and accessory are intended to give a user easy and pleasant operation. Thus this pulse ox is equipped with a lanyard for convenient use on-the-go. There is also a silicone cover that keeps the device from scratches. You will also find 2 AAA alkaline batteries in the box, so you can test your SpO2 once you unpack it. Last but not least this product corresponds IP22 liquid-intrusion protection class and anti-electric-shock type.
All in all, the Zacurate Pro 500DL is one of the best pulse oximeters for personal use. In comparison to hospital monitoring systems, the accuracy of 500DL is within 1-2% which is impressive for a portable device. So it becomes very useful for people with asthma, COPD, and other ailments when regular SpO2 check-ups are needed.
Additional Info
Last updated price

$

18.95

Stock
In stock
ASIN

B07PQ8WTC4
---
Zacurate CMS 500DL
Santamedical JPD-500E
Fits You Like a Glove
Need a reliable oximeter for home use or a sports kit? This SpO2/pulse rate measurement device is lightweight, portable, and offers accurate readings on par with hospital equipment (clinically tested).
Santamedical oximeter is designed in a smart and user-friendly way. It doesn't have a full color screen, but the red LED display has a clear layout and is large enough for you to read it at a glance. It's also bright and can be used in low light, which is an added plus.
Another pro of this device is that it will fit a wide range of finger sizes, from small to big ones. The finger clamp is self-adjusting, and the latex free silicon material in the finger chamber is the definition of convenience. Keep in mind, though, that your fingers must be at least of room temperature. If they are too cold, you won't get an accurate result.
This model's size is 3.2 x 2.5 x 1.9 inches. It's quite compact and can be carried around with no effort. Professional athletes or pilots should take notes.
As for its speed, the blood SpO2, pulse rate and strength will be available in mere 8-10 seconds.
Portable to a 'T'
Designed for sports and aviation (as well as home use), this oximeter offers the 30+ hour monitoring. Two AAA batteries are included in the package to keep the power up. And when your battery goes low, the indicator will show that immediately. However, some users report that the battery discharge time can be somewhat faster than expected.
Santamedical oximeter will be of great help to pro athletes, runners, and fans of high altitude activities. A handy neck/wrist strap means that you won't lose it along the way – and will be able to use it at a moment's notice. It will also fit into your wallet or side pocket.
Although this model is not intended for medical use, some doctors happily recommend it to their patients. To get the most accurate readings for yourself, place your finger inside (lightly). Then raise its tip and leave it there until the numbers arrive at the final measurement.
As stated previously, the finger chamber is latex free. It's also made of hypoallergenic silicone, which is good for anyone staying clear of these materials.
All in all, this oximeter is a solid choice for active users or those that genuinely care about their health.
Last updated price

$

0.00

Stock
In stock
ASIN

B086KZ8JVH
---
Santamedical JPD-500E
Facelake FL400
For Sports Enthusiasts and Not Only
Though the Facelak FL400 Pulse Oximeter is advertised as a device primarily designed for sports enthusiasts like mountain climbers, skiers, bikers, we see no reason not why it cannot be used by anybody else who's simply interested in their SpO2 and pulse rate. The product is manufactured in compliance with CE and and FDA standards and can accurately determine your oxygen saturation levels and pulse rate, so you can easily use it on your self or lung patients. Just like all other devices, it is fitted with a large display and just like all others, it has a finger chamber with a SMART Spring System that can accommodate a wide range of finger sizes, making it suitable not only for adults but also for children aged 12+. So, you basically get all the features necessary for measuring SpO2 at home.

Now, there's one thing about the Facelak FL400 that some might consider a drawback. That is, the screen here is placed facing away from the person who's using it, so reading it might be hard, especially if you're planning to give it to your senior relative. Maybe for that reason, the manufacturer suggests that the product is best used only by sports enthusiasts, as those usually train not alone and can use the device on each other. That said, if reading the screen upside-down doesn't seem all that challenging to you, the Facelak FL400's a decent model to consider.

About Package
Before we end this review, let's take a look at the packaging of the FL400. Basically, it's not much different from most pulse oximeters available for sale. The product comes with two AAA batteries, letting you use it right out of the box, a lanyard for wearing it around your neck or attached to the belt, and a carry case to protect the screen from scratches and other damages. What is different here, though, is its battery compartment. Even though it looks quite standard, with two springs being placed on the same size, it's required to install the batteries in opposite directions. Otherwise, the unit won't turn on.

To reiterate everything said above, if you don't mind the screen being faced away from you, there's little else not to like about the Facelake FL400 Pulse Oximeter.

Additional Info
Last updated price

$

12.95

Stock
In stock
ASIN

B0117V8Q2O
---
Facelake FL400
Infographics
---
What Is a Pulse Oximeter?
When it comes to buying medical equipment for home use, there are a lot of things that should be taken into consideration, namely how easy it is to use, would you be able to use it on your self, and what's more important, whether you'll be able to figure out the meaning of all those obtained readings. With a pulse oximeter though, everything's a bit easier. Originally designed as a medical device, today, it's produced in multiple forms, with many of the models being intended particularly for recreational use, so everyone, regardless of the previous experience, can use it comfortably at home. Should you buy a pulse oximeter? The answer is - "more yes than no", considering the times we live today. Displaying the information on the SpO2 levels in your blood cells, a pulse oximeter can give you awareness of whether you have any symptoms of lung disease and provide you peace of mind that no "silent" signs can go unnoticed. Besides, it's a real savior for sportsmen.

You may also be interested in stethoscopes and blood monitors. Both are simple to use yet will come in handy when you need to check out your health condition at home.

What Features to Compare
If you're planning to buy a pulse oximeter, you need to consider some key features that will help you make the right choice. Here is everything you need to know about pulse oximeters.
Type
There are two types of pulse oximeters to choose from: stationary and portable.
A stationary pulse oximeter - these are quite bulky and predominantly used in hospitals. The advantage of stationary pulse oximeters is that they provide highly accurate results, allow monitoring several indices and show the data in the form of graphs, which is very convenient.

Portable pulse oximeters - these models are best suited for home use. In addition to being compact in size, they are easy to use and require no special training or skill. Portable models can further be divided into three groups. They are:

Finger pulse oximeters, perfect for use on the go.

Handheld devices - these are a little bigger than finger models and come with a probe which you should connect to the screen.

Wrist-worn models, which are a good option for those who look for a means to monitor their health continuously even while they sleep. Wearing them is as comfortable as regular watches.

Specifications
The next thing to consider is the accuracy of a device. Of course, there might be slight deviations from the norm in the readings, but this deviation should not be big. If you can find reviews, make sure to go through them and see what other people say. In addition, check the display. Obviously, the quality of the display isn't as vital for a pulse oximeter as it is for a tablet, for example, but you still want it to be good enough to be able to clearly see your results without squinting. So, the display should be rather big, and you should be able to see it well in all light conditions. Some models allow adjusting the brightness of the screen, which can be handy. Further down the list are alarms, which are used to warn the user about rapid changes in the oxygen levels. This is a helpful feature, especially if you don't have any medical background.

Design
By design, we mean the size of the probe. This is an important parameter because if the size is wrong and the device doesn't fit your finger/hand properly, the results won't be accurate. So, in order to choose a pulse oximeter that will be suitable for you, make sure to measure your hand first and then compare with the dimensions of the device. Material from which the probe is made can also be important for people prone to allergic reactions. For them, it is best to opt for models made from hypoallergenic medical grade silicone. Finally, pay attention to little things. One-button control, a multi-directional display, self-adjusted fingertip chamber, wrist strap, and carrying case - all these can add to the usability of your pulse oximeter.