Moving to a new home or apartment always involves moving large furniture. What better way to help this process than by using a great
set of moving straps? Read on for our reviews of moving straps and choose one that suits your tasks best.
...
Read more
...Read less
X
This site is a free online resource that strives to offer helpful content and comparison features to its visitors. Please be advised that the operator of this site accepts advertising compensation from certain companies that appear on the site, and such compensation impacts the location and order in which the companies (and/or their products) are presented, and in some cases may also impact the scoring that is assigned to them. The scoring that appears on this site is determined by the site operator in its sole discretion, and should NOT be relied upon for accuracy purposes. In fact, Company/product listings on this page DO NOT imply endorsement by the site operator. Except as expressly set forth in our Terms of Use, all representations and warranties regarding the information presented on this page are disclaimed. The information which appears on this site is subject to change at any time. More info
Shoulder Dolly LD1000
Safe Moving Straps
One of the benefits of using moving straps as opposed to other equipment such as a dolly is that moving straps help give you greater control over the large, bulky items that are being moved. As the straps are what are bearing the weight of the object, they keep your hands free, allowing you to control the object as it is being carried. There is less of a risk of damaging either the object or yourself in such a manner, making the moving process much easier and safer on the whole.
The Shoulder Dolly LD1000 Lifting and Moving System is a set of moving straps designed to give two people the ability to lift and carry large objects safely and easily. These moving straps consist of two shoulder harnesses attached to a 12 inch by 5 inch moving strap, The strap attaches to a buckle that lets you adjust the length to match what is necessary for the object that you are moving, giving you the ability to carry it at the desired height. Using these moving straps helps provide a number of benefits to your moving experience, including reducing back and arm strain, as well as providing a high degree of versatility in what you can carry. For your next move, these shoulder moving straps will give you the maximum ease and safety.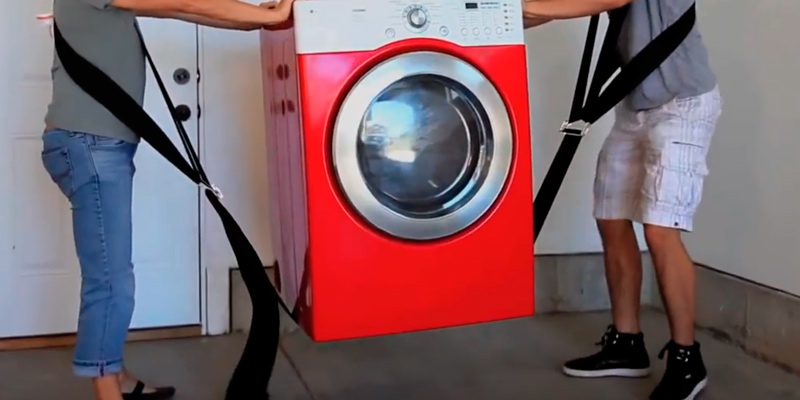 Additional Info
Last updated price

$

34.90

Stock
In stock
ASIN

B00022749Q
---
VIDEO
Shoulder Dolly: Demonstration of the Shoulder Dolly Lifting System
Shoulder Dolly LD1000
Forearm Forklift L74995CN
Forklift Power
There has probably been more than one person who has wished that they had a forklift during their move. The constant lifting, dropping, and moving actions that are repeated with heavy and bulky objects can really cause a strain on anyone's body. Having a forklift would make things so much easier, as the mover has to do little more than operate it. Of course, having a real forklift for a move is simply not practical for most people, but the next best thing is to use the Forearm Forklift L74995CN Lifting and Moving Straps.
These moving straps use the name Forearm Forklift for a reason. They allow the users to use their forearms as a forklift, giving two people the ability to easily lift and carry heavy objects just with using their forearms. As opposed to the typical shoulder harnesses used by many moving straps, these forearm harnesses give you forklift power in your forearms, helping to reduce the weight that is placed directly on your back. They also give you a bit more flexibility in moving and carrying items, and let you quickly and easily move from carrying one item to another without having to waste time with adjusting a complicated set of straps. Anyone who wishes to forego the typical shoulder straps will find these lifting straps for moving to be the ideal solution.
Additional Info
Last updated price

$

17.97

Stock
In stock
ASIN

B008ASBLJI
---
VIDEO
Forearm Forklift Lifting and Moving Straps Orange Model L74995CN
Forearm Forklift L74995CN
Nielsen Products NP8500
Ideal Lifting Aid
As most people are well aware, lifting large objects by yourself is usually never a good idea. The bending and lifting motions just by themselves tend to put strain on certain parts of the body, especially the back, and adding a heavy object to the mix can cause the risk of serious injury. Using some kind of lifting aid can help relieve an enormous amount of pressure and strain from the body, making your move much easier and less stressful.
The Nielsen Products NP8500 Moving Straps are an ideal lifting aid that can help you immensely with moving large objects. This moving strap set consists of two shoulder harnesses that are well put together, and which help evenly distribute the weight across your skeletal system, along with a 3 inch wide heavy duty lifting strap, which can be adjusted for length. The strong material of the harness and straps means that you can use these all throughout the moving process without fear of wearing them out, and they should easily last for years. They are also extremely versatile, allowing you to easily lift and carry a large variety of items, including heavy furniture and appliances. Best of all, though, the affordable price makes this moving strap kit an ideal companion for your next move.
Last updated price

$

19.97

Stock
In stock
ASIN

B00C66KT6Q
---
VIDEO
Nielsen Products - Ready Lifter
Nielsen Products NP8500
Super Sliders Pro-Lifter
Protect Your Floors
Something that often happens during a move is damage to the floor or carpet, often caused by sliding heavy furniture or appliances. This is especially common in a kitchen or washroom area, with a heavy appliance that is bulky and not easy to lift by itself. Even positioning such appliances for a dolly can often cause damage, as the appliance needs to be tilted up in order to slide the dolly underneath. One way to help avoid causing damage to your floor is by using lifting straps instead of a dolly.
The Super Sliders Pro-Lifter Moving and Lifting Straps provide an ideal lifting and moving solution for those who need to move large and heavy items. These lifting straps slip over the forearms, allowing you to easily lift an item while facilitating proper lifting techniques that reduce strain on your body. These straps can often be easily slid underneath heavy objects, including large kitchen appliances, and help reduce the risk of causing damage during the moving process. The lifting straps are quite durable, and are even available in several different bright, easy to see colors. For those who wish to reduce the risk of floor damage during your move, these moving straps could be your best bet.
Last updated price

$

21.09

Stock
In stock
ASIN

B00J4I8308
---
VIDEO
Super Sliders Pro-Lifter
Teamstrap Moving and Lifting Straps
Two Better Than One
A temptation of many people who are in the process of moving is to try moving a heavy object without help. This, of course, can be dangerous in a number of different ways, but it is also quite impractical. Such devices as dollies can help ease the burden a little, but they often prove to be cumbersome and difficult to maneuver through doorways and other obstacles. The best moving assistant is another person, and having equipment that encourages the use of more than one person for moving a heavy object is ideal.
The Teamstrap Moving and Lifting Straps is one such lifting aid that does this exact thing, by requiring two people to use it properly. Consisting of two shoulder harnesses along with a 3 inch wide high strength strap, this moving strap system encourages the use of two people by making it easy for both to lift and move nearly any heavy object, up to a maximum weight of 650 pounds. The harnesses and straps are made of high strength fabric that won't wear out easily, and provide maximum lift and balance support during the process of lifting and moving almost any object. For your next move, having the Teamstrap Moving and Lifting Straps along with a friend will greatly ease the burden of moving.
Last updated price

$

15.00

Stock
In stock
ASIN

B000UUX7VO
---
Teamstrap Moving and Lifting Straps
What Are Moving Straps?
Moving is never something that people enjoy when it comes time for it to happen. Having to move bulky items and heavy furniture without assistance can be a nightmare for anyone, especially those who are doing a move on their own without the help of movers. One of the ways to help ease the burden of moving heavy objects is by using moving straps.
Moving straps are usually a set of straps or a harness system that is designed for helping two people lift and easily move bulky and heavy items, such as large furniture and heavy appliances. These straps work by enabling the weight of the object being moved to be evenly distributed to the strongest part of the body. They also can help in maintaining a balanced load that is easy for two people to carry.
Moving straps have a lot of benefits in comparison to other moving equipment. For instance, many people tend to resort to using a dolly to move large items, yet this can often be cumbersome, and is simply impractical for items that require two people. A good set of moving straps can allow two people to evenly distribute the load along their skeletal system, helping to reduce arm and back strain, as well as keeping the item firmly in grasp without the possibility of easily dropping it. This greatly helps in moving any large objects, and can make a move much easier and faster to accomplish. Using a set of the best moving straps will be greatly beneficial to anyone who is in the process of moving.