Step up your game with a mobile controller. Now, you can finally forget about clumsy touchscreen controls. No more missed opportunities!
These controllers for mobile games bring that much-needed flexibility and precision to the table, making it a must-have for avid gamers that prefer mobile platforms.
...
Read more
...Read less
X
This site is a free online resource that strives to offer helpful content and comparison features to its visitors. Please be advised that the operator of this site accepts advertising compensation from certain companies that appear on the site, and such compensation impacts the location and order in which the companies (and/or their products) are presented, and in some cases may also impact the scoring that is assigned to them. The scoring that appears on this site is determined by the site operator in its sole discretion, and should NOT be relied upon for accuracy purposes. In fact, Company/product listings on this page DO NOT imply endorsement by the site operator. Except as expressly set forth in our Terms of Use, all representations and warranties regarding the information presented on this page are disclaimed. The information which appears on this site is subject to change at any time. More info
Rotor Riot RR1850
The Best for Apple Fans
The Rotor Riot RR1850 gamepad controller doesn't require any batteries and can be hooked straight to your Apple phone or tablet in the blink of an eye.
Designed specifically for the iOS platform, the RR1850 is compatible with iOS 7 and newer versions of Apple's mobile OS. Contrary to other wired gamepads, this model from Rotor Riot supports pass-through charging, so you can charge the phone as you play, which is a big plus in our book.
The main selling point of the gamepad, however, is not its pass-through charging function but rather the combination of L3 and R3 buttons. This feature alone makes the controller unique among other mechanical models that simply lack those triggers. With these on board, you can have an edge over other players by having more options to map your controls. As for the standard control options, you are getting a high-quality 8-way D-pad and console-sized buttons that put the controller closer to its full-size brothers instead of just mobile counterparts.
In the end, this controller will be a prime pick for all gamers that use iOS as their main mobile platform. Well-built and highly functional, it will elevate your mobile gaming experience to a whole new level without any batteries.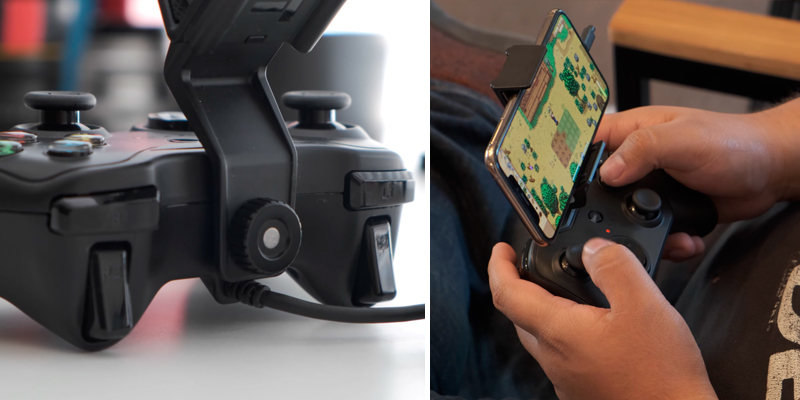 Additional Info
Last updated price

$

49.95

Stock
In stock
ASIN

B07ST8DL8R
---
Rotor Riot RR1850
Oriflame 23683
A Worthy Contender
When it comes to portable mobile controllers with batteries, there are quite a few options available today. This time around, we will take a look at Oriflame's 23683 variant of Joycon that can easily compete with the original in terms of functionality.
First off, this controller's holder enables connecting the phone in-between the D-pads, which is a good alternative to standard gamepads that require additional stands to hold the gadget. The only real downside to this design, however, is that it will take some time to get used to, but once you get used to it, you probably wouldn't want to go back to standard gamepads.
Construction aside, let's talk connections. Since this gamepad model is wireless, it can only be hooked to the phone via Bluetooth. With this in mind, it features a lithium-ion battery that, once charged, can last for up to 15 hours of intensive gameplay. To recharge it, it will only take about 2-3 hours, so you won't really have to worry about running out of juice mid-match.
In spite of its rather unusual design, the Oriflame 23683 wireless mobile game controller proved to be a convenient way to play popular game titles. The long battery life combined with high functionality really makes it shine among all-mechanical competitor devices, which in the end makes it a worthy option.
Last updated price

$

25.25

Stock
May be out of stock
ASIN

B00EEDF1Z8
---
Oriflame 23683
DELAM PUBG-AK77
Bring Your Game to New Levels
Made for PUBG and similar games in mind, the PUBG-AK77 can also be a great controller for other games like Fortnite that have adjustable screen controls. So, let's see how exactly this smartphone-compatible controller works in detail.
Featuring additional buttons that connect straight to your phone's screen, you can easily customize the existing controls on the screen to match your liking or needs. Simply drag the touch buttons to match the on-screen triggers and you will be ready to go. The snap-on buttons are extremely responsive, which makes using them even more reliable than trying to tap the reload button with your fingers.
Specifications-wise, this controller is compatible with all phone screen sizes ranging from 4.7 to 6.5 inches. The gamepad can be used with both Android and iOS-based systems with little to no adjustment. As a bonus, the gamepad is equipped with a low-noise cooling fan that will ensure that your smartphone won't overheat during long tight matches.
Wrapping things up, the PUBG-AK77 will be an excellent pick for mobile gamers that don't want to fiddle with external power banks. With this gamepad, you won't need to worry about your phone's battery running out anymore, which easily makes it one of the best mobile controllers.
Last updated price

$

17.99

Stock
In stock
ASIN

B07ZKNMKD7
---
DELAM PUBG-AK77
Newseego Mobile
A Great Budget Model
The Newseego mobile game controller is yet another trigger stand for your phone which is compatible with both Android and iOS phones. Despite lacking physical buttons, this device is more than capable of keeping you in the fight and even let you come out as a winner, so let's inspect what's under its "hood".
The primary aspect of the controller that makes it stand out from the crowd of similar products is its easy operation that enables using one finger to push, rotate, as well as for aim and shoot. Thanks to this, you can finally free your thumb finger from doing all the heavy lifting.
Likewise, the gamepad features 4 triggers that include an alloy trigger button pair so that you can use the gamepad as an alternative to real-life gun triggers, which improves the trigger discipline of a player tremendously. The stand, on the other hand, can be extended in the range of 2.75 to 3.7 inches, which makes it compatible with most modern phones.
Affordable and easy to use, this portable gamepad device from Newseego proves that a good mobile controller doesn't necessarily need to be expensive. The addition of the triggers, on top of the excellent phone stand, makes this device an exceptional choice among other buttonless models in the same price range.
Last updated price

$

0.00

Stock
May be out of stock
ASIN

B07VM7NKQZ
---
Newseego Mobile
SVZIOOG Mobile
Simple, Effective
The SVZIOOG is another on-screen trigger control assembly that doesn't need buttons to be a great model for mobile gaming. Made with games like PUBG, Fortnite, and Knives Out in mind, it features a bare minimum of triggers that you may possibly need to improve your in-game performance, so let's see what it has to offer.
To start off, the triggers of the gamepad will allow you to map the on-screen buttons to match the Aim and Shoot controls to your liking without taking too much display space. To ensure that your phone won't get too hot, the stand of the controller features a built-in fan.
The integrated fan can be powered by connecting the controller directly to your phone or an external USB source like a power bank. For added convenience, the device is fitted with a 2000 mAh battery that enables charging your phone as you play and cooling it at the same time. When it comes to the size of the phone you can put on it, the gamepad is compatible with all iOS and Android devices that have 4 - 6.5-inch screens.
Finally, the simplicity of design and a huge phone stand paired with an integrated battery makes this portable mobile controller suitable for players that need to stay online no matter what. Owing to the great capacity of the gamepad's battery, you will unlikely run out of charge mid-round.
Last updated price

$

19.98

Stock
In stock
ASIN

B07KF1MTRP
---
SVZIOOG Mobile
What Is a Mobile Controller?
The invention of a capacitive touchscreen has brought a fair share of innovations to the mobile app markets, including a plethora of different games and even new game genres.
Despite its convenience, the touchscreen isn't exactly what you could call a comfortable way to play though. You need a tool that will expand your capabilities. A simple mobile controller makes it easier to play games on your phone without restricting yourself to touchscreen-only controls, which improves the gaming experience quite a lot. One of its most obvious benefits is that players can focus on the screen without blocking their field of view with the UI elements. A fair number of gaming controller models nowadays connect to the gaming platform via Bluetooth and mobile ones too, with some exceptions that utilize a combination of USB and wireless pairing.
Designed to accommodate as many game genres as possible, telescopic gamepads are best used for action titles such as the newest Call of Duty, PUBG, and the upcoming Fortnite Chapter 2, thanks to the higher number of buttons and the addition of precise D-pads. The last option is gamepads with physical triggers that connect directly to the phone's screen, which enables using them without batteries.
Communicate with your teammates! Be the squad with the best teamwork on the server with a wireless gaming headset. Likewise, don't let your phone die on you. With a high-capacity power bank, you won't have to worry about losing connection due to the battery-saving mode.