Anyone with a serious health problem, or anyone who is elderly, can benefit greatly from having a med alert bracelet. Take a look
at our reviews of five of the best med alert bracelets to help maintain a long and healthy life!
...
Read more
...Read less
X
This site is a free online resource that strives to offer helpful content and comparison features to its visitors. Please be advised that the operator of this site accepts advertising compensation from certain companies that appear on the site, and such compensation impacts the location and order in which the companies (and/or their products) are presented, and in some cases may also impact the scoring that is assigned to them. The scoring that appears on this site is determined by the site operator in its sole discretion, and should NOT be relied upon for accuracy purposes. In fact, Company/product listings on this page DO NOT imply endorsement by the site operator. Except as expressly set forth in our Terms of Use, all representations and warranties regarding the information presented on this page are disclaimed. The information which appears on this site is subject to change at any time. More info
Universal Medical Data Silicone Sport
Fits Everyone
A med alert bracelet should have several characteristics for it that make it an ideal purchase for anyone in need of one. It should be comfortable to wear, it should contain your necessary medical information in an easy-to-read manner as well as being noticeable, and it should look good, matching your attire without looking out of place. These are characteristics that most people would find ideal, and no one should settle for anything less.
The Universal Medical Data Silicone Sport Medical Alert ID Bracelet contains all of these characteristics and more. Featuring a silicone wrist band with a stainless steel faceplate, this excellent and good-looking medical alert bracelet is very comfortable to wear. The silicone wrist band is very comfortable and feels pleasant to the touch, and is held on by a stainless steel double lock security clasp, which helps keep it on your wrist firmly without detracting from its comfort. The stainless steel faceplate is large, and will surprise you with how much data it can actually contain. The manufacturer's engraving service will customize your included data in bold black lettering that provides a high contract, making it easy to notice and to read.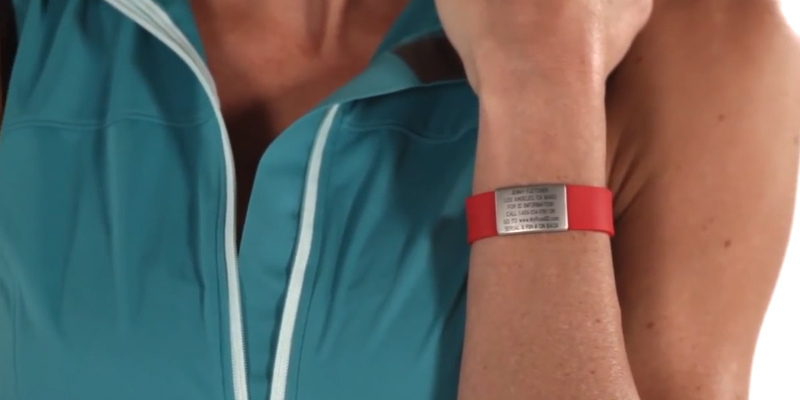 Choose Your Color
This excellent medical alert bracelet has plenty of other features that set it apart from many other models. The silicone wrist band is available in 8 different colors, so choosing one in your favorite color should be possible. The faceplate contains 6 lines of information, allowing you to fit pretty much all medical information on it that is necessary, and the band itself also includes a debossed emergency Star of Life symbol, ensuring that medical workers will easily notice it. The bracelet itself is also extremely durable and holds up well to the elements. It is waterproof, so you can even wear it in the shower or to the beach without worry of water deteriorating the lettering.
Also included with this silicone medical alert bracelet is a folded Emergency Medical Card with a protective Tyvek sleeve, which contains extended personal information necessary for emergency workers. The manufacturer also maintains a free online registry, which allows you to update your information and easily print out replacement cards whenever necessary. The adjustable band of the bracelet also ensures that people of all sizes can wear it comfortably. For anyone who is in need of a medical alert bracelet, this product is certainly a worthy model.
Additional Info
Last updated price

$

34.95

Stock
In stock
ASIN

B00BZA22EQ
---
Universal Medical Data Silicone Sport
Smarter LifeStyle Elegant Surgical Grade Steel
Elegant and Stylish
One of the problems that many people see with medical alert bracelets, and one which probably gives cause to many women not to wear one, is the fact that many of the models often look bland, or will look out of place with the rest of a person's outfit. Many of them may also look nice, but it can also be immediately apparent that it's just what it is - a medical alert bracelet, and not jewelry to enhance a person's appearance. If only there were a medical alert bracelet that looked well enough to be worn as jewelry, then many of those previously opposed to having one would get one.
Believe it or not, the Smarter LifeStyle Elegant Surgical Grade Steel Medical Alert ID Bracelet is a med alert bracelet for women that looks good enough to wear on any occasion. Featuring a linked band made of 100% Surgical Grade Steel, this med alert bracelet looks great on anyone wearing it, looking stylish yet also still being quite functional for its intended purpose. The surgical grade steel finish of the bracelet ensures that it will remain looking sharp, and will not degrade from rust or stains, and won't fade or peel. There should be no worries about this bracelet suffering from the effects of corrosion, and it will remain both stylish and functional for years.
Plenty of Accessories
The stylish and elegant look of this med alert bracelet makes it one that many people will take a liking to, but additional features really help set it apart from other types of med alert bracelets. The faceplate for this model contains the words "Blood Thinner" engraved in big bold letters on the front, while the back of the faceplate contains room for additional information to be engraved on it. While the manufacturer does not provide engraving service at this time, your nearest jewelry store should be able to do it for a low price. Along with the bracelet is an emergency medical information card that can be stored in your wallet or purse, which allows for additional information that won't fit on the bracelet.
Some additional accessories included with the bracelet are a beautiful velvet gift bag and gift box, which makes this model ideal for those who wish to buy a good-looking med alert bracelet for their loved one. Also included is a very easy to use link removal tool, which allows for the wearer to remove links as necessary in order to ensure that it fits snugly yet comfortably. The tool is easy enough for anyone to use, and allows for quickly adjusting the size. For anyone who wants a great looking med alert bracelet that doubles as jewelry, this model is certain to please.
Additional Info
Last updated price

$

34.95

Stock
In stock
ASIN

B075SLXG54
---
Smarter LifeStyle Elegant Surgical Grade Steel
BAIYI J172-1
Affordable Med Alert Bracelet
Med alert bracelets generally should not be expensive items. They are usually just a simple bracelet that contains brief medical emergency information, and are usually made of some type of durable material. However, many of the med alert bracelets that are available tend to be a bit pricey, making such a thing much less than an impulse purchase. It is a shame if someone sees a nice med alert bracelet, but passes it up because the price is more than they can afford.
For anyone who has encountered this situation before, fear not: there is a great med alert bracelet that is quite affordable. The BAIYI J172-1 Silicone Bracelet Medical Alert ID is a high-quality med alert bracelet for men and women that comes at a very affordable price. Featuring a smooth, pleasant-to-the-touch silicone wrist band with an adjustable strap along with a stainless steel faceplate, this high-quality med alert bracelet is quite durable, which should last you for many years without any signs of corrosion or fading. The stainless steel faceplate contains a red medical cross, making it easily identifiable to emergency workers, and has room for up to 3 lines (20 characters each) of emergency medical information that can be engraved on it.
Great Quality and Looks
Although this med alert bracelet is very affordable compared to most of the competition, that does not mean it is lacking in any areas. The high quality of the customized engraving on the faceplate will display your medical information in bolded black lettering that will not fade, and is resistant to any of the elements that it would normally be exposed to, including water. The silicone wrist strap is also high quality, being quite comfortable to wear while staying firmly on your wrist. The band is also adjustable for wrist sizes of 6.23 to 8.27 inches, which means this should easily fit almost anyone, especially those with smaller wrists.
The med alert bracelet does not come by itself. Included with it is an emergency medical card, about the size of a standard business card, on which you can write more detailed information, and it can be easily stored in your purse, wallet, or pocket. The card has spaces for your contact information, as well as for several emergency contacts, and plenty of space for detailed medical information. There should be no need to worry about missing medical information due to space. For anyone who needs a high-quality but very affordable med alert bracelet, this one is more than suitable.
Last updated price

$

0.00

Stock
May be out of stock
ASIN

B072ZWHFZ2
---
BAIYI J172-1
VNOX BR-102
Customize and Wear
Having a med alert bracelet that can be customized to display any information you need can be a life saver. Having such important medical information immediately available to emergency workers at the right time can make all the difference. That is why it is important to have a bracelet that allows for customization, giving you the ability to put any and all information that can be a difference maker when it comes to emergency medical care. After all, everyone is entitled to receiving the proper emergency medical treatment, and a med alert bracelet will help ensure that happens.
The VNOX BR-102 Medical Alert ID Bracelet with Free Engraving is one such med alert bracelet that allows for heavy customization of your important medical information. Featuring a stainless steel wrist band and faceplate, you can have any information necessary engraved on it, in almost any way that you want. Not only is the text to be engraved customizable, but you can even have the font used for the text customized as well, giving you the ability to choose one that both looks good and remains easily readable. Also on the faceplate is a red medical Star of Life, which makes the bracelet easily noticed by emergency medical personnel.
Looks and Feels Great
The ability to customize your medical information on this med alert bracelet is great, but it also has more to offer. The linked band and faceplate are both made of stainless steel, and contain no nickel, so this makes the bracelet perfect for those who suffer from allergies to metals. The bracelet is also quite stunning in its appearing, looking more like regular jewelry than a practical item. Don't be surprised if you get compliments on it! The linked wristband features an interwoven look that mirrors that of actual expensive bracelets and watch wrist bands, so this won't appear to most people as a med alert bracelet.
The wrist band features a double clamp design that makes the bracelet easy to put on and take off, and which also does not detract from the comfort of wearing it. The bracelet itself measures 7.8 inches, but unfortunately, it is not easily adjustable. However, having a professional jeweler adjust the size of it shouldn't be a problem. The bracelet comes complete with an emergency medical card that can fit information that won't fit on the bracelet itself, and can be stored in your wallet. All told, this great looking and perfectly function medical alert bracelet can be just the thing to help save your life someday.
Last updated price

$

0.00

Stock
May be out of stock
ASIN

B07DJ8X48J
---
VNOX BR-102
VNOX B-117S
Smooth and Stunning
Many people who have medical alert bracelets often find a particular problem with them, most often being that it sticks out like a sore thumb. Many medical alert bracelets appear to be just that - a med alert bracelet - and it can become obvious to many people who notice it. This can sometimes lead to situations of embarrassment or of feeling that a person is broadcasting their medical conditions to the world. Of course, not all med alert bracelets are like that, and the VNOX B-117S Medical Stainless Steel Medical Alert ID Bangle Bracelet is definitely one such case.
Featuring a smooth stainless steel band and faceplate, this med alert bracelet looks much more like stylish designer jewelry than its intended function. This is not a bad thing, though, as the faceplate contains a bright red Star of Life symbol, which will easily grab the attention of emergency medical workers when the time is right while still remaining inconspicuous at most other times. The band itself is quite slim, and can easily fit on your wrist alongside another bracelet or watch, and can match many different kinds of both. It won't look out of place at all. This is an important consideration for those who may feel embarrassed by wearing such a thing.
Easy to Personalize
The faceplate of this medical alert bracelet features a wide, flat design, which makes it perfect for being able to engrave your personal medical information on it. Both the front and the back of the faceplate has space for 3 lines of 25 characters each, which should be plenty for being able to immediately notify emergency medical personnel of your medical situation. The engraving is performed for free by the manufacturer, so when you receive the bracelet, it will already have everything you need on it. Along with the personalized engraving, there is also the option to have one of many different standardized engravings for medical conditions that can be ordered with it, should you not want to put detailed information.
The band itself is comfortable to wear, featuring a solid circular wrist band with a simple hook clasp on the end of it. This allows the bracelet to remain raised and loose enough to allow your skin to breathe underneath it, while still fitting on wrist firmly enough to not become a nuisance. Along with the band, an emergency medical card is provided that can fit more detailed personal and medical information, and can be stored in your wallet or purse. The bracelet even comes with a nice storage pouch for when it is not being worn. Anyone who wants a great looking and functional med alert bracelet will find much to like in this model.
Last updated price

$

11.99

Stock
In stock
ASIN

B01LE4FIGQ
---
VNOX B-117S
What Is a Med Alert Bracelet?
A med alert bracelet is a bracelet (worn primarily on the wrist) that contains important medical information about the person who is wearing it. The primary purpose of a med alert bracelet is to inform emergency workers such as police, EMTs, or other responders regarding existing medical conditions or illnesses in the case of an emergency. If the wearer is incapacitated in some way that prevents them from relaying such important medical information, such as when in severe pain, loss of motor functions, or even unconsciousness, emergency responders will be able to immediately see important medical and health information.
Med alert bracelets are a great idea for those who have existing health problems or serious illnesses, or who may require special care when it comes to being treated by emergency workers. Many elderly people who have serious issues with their health and may be unable to speak clearly when emergency care is required have taken to wearing them, and they have proven to be extremely helpful in emergencies. Although such medical identification can also be worn in other ways, such as on a necklace, a med alert bracelet is the best way, as it is easily identifiable by medical workers.
Med alert bracelets are meant only as a form of identifying existing health problems and other important medical information about a person. If you are in need of a medical alert service, you may want to look at our reviews of the best medical alert services available.
What Features to Compare
Plenty of different med alert bracelets are available for those who need them, but not all of them are the same. Different aspects of the bracelets can vary widely between different models. For any medical alert bracelet that you may need, there are some very important details about the bracelets that you will want to look at before you settle on a model. Knowing about these different aspects beforehand can save you a lot of time and trouble while looking for the best med alert bracelet for yourself. Below are some of the most common aspects of medical alert bracelets to look for.
Comfort
As a med alert bracelet is something that you will need to wear at all times, it is very important that the bracelet is comfortable to wear. Many med alert bracelets are adjustable in size, while many are not. Making sure that it fits perfectly and does not become uncomfortable after extended wear is very important. Many people who wear uncomfortable med alert bracelets are very tempted to remove them or to just stop wearing them entirely, which defeats the purpose of having one.
Material
The kind of material that a med alert bracelet is often something that most people don't even think about when buying one, but is actually of the utmost importance. The medical identification tag is something that will need to remain unblemished and easily readable after a long period of time, otherwise the information contained on it will be incomplete at best, and totally unreadable at worst. It is extremely important that the tag is made of highly durable material that is not easily damaged, such as stainless steel. Those that allow for engraving of the information on the medical identification tag are the best, as engraved information is much less likely to become unreadable than other forms of printing or embossing.
Amount of Information
The medical identification tag on a med alert bracelet should be able to contain as much necessary information as possible. While something as small as a bracelet is going to be limited in the amount of information it can hold, the ID tag should make the best possible use of that limited space to clearly show the necessary information about the wearer.
Extra Features/Accessories
Although med alert bracelets are often very simple bracelets, many models will have accessories or features that set them apart from other models. Such features and accessories can vary by a great deal, so it is best to check any extras that come with the bracelet to see if the whole set is the best option for you.
Did you know?
What Information to Include on a Med Alert Bracelet?
If you are in the situation where you believe you need a medical ID bracelet to help prepare for possible future emergencies, then you may not know exactly what information to include on it. This is a common situation for those who are getting a med alert bracelet for the first time. Just saying that "medical information" needs to be included isn't enough to give you the details of what to put on it, so it would be a great idea to read the following information to get a good idea of what information to include. You may also want to know what information to not include on the engraved medical alert bracelet as well. Remember that this information is needed for cases where you are being treated by emergency medical workers, and are unable to communicate your existing conditions to them yourself. Below are some ideas for important facts about your medical condition to include on your brand new med alert bracelet.
Existing Medical Conditions
Anyone who has existing medical conditions will definitely want to include these on your med alert bracelet, as this is something that emergency medical workers will need to know when first responding to your emergency. This includes situations like heart murmurs, asthma, or any other genetic or pre-existing conditions. Also, you will probably want to include information regarding past medical emergencies, such as strokes, heart attacks, aneurysms, etc. This information can be vital in a situation where you lose motor functions or consciousness, and are unable to directly tell medical workers about pre-existing or prior health conditions.
Food and Drug Allergies
When being treated by emergency medical workers, it is vital that they are aware of any particular food or drug allergies that you may have. Many treatments and medications that can be administered during the course of initial treatment may cause these allergies to be triggered, which could end up in a disastrous situation. This includes allergies to any and all medication, including penicilin and aspirin, and it even includes food allergies, as some food items may be used in the creation of certain types of treatments. Also, it could give the emergency medical workers an idea of what caused your emergency situation, should it be triggered by such an allergy.
Necessary Medication
Many people utilize life-saving medication on a daily basis for pre-existing or prior health conditions. This includes medication such as blood thinners, diabetes shots, epipens, and others. If there is any medication that you take on a regular basis, it is very important to note these on your med alert bracelets, as there is the possibility that certain treatments may not interact well with those medications in your system.
Contact Information
Last but not least, having your name and contact information, either for yourself or for an emergency contact, is important. Emergency medical workers need to know who to contact in case of an emergency, and may also need to speak with someone to gather more details about your conditions, so don't forget to have this information included.
What Not to Include
Space on most medical alert bracelets is limited, so its a great idea to leave off unnecessary information. Also, it is best to not include highly personal information that could put you at risk somehow, including your social security number or other sensitive information. While medical workers are trusted to not breach someone's sensitive information, it is best not to include this in case your bracelet is lost or stolen. Only including the vitally important information on your med alert bracelet is necessary.