When we take photos of the scenery we might not notice many peculiar little details on smaller objects. But the macro lens does it
and provides us with astonishingly detailed shots. Take a look at our reviews of the Macro Lenses for Canon and take your pick.
...
Read more
...Read less
Minimum Focusing Distance
Number of Diaphragm Blades
Canon (2540A002)
High Quality of the Picture
If you want to open an entirely new world of digital photography with your Canon camera, we recommend purchasing the Canon 2540A002 Macro Lens.
This manual-focus lens offers you a 5x maximum magnification. The f-number of this lens varies from 2.8 to 32. And a sophisticated 3-group floating system with a UD element will help you get the best quality of the picture.
As for the general characteristics, the minimum focusing distance of this lens is 1.6 inches, which could be smaller, but it is still a pretty decent number. The focal length for this lens is 65 mm and it comes with 6 diaphragm blades. We have to admit that this lens has a pretty significant weight - about 25 oz. But we really like that the manufacturer equipped it with such a helpful addition as a removable and rotating collar. It allows the lens to sit firmly on the tripod. It is very convenient considering the weight.
However, despite its perks, this lens doesn't have image stabilization. The only control you have is the magnification ring.
So, if you want to get high-quality pictures of the tiniest objects, we recommend purchasing the 2540A002 Macro Focusing Lens for you Canon Camera. Whether photography is your full-time job or just a hobby, this tool will be a worthy investment. You also will get a 1-year warranty from a manufacturer.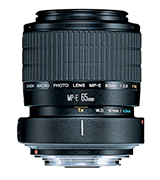 Canon (2540A002)
Canon (3554B002)
Best Result in Any Condition
The Canon EF 100mm is the first macro lens for Canon that features the Hybrid IS system. The IS stands for the image stabilizer that effectively compensates the horizontal and vertical shake of the camera along with angular tilt. This detail makes it possible to take high-quality images without having to use a tripod. The lens boasts 9-blade diaphragm that creates a beautiful background blur. If you are looking for a simple way to add the round-shaped bokeh at home, place a colorful LED string at a few feet behind the object. As expected, at the maximum opened aperture on an extremely sunny day you might get a slightly visible chromatic aberration, yet it absolutely disappears at f/4.0 while the optical stabilization makes it possible to take photos at slightly longer exposure diminishing any possible artifacts even further.
As for the body, it has a dust and moisture-proof design. Feel free to take shots outside on a rainy day or in a dewy morning when the air humidity is on the rise. Yet, no matter how waterproof the lens is, we strongly recommend getting a UV filter for it. Historically, it was designed to protect the film from UV rays – and it is still so in DSLR cameras. But even more importantly, it provides the objective glass with a basic protection from scratches, occasional fingerprints and damage from the fall. Better invest a few bucks in a filter than spend hundreds of dollars on a new lens, right? A Tiffen 67mm UV filter will do just fine.
All in all, this Canon EF 100mm f/2.8L IS USM Macro Lens boasts great light transmittance for making professional-quality macro photos.
Canon (3554B002)
Canon (0284B002)
Come Closer, Child
This Canon EF-S 60mm is an awesome choice for the entry-level photographers, not least because of its price. It's also extremely compact in size: less than 3" in every dimension. Therefore, it will be less tiring to hold it in hands than most other macro lenses for Canon. You can always grab it with you on your travels or lazy walks in a park for a quick switch. Anyway, at the 60mm focal length, it shoots at a comparatively wide angle capturing more objects along its shallow depth of focus. However, thanks to the minimum focal distance at 0.65", you can get the most detailed, sharp snapshots of anything within extremely close range.
If you've ever tried to take a close-up shot of a live subject, including butterflies or dragonflies, then you know how easily they can be scared away by a single movement of a finger or even by the turn of an objective lens. Many macro lenses for Canon, including this one, have internal focusing, where the outer glass doesn't move at all during focusing. Moreover, the Canon EF-S 60mm compact macro lens comes with ultrasonic autofocus that is not only quick but also almost inaudible for the most animals. Overall, the image quality is exceptional under the sunlight and with a small occasional vignetting observed at f/2.8. The Super Spectra coating provides some protection against sun flares and distorting sunrays. But if you aim for shooting mostly outdoors, consider buying Canon ET-67B Lens Hood. It is designed specifically for this model.
As a conclusion, we can definitely say that this Canon EF-S 60mm shows very good results and will become the great first macro lens for new photographers or for those who're in search of an affordable and compact model to take on trips.
Canon (0284B002)
Canon (1362C005)
Lens with a Light
True photography aficionados will highly appreciate the Canon EF-M 28mm f/3.5 Macro Lens. This piece of equipment is a must-have for those who want to take high-quality pictures with minimal effort.
First things first, this macro lens will spare you from the necessity of installing additional lighting. It comes fitted with a built-in Micro Lite. The 2 LEDs provide enough light to get rid of unwanted shadows caused by your camera and other equipment and generally add more dimension to the object you are taking a photo of. The only thing we dislike is that the light button is situated a tad inconveniently, but we hope you will be able to get used to its position.
What is more, if you own a camera that belongs to the EOS M series, this lens will be a great choice. It will provide extra image stabilization. Plus, the lens also offers 1.2x magnification.
The minimal focusing distance is pretty small, 0.35 inches. Hence, you can take pictures of objects that are very close to you. It has a focal length of 28 mm and comes with 7 diaphragm blades.
To sum up, the Canon EF-M 28mm f/3.5 Macro Lens is one of the best pieces of equipment that will help you make professional-looking photographs. It is functional but comes at quite an affordable price.
Additional Info
---
Canon (1362C005)
Sigma (258101)
Ready, Steady, Go!
Sigma Corporation is a well-known Japanese manufacturer of the photo accessories of any kind. Naturally, this 105mm Sigma macro lens for Canon is fully compatible with Canon EOS cameras. It boasts 105mm focal length with an f-number ranging from f/2.8 to f/22. In this regard, we can add that it will not blur the background that much when compared to f/32 lenses. That is why we suggest using it for highlighting close-range photos. Moreover, the 9 blades can create a desirable rounded bokeh in the background. The special low-dispersion glass reduces chromatic aberrations. So, there will be fewer fringes around the edges of the objects in your photos. If you are looking at a macro lens for Canon as a tool for making more artistic photos, you might also want to grab additional filters that often comes in a 3-filter kit bundel. Each of them can help transfer your creative vision into the 2D-world of the photography.
Aside from the information said above, the prime feature here is the optical stabilizer. In fact, it is the first macro lens by Sigma that has it. Therefore, handheld shots can be just as sharp as those taken with a tripod. As if this wasn't enough, the lens also has a Hyper Sonic Motor for autofocusing. Just like the Canon's USM, it's ultra-quiet and satisfyingly quick. 
All things considered, this Sigma macro lens for Canon is a great choice for those who plan to take pictures in the conditions where the usage of a tripod is limited or even impossible.
Additional Info
---
Sigma (258101)
What Is a Macro Lens For Canon?
Most Macro lenses project an image of an object in a 1:1 proportion onto the sensor. In other words, take a coin and place right in front of your eye - it will fill a huge part of your field of view. The same happens with a sensor when you place an object in front of it - it takes up the whole frame and is captured with all its small details. The thing is, the zoom and other lens types with fixed focal length can't focus on the objects that are very close. At such moments, a macro lens comes to the aid. They have a fixed focal length and a very shallow depth of field at close ranges, allowing users to emphasize only one plane on the photo with a numbered amount of stuff in it - and blur everything else in the foreground and background.
Most of the times, the macro lens is used for close-up focusing on really small objects at a very close range. For example, a shiny coin out of a pocket, a colorful bug on the flower, the dew on the fir needles in the nearest forest, and so on. But you can use it not only for bug hunting. You can also do portraits with it. But keep in mind these lenses are very sharp, and it's very likely that you'd need some time to get used to doing them right.
Anyhow, we think that the macro is a must-have lens for any photographer. Therefore, we've analyzed 5 awesome models for Canon DSLR cameras in this article. As a matter of fact, despite the name of these lenses suggest they can be used with Canon equipment only, most of the lenses are compatible with other brands too. You should only check the list of available functions on other brands to be sure that you don't end up without the functions you need for your work.
By the way, we have also prepared a thorough review on the best wide-angle lenses for Canon too. Don't forget to check them out as well.
What Features to Compare
Camera Sensor Type Compatibility

First of all, take a look at camera sensor type compatibility. Some lenses are compatible with both full-frame and the APS-C cameras. Yet, there are lenses that can work with only APS-C types.
Focal Length

Focal length in DSLR cameras refers to the distance between the light rays convergence inside the lens and the digital sensor of a camera. Simply put, it influences the angle of view of a camera. The bigger the focal length is the lesser the part of the scene in front of you will appear on a photo. Therefore, all objects in it will also take up more space on the final uncropped photo. Usually, macro lenses have it fixed within the range from 50mm to 200mm.
Minimum Focus Distance

Minimum focus distance shows the distance from the focal plane of the camera to the object within which the things can come into the focus. To find out where the focal plane of your camera is, look for a symbol "Ф" on top of the body. As a result, the objects can be focused on when they are at least a few inches away from the objective lens.
F-number

F-number is an important value for any lens. It's given as the f/x where the 'x' is the ratio of the focal length to the entrance pupil diameter. Basically, the lower this number is, the wider the aperture is, and the more light will be collected through it. For example, at f/2.8 the image will appear brighter than at f/4.0. The wide aperture also allows you to set the lower exposure. On the other hand, the wide aperture has the shallower depth of field - the range at which the objects appear to be in focus.
Aperture Blades

You might also take note of how many aperture blades there are if you are looking for taking more artistic shots. Because more blades provide more distinct round bokeh effect. The 7-9 blades are okay for the most part. However, you can also find the lenses with 14 or even 20 petals.
Extra Features

Extra features may play a large part in improving the image quality. For example, a feature like optic stabilization is essential for handheld shooting as it compensates small shakes of a camera from vibrations. Without it, you will definitely need to use a tripod or some stand to get smeared photos. Check out the filter thread diameter if you are going to use an optical filter to protect the lens glass or to give your photos some artistic touch. Some models have a special coating and may come with a hood to reduce light flares. Autofocus with ultrasound motor makes almost no sound. This is helpful for taking photographs of some animals or when you record a video with the mic on. Finally, pay attention to the lens barrel materials. Metal parts are obviously more durable than the plastic, though might add to its weight. Finally, some lenses can have moisture and dustproof properties that make them preferable for taking photos on windy or rainy days.