A pair of hair cutting scissors will be a great addition to your beauty collection whether you're a professional working in some
sort of a barbershop or simply looking to acquire a new hair accessory for your own use. Just take a look at our review and take your pick.
...
Read more
...Read less
Equinox International SET A
As Good as Money Can Buy
Equinox International SET A Hair Cutting and Thinning Scissors are one of those pieces of equipment that most people may describe as a bit of an overkill. But if you're not interested in running a regular and uninspiring business enterprise and want your barber shop to truly earn the title of a luxurious establishment, you're going to need the absolute best that the hairdressing industry has to offer.
These hairstyling shears feature everything you could possibly want out of a couple pairs of scissors. Each of them comes equipped with a convenient finger rest and a gold-plated tension/adjustment screw that is going to provide the user with the opportunity to adjust the shears in order to perfectly fit the hand of virtually any size. The blades are extremely sharp and will be able to deliver clean and precise cuts without tugging or pulling the hair. As you would expect from a product of this price range, the aforementioned blades, as well as the entire structure of these scissors, are comprised of high-quality Japanese stainless steel that is as stylish as it is durable. Not to mention the fact that both pairs of scissors individually weigh no more than 4.8 ounces meaning they will be a comfortable fit for some of the more slender people with the most delicate hands. And, with a length of 6.5 inches each, the model in question can be safely and easily used on men, women, children, the elderly, and even on the babies.
Sure, if you'd like a pair of scissors to thin and trim your hair in the comforts of your own home without spending a few additional quids on it, this product may just be a bit too much, but if you're interested in the best professional scissors for cutting hair that money can buy, you simply cannot go wrong with the Equinox International SET A Hair Cutting and Thinning Scissors.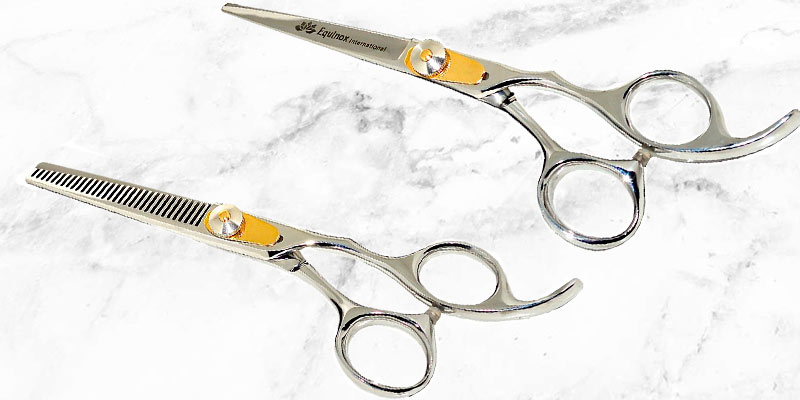 ---
Equinox International SET A
ULG Japanese Stainless Steel
Longevity Above Anything Else
A pair of scissors isn't one of those technologically complicated items that entirely changes its structure and features every few years, so the question of longevity can be often of the utmost importance when it comes to looking for a proper hairstyling accessory. While you'll still be able to enjoy and appreciate this particular model if you're the type of person that simply likes to change things up every once in a while, ULG Japanese Stainless Steel Hair Thinning Scissors will first and foremost attract the kind of customers that are looking for durability and sturdy structure above anything else.
As we have already established, one of the biggest selling points of these hair thinning scissors is their longevity that is possible thanks to 100% 440C Japanese stainless steel construction. The material in question won't just be able to withstand the test of time but guarantee that not a single scratch or blemish will be able to find its way to the model's surface. On top of that, the product absolutely delivers when it comes to the design aspect as well featuring gorgeous blue diamond stones in the two-leaf intersection and mirror polish finish. The model does not lack a thing when it comes to functionality as well with teeth located on one blade and a smooth razor edge on the other one. Both of these blades will allow the user to effortlessly and evenly trim the hair without causing any sort of damage or splitting the hair ends. Removable rubber handle inserts are part of the deal as well and will prove useful as far as fitting any thumb and finger without hurting them goes.
Although what you get is a single pair of hair shears without an additional pair of scissors included in the package, it wouldn't be far-fetched to say that the model in question is one of the best hair thinning scissors on the market that will be able to satisfy anyone looking for an excellent and durable product.
---
ULG Japanese Stainless Steel
Utopia Care Adjustable Tension Screw
A Full Package
If you don't feel like investing your time and money into purchasing a whole kit of different shearing tools and want a single pair of professional hair cutting scissors for home use as well as for your salon, this particular model from Utopia Care should be just to your liking. The product in question may not necessarily stand out with a luxuriously over-the-top design or some kind of ridiculous and impractical feature, but every single necessary aspect of it was developed with the kind of standard in mind that puts even some of the most premier models out there to shame.
The first thing we would like to mention is the material that was utilized in developing and manufacturing this particular product. Using some of the finest quality Japanese J2 420 stainless steel, the company behind this hairstyle scissors was capable of constructing the kind of model that'd be able to withstand anything you may inadvertently throw its way. But, just in case you feel like that might not be enough or you simply need a case to transport this product from your salon to your house, it also comes with a zippered leather storage bag that will prove itself useful in terms of preserving the scissors and preventing any sort of accidents from happening. Another element worth mentioning is that these scissors feature precise blades and a hand sharpened cutting edge that will provide any potential customer with the opportunity to equally trim the hair. Furthermore, the fact that the model in question includes removable rubber finger inserts that will allow virtually anybody to fit any thumb and finger makes it one of the best hair cutting scissors for home use.
And that's about it, if you're interested in a couple pairs of professional hair scissors that you can take with you to work and use in the comforts of your own home, you'd be hard-pressed to find a better option out there than the Utopia Care Adjustable Tension Screw Professional Hair Cutting Scissors.
---
Utopia Care Adjustable Tension Screw
Kovira Hairdressing Set
A Comfortable Solution
Kovira is one of those companies that specialize in delivering kits packed with high quality and professional beauty tools that will be able to satisfy the kind of customers looking for an affordable set of hairstyling accessories that would allow them to take care of themselves and the people around them. And, it should go without saying, the people behind Kovira Hairdressing Set Cutting and Thinning Scissors didn't design it to be any sort of an exception to that rule.
One of the things that Kovira never fails to ensure is a level of comfort and convenience that would allow any customer to operate their products with ease. When it comes to this particular model, the aforementioned philosophy manifests itself mostly through a user-friendly spring leaf tension adjustment system that comes equipped with a knurled knob. On top of that, these hair trimming scissors feature 6.5 inches of overall length making them suitable for giving a clean and precise cut to a plethora of different individuals, from tiny toddlers to adult men and women. Talking about that clean cut, you will easily be able to achieve that kind of precision and efficiency thanks to the razor sharp blades made of stainless Japanese steel. Naturally, the model also comes equipped with removable rubber handle inserts that you ought to expect from any self-respecting beauty tool's manufacturer. In order to keep the scissors together and prevent any sorts of accident from happening, the people behind this product didn't forget to include a zippered cushioned black leather storage case with elastic bands.
To sum it up, Kovira Hairdressing Set Cutting and Thinning Scissors is a perfect choice for those customers in need of a couple of pairs of scissors that deliver the kind of quality and functionality you might not expect from such an affordable option.
---
Kovira Hairdressing Set
Equinox International Hair Cutting Scissors
A Fitting Choice
What we have on our hands here is another model from Equinox International, and those people that are familiar with the said company may already know what to expect from this very tool without even taking a single look at it. Dealing with a pair of hair cutting scissors from this American company, you can rely on the model's structure to be entirely comprised of specialized high-quality surgical grade stainless steel and the aforementioned accessory to feature precise blades and hand-sharpened cutting edges that will allow even some of the more clumsy users to deliver a clean cut as well as achieve an even trim without breaking a sweat. Now, it may not be up to us to call the model in question the best scissors for cutting hair out there, but we can definitely guarantee that with this pair of hair shears, you will never need another hair cutting scissor again.
The statement above is also supported by the distinctive and convenient grip handle design that grants these scissors the ability to cradle the user's fingers. And that's with us glancing over the fact that the product also comes with thumb and finger removable inserts for sizing adjustments that will make this accessory perfect for a limitless variety of customers. Furthermore, if that isn't enough, we would be remiss not to mention that at a weight of only 0.3 ounces and 3.0" blades, virtually anybody will be able to operate this model with unparalleled ease and confidence. The last thing we didn't want to skip before wrapping this whole thing up is the fact that it also includes a detachable finger rest that will allow the user to adjust this pair of scissors in order to reach the desired level of comfort and control.
All in all, figuring out a target audience for the Equinox International Hair Cutting Scissors Detachable Finger Rest may prove to be somewhat of a challenge since the model's versatility is going to allow virtually any kind of user to operate it with great ease and comfort.
---
Equinox International Hair Cutting Scissors
What Are Hair Scissors?
There's a good chance that you don't need any introduction and have a pretty good grasp of what a pair of hair cutting scissors is in a nutshell. The tool in question is obviously a necessity for people that are involved in the beauty industry one way or the other but can also serve as a useful accessory for those that simply want to avoid visiting a salon every time they want to groom their hair or give a cut to their loved ones. Some of these scissors are more suited towards cutting the hair while others are manufactured with the purpose of trimming and thinning in mind, so be sure to take that into consideration before purchasing whatever it is you are looking for.
If you already own a nice pair of hair cutting scissors, you might be interested in our review of hair dryers and hair clippers to complete your beauty collection.