Just like humans, pets need their private place to rest, emote, and play. And nothing serves that purpose better than a cozy dog
lounger. So, in this review, we offer you to take a look at the selection of the best dog beds available and choose one that'll surround your pet with the comfort for long years to come.
...
Read more
...Read less
Furhaven Traditional Orthopedic
Coolness and Support
Would you like to get something that won't restrict the freedom of your Fido? Then, you may like this generously-sized Furhaven Orthopedic Dog Bed with rimless design. Actually, it looks more like a traditional mattress and gives plenty of space for dogs to sleep in any position they find comfortable, making it an optimal choice for cuddlers and sprawlers alike. The other benefit this rimless bed offers is a step-on design providing a quick and easy access for small, elderly and disabled pets to get onto the mattress.
Once your dogs get onto the mattress, it will deliver them a cuddle comfort and support. The thing is, the sleep surface is lined with ultra-plush faux fur that is very soft to the touch and pleasant to the body. With that, it won't make your Fido warmer and, thus, uncomfortable. Instead, the mattress is capable of wicking away body heat and reducing the sleeping surface temperature by 1 or 2 degrees. That's largely achieved owing to the addition of cooling gel top foam core which contains plenty of microgel beads. The main layer that consists of memory foam, in its turn, conforms to your pet's shape to provide superior support to the joints and pressure points. As a result, your furry friend will achieve a deeper, more restorative rest.
Bottom line, the Furhaven dog bed is an excellent orthopedic product that can provide a cool and comfortable space for your pet to snooze all day long. And since it has an easy step-on design, it's well-suitable for dogs with some mobility issues.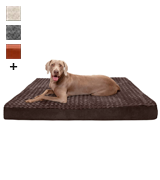 Furhaven Traditional Orthopedic
Best Friends by Sheri The Original
Wraps with Comfort
If you own a very picky pup that loves comfort and privacy above all, we have a stellar offering for you - the Donut cuddlier from Best Friends by Sheri. It's an incredibly soft and cushy bed that is generously padded on all the sides and the bottom to wrap your pets with total comfort and warm them during the chilliest of nights.
The main perk of this bed is surely its unique round donut-shaped design that wraps the whole body, making it ideal for pets that love curling up. And thanks to the fluffy texture of the bed, your Fido will be able to burrow into it and hide from the whole world, while having rest or fun. The raised rims, in their turn, will provide a sense of security and privacy.
For superior comfort and luxury, the lounger is made with a faux shag fur that does double duty by keeping animals cozy and offering joint and muscle pain relief. And if you think that fluffy bed like this is hard to maintain, we would like to note that it's suitable for use in both a washing machine and dryer (gentle cycle, tumble dry, low heat).
All in all, this donut cuddler can help you create the comfiest private space for your furry friend. It's incredibly soft and well-padded, and its deep crevices will allow your pet to burrow and emote for improved behavior and better sleep quality.
Best Friends by Sheri The Original
MidWest Homes for Pets Bolster
The Best Seller
With over 20 thousands of reviews on Amazon and nearly a 5-star rating, the MidWest Bolster Pet Bed is an obvious bestseller on the market. Produced by the industry leader in pet bedding, it has undergone rigorous product testing and now steams high quality and superior comfort. The bed delivers the luxury feel owing to the ultra-soft faux fur that provides comfort in both cold and warm weather, while perfectly resisting shedding and wear.
On the sides, the bed has comfortable polyester-filled bolsters that make for a pillowy place to rest a head on. Underneath, the bed features the cushioned poly/cotton quilted base to stand up to abuse from daily use as well as from numerous washings. By the way, the bed is completely machine washable, allowing for easy maintenance.
Yet, the major selling point of the MidWest bed is its affordability and versatility. It comes in eight size options from 18 inches to 54 inches, as well as in a variety of different colors. Besides the Blush Pink, the bed is also available in Charcoal Gray, Cinnamon, Powder Blue, and White. The latter option is made from super-soft synthetic fleece sheepskin and is ideal for concealing shedding of light-colored dogs.
Lastly, it's worth mentioning that this bolstered pet bed can be used alone or in crates and carriers, by newborn pets or aging dogs. Offering comfort, style, versatility, and affordability, this bed can cater to just any need and breed.
MidWest Homes for Pets Bolster
Furhaven Plush Orthopedic L-Shaped
Mini Sofa for Your Pet
The Furhaven L-Shaped Chaise Lounger is another popular choice among pet owners. It comes in a traditional sofa-style design with dual bolsters that are fluffy, lightweight, and supportive. Actually, they are meant not only for decoration but also for providing an additional high-loft cushion for those pets who need something to rest their head onto. The bolsters ensure great orthopedic support for joints on the dog's neck and head. Also, they can help create a cozy nestling nook for burrowers and are perfect for sprawlers and cuddlers alike.
The sleep surface, in its turn, is lined with high-pile plushy faux fur fabric that is very soft to the touch. Inside, there are two layers of premium foam for additional comfort and temperature control. The top one is a cooling gel
foam with microgel beads that help reduce body heat, while the main layer is a high-quality memory foam that can contour the body and provide optimal orthopedic support to joints and bones. The
foam is 100% manufactured in the USA and approved by the CertiPUR. This means it meets the highest standards for content, emissions, and durability. The manufacturer is really confident in this lounger, so it provides a
90-day warranty against material defects and a 60-day worry-free guarantee. So, you have nothing to lose.
Furhaven Plush Orthopedic L-Shaped
K&H Manufacturing 1070
Add Some Warmth!
Some breeds don't have thick and warm hair, so they can feel quite uncomfortable during cold seasons. If that goes for your pet too, we recommend paying attention to this award-winning dog bed by K&H that is not only super soft but extra-warm as well. The thing is, it has a built-in electrical heater that can warm your pet during the coldest nights. Due to the automatic temperature control, the bed surface is heated to the optimal temperature for your Fido and maintains it at a comfortable level.
When it comes to the cushioning properties, the K&H bed has a solid foam filling which despite its small thickness, still provides comfortable rest for your pet. The cover is made of waterproof vinyl, meaning it's highly resistant to external impact and doesn't absorb moisture. For this reason, the bed can be used both indoors and outdoors. If you want to make the vinyl bed a bit more comfortable for your pet, you can cover it with a soft fleece rug that is thoughtfully provided by the manufacturer. The rug easily conducts heat and holds the warmth, so your four-legged buddy will never get cold any more. Also, the rug is safe for use in a washing machine.
In all, this dog bed is designed to deliver maximum heat and comfort to your pet. And since it's suitable for indoor and outdoor use, it can be placed just anywhere – in a living room, porch, basement, or even a garage or kennel.
Additional Info
---
K&H Manufacturing 1070
What Is a Dog Bed?
Adopting a puppy is always taking great responsibility for its life. And it's not only about feeding and taking care of pets but also about providing a cozy private place for them to play and rest. Just like all other members of your family, your Fido needs to have comfortable conditions for living. And that's where a plushy dog bed comes into play.
A dog bed or lounger is actually a cushy mattress that keeps your dog warm and cozy, as well as supports arthritic joints and prevents calluses. A dog bed is also a perfect space where pups can emote and burrow their treats, which will result in less anxiety and better behavior accordingly.
Dog loungers come in a wide variety of shapes, sizes, and materials. Basically, all of them are easy to wash in a washing machine, which makes the maintenance easier, especially if your furry friend has accidents or gets infested with fleas or mites (to prevent that, you can refer to our review of the best flea collars).
In this shortlist, we've comprehensively analyzed some of the most popular models of bed dogs to help you with your choice. You can also consider buying a dog house to provide your four-legged friend with more privacy. And a nice pet fountain will certainly please your pups with fresh water and keep them well-hydrated and healthy.
What Features to Compare
Type
Buying a dog bed is pretty simple, that's what most of you think from the start. However, when it actually comes down to going and buying an item, customers often get lost. The choice is vast and it's vitally important to know what differs one product from the other. All dog beds differ by type. There are pretty standard pet beds, designed to serve as a pillow or a mattress. Others have different shapes - square, round, oval, etc. Some beds with orthopedic foam are specially designed for aging dogs and those suffering from arthritis or arthrosis. They ensure solid body support and reduce strain on their joints. There are also dog beds with soft padded sides. If your pet loves curling up, burying itself in a pillow, it will be delighted with such a bed! Dog beds with a heated pad are worth special attention since they can be used literally all year round indoors and outdoors as well. If your puppy lives in a garage where it's not exactly very warm, the heated bed will come in handy. Among other popular dog beds for outdoor use are the beds with elevated design. Raised at a distance, they neither get wet nor pick insects from the ground.
Size
The bed size is also an important aspect. Your dog won't have comfort in too small or too narrow bed. On the other hand, it won't feel any better in an oversized bed since it tends to conserve the heat worse. A common solution most owners have come to is that there's very little sense in buying a massive bed for a small breed and vice versa. Big beds with dense filing suit perfectly large dogs whereas smaller items with padded sides fit smaller doggies better.
Materials
The material is what makes any bed convenient. The commonly used fabrics for producing dog beds are foam and polyester, though you can also find beds filled with cedar sawdust. Better than other materials, cedar sawdust blocks unpleasant smells and proliferation of insects. Consider the beds made of natural fabrics in order to not make your little pet suffer from allergy. If you plan to set a bed outdoors, it's essential that it's made of waterproof, breathable material and is easy to clean and wipe out from dirt. For indoor use, this isn't as important. You may only be concerned about its aesthetic look.