Barking is an essential means of communication for dogs that is in their nature. However, too much barking can drive you crazy! Dog
training is a time-consuming process, requiring commitment, dedication, and a lot of patience. If you have become desperate to get your pet under control, a bark collar can be a way out. It's an effective way to teach your furry friend good behavior! Look at our review and choose the bark collar according to the unique needs of your four-legged friend!
...
Read more
...Read less
Types & Number of Stimulation Levels
X
This site is a free online resource that strives to offer helpful content and comparison features to its visitors. Please be advised that the operator of this site accepts advertising compensation from certain companies that appear on the site, and such compensation impacts the location and order in which the companies (and/or their products) are presented, and in some cases may also impact the scoring that is assigned to them. The scoring that appears on this site is determined by the site operator in its sole discretion, and should NOT be relied upon for accuracy purposes. In fact, Company/product listings on this page DO NOT imply endorsement by the site operator. Except as expressly set forth in our Terms of Use, all representations and warranties regarding the information presented on this page are disclaimed. The information which appears on this site is subject to change at any time. More info
SportDog 10R
Designed to Safely and Efficiently Change Your Dog's Barking Behavior
The NoBark SBC-R Bark Control Collar offers a humane way to prevent your dog's nuisance barking. It will not falsely trigger and set a stronger static correction than required for your dog. Besides, you can choose between 10 levels of static stimulation, as you know your furry friend like nobody else.

The collar automatically shuts down for 3 minutes, if your pet barks 15 or more times in 50 seconds. So, it will not cause any physical trauma to your pet. The collar is designed for dogs weighing 8 pounds or larger. As an added benefit, the unit works from a rechargeable NiMH battery, thus you don't need to buy replacement batteries. You can use the NoBark SBC-R collar in rainy weather and even while bathing your canine! It's waterproof and submersible up to 25 feet.

Make sure your dog has a comfortable place to live, choosing one of 5 best dog houses from our review.

A Customized Approach to Training Your Pet
The NoBark SBC-10R bark collar has a patented Perfect Bark® technology, which passes a static correction through the Contact Points when detecting vibration and sound from the dog's vocal cords. It's activated only by your dog's bark, so the collar will not trigger in response to other dogs' barking. There are 3 selectable modes with different static stimulation levels: Temperament Learning, Progressive Correction, and User-Selected.

The Temperament Learning mode starts at the lowest level, progressing to the higher correction level, if your dog barks for 30 seconds. It remembers the level that helped stop your dog's barking and start the correction at the last level used. The Progressive Correction mode starts working the same way, but if the barking isn't detected within 30 seconds, the collar will reset the correction to the lowest level. And with the User-Selected mode, you can choose manually the level you need to correct your dog's behavior.

Is the Static Correction Safe For Your Dog?
Many pet owners think that anti-bark collars inflict unjustified physical pain and distress on their dogs. However, the sensation they deliver is not painful in any way. The static correction is absolutely safe for your pet, even at the highest level. Besides, it has nothing in common with an electric shocker. Moreover, dogs are smart enough to make an association between their barking and negative consequences. So, your dog is unlikely to be shocked many times. Ultimately, dogs do not bark with the collar on their neck, even if it's switched off.

Please note that the small-breed and short-haired dogs are much more sensitive to static impulses. Anti-bark collars should be used on healthy dogs only. Therefore, it's better to consult a vet prior to use.

Last updated price

$

0.00

Stock
May be out of stock
ASIN

B00173CWDW
---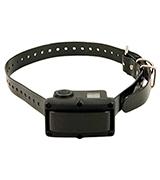 SportDog 10R
Oternal No Shock
Humane Training of Your Four-Legged Friend
The Oternal No Bark Dog Collar is a great contribution to your dog training and an effective way to stop excessive dog barking. It's comfortable, easy-to-use, and fully adjustable. Simply put the collar on your dog's neck under the jaw line and press a special button to adjust the sensitivity level, depending on your pet's size and personality traits.

The collar gives a gentle reminder to stop without using an electric current, so it won't cause injury to your dog. Your four-legged friend is intelligent enough not to repeat an unwanted behavior to avoid punishment. Basically, dogs find vibration unpleasant, that results in less barking. And after a while, your canine will stop that annoying barking behavior.

You can reward your dog for great results, putting its favorite treat in a pet bowl, and you'll be amazed how quickly your pet learns new commands!

Start With Mild Warnings
The Oternal No Bark Collar uses the gradually progressing sound and vibration. At first bark, the collar produces a short warning beep. If the dog goes on barking within 30 seconds, a more intense beep is sounded. And only at the third bark, a more intense beep is produced with a mild, short vibration.

If the dog keeps on barking after the 7th correction level is reached, the collar stops working for 1 minute for protecting your pet. This anti bark collar is good for medium-sized dogs up to 10-35 lbs. However, it's also well-suited for small dogs (6-10 lbs). But make sure the collar isn't too loose.

When Using a Bark Collar for the First Time
An anti bark collar is worn around the dog's neck under the jaw line area right up against the vocal cords. A strap should fit snugly, but not too tight, as it may cause significant discomfort for your dog. If the collar is too loose, it will not detect the vocal cord vibrations. So, it won't function properly. Besides, it will rub when the dog moves, causing irritation. The collar receiver should be properly placed on the centre of your dog's neck.

When fitting a bark collar for the first time, do it in the presence of people the dog trusts. If your dog is left home alone, it may feel anxious and continue to bark, regardless of an increasing stimulation level. Never leave a bark collar on your dog for 24 hours – 8-12 hours a day will be enough.

Last updated price

$

0.00

Stock
May be out of stock
ASIN

B01J7K4JZ0
---
Oternal No Shock
Pet Pawsabilities PET680V
Reliable Collar for Large Breed Dogs
This collar provides an effective and safe way to reduce excessive dog barking. It's effective for small dogs (starting at 15 lbs) as well as large ones (up to 150 lbs) to stop nuisance barking and promote a good behavior. The collar delivers a mild electrical stimulation that is humane for pets with high pain sensitivity and susceptibility. It offers an effective, safe, and speedy solution to stop your dog incessant barking. A special warning tone is designed to keep your dog's barking under control without the use of electric shock. And if a vibration is required, it's actually mild and painless for your dog. No severe injuries, scars, burn marks or other scary stories you have probably read about anti-bark collars!

The collar fits neck sizes from 13.5 to 23 inches. So, before purchasing a bark collar, measure your dog's neck girth. The collar shouldn't be too loose or too tight, as it can cause discomfort or injury to your pet. Since the collar fits snugly around your dog's neck, don't leave it on for more than 6-10 hours at a time. Follow the instructions in the manual and don't worry – your canine will be safe and sound!

How To Train Your Dog With a Bark Collar
Anti-bark collars are primarily designed to promote a good dog behavior. The Pet Pawsabilities PET680V Anti-bark Collar provides a mild, harmless electric stimulation. At the first bark, the collar emits a short warning tone. If your dog continues to bark within 30 seconds, then a louder tone will sound. If your dog barks again, a more intense sound with a mild vibration are applied. If barking continues, the stimulus rises to the 5th level, that stops most dogs. But, don't worry about your pet! If your dog keeps on barking through the rest of the 5 levels, the collar will automatically reset to the first sound level. If the stimulus reaches the 7th level, then the collar will stop for 1 minute. The pattern is repeated through 7 levels of correction.

Start training at the lowest level of correction. Watch how your dog reacts and then progress to the next level if needed. Actually, the lowest stimulation level can be just enough to get your dog's attention.

A Bark Collar to Fit in With Your Dog's Personality Traits
Many large breed dogs like Alaskan Malamute, Siberian Huskies, and Caucasian Shepherd dogs are independent and stubborn, thus they can be difficult to train. Moreover, they have a very high pain tolerance. Therefore, it's rather difficult to stop barking behavior with the help of the bark collar. Yet, it's possible, if to take into account the specific characteristics of the breed. For instance, if a dog doesn't show dissatisfaction (doesn't whine or lean against its owner), take notice of its muscle tone that tells how tense the dog is. If the muscles are tight or they move, it means that your dog feels everything and just shows its temperament. All in all, continue training sessions with a bark collar and keep them short but intensive, developing loyalty in your dog. If you have problems controlling your pet, it's better to find a good dog handler.

To keep your independent four-legged friend safely in the yard, you may need a pet electric fence - modern pet boundaries used instead of outdoor dog kennels.
Last updated price

$

0.00

Stock
May be out of stock
ASIN

B01LYESR44
---
Pet Pawsabilities PET680V
PetSafe PDBC-300
The Best Choice for Active Dogs
This collar is perfect for social and active dogs who enjoy walking in any weather, communicating with other dogs, and even taking a bath! The collar fits snugly around the dog's neck. Only your pet's bark causes the stimulation, owing to the Perfect Bark technology. It detects the sound of the bark and vibration from the vocal cords, so other noises won't cause a false correction. If your dog adores jumping in puddles or playing under the rain, this collar is what you need! It's waterproof and submersible up to 5 feet for 30 minutes!

The collar comes with 3 modes. Each mode has 6 levels of correction that increase gradually and safely. After a long walk, dogs are generally in a calm state of mind. So, dog beds will provide a snug place for your canine to relax!
No Unnecessary Use of Electric Stimulation
The collar is designed to emit static correction when it is supposed to. Before you start training, choose between 3 correction modes (low, medium or high) to fit your dog's unique temperament. At the first bark, the collar starts at the lowest level within the chosen mode and then gradually increases to the next level. If your dog doesn't bark within 30 seconds or more, the collar stops and resets to the lowest correction level.

The anti bark collar comes with an automatic safety shut-off, which stops the correction after 30 seconds at the highest level, so no harm is done to your dog. The PetSafe Deluxe Bark Collar should be used as a deterrent to manage your dog's behavior, but not as a punishment. So, be careful when choosing the correction modes and levels of stimulation.

How to Choose the Stimulation Level
Most bark collars can be adjusted to the level, depending on the dog's physical characteristics. Many dog owners test collars on themselves to understand what their dog actually feels. There are several factors that need to be taken into consideration:

1. Dog's size. The smaller the dog is, the lower level of stimulation is required. Consider the dog's hair, muscles, and skin thickness. For instance, dogs with thick skin are less sensitive to pain.
2. Level of skin moisture. Moist skin increases the dog's sensitivity.
3. Nervous irritability. It's characterized by the dog's behavioral trait.

Note that the same dog may require different stimulation levels at different times. For example, when a dog is calm, it will react to the lower level stimulus.

Additional Info
Last updated price

$

0.00

Stock
May be out of stock
ASIN

B00023D368
---
PetSafe PDBC-300
Naturepets 7 Sensitivity Adjustable
Easy Way to Stop Your Dog Barking For No Reason
This bark collar offers a convenient and easy way to control your dog's barking in your absence or when you walk in unfamiliar places. It's ready to use - all you need is to install the battery and adjust the collar length to fit the dog's neck. As soon as the dog starts barking, the collar produces a warning stimulus. If your pet continues to bark within 30 seconds, the collar will gradually intensify the stimulation, moving through the 7 levels. If your dog keeps on barking at the highest level, the collar will stop working for 1 minute. Dogs form an association between an action and the consequence, i.e. the connection between barking and getting shocked. So, your dog will quickly stop the barking for no reason.

During walks with your dog, use a dog harness that will provide your pet's safety and peace of mind for you and surrounding people.

Train Your Dog Properly
These are the training techniques to stop your dog from barking with an anti-bark collar:

First, show the collar to the dog, allow it to sniff and give some time to get acquainted with the collar. Then, wear the collar and after the dog gets used to it, provoke barking in a specific situation. It can be a doorbell or door knocking or the objects your dog usually responds by barking. At first, your dog will unlikely associate its barking behavior with unpleasant feelings. However, after several more repetitions, your dog won't respond to provocations anymore. And the process is repeated until the dog doesn't bark at the stimulus.

Take care of your pet! Actually, an anti-bark collar causes panic in 2-3 dogs from 10. When they are wearing the collar, most dogs howl or whine, make strange sounds or try to run away. If your dog has a panic attack, immediately put the collar off and calm it. After some time, try to put the collar on again. If the panic attacks return repeatedly, then you'll have to try other training methods for your dog. There's nothing for it, your dog is vulnerable and hypersensitive to the collar.

A Few Useful Tips About Bark Collars
Do not attach a leash to the bark collar, since it fits snugly against the dog's neck and may cause serious injury to your pet.

Some dogs continue to bark a week after using the bark collar. But don't worry at all! All dogs require different time to stop the barking habit. Some dogs need a few times while the others need more than two weeks. It mainly depends on the dog's personality traits, temperament, and sensitivity level. If your canine has a high pain threshold and lively personality, the collar can be less effective at controlling your dog. You can try to involve a dog handle in the training process.

Some dogs show signs of pain. It can be a typical dog's response to the collar. However, if your dog is really fearful, the static correction is too strong for your pet.

Last updated price

$

0.00

Stock
May be out of stock
ASIN

B015LXNIW2
---
Naturepets 7 Sensitivity Adjustable
What is a Bark Collar
Dog training is a difficult and labor-intensive process. There are many different types of training techniques based on rewards or punishments. A bark collar is an efficient way to correct excessive dog barking in the fastest possible way. This helpful pet gadget is designed to teach your dog basic obedience, especially when it comes to the dogs with separation anxiety in their owners' absence, as well as the pets who react strongly to anything new, scaring people. If you have a multiple dog household, you can wear a collar on one dog, and it will serve as a warning signal to other dogs to get them stop barking.

A collar doesn't cause any discomfort when your canine behaves well, walking, playing or climbing the
pet ramp and stairs
. Actually, modern anti bark collars give your dog a gentle, yet effective reminder to stop barking. They provide a humane approach to a dog training. First, the collar emits an audible warning sound and then produces the lowest level of vibration to provide safe training cues. If you need a more drastic approach to the dog training, turn to the shock collars.
What Features to Compare
Dog's Training or Upbringing?
A conscious dog owner should teach the dog to be silent on cue. You can do it by yourself, find a good dog handler or use an anti-bark collar. When choosing a bark collar, the first thing to take into consideration is the Correction Methods and Stimulation Levels. Typically, there are 3 correction methods: audible warning signal, vibration, and static stimulation. A warning signal and vibration are considered the most humane training methods. However, some large breed dogs don't respond to sound and vibration stimulus. In this regard, static stimulation is more effective to get your dog's undivided attention. But don't worry, a static charge is not harmful to your pet. Most bark collars have correction levels that increase gradually, as the dog continues to bark. Yet, you can choose a bark collar with several adjustable levels of stimulation (until it finds the level, which stops the dog from barking) or adjustable sensitivity control (has the same principle of operation but with a lower or higher stimulation level, according to the selected mode).
Safety and Usability

The first principle of dog training is "do no harm". Thus, all bark collars are equipped with an automatic security shut-off. A safety shut-off feature will activate if the dog continues to bark for some time at the highest stimulation level. To protect the dog, the bark collar will automatically shut off after 30 seconds, one or several minutes, depending on the model. It's very important if you don't want to put your canine at risk in your absence. Also, there are waterproof and non-waterproof bark collars. A non-waterproof collar is suitable for home use. But if you plan to walk with your dog in any weather, allowing it to run around off-lead and jump in puddles to have some fun, then it's better to choose a waterproof collar. The submersible collars will be also great for swimming in pools and ponds or taking a bath. If a non-waterproof collar is submerged in water, the static correction level can significantly increase and the collar may stop working.

Dog's Size and Power Source

Bark collars are designed to fit different dog sizes: large, medium, and small dogs, as well as puppies. To choose the right collar, it's recommended to measure your dog's neck. If you don't plan to use the collar very often, then consider buying the model with replaceable batteries. However, if you are going to use it daily, get the collar with rechargeable batteries.