When nature calls, nothing will stop small puppies from relieving themselves. That means you'll be the one cleaning the mess afterward.
Or does it? Luckily, with puppy pads, you can finally forget about smelly floors and dirty carpets. To help you choose the right package, we have picked the best puppy pads available today and put them to the test.
...
Read more
...Read less
X
This site is a free online resource that strives to offer helpful content and comparison features to its visitors. Please be advised that the operator of this site accepts advertising compensation from certain companies that appear on the site, and such compensation impacts the location and order in which the companies (and/or their products) are presented, and in some cases may also impact the scoring that is assigned to them. The scoring that appears on this site is determined by the site operator in its sole discretion, and should NOT be relied upon for accuracy purposes. In fact, Company/product listings on this page DO NOT imply endorsement by the site operator. Except as expressly set forth in our Terms of Use, all representations and warranties regarding the information presented on this page are disclaimed. The information which appears on this site is subject to change at any time. More info
AmazonBasics Dog and Puppy Potty
A Great Pet Care Tool for Household Dogs
When regular sheets or diapers is not really an option but you still want to protect your favorite carpet, it is time for potty training and AmazonBasics has the perfect solution for this problem with this pack of puppy pads.
The package comes with 100 pad pieces inside, which should last for quite a while since it only takes one pad per day to both satisfy the needs of your pet and effectively eliminate all smells associated with them.
Moving on, the pads themselves are quite big, measuring 22 x 22 inches each. That means that a single piece should accommodate medium-sized dog breeds and puppies.
When it comes to the actual performance of these pads, they are quite good for both potty training and for cleaning occasional messes. Thanks to the 5-layer design, the sheets can effectively absorb liquids and keep them inside. What makes it special, though, is its polymer core that transforms liquids soaked by an absorbent sheet on top into a gel.
Finally, AmazonBasics potty training pads will be an excellent addition to your pet care arsenal, especially if you have only started potty training your dog. The pads also feature integrated attractants that will definitely help you out on this uneasy quest.
Additional Info
Last updated price

$

23.49

Stock
In stock
ASIN

B00MW8G62E
---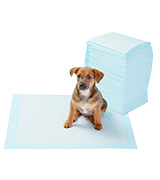 AmazonBasics Dog and Puppy Potty
Glad for Pets Black Charcoal
For Occasional Messes and Potty Training
When you need something more universal, this package from Glad for Pets includes 100 black pads instead of the standard light blue ones. Although they serve the same purpose, the design of the sheets is slightly different this time around.
Owing to the 5-layer construction of the pads, they can also effectively hold the liquids inside, which not only makes the training progress simpler but also eases the inevitable disposal process. The only aspect of these pads we didn't really like is the fact that they get quite slippery when wet, which makes their longer-term use questionable. That said, if you change the pads quite often, this won't be that huge of an issue after all.
On the bright side, the pads are equipped with an integrated odor deterrent that will prevent them from reeking too much. The deterrent is based on charcoal, which not only soaks in the smell but liquids as well. To be more precise, a single pad can absorb up to 3 cups of liquids in under 30 seconds, which ultimately makes them an optimal choice for housebreaking training of your little puppies.
The black pads included in the package are great for pretty much any mess that your dog can make. Moreover, the good absorption rates and their rather large size of 23 x 23 inches also enables using the pads separately and with a litter box.
All in all, if you are searching for universal pee pads for your dog, then this pack from Glad for pets will be a great option for you. Versatile and easy to use and dispose of, they surely ease potty training quite a bit.
Last updated price

$

18.53

Stock
In stock
ASIN

B01LWS9514
---
Glad for Pets Black Charcoal
StayDry Pee Pads for Dogs
A Great Middle-Ground Solution
Trying to find a pack of good pads designed specifically for puppies that won't break your bank can be difficult sometimes. Fortunately, this package from StayDry might just be the right product for this purpose.
Just like other similar products, these StayDry pee pads feature a built-in pheromone attractant that encourages dogs to perform their potty routine quickly in a designated area such as litter boxes. While the pads feature a soft quilted top layer, they also have an absorbent underneath that helps with soaking the liquids as soon as your dog uses them.
In addition to that, the top sheet of the pad is reinforced, which gives it tear-resistant properties. With that in mind, one single pad can be used by your puppy multiple times a day before you will have to throw it away. Likewise, each pad includes a thin polymer layer that turns the liquids into a gel in a matter of minutes, so you won't have to worry about the smell too much. That said, once the pad soaks in too much liquid, it can still have an odor to it, which means that it is still important to change them regularly.
Conversely, the pads include built-in layers of plastic at the bottom, which ensure that nothing will get on your floors as well as easing the disposal part. So, if you need a large pack of affordable tissues for your dog, this option offers probably the best puppy pads you can find for the price.
Last updated price

$

17.96

Stock
In stock
ASIN

B07W3QSKGL
---
StayDry Pee Pads for Dogs
AmazonBasics Dog and Puppy Pee
No More Dirty Floors
If you are a proud owner of a heavier, larger dog breed, this package from AmazonBasics might be right up your alley. To start off, the package only includes 25 pads, making it a good option for several weeks of potty training for your four-pawed member of the family.
Dimensions-wise, each pad adds up to 28 x 34 inches, accommodating puppies that are quite big but are still growing up. For added convenience, the pads implement a 2.2-inch plastic frame that negates the risk of any leakages in cases when your little puppy was a little too eager to relieve himself. Although the frame is quite effective at keeping the liquids at bay, it is still recommended to supervise your puppy when nature calls. As an alternative, these pads can be used in front of the litter box or as a designated potty area for your dog. The built-in attractant for dogs will surely help a lot in guiding the puppy in the right direction.
All things considered, this pack of pads from AmazonBasics is a good option for people that need a smaller package of puppy pads instead of a larger one. Simple in storage and easy to use, they provide excellent coverage for bigger dogs, all while remaining dry and odor-free the entire time.
Last updated price

$

14.99

Stock
In stock
ASIN

B07CWHWCJZ
---
AmazonBasics Dog and Puppy Pee
PL360 Puppy
For Exceptionally Big Puppies
These universal training pads for puppies and dogs that are still developing are, perhaps, one of the best options that you can find on the market today when it comes to housebreaking your fluffy friend.
Contrary to similar pad products, the PL360 features a rather unconventional aspect ratio of the tissue. But, measuring 22 x 24 inches, every pad included in the package still provides excellent coverage and can fit a rather large puppy with relative ease without causing the dog any discomfort. As a bonus, each side of the pad is additionally reinforced with a plastic lining that won't let any liquids get on the floor.
As for the quantity, the basic package includes 25 pads, however, there are also 50- and 80-count packages optionally available. On top of that, each sheet features 5 layers that together make the pads leak-proof and odor-free. The heavy-duty nature of the first layer in combination with the absorbent sheet underneath can effectively hold up to 2 full urinations of a larger dog breed.
To sum things up, the PL360 puppy training pad pack is an essential tool in housebreaking training of your dog or, as an alternative, a great way to teach your dog how to go potty. With these, potty training becomes a much easier task.
Additional Info
Last updated price

$

9.99

Stock
In stock
ASIN

B07GMZS4BK
---
PL360 Puppy
What Are Puppy Pads?
Absorbent pads or simply puppy pads are multi-layered sheets, usually made of various perishable materials that serve as a mix of things.
First of all, they help in guiding your dog to the designated potty spot. Owing to the built-in attractants, your puppy will get a hint of where they can relieve their bladder. Likewise, the absorbent layer underneath will take care of the liquids.
Down below, there is usually some kind of odor eliminating material that is either made of charcoal or a special ceramic mix that effectively removes any unwanted smells. Alternatively, some ceramic sheets can turn liquids into a gel that results in effortless cleaning and disposal of the pads.
Although these pads work most of the time, the success of actually developing a consistent potty habit in your puppy boils down to patience and persistence in housebreaking.
If you are looking for more pet-related products, we also recommend taking a look at the dog toothbrushes that will keep your puppy healthy regardless of its favorite munchies. In a similar vein, if you don't want to bother with opening and closing the door every time your furry friend wants to get out or into the house, we also advise installing a high-quality dog door for them.