Audio & Video
LG 55EG9600 vs Samsung UN49KS8500
Product Comparison: LG 55EG9600 vs Samsung UN49KS8500
X
This site is a free online resource that strives to offer helpful content and comparison features to its visitors. Please be advised that the operator of this site accepts advertising compensation from certain companies that appear on the site, and such compensation impacts the location and order in which the companies (and/or their products) are presented, and in some cases may also impact the scoring that is assigned to them. The scoring that appears on this site is determined by the site operator in its sole discretion, and should NOT be relied upon for accuracy purposes. In fact, Company/product listings on this page DO NOT imply endorsement by the site operator. Except as expressly set forth in our Terms of Use, all representations and warranties regarding the information presented on this page are disclaimed. The information which appears on this site is subject to change at any time. More info
About the Product
From its attractive design to a broad range of connectable features, the LG Smart TV 55-inch Full 3D UHD OLED Television enhances the home entertainment experience. The OLED TV expertly incorporates sharp black shades with bright color for perfect image contrast. With its curved design, the base for the LG Smart TV is both elegant and strong. The LG OLED TV 4K set comes with three USB and HDMI ports, a 3.5 mm audio output, composite and component video inputs, an Ethernet port, cable/antenna connector, and a downward service port face. There's also a good-sized magic touch remote and WebOS that provides access to, among other things, top streaming media.
Summit the peak of television technology. Using the latest color combination breakthroughs, its Quantum Dot Color creates our best picture yet, allowing you to escape into whatever you're watching. Its breakthrough HDR1000 High Dynamic Range reveals details you've never seen, while its Peak Illuminator Pro makes every scene come alive by making shades of color pop. This SAMSUNG 55" 8500 Series - Curved 4K SUHD Smart LED TV - 2160p, 240MR (Model#: UN55KS8500) has a curved screen with an ultra-slim, minimum bezel and sleek 360 design that impresses from back to front. Plus, its enhanced seamless Smart TV capabilities make it as easy to use as it is beautiful to admire.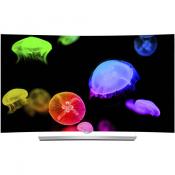 LG 55EG9600
Samsung UN49KS8500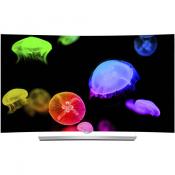 LG 55EG9600
Samsung UN49KS8500
What customers say about "Key Specs"
LG 55EG9600 4K Ultra HD Curved Smart OLED TV
The quality of picture is outstanding. There is no backlight on the background at dark pictures thanks to OLED technology. So far that is a best TV I ever had
I absolutely love watching 1080 and 4K movies on this!
We were amazed by the 4k picture when shown the demonstration model.
It is difficult to tell if the curved screen is a plus without a side by side comparison but it does not present any positional viewing problems.
It has the best picture of any other TV we have ever had, and the curved screen helps with the viewing angle.
Burning issues in my screen that will not go away.
Screen burn in is very disappointing, CNN News logo is burned into the right lower corner of the screen.
Samsung UN49KS8500 Curved 4K Ultra HD Smart LED TV
Fantastic image, design and resolution. When viewing 4k content the images are simply stunning and lifelike.
The picture is stunning even at lower resolutions such as 720p or 1080p, with no stutter or lag whatsoever.
I've heard that curved screens are better for smaller rooms, and I have to agree that if I walk to the side, the screen isn't fantastic, but straight-on it is a really amazing view.
I love this TV! The picture is fantastic and the curved screen looks great wall mounted.
I was a little skeptical about curved but I am a fan now. I don't see much picture degradation when sitting left/right of center and it looks great.
Absolutely AWESOME picture when watched straight on. BUT BEWARE the optimum viewing angle is only about 20 degrees! The picture quality degrades unless you watch directly in front of the screen. If you have seating off to the sides; if only a little bit, the contrast fades and the colors shift.
Specific Manufacturer Technologies
Tru-4K Engine, Tru-4K Upscaler, Triple XD Engine, Tru-Color Generator
Quantum Dot Color, UHD Upscaling, Depth Enhancing Technology, Precision Black
What customers say about "Video"
LG 55EG9600 4K Ultra HD Curved Smart OLED TV
The colors are jaw dropping. The blacks are so perfect you'd swear the TV was completely off but then the most vibrant green will appear like magic.
The slight curve is perfect, not too much so as to make everything seem distorted but enough that everyone on the sofa has a great view.
Exceptional TV. Picture quality is excellent. Picture is bright, sharp, and colors are vibrant.
Best picture of any tv on the market! Inky blacks which makes for great contrast.
It does everything extremely well. 3D and HDR content are amazing.
At low light gray color is in into 100-s shades of gray. Very annoying when you watch movies with lots of dark scenes, like Underworld.
Stationary logos permanently imprint on the screen, manufacturer new about the defect and sold them anyway
Samsung UN49KS8500 Curved 4K Ultra HD Smart LED TV
I'm blown away by the color and contrast this model can display. Simply amazing.
The High Dynamic Range 1000 makes for a more brilliant picture because you can see detail that was washed out in HDTVs.
The blacks are blacker, the greens greener and reds redder. HD programs are automatically upscaled to 4K for better picture definition.
The only down side that I found is with reflections. I have a window directly opposite the television and the tv stretches the window almost entirely across the screen. It's only an issue with direct sunlight coming through the window
The only complaint I have is that Game Mode should be an option without and system.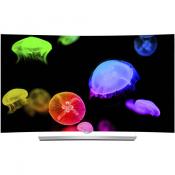 LG 55EG9600
Samsung UN49KS8500
What customers say about "Audio"
LG 55EG9600 4K Ultra HD Curved Smart OLED TV
TV supports Dolby 5.1 on optical out for sources received via internet or over the air, but sources inputted via HDMI, only PCM is output.
Sound quality is remarkably better than on previous models
The sound is OK for a TV but a sound system makes the sound from movies and TV shows equal to the great picture.
Sound is awesome, we don't even need to use our home sound system.
Being an audiophile, I have to say the one negative is that the sound from the set itself is poor. Of course, there is no room in a thinline set for decent speakers, so an external soundbar or home theater is a must.
Samsung UN49KS8500 Curved 4K Ultra HD Smart LED TV
I am extremely pleased with the sound, picture and ease with which the system recognized peripherals
Sound is very descent for a flat screen. I
Picture clarity is awesome and even have good sound quality from the built-in speakers.
Though we chose to buy an additional sound bar, we could have easily enjoyed the original sound from the TV.
Only issue I have is that every once in awhile my cable provider and the TV go out of sync and I lose sound, I have to fiddle with it a bit, but eventually it'll come back.
Network
Wi-Fi 802.11 a/b/g/n, LAN port
Wi-Fi 802.11 ac, LAN port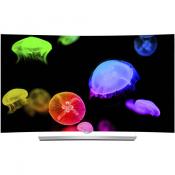 LG 55EG9600
Samsung UN49KS8500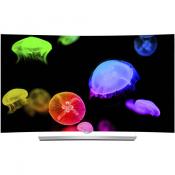 LG 55EG9600
Samsung UN49KS8500
What customers say about "Interfaces"
LG 55EG9600 4K Ultra HD Curved Smart OLED TV
The smart features are awesome, and WebOS has actually been reworked into something very fast and capable, who knew?
TV supports Dolby 5.1 audio on optical out and ARC and this works great for sources like streaming
This model does not support HDR over HDMI, but I knew this before buying. Not a big issue for me.
Sources via HDMI only have PCM audio
Samsung UN49KS8500 Curved 4K Ultra HD Smart LED TV
The remote control and the user interface are as easy and intuitive as you could possibly imagine
I am happy with connectivity and availability of extending tech such as Samsung TV apps/Smart Hub, Samsung Smart View IOS app 2.01, Samsung device mirroring, WI-DI, Bluetooth, AC WIFI, 5V USB connector for external hard drive(Seagate Goflex), ability to play MKV and MP4 files.
Rather than having traditional HDMI, coax, etc. ports in the back of the TV, there is a single port that connects to an adapter box which houses the AV connections.
The smart hub box makes it easier to connect all of your electronics than any other TV I have ever seen.
The small remote had a mute button on the side and every time I picked it up the TV would mute.
Very poor Wifi connectivity! Won't maintain wireless connection even with an access point next to it!!! Returned it to Amazon who gladly refunded my payment!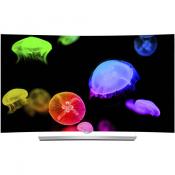 LG 55EG9600
Samsung UN49KS8500
Included With Unit
Magic Remote with batteries, Cable holder, Cinema 3D glasses, 5x stand base, Component video cable, Composite video cable, Stand screws
Smart Remote Control (TM1680A), Power cable
Available for unit
Smart Camera, Dual play glasses
Warranty / Certifications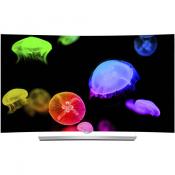 LG 55EG9600
Samsung UN49KS8500