Are you looking for the lights to decorate your house for Christmas but don't know what shape, length, color or type to choose?
Look through our review of 5 best Christmas lights and choose the ones to make this holiday really merry.
...
Read more
...Read less
X
This site is a free online resource that strives to offer helpful content and comparison features to its visitors. Please be advised that the operator of this site accepts advertising compensation from certain companies that appear on the site, and such compensation impacts the location and order in which the companies (and/or their products) are presented, and in some cases may also impact the scoring that is assigned to them. The scoring that appears on this site is determined by the site operator in its sole discretion, and should NOT be relied upon for accuracy purposes. In fact, Company/product listings on this page DO NOT imply endorsement by the site operator. Except as expressly set forth in our Terms of Use, all representations and warranties regarding the information presented on this page are disclaimed. The information which appears on this site is subject to change at any time. More info
1byone Laser Christmas Light Projector
A Thousand Lights to Package a Holiday
1byone Laser Christmas Light Projector is capable of creating special atmosphere wherever you apply it. You can set it inside or outside and direct its red and green light on whatever surface you'd like to create a jovial holiday atmosphere. The projector is electrically powered and it means, more likely than not you'd need to use an extension lead to reach for certain places outdoors. Although, the power cord isn't short (11.15-foot) and can be more than sufficient for indoor use. As for the safety, 1byone Christmas lights ensure proper and smooth operation in any weather. Being water and snow-proof, they guarantee top-notch operation in the temperature range within -31 °F (- 35 °C) to 95 °F (35 °C).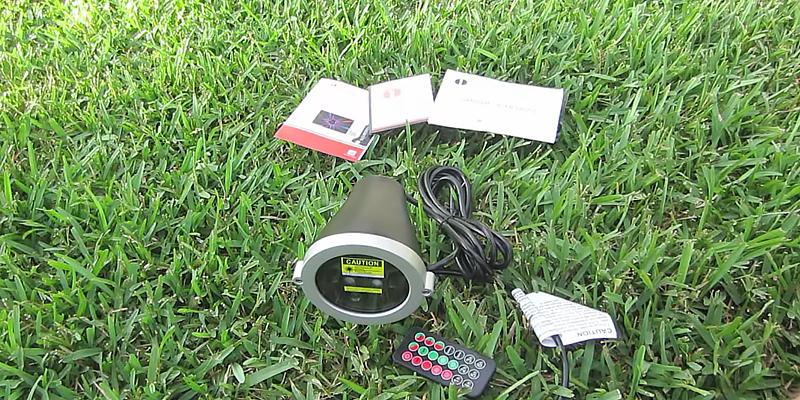 Worth Attention
Besides an amazing impression 1byone Laser Christmas Light Projector makes, it is also very easy and comfortable to use. Its usability is mostly determined by a remote control which allows choosing one of ten red-green lighting modes by just pushing the button. You can also change light brightness and intensity to create the atmosphere you like. Take into account one more outstanding feature. This projector is equipped with a timer that can turn the lights off automatically in 1, 2, 3, 4, 5 or 6 hours. To sum up, 1byone Laser Christmas Light Projector is one of the best options to choose for house decoration and holiday mood.
Green and Red
Red and green colors are considered the main colors of the Christmas where the green one stands for a Christmas tree and the red depicts the ribbons people use to spiral around the tree. 1byone company has taken these two colors for the base of this projector and deployed a true hotspot of Christmas parties for creating the right atmosphere.
More Products to Consider
As it was mentioned above, you might need to use extension cords to set the projector outside. And to protect cords from rain, you'll definitely need a cord connect.
Additional Info
Last updated price

$

0.00

Stock
May be out of stock
ASIN

B01EV4OGAU
---
VIDEO
1ByOne Holiday Garden LED Light System Review
1byone Laser Christmas Light Projector
Qedertek Solar
Blossom All Year Round
If standard colorful bulbs don't put you in a holiday mood, and you want something different, LuckLED Quedertek might interest you. 50 flower-shaped lights on a 21-foot strand are located 0.3 feet from each other, ensuring quite an intense illumination of the area. The beauty of this model is that it is suitable not only for decorating a Christmas tree but for creating a festive mood at any get-together, be it a birthday party, a graduation party or just some meeting with friends. By the way, these lights can be used indoors as well as outdoors thanks to their waterproof properties compliant with the IP65 safety standard. So if you're looking for unique string lights to use all year round, give LuckLED Quedertek model a shot.
As Easy as It Can Be
If you've never had solar string lights before, we want to assure you it's quite easy to use, and LuckLED Quedertek isn't an exception. The lights work on rechargeable 600 mAh battery located inside the solar panel. Consequently, it should be placed outside to get enough sunlight to provide proper operation during late hours. Note that full charge takes 6 to 8 hours and provides up to 8-hour run time. Since the solar panel is set outside, the manufacturer has included a ground stroke in the package to make panel installation as simple as possible. Lights control won't cause any difficulties too. To turn the device on/off or to switch between modes you only need to use one of the switches at the back.
Useful Tip
If you have troubles installing a ground stroke because of hard dry soil, it's recommended to water a place you've chosen for installation and wait a bit. As soon as the liquid is absorbed, you'll be able to put the stroke effortlessly. One more thing you should keep in mind before using the lights for the first time is to charge the battery for as long as possible to provide proper operation in the future.

Last updated price

$

24.13

Stock
In stock
ASIN

B012VIRJ4I
---
VIDEO
50 LEDs Colorful Cherry Blossom Solar String Lights | Energy-saving & Eco-friendly
Qedertek Solar
GDEALER Solar String Lights
Beautiful and Simple
GDEALER Solar String Lights are 72 feet of wires with 200 small LED lights. These impressive numbers let us make an assumption that you can adorn quite a big area with this Christmas stuff. Yellow, green, blue and red lights together with 8 lighting modes create an impressive show capable of enchanting anyone looking at it. Due to a long cord length, you can embellish trees in your garden or roof shingle. We would like to turn your attention to the fact that these lights are solar battery-powered. The battery is enough for 8 hours of continuous work if it has been consuming solar energy for about 12 hours. It's easy to charge the battery with a special spike that must be put into the ground. There is no reason to worry about the lights' safety. The equipment is water and snow proof and is produced especially for outdoor use. Having chosen GDEALER Solar String Lights, you'll be able to decorate your house/garden/yard in an easy but absolutely special way.
Holiday History
Christmas in the USA is celebrated on December 25th. This holiday became a part of American tradition in the 19th century (at the same time when the idea to decorate Christmas tree appeared). What is interesting about this holiday is that it wasn't allowed in many states from the outset. It's only some time later when the holiday was widely spread and got around Thanksgiven Day in popularity. The first Christmas tree was installed publicly in 1891 and 4 years later Christmas became an official national holiday. Nowadays, Christmas day is a day-off for all working people in the USA. It is one of the main family holidays when all members get together at their parents' home in order to spend some time together and enjoy festive supper with a delicious turkey roast.
More Products to Consider
You can decorate not only your house and yard but also garden paths. If you decide to do so, consider buying Stainless Steel Outdoor Solar Lights.

Last updated price

$

15.96

Stock
In stock
ASIN

B011BLQMXU
---
VIDEO
GDEALER 72 ft 200 LED String Lights
GDEALER Solar String Lights
Milocos LED String Lights
Create a Holiday Atmosphere!
Who'd ever think that such a small decoration element as a garland could make real miracles? Yet, even small details matter. A Christmas tree without toys and lights wouldn't be a Christmas tree and so, Milocos has designed a string garland to light not only the tree but also your mood, creating a festal environment for celebration. This is a 33-foot string with 100 tiny white-yellow mini LED lights, which can bring warm magic to your place. And garland's length allows you to decorate any object inside and even outside your house. It's also easy to use thanks to a remote control (included in the box). Set the right lighting mode and change the light intensity (from 10% to 100%) to make your party a proper show.
Christmas Traditions
The most widespread Christmas tradition is a house/apartment decoration. Using lots of toys and garlands, people turn their homes into fairy-tale castles full of magic. Of course, the main element of decoration is a Christmas tree.
The tradition to put presents and treats into the stockings hanging above the fireplace appeared due to a legend about Saint Nicholas. The legend tells a story about three daughters of a poor dying father. He has nothing to leave for his children and Saint Nicholas decides to help them. He throws three bars of gold and they fall into the girls' stockings that are hanging over the fireplace.
Turkey is supposed to be a traditional Christmas dish. However, taking into account the fact that America is a multi-national country, every family might have its own culinary Christmas traditions.
As soon as Christmas dinner is over, it is customary to interchange gifts. Since Christmas is one of the most significant holidays for Americans, they spend a lot of money on presents, giving more presents than any other nation does.
More Products to Consider
To decorate your house with Milocos LED String Lights, you'll need decorating clips. Their transparency makes them invisible and you see only shiny warm lights embellishing your house.
Last updated price

$

0.00

Stock
May be out of stock
ASIN

B01I4I87WC
---
VIDEO
Milocos LED lights on Copper Wire
Milocos LED String Lights
GDEALER Solar Outdoor String Lights
Will Charm In a Blink
Have you ever stopped and look at the charm of melting icicles? GDEALER Solar Outdoor String Lights resemble this wonderful natural occurrence. Looking at shiny bulbs, you are watching eternally melting ice that will never become water and fall down. 20 feet of these string lights will provide stunning spectacle outdoors, the thing is that the lights are powered by a solar battery, so yard (or garden) is the best place to be adorned with GDEALER Solar Outdoor String Lights. However, don't worry about the lights' safety, the manufacturer has done its best to make the equipment weatherproof, thus, providing its successful operation during windy and rainy weather. Controlling the lights is the easiest thing ever. Two buttons located on the back side of solar block let you turn lights on/off and choose one of 2 preset modes (steady or flashing). Taking into account usability and unusual shape of these lights, you can be sure that they will become a perfect outdoor Christmas decoration.
The One Who Brings Presents
Have you already guessed who is that one? You're right, we'll speak about Santa, the main Christmas hero. Nobody knows where he comes from. Some sources claim that Lapland is Santa's motherland while the others are sure he is from the North Pole. Do you know that Santa's face is an image of Saint Nicholas, which became familiar to Americans in 1650 when Holland migrants brought it to New Amsterdam (now – New York). Since that time, St Nicholas was immortalized in A History of New York written by Washington Irving, Clement Clarke Moore's The Night Before Christmas, and other literary pieces. Santa's image has been changing and developing over time, and nowadays it differs a lot from the original one. Despite this fact, we all love when this kind fairy-tale man comes to our homes and leaves presents for us!
More Products to Consider
Icicle Crystal Solar String Lights are one more beautiful decoration to match GDEALER Solar Outdoor String Lights.
Last updated price

$

0.00

Stock
In stock
ASIN

B013JOPNEG
---
VIDEO
Solar Outdoor String LightsGdealer 20ft 30 LED Water Drop Solar String Fair
GDEALER Solar Outdoor String Lights
What are Christmas Lights
Christmas lights are one of the most popular decorations people use during Christmas holidays to create an unforgettable atmosphere. The lights let you adorn your house or trees in your yard and make them twinkle with dozens, hundreds or even thousands of sparks. Yet there are so many types of Christmas lights that finding the best ones might turn into a challenging task. Hopefully, our review will guide you through a plethora of options and help choose the right one to your liking.
If you are looking for the lights to illuminate your house or yard not only on holidays, our solar lights review will be useful for you.
What Features to Compare
Design
When looking for Christmas lights, first you need to decide on the purpose of use and then, pick the design. Since lighting elements are produced in a wide variety of shapes, you can find the model that will help create a festive mood not only on Christmas but on any other holiday as well. One of the most popular type of the lights is a garland being widely in demand for the ease of use and absolutely stunning effects it provides. If that's the type of the lights you'd like to get for decorating your place, consider whether the chosen set has LED lights. Although the price for the set might go a bit higher compared to incandescent lights, the real benefits and cost-effectiveness are definitely worth it.
Lighting Modes
Note that lighting modes vary from model to model and keep that in mind while choosing Christmas lights for your needs. Simple lights feature two-three lighting modes. On contrary, more advanced models have several modes and can be adjusted to vary the level of brightness, intensity and color scheme. All lights are controlled either via a remote control or a built-in controller.
Use
The last but not the least thing to consider is where and how you will use Christmas lights. As soon as you decide on this matter, pay attention to their safety and power features. If you want to use Christmas lights for outdoor decoration, make sure they are water-, snow-, and weather-proof. If the lights are powered by electricity, there should be a socket to plug them in. The length of a power cord along with garland is of the utmost importance too. This very feature determines usability and the size of the area you can adorn with the Christmas lights.
Sources:
1. The Tangle-free, How-to Guide for Hanging Christmas Lights, Balsam Hill.

2. Tips for Hanging Outdoor Christmas Lights, Lowe's.
3. Decorate a Christmas Tree, Lowe's.
4. 10 Tips for Outdoor Holiday Lighting, Better Homes and Gardens.
5. Timothy Dahl How To Find the Best LED Christmas Lights for Your Home, Popular Mechanics. November 26, 2015.
6. Holiday Lighting Guide, 1000 Bulbs.
7. Amanda Thomas The Battle of Christmas Lights: LED vs. Incandescent, Quick And Dirty Tips. December 5, 2012.