Scientific research has already proven that a lack of light can lead to health problems, which is why we recommend getting a few
LED shop lights. These lamps offer amazing brightness of illumination without eating up too much energy, a great choice for a thrifty buyer.
...
Read more
...Read less
X
This site is a free online resource that strives to offer helpful content and comparison features to its visitors. Please be advised that the operator of this site accepts advertising compensation from certain companies that appear on the site, and such compensation impacts the location and order in which the companies (and/or their products) are presented, and in some cases may also impact the scoring that is assigned to them. The scoring that appears on this site is determined by the site operator in its sole discretion, and should NOT be relied upon for accuracy purposes. In fact, Company/product listings on this page DO NOT imply endorsement by the site operator. Except as expressly set forth in our Terms of Use, all representations and warranties regarding the information presented on this page are disclaimed. The information which appears on this site is subject to change at any time. More info
BBOUNDER Modern
Shines Bright Like a Diamond
Sometimes mounting a lamp on your walls or ceiling isn't possible due to lack of space or wiring issues. Luckily, the BBOUNDER Modern gives you a third option to expand placement choices.
This 8-foot lamp comes with a set of steel wires that can be used to hang the LED tube right on the ceiling or below a cabinet etc. The wires themselves may look thin and flimsy but don't let looks fool you, they are sturdier than any nuts and bolts that usually hold up fixtures.
We were a bit surprised by the inclusion of wires but they may be justified and, actually, the best option as the lamp gets quite hot when it's on. We don't recommend mounting it on plastic surfaces as the heat could damage them. Besides, the steel wires let you lower the lamp a bit, which can be useful for hanging in shops and garages, where ceilings tend to be high up.
The BBOUNDER Modern is also one of the brightest lamps we've ever reviewed at 8378 Lumens. Definitely not the kind of thing you'd just put in your home or office, suited more for big spaces such as supermarkets or warehouses. And that brightness does come at the expense of 72W power consumption.
All in all, if you don't mind a higher electricity bill in exchange for great lighting quality, the BBOUNDER Modern is a good choice. It can be placed almost anywhere in the room and doesn't require much setup, making for a great set of LED garage lights for your ceiling.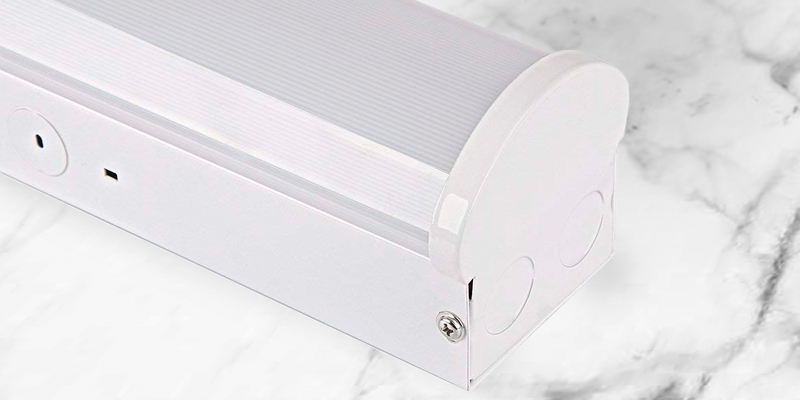 Last updated price

$

0.00

Stock
May be out of stock
ASIN

B078V7J4M9
---
BBOUNDER Modern
OOOLED BL-WR-48W-50K
A Light Against the Storm
Need some outdoor LED lights for garages or warehouses but don't feel like wasting your money on replacement lamps after a few years pass? We recommend the OOOLED BL-WR-48W-50K, an 8ft LED lamp that's made to brave the elements and stay in good condition even after years of heavy use.
The body of the lamp is made of rust-resistant steel so you can put it in places where the ceiling may leak or even mount the lamp outside since rain isn't going to damage it. However, note that this model is pretty wide and you might have to clear some space just to find a spot for it. That said, the extra width means that the light is spread out a bit more and covers a bigger area, a particularly nice bonus for outdoor use.
In fact, the OOOLED lamp gives off 4000 Lumens and only uses 48W of power, a pretty respectable level all things considered. It does shine with a white glow, which makes it a questionable choice for homes so we wouldn't recommend this one for your kitchen, especially since it simply may not fit.
A few of these lamps will be enough to fully light up a warehouse, though you may have trouble installing them as the company doesn't provide connecting wires with the purchase. They can be bought separately, but it would be nice to have them as a complimentary little feature.
In the end, these are all minor qualms against a pretty great product. It's a fine choice for indoor and outdoor illumination as long as you can find enough space for this plus-size lamp. The OOOLED BL-WR-48W-50K is one of the few options for outdoor lighting that will withstand the weather.
Last updated price

$

42.99

Stock
In stock
ASIN

B073WZ9DBN
---
OOOLED BL-WR-48W-50K
Barrina INWT504020650Bc
Strength in Numbers
Sometimes you just don't have the space to squeeze in a set of 8-foot lamps that would take up most of the ceiling or the whole underside of the cabinet. That's when the Barrina INWT504020650Bc will come in handy.
This set of six small 4-foot lamps can be connected via the free cords to create one big illumination battery or, if you so wish, spread out along the room to keep all corners illuminated.
Don't let that last part lead you into thinking that the Barrina LED tubes aren't bright. While the 2200 Lumens level isn't exactly the highest ever, they are more than enough to illuminate a garage or a shop aisle and could actually work as kitchen or bathroom lamps.
This set of linkable LED shop lights is also pretty energy-efficient, each lamp using just 20W of power. However, the cords that come with the purchase are a bit short so you'll either have to limit your placement options or get new cables. Other than that, though, installation should be a breeze thanks to a snap joint system on all lamps in the kit.
These lamps are cost-effective, easy to install, and bright enough to light up to 500 square feet. Unless you're looking for some ultra-bright lamps to illuminate warehouses or supermarkets, the Barrina set is more than adequate for the job.
Last updated price

$

39.99

Stock
In stock
ASIN

B01HBT3BVM
---
Barrina INWT504020650Bc
Hypergiant Hypergiant-T5_8P
Band Together to Combat Power Surges
Tired of power surges frying your lamps and leaving you in the dark? Take a look at the Hypergiant-T5_8P, made to work in the range from 85 to 265 V. This set of eight 4ft LED shop lights will shine as bright as it can regardless of how low the power gets, providing steady illumination even when all other devices are going haywire.
You can use each of these lamps separately from the pack or join them into a battery. However, the set comes with just 6 connecting cords so you'll have to leave two lamps out. We do like that the cords are long enough to spread the lamps out a bit, making it possible to form them into certain shapes to increase illumination efficiency.
It's also tough to deny that the 20W power consumption is pretty appealing with each lamp emitting 2200 Lumens. Sure, they're not enough to light up a whole warehouse on their own but they will work just fine as a set of LED shop lights for a garage.
One last word of advice - be careful when installing the lamps as some customers have complained about the join clips being a bit weak. Try not to rattle the LEDs around too much and mount them well. After all, they might not be fazed by a power surge but a fall from the ceiling will destroy any lamp.
Still, treat the Hypergiant-T5_8P with care and you'll get a bright and energy-efficient set of lights that will keep the space illuminated regardless of any electricity troubles.
Last updated price

$

0.00

Stock
May be out of stock
ASIN

B076FQ15R6
---
Hypergiant Hypergiant-T5_8P
Hyperikon 882000702
A Set of DIY Brilliance
Many of the brighter lamps available on the market offer high-quality lighting but waste a lot of energy. Conversely, energy-efficient models usually shine dimly and don't provide enough light for precise work. Thankfully, the Hyperikon set of 4 LED tubes lies in the middle, guaranteeing powerful illumination without inflating your electricity bills.
These 8ft LED shop lights only use 36W of power despite shining as brightly as more energy-hungry models. To be precise, just one Hyperikon tube emits 4200 Lumens of brightness, certainly on the higher side of things. Of course, that level is too much for household installation and the tubes are recommended for use in garages, shops, offices, and workstations.
One point that may be contentious is the fact that you need T8, T10, or T12 fixtures to install the tubes themselves. Without the fixture, you can't use these as a source of light at all. However, once the tube is in the fixture you can mount it on walls or ceilings, choosing whatever place fits best. If you do everything correctly the room will be bathed in a pleasant crystal white glow. We do find that the color is a bit too cold for home use.
Some may be put off by the need to fit the lamps into fixtures instead of simply mounting them. However, if you're a DIY type of guy looking for a source of light for your garage or workstation, the Hyperikon 882000702 will be the right fit for you.
Additional Info
Last updated price

$

0.00

Stock
May be out of stock
ASIN

B00SUMEGSC
---
Hyperikon 882000702
What Is an LED Shop Light?
While they may seem like regular fluorescent lamps, the LED shop lights are far more powerful and, sometimes, energy-efficient than your regular light sources. Most of the time they're used to illuminate large open spaces such as warehouses, supermarkets, or parking garages. They usually provide white light of varying brightness and, depending on the shape, can cover a lot of ground or illuminate one particular spot.
If you take a look at some scientific data, you'll see that a regular commercial LED shop light gives enough electric illumination to support the human eye while doing prolonged tasks that require precision, but that kind of brightness will definitely be too much for bedroom use. However, these lamps will be of great use at your crafts workstation or in your garage. Most people that use these usually have some DIY knowledge but, in case you don't, you can check out some wiring tips and info on how to properly place your first LED light.
And if you've caught the efficient illumination bug, you'll likely want to put some
LED light bars
on your car to keep the road ahead clear. Alternatively, if you like this type of illumination and wouldn't mind having it in your home or garden, try out some basic
LED strip lights
, which come in a variety of colors and provide a soft glow.