Smartphones & Accessories
Jawbone BIG Jambox vs JBL Charge 3
Product Comparison: Jawbone BIG Jambox vs JBL Charge 3
About the product
BIG JAMBOX turns any mobile device (phone, tablet, media player, computer) into a portable, party-powering, hi-fi sound system that wirelessly delivers amazingly clear, full audio at any volume.
JBL Charge 3 is the ultimate, high-powered portable Bluetooth speaker with powerful stereo sound and a power bank all in one package
Material
Plastic/Metal
Fabric/rugged rubber
Color
Black
Black (also available in 4 colors)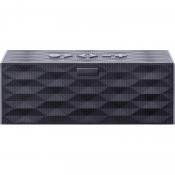 Jawbone BIG Jambox
JBL Charge 3
Product benefits
BIG JAMBOX has a built-in microphone that lets you enjoy hands-free calls and video chats using Skype, GoogleTalk, and FaceTime. Whether you're in a conference room or cooking in the kitchen, your conversations will come through loud, crisp, and clear.
Wirelessly connect up to 3 smartphones or tablets
Features
Exclusive LiveAudio technology lets you experience your music like never before—as if you're sitting front row, hearing it live.
Built-in noise and echo-cancelling speakerphone, IPX7 waterproof, dual external passive radiators
Accessories
Wall charger, stereo cable, and micro-USB cable
Micro USB cable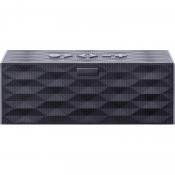 Jawbone BIG Jambox
JBL Charge 3
Bluetooth version (if specified by manufacturer)
Warranty / Certifications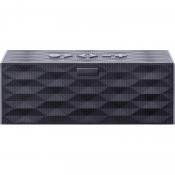 Jawbone BIG Jambox
JBL Charge 3
Product manuals
http://cdn2.bhphotovideo.com/lit_files/97405.pdf
https://www.jbl.com/on/demandware.static/-/Sites-masterCatalog_Harman/default/dw68c292ab/pdfs/QSG%20-%20JBL%20Charge%203%20C_V10.pdf