Smartphones & Accessories
Bose SoundTouch 10 vs Samsung Radiant360 R1
Product Comparison: Bose SoundTouch 10 vs Samsung Radiant360 R1
Model
SoundTouch 10
Radiant360 R1
About the product
Want to fit a lot of sound into any room? Choose the SoundTouch 10 wireless speaker. It's small enough to fit just about anywhere, with full, rich sound that belies its size. With instant, easy access to your music, it's the perfect companion to fit any occasion. And it couldn't be easier to use. To stream a world of music, just install the free SoundTouch app on your device.
Hear the full, rich sound of your favorite music from anywhere in the room. Designed in our state-of-the-art audio lab in California, the Samsung R1 uses breakthrough Ring Radiator technology to equally project exquisite audio in all directions so wherever you move, you're always in the sweet spot. Stream your favorite music from your mobile device to R1 speakers using the Multiroom App via Wi-Fi.
Audio formats supported
MP3, WMA, AAC, FLAC, Apple Lossless
AAC, DRM, MP3, WAV, WMA, ALAC, AIFF, OGG, FLAC
Music services supported
iTunes, TuneIn, iHeart, SiriusXM, Deezer, Amazon Music, Pandora, Spotify
Pandora, Spotify, TuneIn, Napster, Amazon Music, iHeartRadio, Rdio, 8tracks, 7 Digital, and Murfie
Controls
Digital/Remote control
Sensor
Product benefits
There is no battery on the SoundTouch 10. It must be plugged in.
The intutive top panel interface of the R1 allows you to navigate with ease. Simply tap to control playback, swipe to play the next/previous track and toggle between playmodes with ease.
Features
One-touch access to music services, 6 presets of music services, multi-room music
360° Omnidirectional Sound
Operating systems supported (for stored files)
iOS 6.1 and above, Android 2.3.3 and above, XP and above, OS X 10.0 and above
Bluetooth version (if specified by manufacturer)
Warranty / Certifications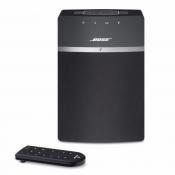 Bose SoundTouch 10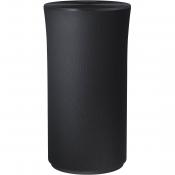 Samsung Radiant360 R1
Product manuals
https://images-na.ssl-images-amazon.com/images/I/81pJfLHh+RL.pdf
http://downloadcenter.samsung.com/content/UM/201607/20160720221025720/WAM5500_WAM3500_WAM1500_ZA-User-20160720.pdf
Date first available
September 10, 2015
November 7, 2015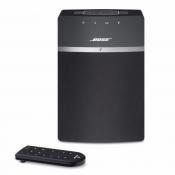 Bose SoundTouch 10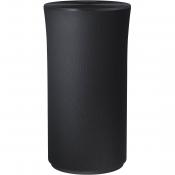 Samsung Radiant360 R1