If you want to protect your car or valuable belongings from being stolen, or monitor your teenage children when they are not at home,
you can do all this with a GPS tracker. Here we offer you a review of five best Car GPS Trackers we've found.
...
Read more
...Read less
Spy Tec STI GL300
Tracking Precision
The Spy Tec STI GL300 GPS tracker for cars detects a vehicle's location 100% precisely, its maximum error rate is ±0.1 ppm. These numbers are due to the real time GPS tracking. An additional point is that it has a 3-axis acceleration meter that allows for even higher accuracy with its motion detection feature. You can place this auto GPS tracker on the outer surface of your car for even better location determination. Although, if you plan to do this, we would recommend you to purchase a waterproof magnetic case for the device protection.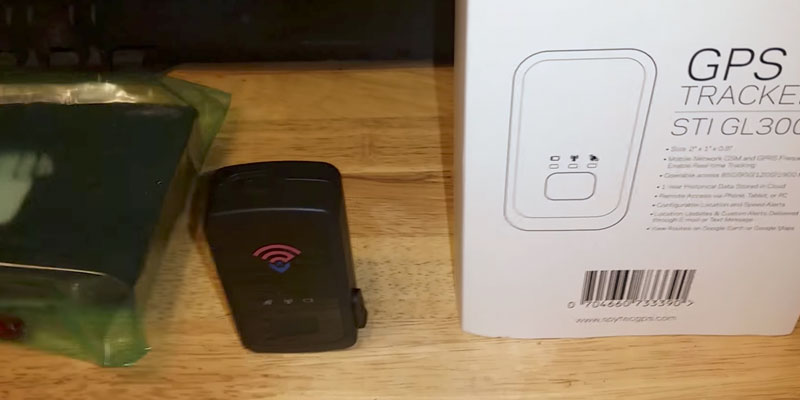 Functional Features
The Spy Tec GPS platform makes data monitoring and reporting available any time and with any device, be it your smartphone, tablet, Mac, or PC. This tracker also provides you with the geo-fencing and reporting, which is extremely useful if you need to monitor a teenager's vehicle: you will be able to just set a specific area, and in case the car goes beyond these boundaries, the real time GPS tracker will notify you immediately. Also maybe it will be interesting for you to know that this car GPS tracker system has an SOS button. When someone pushes this button, the location data of the device will be sent to the phone number you set beforehand.
Feed and Battery
Spy Tec STI GL300 vehicle GPS tracker is equipped with a Li-Polymer battery with a capacity of 1300 mAh, that allows this car GPS tracker to work for two whole weeks without recharging! If you do not need constant reporting, the tracker will work for 400 hours. With every 10 minute reporting it will be 150 hours, and with every 5 minute reporting the operation time reduces to 130 hours. Which is still quite long, don't you agree? This is one of the most powerful batteries that vehicle GPS trackers use.
Additional Info
---
Spy Tec STI GL300
MotoSafety MPVAS1
Tracking Precision
MotoSafety GPS Tracker & Driving Coach provides you with a 100% precise location. And Google Maps app helps this GPS automobile tracker with not only this, but also assists with determining the direction of movement, the speed, and other data. This car GPS tracker system will enable you to monitor your vehicle in real time. The free MotoSafety mobile application, which you can download for your Android or iOS devices, works from almost every place around the Globe. Or you can choose to receive notifications via e-mail or text messages.
Functional Features
This GPS automobile tracker has a very peculiar functional feature, if you purchase this you will be able to set a curfew for the car. It is an extremely helpful feature if you have a teenage kid with a driver's licence - if your child is driving after set hours you will be notified about it in no time. MotoSafety car GPS tracker system also has the so-called Driving Coach feature, so you will always know about your teen driver's exceeding of speed limits, harsh braking, or rapid starts. Monitoring driving behavior may also be appropriate for elderly drivers. This way you will have fewer reasons to worry about your parents or grandparents.
Feed and Battery
Installing MotoSafety GPS Tracker & Driving Coach will take only few seconds. Just plug it into your car's OBDII port. The port is located under your car's dashboard. This GPS automobile tracker can be used on any and all types of vehicles, cars and trucks alike, that were manufactured after 1996. Feeding of this real time GPS tracker is managed directly from the vehicle, the battery is not provided.
---
MotoSafety MPVAS1
Sourcingbay GPS103A1
Tracking Precision
Tracking precision of the Sourcingbay Tracking Drive Vehicle Car Tracker is ±5 meters, a little more than the length of the average car itself. It is a really high precision to detect the location of your vehicle on the map. All this the auto GPS tracker owes to a great data transfer quality via GSM and GPRS networks, and via Global system of satellite positioning, the GPS. The Sourcingbay vehicle GPS tracker has great cold and hot status parameters, and also a wide range of operational frequencies.
Functional Features
Talking about functionality, Sourcingbay Tracking Drive Vehicle Car Tracker is a pretty high-level device. If you decide to purchase this real time GPS tracker, within the scope of supply you will find two receivers (GPS and GSM) for external placing. Also note that there is a microphone which comes with the car GPS tracker. You can use the microphone to listen to what is going on inside your car. This car GPS tracker system will be a great buy to use by the businesses engaged in cargo shipping or providing other transportation services.
Feed and Battery
The Sourcingbay Tracking Drive Vehicle Car Tracker has a fairly powerful Li-Ion battery. This battery is able to provide you with up to 80 hours of autonomous operation, in case the car GPS tracker goes into backup power consuming. The main power source is the vehicle itself. The capacity of the battery is 800 mAh, and this is pretty good considering rather small size of this GPS automobile tracker.
---
VIDEO
GPS Car Tracker with GPRS and Vehicle Theft Protection System unboxing and use
Sourcingbay GPS103A1
Vectu PVT-001B
Tracking Precision
Vectu portable car GPS tracker provides you with a precision of 2.5 m, which is a really great number for a device of this level. You will know the exact location of your vehicle, be it a scooter, a car, or any other transportation means. The data transfer is made with an internal antenna working with GPS and 2G standards. With this vehicle GPS tracker by Vectu, you will be able to find your car or motorcycle anywhere in the world where there is a GPS signal (excluding Japan, North Korea, and South Korea). Vectu Portable GPS/GSM Tracking Real-time Locator also features good cold and hot status speeds and a wide frequency range.
Functional Features
Among the formidable functional features that this GPS tracker for car provides we would like to emphasize the option to create Geofences. This means that if your vehicle leaves the preset area you will be notified immediately. The same goes for the speed alert feature — the device will let you know if the driver exceeds the allowed speed limit. Both features are a gift if you need to monitor your teenage driver. There is also an Arm feature, which protects your vehicle from being stolen — set the Safe Spot and know when the car moves from it. And, finally, the Help button will set off the alert if you happen to be caught in an emergency.
Feed and Battery
Speaking about the supply of power, this Vectu Portable GPS/GSM Tracking Real-time Locator model has a pretty powerful 3000 mAh Li-ion battery. The said battery is able to provide you tracking services for about a week on a single charge, and for such a tiny device it is a bliss, really. To recharge the battery of this car GPS tracker system you will only need a 5V USB port. Or you can buy an adapter additionally and charge the battery from the outlet.
---
VIDEO
Vectu Portable Vehicle Tracker Unboxing and First Impressions
Vectu PVT-001B
TrackmateGPS DASH
Tracking Precision
The Trackmate GPS DASH tracker will show you the location of your vehicle with approximately 5 meters of range. The margin is fairly little, so the detection of your car's location will be quite precise. Remember that the correct placement of the car GPS tracker system will provide you with maximum precision of locating. Also it is worth noting that the manufacturer of this vehicle GPS tracker offers its clients 4 different plans, allowing you to choose the terms of service provision ideal for you.
Functional Features
The destination routing feature of this Trackmate GPS DASH tracker will help you to plan the path from point A to point B, and with scheduling several stops on the way. The complete history of your vehicle's movement and your complete monitoring will be stored for a whole year on the server. During this time you will be able to look through the details of one path or another. All the accessories needed for mounting the equipment in your car come in the box with the car GPS tracker itself, you will only need some minor skills.
Feed and Battery
The main power source for the Trackmate GPS DASH tracker is the actual vehicle. But we feel the need to note that the manufacturer still provided a backup energy source, which is able to extend the operational life of your GPS automobile tracker for 6 more hours. The housing of the Trackmate car GPS tracker system is performed in aluminium. This makes the car GPS tracker well protected. And to add to all the above mentioned, the manufacturer provides a lifelong warranty for this auto GPS tracker.
---
TrackmateGPS DASH
What Is a Car GPS Tracker?
A car GPS tracker is a specific device intended to monitor various vehicles. It is able to receive GPS signals from the satellites, and, if required, it can also read data from digital and analog transmitters installed in your car or externally. GPS automobile trackers are widely used by companies engaged in cargo carriage, they allow business owners to lessen the car's fuel consumption by controlling the driver and the path the car goes. You can also use a GPS tracker to monitor the speed and driving behavior of your elderly parents or a teenage kid fresh from getting a driver's license.
For drivers we'd also recommend considering our recent reviews on audio equipment and backup cams with which traveling by car on short and long distances will be a much more enjoyable experience.
What Features to Compare
At first, before you decide on your GPS automobile tracker you should look at GPS tracker's Tracking Precision. The navigation system determines the vehicle location with its satellite-borne receiver, and then transfers the data via communication channels to the user's server or mobile device. The user then is able to receive the data either using particular software, a browser (from the provider company's website), or via mobile network channels. There are particular standards for tracking precision - the margin of error for car GPS trackers must not be more than 5 meters. When precision is noted, look into the time for the Cold Status and the Hot Status. These are the time lapses in which the GPS tracker for car is able to determine the location of a vehicle via satellite and transfer the data to the server for storage. Cold Status is the time from the moment you turn your vehicle GPS tracker on, or your car starts after the down time. Usually it should not exceed 40 seconds. The Hot Status is the time from when the car starts to move after a short stop. For the majority of car GPS tracker system this parameter goes from 5 to 15 seconds.
The second parameter you should pay attention to is the Functional Features of your GPS tracker for car. The auto GPS tracker may have an internal or external receiver (this depends on the device model, type, and data transfer ways). Modern car GPS trackers have 4 different options to transfer data: the satellite-to-tracker transfer (the data goes via GPS signals), the tracker-to-cellphone transfer (via GSM signal), the tracker-to-server transfer (via GPRS), and the server-to-computer transfer (via the Internet). Cellular communication and Internet connections are provided by installing a traditional SIM card that continuously transfers data to a server or any kind of user's device with incoming message support. Car GPS tracker systems may have an internal memory, or provide a possibility to install an external memory card. This way your auto GPS tracker will store the path information even if there is no GSM connection. Some GPS automobile trackers provide an extremely useful geo-fence feature. This feature allows you to define an area on the map, and if the car leaves the boundaries of this area the GPS tracker will send you an SMS message to the phone number you set. To widen the number of features you can connect your real time GPS tracker to additional digital or analog devices. Nowadays you can receive various data concerning your vehicle directly from its on-board computer. Additionally, we can say that some of the most high-end vehicle GPS trackers allow you to do an audio monitoring, i.e. to listen to your car's passenger compartment using a headset or a microphone.
And the last parameter you should consider is the car GPS tracker's Feed and Battery. A lot of vehicle GPS trackers have an embedded battery, but this battery is a backup energy source. The main source is the in-vehicle network. The in-vehicle network provides the real time GPS tracker with feeding and battery recharging. This is a default work mode of an auto GPS tracker. If for some reason the in-vehicle feeding is turned off, the car GPS tracker system will start to work from the internal battery. Every GPS automobile tracker has different autonomous operation time, everything depends on the particular model and the distance from the mobile network transmission stations. Battery operational time of the GPS tracker for car usually starts from 3 hours and can be quite long. Additionally, please note the temperature range for the car GPS tracker system and its battery to operate properly, as some models might be insufficient for some regions. For the most car GPS trackers the operational temperature is approximately from -20°C to +55°C (-4°F to 131°F).