A baby walker can help your child take their first steps. It is also very entertaining. In fact, many of them are designed with entertainment
in mind, featuring plenty of fun toys and sound effects to stimulate their imagination. In this article, we offer you to take a look at our selection of the best baby walkers available so you can choose the right one for your kid.
...
Read more
...Read less
Interactive Features / Functionality
Joovy Spoon
Construction
It's a fantastic seat-based walker with a supportive, comfortable high chair and a removable tray. A soft-padded seat is enclosed in a wide plastic base that keeps a child and things around in a safe distance from each other. The walker comes paired with a large-size removable tray where you can put your kid's favourite toys or use it like a feeding table.
Joovy Spoon walker is designed for children of 5+ months up to the age they learn to walk on their own. The height of construction is adjusted in a single click so that a kid is seated in the most comfortable position for walking.
Fit and Safety Options
Joovy Spoon Walker is easily the most comfortable and practical unit among the best baby walkers available in the market. With a combined functionality of both, a walker and a high chair, it can be used for multiple tasks. Time to have a dinner? Install a big tray and use it like a feeding table. Planning to have some fun? Attach a few music toys and see them magnetising your child.
Joovy Spoon Walker features 2 swiveling and 2 fixed wheels on front and back sides accordingly which means that you can freely roll it on any surface. Despite its rather simplistic look, it's a very solid and practical walker made of BPA, PVC and Phthalate free material.
Features
If you look for some extraordinary interactivity options, Joovy Spoon Walker is not for you. It's very simple and basic, and it doesn't use any battery-charged objects. All it does is ensures solid support of your child while he or she is restfully making laps around the house. Yet, there's always an option to add toys or rattles to the unit so that your infant has got something to play with on a tray.
Additional Info
---
VIDEO
Joovy Spoon Baby Walker Review by zSeek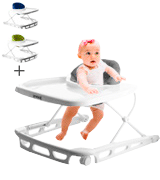 Joovy Spoon
Disney Music and Lights Bees Knees
Instead of a Babysitter
This Disney walker is the perfect candidate for becoming one of the toddler's most favorite toys. Why's that? Well, for so many reasons.

First things first, we'd be remiss not to start with how comfortable this baby walker is. Not like we've actually ridden it, but it definitely looks and feels so. It has a quite high back which not guarantees that your little one is supported and impact on their back is minimized but also allows them to comfortably halt to catch a breath during walks. Another great thing is a padded material. It features colorful imprints of Disney characters and the first few letters of alphabet that draw attention right away. Obviously, your kid won't memorize those letters immediately, for known reasons, but the fact that he or she will look at them for prolonged time every day can make the whole process much easier in the future. Next, this walker has an adjustable back and can be used once your baby can sit unassisted. The seat is 8 ¾" from the ground in its lowest position.

However, the best part about this walker is its tray. With four toys, 12 songs and beautiful lights, it will keep your little one entertained for hours. Different shapes, sizes, and colors of these toys greatly contribute to the child's sensory and mental growth and development, prompting them to exercise their skills. This way, by pushing buttons on the barrel, your kid will soon learn how to turn the lights and music on, which will bring them a lot of joy. What is also nice is that it comes with a small looking-glass. Framed in a flower it will certainly keep your baby's attention for a while.

And, like it's often the case, you can remove this tray. Underneath the interactive tray you'll find a special tray for feeding your child. Quite a useful solution, right?

Safe, Simple, and Compact
Now, let's say a few words about the construction, which we'd definitely describe as safe. Every part of this walker is made durable and secure, and there's no component your toddler will be able to detach and put into their mouth. The battery compartment, for example, is securely screwed and to insert batteries, you'd need to unscrew four bolts, something only an adult will be able to do.

The Disney Winnie the Pooh walker won't steal much of storage space either, because it folds down flat. Such a design allows for under-bed storage, which makes it a practical choice for small apartments. At the same time, the walker isn't going to self-fold while your baby is sitting in it. It has a special mechanism that keeps it securely locked.

Construction aside, the maintenance of the walker is nothing to worry about. All the plastic parts are easy to clean with soapy water while the seat is made machine washable. Simply remove the cloth and throw it into your washing machine.

All in all, if you'd like to keep your toddler entertained so you can do other chores around the house, the Disney Winnie the Pooh walker should be right up your alley. Interactive, sturdy, and adjustable, it will be in use at least for several months. It's also available in pink color.

Additional Info
---
Disney Music and Lights Bees Knees
Baby Trend Trend 2.0
A Baby-Friendly Walker
Once a baby starts sitting, they see their surroundings from a new perspective. How large a world to explore! An activity walker can help them get closer to new inviting cabinets and tables around the house, without the risk of getting hurt. The Baby Trend 2.0 is a good example of such a walker.
It is designed for babies from 15-30 lbs which is approximately 5-6 to 12-13 months old. Thanks to such a wide gap, your baby can use the walker not just for learning to walk but also for having a snack or playing now and after they master this new skill.
As for the construction of the walker, it comes with a soft seat and padded back support. Due to such a design, the baby's position is safe and the pressure on the spine is adequate. With the parents' convenience in mind, the manufacturer made the seat from waterproof fabric. It is very easy to clean. All dirt comes off once you wipe it with a wet cloth.
Speaking about entertainment, the 2.0 Activity Walker has a removable toy bar that can keep a little one busy for quite a while. It attaches to special holes on the tray. Specifically, you need to put the rectangle plastic into the hole that is on a tray and twist it underneath the tray so that it forms a "+". After that, the bar holds very tightly.
As for toys, the bar includes a large teether on a rubber handle, an ice-cream cone with colorful beads inside, and two movable geometric figures with ribbed sides. With these toys, your baby can develop their sensory skills, imagination, and mental skills. And if they get bored or get used to these toys, you can add some more. For example, if you have any rattles or teethers with hooks, you can switch between them once in a while.
A Few Words About Safety
The Baby Trend 2.0 Activity Walker is designed with an extra-wide base that guarantees your baby safe and stable movement. It also has 4 multi-directional wheels that add to the chair's maneuverability on hard floors. In order to protect your little one from moving on the carpet or an unsafe surface, the manufacturer has equipped this walker with 4 stoppers that can be attached to the base. The chair also has 3 height positions that allow your baby to sit with more comfort and use the walker as a chair after they learn to walk and until they reach the maximum weight limit. Finally, in order to prevent accidental fold up, the walker is equipped with a safety button. Once it's turned over 90 degrees the mechanism is blocked. Overall, the Baby Trend activity walker is comfortable and baby-friendly, making it a great choice for babies who are learning to walk.
Additional Info
---
Baby Trend Trend 2.0
Safety 1st Dino Sounds 'n Lights Discovery
Walking Is Easy and Fun
Are you looking for a baby walker that would also be a good toy for your child? If so, then we'd definitely recommend you the Safety 1st Sounds 'n Lights Activity Walker. This model is not only a good walker but also has many toys that help promote fine motor control development and attract children. However, we'll get to it in a moment. Now, let's start with the functionality.
Like any other walker, the Safety 1st Sounds 'n Lights Activity Walker provides excellent support for a kid who is making their very first attempts in walking, and offers a safe way to strengthen their little legs. The seat has a soft padded back to ensure that your child's back, which is yet to become stronger, is perfectly aligned, and can be adjusted in three height positions enabling its use when you child can sit. The height from the floor to the seat in its lowest position is about 7-8". This is standard and considered optimal for kids. Once your child has grown enough to touch the floor and sit without your assistance, it will be easy for them to make first steps. The Safety 1st Sounds 'n Lights Activity Walker can move in all directions and maneuver well on both hard floors and carpets, unless you have very thick carpets, of course. And, thanks to the grip strips on its base, you can be sure that the walker won't move should your kid approach obstacles and uneven surfaces.

If your baby is too young to start walking but already sits very well, the Safety 1st Sounds 'n Lights Activity Walker can serve as a toy. It comes with a tray with five removable toys that can spin, crinkle, and light up. Plus, it has a music module that can play 12 songs and sounds. Under this tray you'll find a larger one for feeding. This one will come in handy when you don't want to use a high chair. Both these trays are easy to clean with a quick wipe and the seat cover can be washed in a washing machine.

Great Value for the Money
Without a doubt, the Safety 1st baby walker is very good for its price. It's well built and serves its purpose. The only issue some parents have with it is to put it down when not in use, which they say can be quite difficult at times. That said, this also means this walker can't self-fold while in use, ensuring excellent support for your baby. So, if you have a child who's about to make their first steps and are looking for a baby walker that will be able to stimulate their senses and help them discover the space around in an entertaining way while providing great support, this model from Safety 1st can be a good choice.

Additional Info
---
Safety 1st Dino Sounds 'n Lights Discovery
Bright Starts Floral Friends
An Activity Walker for a Little Princess
The Baby Starts Floral Friends Baby Walker is a high-quality model that has gained much popularity among young parents. Why do they adore this walker? Because it is well-built, baby-friendly, and has a cool toy bar that keeps little curious hands busy. It doesn't break the bank either. In fact, this is quite a good feature considering that babies need their activity walkers for only 6 months. Moving on, this model comes with a soft seat and a padded back that provides an infant extra support and helps them have short breaks with comfort while they are not scampering around the house. The seat is made attractive too. It comes in white with pink and purple flowers and cute jungle animals on the back support. The base is also pink, which makes this walker the best choice for a little lady. In case you are looking for a walker for a little gentleman, the manufacturer produces this model in green and blue.
When a baby isn't moving around the house in their walker, they can play with the cute toy bar that is attached to the tray on the chair. There are four toys of different shapes (circular and rectangular) on it. They also have different textures. This allows a baby to develop their sensory skills with more fun and ease. Infants can also toss, grab, and pass these pieces up and down, a fun game that also develops fine motor skills and mental skills. There are two additional loops on each side of the tray that we find quite useful too. You can use them for carrying the walker in a folded position. Or, you can attach your baby's favorite toys to it and bring variety to their play. Finally but not lastly, the tray can be used for snack time.
Trustworthy Design
All the elements of the Baby Starts Floral Friends Baby Walker are made with love and care for babies and their parents. The seat and the frame are easy to wash. They are produced from high-quality materials that are safe for infants. Since this model has 3 different height levels, there is a special mechanism that prevents accidental fold ups. The base of the walker is wide and stable with 4 multi-direction castors and stoppers that don't let your baby move over the uneven surfaces. Finally, this model folds flat thus taking very little storage space. So, if your little one is already 6-months old and has learned to sit, the Activity Walker by Bright Starts will become for them a reliable assistant in mastering new skills.
---
Bright Starts Floral Friends
What Is a Baby Walker?
A baby walker is a special "vehicle" designed for infants who are just about to take their first steps. Most baby activity walkers are based on a sturdy plastic frame equipped with swiveling rubber wheels that move while your kid is walking. Baby walkers are one of the best ways to entertain your child as well as provide them with mobility until they learn to walk unaided. What many parents love about these walkers is the fact that most of them are designed with interactive panels and feature an array of beautiful and fun toys that can keep them entertained and encourage them to move. With all that in mind, it comes as no surprise that baby walkers are so popular these days. Since the first day when they emerged on the market until now, they remain on the list of essential baby's gear to acquire during the first year after the child's birth. Aside from baby walkers, we've reviewed many other baby products including high-back chairs for feeding, baby strollers, infant car seats and inflatable bouncers, so if you're interested, make to sure to check them out too.

What Features to Compare
Design

While there are hundreds of brands and models available, all baby walkers can roughly be divided into two types: those with a seat and those that do not have it. The former are specially designed for infants who are only learning to walk and need to be supported. They are safe and allow your little ones to feel comfortable for long periods of time when they are in the walker. For greater comfort, we recommend choosing a model with a padded seat. It will not only provide more comfort but also will ensure greater support for your infant's back. When it comes to the second type, these are intended for older kids who can walk but still need additional stimulation. These are supposed to have an adjustable height and allow you to change it as your child grows.

Safety Features

While choosing a baby walker for an infant, it's important to choose it with safety features in mind. For instance, if your baby is very young, it will be a good decision to purchase a stationary model without wheels. Even though it won't move, it will allow your kid to stand up in it and bounce, helping them to learn to hold on their own, which is important for coordination development. For kids who are already capable of walking, select baby walkers with a wide base. The advantage of wide based models is in that they help prevent kids from getting hit by objects or entering some dangerous areas, and thus protect them from injuries. Also, consider additional safety mechanisms included. These usually include special locks to keep the wheels from rolling, rubber grips to "brake" when your kid doesn't move, and friction strips that can detect when the walker navigates over uneven surfaces, thus, preventing it from falling. Moreover, the actual dimensions of the walker can determine its safety too, so make sure the model you choose provides a comfortable fit for your child.

Functionality/ Interactive Features

Interactive features can add additional stimulation for your child. That's why we recommend selecting baby walkers that include some kind of tray. Some may come fitted with toy attachments, others may have an interactive panel producing a variety of sounds, and there will those that will have only a tray, providing you with the opportunity to attach to it whatever toys you want, depending on your kid's preferences, behavior, development and age. Which one to choose from a variety of models available should come down to your own requirements and needs. And we hope, in this guide, you can find a suitable one!