Fancy trying your hand in whittling? Or are simply looking for another quality cutting tool for your woodworking projects? Whatever
your goal, we have you covered. Below, we offer you a selection of high-quality knives designed specifically for whittling to help you make the right choice and pick the best whittling knife for your projects.
...
Read more
...Read less
X
This site is a free online resource that strives to offer helpful content and comparison features to its visitors. Please be advised that the operator of this site accepts advertising compensation from certain companies that appear on the site, and such compensation impacts the location and order in which the companies (and/or their products) are presented, and in some cases may also impact the scoring that is assigned to them. The scoring that appears on this site is determined by the site operator in its sole discretion, and should NOT be relied upon for accuracy purposes. In fact, Company/product listings on this page DO NOT imply endorsement by the site operator. Except as expressly set forth in our Terms of Use, all representations and warranties regarding the information presented on this page are disclaimed. The information which appears on this site is subject to change at any time. More info
Flexcut Tool KN500
A Well-thought Whittler Set
If you want to get into wood carving and whittling, the first and foremost thing to consider is the right tools. A kit of good cutters is half the battle: it is what either will get you hooked to the hobby or not. The Flexcut knife set is by far the best starter kit for newcomers.
Designed by professionals with beginner needs in mind, it contains 3 knives of different sizes and intended for different tasks. A roughing knife with a 1.75" straight blade, which features a rounded point, is a basic tool for stock removal and coarse finishing. A cutting knife with a 1.25" beveled blade and a bit rounded point is used for fine carving tasks, while a detail knife with a 1.5" pointed tip is meant for line and detailed works and intricate cuts. Notably, all blades are much shorter than those of other craft knives, which is a benefit since it gives you better control and accuracy whittling tasks require.

The blades are made of high-carbon steel that perfectly holds the edge and resists rust and damages. Even though pre-sharpened to be used right out of the box, the blades will still need sharpening from time to time, depending on how often you use them and your projects. And a sharpening compound is also included in the set. It will help you maintain your tools in a good cutting condition and keep a proper cutting angle essential for this type of knives.
All in all, the Flexcut set offers pretty much everything a beginner wittler needs. Just take a piece of wood and start honing your carving skills.
Additional Info
Last updated price

$

46.99

Stock
In stock
ASIN

B003Z7XNUO
---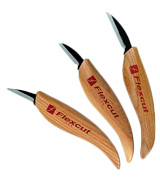 Flexcut Tool KN500
Schrade 24OT
A Carving All Arounder
Whittling is not a hobby bound to a workshop but rather a pastime you can dig into almost anywhere, whether you relax in a chair in your backyard or sit near a campfire in the woods. And if you are a kind of experienced whittler seeking a portable and functional carving tool to carry with you, the Old Time Splinter knife from Schrade is for you.
At a glance, it looks like an ordinary folding pocket knife, which is not far from the true given that the knife has a foldable construction. However, the functionality of this model goes far beyond a simple cutter. It is a multifunctional carving set packed into a pocket-size design.

The model has as many as 6 blades built into it with a slip joint. One one side, you'll find straight gouge, a hook blade, and a gouge scorp blade which are all curved edges perfect for making curved cuts and sections. Meanwhile, a detail blade, V-scorp blade, and a chisel blade placed on the other side are straight edged for all sorts of processing works, fine and detailed cuts. A chisel blade will be also helpful for coarse finishing and carving different kinds of grooves.
Regarding the item quality, the whole construction is rugged and durable. All cutters are made of 65Mn high carbon steel, the handle features brass bolsters and liners, spring and spacers are also made of stainless steel. The knife will definitely withstand extensive use and serve you for years to come. Despite a number of tools fitted into it, the design is well-balanced and a handle with a saw cut pattern offers a firm and secure grip.
Summing up, the Old Time Splinter is an extremely functional all-in-one tool for experienced carvers as well as a nice option for scouts, bushcrafters, campers, and any other outdoorsmen.
Additional Info
Last updated price

$

19.09

Stock
May be out of stock
ASIN

B06XRDZ61M
---
Schrade 24OT
BeaverCraft BC C2
A Basic Wood Carver Tool
To be a skilled whittler, you don't actually need a lot of tools - one high-quality knife specifically designed for wood carving will be enough, especially for beginner carvers with little experience. If an affordable basic carving tool is what you need, then turn your eyes to the whittling knife from BeaverCraft.
With a total length of 6.3" and a 1.6" long blade, this model is properly sized for a variety of general wood carving projects. The whole construction is optimally balanced for convenient tool use and precise control when making cuts. A curved handle will comfortably fit into your palm and provide a secure grip. You won't feel strain and fatigue even after hours of cutting. Made of hardwood oak, the handle is additionally processed in linseed oil to repel moisture and keep a brand-new look for longer. The knife blade is manufactured from strong and durable carbon steel keeping extremely sharp edge. You'll be able to smoothly cut all types of wood, be it softer cedar, pine, basswood, and aspen or solid birch, oak, cherry, poplar, and maple. A beveled blade design with a rounded point make this model suitable for chipping, roughing, detailing, and all sorts of fine cuts. Meanwhile, a thin tip allows working in tricky areas, with smaller details and ornamental patterns. The last but not the least thing you will like about the BeaverCraft knife is its fairly reasonable price tag that won't make you break the bank and will fit any budget.
To put it in a nutshell, affordable and practical, this simple model will become an efficient starter tool and find its place in a collection of a professional wittler as well.
Last updated price

$

12.95

Stock
In stock
ASIN

B071WCH6T4
---
BeaverCraft BC C2
Morakniv M-120-1600
A Smooth Cutter for Hardwood
Most beginner carvers start practicing on softwoods that are easier to cut. But as you grow your whittling skills, your project will be more ambitious and you'll be eager to try hardwoods that require more strength and precision. This is where the Morakniv 120 will come in handy.
Morakniv is a reputed brand popular and highly appreciated among woodworkers for a combo of top-quality materials and fine craftsmanship you'll find in each product. The Morakniv 120 carving knife is one of the company's best-sellers. A 2.4" blade is long enough for general carving tasks and short enough for detailing and making fine intricate cuts. Distinguished by a full tang design, the blade runs through the entire handle length for better strength and stability of the whole construction. Unlike carbon steel blades in rival models, the Morankiv blade is made of laminated steel with a carbon core. A hard core will help hold the edge longer while softer sides facilitate sharpening and make cutting easier. This is how you'll be able to smoothly cut through a solid structure of hardwoods, to say nothing about more delicate softwoods.
A barrel-shaped handle made of oiled birch wood feels nice in the hand and ensures a comfortable grip for extended periods of work. What's more, the knife comes complete with a plastic sheath that can be attached to your belt and is intended for safe and secure tool storage and handling.
To conclude, the Morakniv 120 will suit both for rough and detailed works and will add to the toolkit of a hobbyist with intermediate carving skills level.
Additional Info
Last updated price

$

26.38

Stock
In stock
ASIN

B004GATX62
---
Morakniv M-120-1600
Schrade 44OT
More Than a Whittling Assistant
Looking for a knife you can always have at hand and that will become not only your carving helper but also a faithful workmate for a variety of day-to-day tasks? If so, then turn your eyes to the Old Timer 44OT from Schrade.
What you'll get is a folding knife that will easily fit into your pocket and that you can carry with you anywhere. It has 2 blades that fold into the handle on each side. In total, the knife features 4 blades including a Clip Point blade, Sheepsfoot blade, Wharncliffe blade, and a Clip Pen blade, all being 2.2" in length and made of first-class carbon steel. Though the blades are not razor-sharp, they hold the edge well and will cope with a variety of cutting and carving tasks just fine. Moreover, a clip pen blade can function as an awl, allowing you to make through holes, and has a special groove that will be helpful for pulling out nails hammered deep into wooden planks or bars.

The knife design deserves a close attention too. It's time-proven classics at its best. The combo of brass pins and liners, nickel silver bolsters, and saw cut riveted handles give it a vintage look and make it a great gift idea for any woodcarver or keen handyman.

To round things up, the Old Timer 44OT offers reliable quality and consistent performance for a variety of cutting tasks and some minor jobs or repairs, and it doesn't cost a whole lot of money, so everyone can afford it.

Additional Info
Last updated price

$

17.89

Stock
May be out of stock
ASIN

B002EPS5HE
---
Schrade 44OT
What Is a Whittling Knife?
Whittling is the art of carving something out of wood, from decorative figurines and spoons to some more substantial and functional items. Today, whittling is an interesting hobby and a great pastime for many of us that helps concentrate our thoughts or relax while doing something with our own hands. And it's quite an accessible hobby since all you need is a chunk of wood and a whittling knife. While you can use pretty much any knife to whittle, to achieve better results with less effort and gain fine carving skills faster, it's advisable that you go for a dedicated whittling knife.

A good whittling knife is shorter, sharper, and more comfortable to use for carving wood than any mid-sized regular knife. Normally, it has a sturdy and durable stainless steel blade with a rounded point and a tip aligned with a cutting edge. By type, there are folding pocket models and knives with fixed blades. A fixed blade tool works great both for beginners and for professionals. Meanwhile, folding models usually feature several blades and better suit seasoned whittlers focused on portability and functional versatility.
Whether you are an experienced carver or just an amateur beginner, proper hands protection wouldn't go amiss and help you avoid undesired injuries. This is where kevlar gloves will be of great use.