Today, a variety of music instruments doesn't fail to amaze and one can find an instrument to any needs and liking. In this review,
we'd like to present one of the most peculiar musical instruments known by the name "ukulele", with the sound bearing no resemblance to any other sound produced.
...
Read more
...Read less
X
This site is a free online resource that strives to offer helpful content and comparison features to its visitors. Please be advised that the operator of this site accepts advertising compensation from certain companies that appear on the site, and such compensation impacts the location and order in which the companies (and/or their products) are presented, and in some cases may also impact the scoring that is assigned to them. The scoring that appears on this site is determined by the site operator in its sole discretion, and should NOT be relied upon for accuracy purposes. In fact, Company/product listings on this page DO NOT imply endorsement by the site operator. Except as expressly set forth in our Terms of Use, all representations and warranties regarding the information presented on this page are disclaimed. The information which appears on this site is subject to change at any time. More info
Luna Mahogany Series Tattoo Concert
Welcome to the Tribe!
Luna Guitars are comfortable and attractive instruments created for musicians of all ages. And this uke is no exception. It's beautifully and carefully crafted to engage your mind, spirit, and talent. You will definitely feel comfortable holding this 23-inch Luna ukulele in hands. This is a concert ukulele that is quite universal, and that's the reason why it's so popular among adults and kids alike.
This concert-style ukulele will be a great choice for everyone, no matter whether you are an adult with grand plans of conquering the stage and capturing peoples' hearts or a small child only beginning your musical journey. Paired with this wonderful Luna Tattoo uke, you will be a star of every party. The instrument has a unique Polynesian design that can reflect your personality best. It is tattooed in black against brown skin and boasts so many extra patterns in addition to traditional Hawaiian engraving. The symbols on its casing represent the natural island world: fish, turtles, sharks, birds, stones, waves, rain, and sun. We would like to note that this ukulele is available in Mahogany and Spruce colors.
Superb Quality
The body of this Luna Tattoo ukulele is made of mahogany. This kind of natural wood is known for giving musical instruments wonderful and quality sounding. The fretboard is made of high-quality rosewood and it completes the astonishing look of this ukulele. Moreover, the fret markers of this ukulele are made to look like shark teeth, adding to the image of fun and danger you can find in Hawaii. We believe this is what the Luna creators wanted to show. So, if you want something stylish, durable, and unique, this Hawaiian uke is your choice.
Going Deeper into Details
The scale length of the Luna Mahogany Series Tattoo Concert Ukulele is 15 inches, and it features 18 frets to provide you with a stunning sound. This wide frets selection gives you the opportunity to try different tones and choose what you like most. You will surely enjoy the ukulele's beautiful sound and aesthetic possibilities to the fullest!
Additional Info
Last updated price

$

99.00

Stock
In stock
ASIN

B003L7VQMA
---
VIDEO
Luna Tattoo Concert Electric Ukulele Review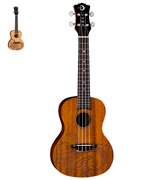 Luna Mahogany Series Tattoo Concert
Kala KA-15S Mahogany Soprano Ukulele
Compact in Size but Beautiful in Sounding
This Kala KA-15S soprano ukulele has a small size, so you can take it just anywhere to boost your mood and make the people around you smile. The Kala ukulele offers a good playability and nice sound. Playing this ukulele will totally carry you away. It has a professional build system with premium Aquila Nylgut strings which sounding will conquer the heart of every listener. You will definitely enjoy playing on this soprano ukulele and it will surely fill your life with awesome music. However, if you're not sure if this very type of ukulele suits you best, you can also order a concert or soprano model from the same manufacturer. Kala ukuleles are played by such renowned bands and musicians around the world as Twenty One Pilots, Zac Brown, and Vance Joy. Want to become as popular as they are? Choose Kala!
High-quality Construction
Kala is a well-known and trusted manufacturer of ukes. The body and neck of the Kala KA-15S are made of mahogany, while the fretboard is produced of rosewood. Owing to the vibration of nylon premium Aquila Nylgut strings and special guitar construction, the sound is more sonorous and deeper than other models of its price range provide. The satin finish ensures pleasant sensation while playing this Kala ukulele mahogany, while the thorough construction delivers a bright tone which can easily capture the soul of people listening to you. This uke takes you into the atmosphere of the Hawaiian night full of dance and music. So with this ukulele, you will always have a great entertaining tool at hand.

Extra Edition for Beginners
Kala ukuleles are often purchased by musical schools, since most novice players prefer Kala to other ukulele brands. They are simple and high-quality. And if you're just about starting playing this wonderful musical instrument, you'll be pleased to know that the manufacturer kindly offers the special Learn-to-Play Ukulele Soprano Starter Kit. Besides the ukulele itself, this extended kit includes a Kala logo tote bag, free Kala ukulele app with tuner, How to Play Ukulele Quick Start booklet, and free comprehensive online lessons.
Additional Info
Last updated price

$

59.99

Stock
In stock
ASIN

B001LU1SFO
---
VIDEO
Kala KA-15S Soprano Ukulele Demo
Kala KA-15S Mahogany Soprano Ukulele
Donner Concert Mahogany DUC-1
Excellent Playability
The Donner DUC-1 is a great ukulele for beginners. It's very reasonably priced and just can't be beaten! This traditional model feels very smooth around the Rosewood fretboard. It has 18 brass frets with the position marks at 5th, 7th, 10th, and 12th frets. The frets are well-polished and won't catch your fingers. The neck is ergonomic enough to let you change your position easily.
The ukulele has four carbon nylon strings that hold up well and stay in tune for a good while. By the way, it comes with some tuners to re-tune the instrument whenever a need be. The unit produces very clear sound with beautiful, rich tone and resonant. The volume can be even compared to that of acoustic guitars. In all, this is an amazing ukulele to get started on.
Perfection in Every Detail
For the price, the build quality of the Donner concert ukulele is just amazing! It's carefully crafted from the natural wood, not plywood. The body and neck are made of solid mahogany and have a nice satin finish. They can help you achieve a very rich and bright sound.
The bridge is uniquely designed by Donner team of professionals. It allows players to smoothly change strings and ensures excellent playing tone. The carbon nylon strings are made in Japan. They are reasonably soft to the touch and boast a very sweet sound. In a word, this concert-sized ukulele has a fantastic tone and appearance.
Some Extras
Pretty often the package includes just a ukulele and a few cheap items just to catch your attention. However, that's not the case with the Donner ukulele. It comes with everything you'll need to start playing. The kit includes a high-quality tuner Donner DT-2 with a battery, a solid ukulele case, colored ukulele strap with a nice pattern, and an extra set of nylon strings. The tuner works well and is very accurate. It can be used not only for this ukulele but for any other string/vibration instrument as well. The well-padded case is quite durable and has a pocket with zippers for some accessories. It has two straps and can be worn as a backpack. So, if you need an affordable ukulele with a great start "bundle", this is it.
Additional Info
Last updated price

$

0.00

Stock
May be out of stock
ASIN

B01M1L6OSX
---
Donner Concert Mahogany DUC-1
Lohanu LU-C Concert
Stunning Sound
Lohanu company offers a lovely uke at a very fair price. For less than $90, you can get a fantastic ukulele with about $65 worth of accessories. This concert instrument gives out the clear sound with no buzzing noises or tuning problems. Even when you play on the highest frets, the sound is loud and bright. By the way, it has 18 frets that are widely spaced for better sound performance. Yet, take note that the frets are comfortable for adults and 9+ children only.
Although most ukes are notorious for frequent re-tuning, the strings of this one hold a tune quite well. And thanks to the slightly arched back, it gives richer and warmer sound compared to ukuleles at this price point. The icing on the cake is that the company provides FREE online video lessons (with the numbered cord charts) that can guide you through the uke basics to help you get started. The easy-to-follow lessons include:

Beginner's lesson;
How to tune your ukulele;
Super catchy & fun must-learn 'Hawaiian Songs'.
If you need a uke with good projection and online tutorials, this is a sound choice.
Unmatched Quality
You'll be definitely thrilled with the nice materials and craftsmanship of this uke. It has a Sapele/Mahogany body, Rosewood fingerboard and looks exactly as shown in the pictures. The best part is that it's supplied with Aquila strings installed. These are currently the best uke strings that are very easy on your fingers. What is notable, this ukulele and all accessories are covered by an unconditional lifetime warranty.
Useful Extras
The uke comes with a strap, buttons, and two pre-drilled holes for the strap. Although the strap is rather plain, it's good-quality and adjustable. It'll be much easier to play the uke and change the chords with a strap attached, especially if you're a beginner.
Also, the package includes a case, tuner, 2 picks, pick holder, and an extra set of Aquila strings. The bag offers very little padding, yet it's very lightweight and easy to carry. The picks are made of plastic and come in 2 different sizes. As for the included tuner, it's very accurate and can be used for different types of stringed instruments.
Last updated price

$

59.97

Stock
In stock
ASIN

B015XD4YLY
---
Lohanu LU-C Concert
Kmise Soprano Vintage Hawaiian
High Build Quality
This little ukulele is a fantastic value for the price! It really has a lot of features that typically aren't found at this price range. It's a loud, well-made ukulele with good intonation up and down the fretboard.
To begin with, this uke has a compensated saddle and a curved/arched back. The body is nicely laminated and made of high-quality Mahogany. The wood grain finish is stylish and neat - it has a nice rope design print around the soundhole, brown closed gear tuners, and an inlaid "Kmise" logo on the headstock
The bridge and fretboard are made of Walnut. The fretboards are incredibly smooth on every side, so you can roll over the frets without worries of being scratched. The fretboard has inlay dots on the side and top. And what is notable, instead of poor quality brass-plated zinc alloy, the ukulele gear is made of pure copper that is harder, less corrosive and rusting. Overall, the Kmise ukulele looks very good. The build quality at this price point is excellent.
Fine Tuned
Any new buyer will definitely appreciate that this ukulele comes already pre-tuned at a lower action (G String Action at 1st Fret: 0.019" and at 12tt Fret: 0.11"± 0.008"). Additionally, it comes with an 18:1 gear tuner for more precise and stable tuning. This way, you can simply give it a quick tune and start playing right out-of-the-box. Still, you'll need a while for the new strings to settle in.
For the size, the instrument is really loud and has a great punchy sound to it. The fact that it comes set up out-of-the-box and with the smooth fret ends means newbies can buy it without worrying that it will be difficult to play.
Nice Extras
There are lots of ukuleles for this price that only include a flimsy instrument bag. This kit is different! Besides the ukulele, you'll get a padded gig bag, D'Addario carbon nylon strings and a spare set, a clip-on tuner, a strap, and instruction book with some tips and exercises.

The gig bag is nicely padded and has a handy pocket, handle, and backpack straps. The Joyo clip-on tuner offers several settings, including two meant specifically for ukulele. It's recommended to choose "Uc" tuning for this soprano model.
With a number of useful accessories and loud sound, this ukulele would be a great first-time instrument. It both sounds great and looks very nice. Beginners and intermediate players just can't go wrong with this package.
Last updated price

$

46.19

Stock
In stock
ASIN

B076KFB49J
---
Kmise Soprano Vintage Hawaiian
What Is a Ukulele?
Ukulele is a musical instrument that looks like a guitar yet produces the sound that is quite unique in its nature. What is interesting is that even now, with ukuleles gaining more and more recognition around the world, there are still people that mistakenly think of ukulele as of children's toy guitar. However, it's not true. As we've already said, ukulele is a full-fledged musical instrument that can be heard in any corner of the globe. Originated in Hawaii, it didn't take it long to widespread and reach most countries in the world. So, if you'd like to join the ukulele revolution and learn to play it too, we hope, our review should help you pick the right model. Also, this review might appear interesting for avid musicians willing to try their hands at something new.

Whether you are a stringed instruments enthusiast or a professional guitar player, you will definitely appreciate one of the electric guitars represented in our review.
What Features to Compare
Type

If you've decided to buy yourself a ukulele, first things first, decide on its type and size. In general, all models fall into four types: Soprano, Concert, Tenor, and Baritone ukuleles. The Soprano models are classic, measuring 21 inches in length, which is standard size considered the most convenient for beginners. The Concert ukuleles are a little bigger, they make 23 inches in length. Unlike the former, these have more frets. With its length of 26 inches, the Tenor ukuleles are the most optimal for those who've already got used to a regular guitar fingerboard. Compared to the Soprano ukes, these produce a deeper and louder sound. The Baritone ukuleles don't differ much from guitars by size measuring the same 30 inches. However, they produce a different sound revealing beautiful low frequencies. Along with the mentioned types, you can find the Bass models too. These are a bit rare but still, are quite popular among real ukulele enthusiasts.

Material

Next, pay attention to the material the ukulele is made of. The traditional Hawaiian guitar is made of koa wood, the type of local wood resembling mahogany. Today, though, many manufacturers instead of koa wood tend to use ash Agathis, rosewood, or mahogany, that are slightly less expensive types of wood but are no less suitable from the acoustic point of view. In addition, you can find models completely or partially made of plastic. Cheaper than all others, they would be optimal for beginners and those who are not sure whether playing the uke will develop into the real hobby.

Additional Things

Despite their pretty simple appearance, ukuleles often feature some little things differentiating them one from another. These can be various drawings, paintings, or special coverings showing off the beauty ofthe natural wood structure. Tuners can be chrome/gold plated or wood and may have different shapes and designs, enabling your musical instrument to stand out. Last but not least, it's worth paying attention to the number of frets provided. Usually, the more frets the uke has, the more melodic and the richer sounding will be. Depending on the body type and size of your instruments, the uke may have from 12 to 20 frets. What is also of note is the max length of a string between the nut and the saddle which can greatly affect the music. The longer it is, the more tones and sounds your ukulele will be able to produce.

Finally, the market offers electric ukulele models as well. Thus, if you're used to playing the electric guitar and want to try your hands at a new instrument, this type will fit you perfectly. Similarly to guitars, the connection of the uke is done using a combo amplifier and a set of speakers. Nothing difficult.