Treat your skin with care and you will not see it age for a long time. Silicone face brushes can help you keep your face skin clean,
reduce the size of pores, smooth wrinkles in sensitive areas, and remove makeup in a gentle way. Read our review and pick your care assistant.
...
Read more
...Read less
X
This site is a free online resource that strives to offer helpful content and comparison features to its visitors. Please be advised that the operator of this site accepts advertising compensation from certain companies that appear on the site, and such compensation impacts the location and order in which the companies (and/or their products) are presented, and in some cases may also impact the scoring that is assigned to them. The scoring that appears on this site is determined by the site operator in its sole discretion, and should NOT be relied upon for accuracy purposes. In fact, Company/product listings on this page DO NOT imply endorsement by the site operator. Except as expressly set forth in our Terms of Use, all representations and warranties regarding the information presented on this page are disclaimed. The information which appears on this site is subject to change at any time. More info
FOREO LUNA 2
Reveal the Beauty of Your Skin With the LUNA 2
The FOREO LUNA 2 is an effective solution for all types of skin that can provide noticeable results very quickly, helping take your skin to a completely new level and bringing an enjoyable and effective cleansing experience. For delivering better results, this brush is designed with a large head and has soft silicon tip-points which are arranged at a different distance to be effective on different types of skin. This way, owners of top sensitive skin should buy a brush for sensitive skin where the silicon bristles are placed farther apart for less abrasive effect. For oily skin, it is better to use a brush which sends stronger pulsations and penetrates skin tissues deeper, with tip-points being closely grouped. FOREO products are designed to meet all needs and suit all users. This brush can help lift your skin, relieve its radiant youth-looking glow, minimize aging symptoms, remove wrinkles, and treat acne. By gently moving it in motion circles over your face daily every morning, it can also provide invigorating massage, restoring skin vitality.
Pros:
Waterproof, hence suitable for use in bath and shower;
Available for all types of skin;
2X Power;
Large head for quicker cleansing sessions.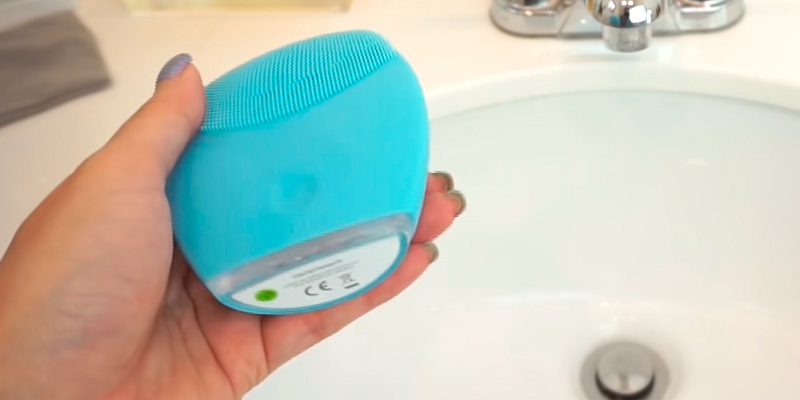 Additional Info
Last updated price

$

92.38

Stock
In stock
ASIN

B01A61XUZ4
---
What customers say about this product
It's compact and highly portable. Easy to throw in an overnight bag or take on a month-long international trip.
Nice cleansing item, not hash to the skin but also can deep cleaning, first time use my skin really clear like after using the clay mask, really good.
It was fully waterproof, unlike the Clarisonic, and the silicone brush head felt far less damaging to my skin while still giving a great deep clean.
Looking forward to see if the battery life is as good as advertised!
FOREO LUNA 2
INNERNEED Soft Handheld
Gentle but Just as Effective
With this model from INNERNEED, you get two very different silicone face brushes. The first one features tiny dense bristles. These bristles will gently remove blackheads, clear up your pores, and wash away the face oil. The second brush incorporates massage bristles that are great for a facial massage. Using this brush, you'll be able to increase your blood circulation, improve skin exfoliating, and promote absorption of skin creams, moisturizers, and all kinds of serums.
For the most part, the model is fairly effective. If you happen to have a soft skin that often reacts to anything even slightly harsh, then you'll definitely enjoy these brushes as they are comprised of soft silicone. It won't feel abrasive no matter how hard you press it. That said, the model is fully capable of removing dead, dry skin from your face. If your skin isn't particularly sensitive, you may even find it a little too soft but it should still get the job done.
One thing we really like about the product is its anti-slip design that features two finger strips and a groove. It might seem like a small change from the usual deal but it does make the brushes a lot more practical.
To sum it up, these silicone face brushes from INNERNEED are practical and effective. Thanks to the built-in hanging loops, they're convenient and easy to store. Made of 100% natural and antibacterial silicone, they won't cause any irritations.

Pros:

Two brushes included;
Soft bristles ideal for sensitive skin;
Anti-slip design;
Have built-in hanging loops for convenient storage;
100% natural silicone.

Last updated price

$

5.98

Stock
In stock
ASIN

B07D8QDCPQ
---
INNERNEED Soft Handheld
Earthen Beauty Naturals SOLO Mio
Top-rated Facial Cleanser for All Types of Skin
The SOLO Mio soft brush for face with silicone bristles is a quick and efficient solution to relieve the beauty of your skin, achieve better complexion, and reduce the size of pores. This face cleanser has a small and portable size so that you can take it with you and apply it on skin anywhere away from home. It doesn't require heads replacement and is suitable for all types of skin, including hypersensitive and that prone to allergic reactions and irritations. Made of high-quality medical grade silicone, thousands of soft microfingers apply gentle pulsations to facial muscles and skin, removing residue of makeup, dirt, and oil out of pores. According to customers, if used regularly in combination with clay or/and other facials, it's possible to see a noticeable difference in the skin texture pretty quickly. It starts to glow, gains youthful radiance, and looks much healthier.
Pros:

No heads replacement;
For all types of skin;
Lasts for about a month without recharging;
Portable size.

Last updated price

$

37.75

Stock
In stock
ASIN

B00OYZKBVA
---
What customers say about this product
I was sure about the size, but it fitts on the face nicely and is easy to run over your face. I really like the duel sides with different size nodes.
I like the fact that I do not have to buy replacement brushes and can use my own cleanser.
I am very impressed by the speeds it is capable of as well!
Portable. The fact that the charge lasts a long time is great and even better - you can charge it from the USB of your laptop.
Earthen Beauty Naturals SOLO Mio
SUNMAY Sonic Rechargeable
Your Ticket to Clear Skin
SUNMAY Sonic Face Cleanser is a powerhouse of a brush. With this model, you won't have to manually massage your face. Using 2,000 antimicrobial touchpoints, this little device does a bang-up job of cleansing, smoothing, and rejuvenating your skin.

There are so many different skin types out there. But this brush doesn't discriminate. It gives you 15 different massage levels to choose from. It can go as low as 1,500 vibrations per minute all the way to 7,000 vibrations per minute.
Of course, it isn't just about your skin type. The higher speeds work best with the front side of this silicone face brush. They're best suited for cleansing and exfoliating jobs.
The lower speeds, on the other hand, should be used in combination with the back side for massaging purposes and reducing the appearance of those annoying fine lines and wrinkles.
Aside from the powerful motor, the model's design also deserves at least some recognition. Instead of the usual form, the device features a leaf-like shape, with a pointed and contoured tip. That tip allows the user to reach some of the most hard-to-clean areas of your face. With it, you'll easily be able to work around your eyes, ears, chin, and nose.
The model is powerful, to say the least. So the manufacturers have implemented automatic brief pauses every 20 seconds. They serve to remind you to move from one area of your face to the other. Taking a page out of similar face care products, the brush automatically shuts off after 2 minutes of no use.
All in all, SUNMAY Sonic Face Cleanser is new, innovative, and particularly effective. With it, you'll be able to take your skin care routine to a whole new level. The company behind it says that the brush is your ticket to a healthier, acne-free, beautiful skin and we're inclined to agree with them on that one.

Pros:
A few operating speeds;
A leaf-like shape allows the user to reach the most hard-to-clean areas;
Auto shut off function;
Brief pauses make it easy to remember to move from one area to the other;
Powerful.

Additional Info
Last updated price

$

0.00

Stock
In stock
ASIN

B01IP91NBW
---
SUNMAY Sonic Rechargeable
AOMUU Silicone
A single pad with 4 functions
The AOMUU cleansing facial scrubber pads are a popular and the only right way to wash your face. Instead of cleaning face simply with hands, now you can use a special pad for that, moving it in circular motions over your face to clean pores of dirt and remove makeup residue. The AOUMUU scrubber face brush pad has a double surface for a complete face care. In the upper part of the pad are tiny bristles used for cleansing sensitive skin and wrinkle-prone areas; the center contains microfibers bigger in size for treating acne, aging symptoms, and removing blackheads; the lower part is more coarse and used for improving blood circulation. The reverse side of the pad is totally smooth. To achieve better results, experts recommend using facial creams before applying the brush to skin. This helps the skin absorb the facials much better and faster.
Pros:
Contains tiny, middle and coarse bristles;
Super soft, durable, and washable;
Best at treating acne.

Last updated price

$

8.99

Stock
In stock
ASIN

B01NBL85T0
---
What customers say about this product
I use one for my face in the shower and one to clean all my brushes.
It fits into the hand and there is a part on the back that you can slip your fingers in so it doesn't slip out of your hand.
They feel so good and the size is easy to handle.
AOMUU Silicone
What Is a Silicone Face Brush?
A silicone face brush is a popular tool in the beauty industry which, if used regularly and in combination with other facials, can help improve the texture of skin, make it look tight, radiant and healthy. Interestingly, though, despite such great popularity and thousands of delightful comments from clients who've witnessed mind-boggling results, there are still a lot of those who disprove face brushes benefits and argue as to whether they are as good as they claim to be. Could they really do harm? To some extent, yes. Not all brushes are recommended for daily use. Just like not all brushes are suitable for all types of skin. If your skin is sensitive, it is only a brush with soft silicone bristles that you can use. Silicone face brushes are a great cleansing tool solution for people having dry skin prone to irritations and inflammations. They are usually rather cheap, and they are very gentle on skin. For this review, we've picked 5 most popular and budget-friendly brushes for face skin that have silicone bristles so that you can find a suitable solution to include in your daily skin cleaning routine. In case you search a brush for a stronger scrubbing effect, we recommend you to look through our selection of electric models which guarantee long-lasting results.
Best Silicone Face Brushes 2017