A flat tire is always a bummer, but what will you do first in order to change a tire? The answer is easy - lift your vehicle. The
most reliable tool for this task is a jack, the simplest of them being a scissor jack. We took a look at the top jack models for both cars and motorcycles to help you decide which one will be right up your alley.
...
Read more
...Read less
Min Lift Height (Clearance)
X
This site is a free online resource that strives to offer helpful content and comparison features to its visitors. Please be advised that the operator of this site accepts advertising compensation from certain companies that appear on the site, and such compensation impacts the location and order in which the companies (and/or their products) are presented, and in some cases may also impact the scoring that is assigned to them. The scoring that appears on this site is determined by the site operator in its sole discretion, and should NOT be relied upon for accuracy purposes. In fact, Company/product listings on this page DO NOT imply endorsement by the site operator. Except as expressly set forth in our Terms of Use, all representations and warranties regarding the information presented on this page are disclaimed. The information which appears on this site is subject to change at any time. More info
Husky 31951
A Quality to Match
The Husky 31951 comes as a two-piece tool that will be a great addition to your kit regardless of you being a driver or not. With that in mind, the rigid steel construction allows the tool to hold a weight of up to 6,500 lbs. A capacity this high opens up a variety of different uses of the tool, which are not limited to work on cars and motorcycles.
A 35 square inch plate of the tool makes it easy to put different kinds of loads on top, while the high-quality fixators make sure that the load will stay firmly in place during the lifting. Speaking of hardware, the jack is operated with a simple, yet effective swivel handle.
The design of this particular scissor jack allows for lifting cars, motorcycles, and other types of loads up to 24 inches in size, which will be more than enough in case you need to change a big tire or to look under your vehicle to check something at its bottom.
Although there are no perfect products out there, the only thing this jack from Husky lacks is a solid ground base. The Husky 31951 does leave something to be desired in terms of stability on the surface as it might slide a bit if the load is close to maximum
In conclusion, this model from Husky has proven to be one of the best scissor jack models available today. Its heavy-duty design and versatility will definitely come in handy more than once, regardless of the vehicle you drive. It's a must-have for any garage.
Additional Info
Last updated price

$

111.40

Stock
In stock
ASIN

B005J1UK2I
---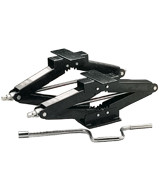 Husky 31951
LiftMaster DL3502
Simplicity at Its Best
Perfect for ATVs, UTVs, and various types of motorbikes, the LiftMaster DL3502 provides a stable lift, thanks to its sturdy, heavy-duty design. Its plate is wide enough to hold up a wheel or part of the bike without any worries about it sliding off.
Design features aside, the lifting capacity of the LiftMaster DL3502 reaches almost 1,100 pounds. Just slightly above regular models that offer a 1-ton capacity but we'll take that edge wherever we can get it. It's a big bonus if you've got a bike that's heavier than most.
As for the lifting range, once you put your bike on the screw adapters you will be able to lift it from 3.5 inches up to 15.75 inches without too much of a hassle. Just remember to adjust the adapters depending on your bike model. Otherwise, it might not be affixed properly and roll off, which isn't something you want.
On top of the handily adjustable screw adapters, the device is also equipped with a safety pin that you can lock in 6 different positions. This simple feature will ensure that the bike won't flip or drop when you least expect it.
We do have to admit that the finish on the welded parts looks kind of sloppy, however, the look doesn't affect the great performance of the scissor lift jack. The tool itself is operated by a regular crank that is easy to turn even if you are an amateur mechanic.
Simple, convenient and highly durable, when it comes down to lifting your motor vehicle this model from LiftMaster will become your best friend. It doesn't have the highest load capacity but it's good enough for all bikes.

Last updated price

$

79.99

Stock
In stock
ASIN

B01MZ7U4X5
---
LiftMaster DL3502
Cynder 672
Surprising Capabilities
First things first, the Cylinder 672 leveling scissor is available in two flavors. However, today we will take a closer look at the 1-piece set that includes a scissor jack itself and a jackscrew that is essential for leveling the tool.
The design of the tool is fairly simple, yet it features welded parts that are connected by durable bolts. That surface simplicity hides a sturdy tool underneath. So the construction provides quite a big lifting capacity of 5,000 pounds. Some users will be left unsurprised by the standard specifications, nevertheless, there is one thing that makes this model stand out. The weight of a single unit is only 11 pounds and considering the high load capacity of the jack it can be used virtually everywhere and on every vehicle from a simple sedan to a travel trailer. Thus it's easy to take with you and use for pretty much any vehicle maintenance task.
As for the maximum lifting height, the jack is capable of raising the vehicles from 4 inches up to 24 inches without breaking a sweat. Moving on, the body of the stabilizer features a powder coating that prevents the tool from getting rusty over time. That way you can be sure this tool will be something you use for years and maybe even pass on to your son.
Finally, the combination of light weight and high efficiency makes this scissor jack from Cynder a must-have in your toolbox in case you are a car owner or a camper. It will help you lift large loads without any effort and worrying about reliability.
Additional Info
Last updated price

$

42.29

Stock
In stock
ASIN

B01IMMU7SM
---
Cynder 672
Extreme Max 5001.5044
Wide Range of Opportunities
One of the most universal bike scissor jacks available on the market, the Extreme Max has a number of features under its belt that make it a great pick for bikers of all sorts.
First things first, the most noticeable part of the tool is its wide base plate that makes this model stand out from the crowd of other similar models. The plate is 4 inches wide and that aspect alone makes the jack extremely balanced, contrary to the majority of simple bike jacks. That way you know for sure that bumping into the tool won't send your ride falling to the floor.
However, the unusually large base plate is not the only thing that makes this jack unique, its load capacity of 1,100 lbs can lift bikes with ease. On top of that, the plate also features a special rubber padding for additional security of your steel horse and, more importantly, for your safety. It keeps the metal parts from scraping the paint on the bike and prevents the vehicle from falling off.
In case you thought that's all this model has under its sleeve you would be wrong, the design allows for folding the jack in a way that allows storing the device in almost any toolbox and even in the trunk of your bike (if you have one).
The only drawback of this product is its weight of 27 pounds, which can limit the portability in some cases. Nevertheless, if a few extra pounds are not a big deal for you then this motorcycle scissor jack from Extreme Max is the best choice. Its reliable, heavy duty, and goes above what most other models offer.
Additional Info
Last updated price

$

99.99

Stock
In stock
ASIN

B0196PAZ1S
---
Extreme Max 5001.5044
Torin Jack T10152
Versatile and Heavy Duty
The lifting capacity of the Torin Jack T10152 scissor jack is 3,300 pounds which makes it suitable for lifting various vehicles with the weight not exceeding 2,000-2,500 pounds. The minimum lift height of 3.75 inches will allow you to put this car jack under a car with low clearance and hoist it up to the height of 15.4 inches, high enough to comfortably reach wheels and replace one, for example, if an emergency happens.
The Torin Jack T10152 is a mechanical scissor jack with a horizontal screw. The lifting is performed by turning the screw that constricts two sides of the jack together, thereby changing the lifting height. It'd be fair to note though that turning the screw might require some effort from your side and in order to swivel the jack lever you'd need quite some space, so this car jack is best used outside. Despite these, the Torin Jack T10152 rates as one of the best car jacks for beginners due to its overall simplicity of use and affordable price.
Weighing just 7.7 pounds, the Torin Jack T10152 is easy to carry and transport. Due to its compact dimensions, it will find itself a place even in a small luggage compartment. That way the manufacturer made sure you can carry it with you at all times and keep it anyplace you find convenient.
Additional Info
Last updated price

$

24.19

Stock
In stock
ASIN

B004PX8BC2
---
Torin Jack T10152
What Is a Scissor Jack?
The convenience and usability of the lifting jacks cannot be underestimated, they are used virtually everywhere - from lifting automobiles to supporting structures. The regular lifting jack uses cylinder-based hydraulics (mechanical or electric) or a simple jackscrew. The scissor jacks are the type of lifting equipment that is fairly easy to use. A simple scissor type jack features four vertical arms that are linked. Between each pair of vertical arms, there is a threaded hole where the jack's screw is installed that eases the operation of the tool.
Simple as these jacks may be, they are still essential for changing wheels and general maintenance of the car or another automotive vehicle such as an ATV or a motorcycle. Depending on the purpose of the jack, it can hold from 1000 pounds to several thousands of pounds. The lightweight jacks are generally used for lifting small motorcycles, while much heavier models are designed to hold a large and weighty SUV or RV.
In case you are looking for more gear that will come in handy on the road, we encourage you to browse our reviews of motorcycle luggage and air compressors for all types of vehicles.