Poker night will be more fun and realistic if you play at an actual, dedicated poker table. It's a great way to add a professional
touch to your next tournament! Our fresh survey offers options for any budget and occasion, find your best poker table in it.
...
Read more
...Read less
Brybelly GTAB-002
Texas Hold 'Em at Home!
If you are looking for a reliable full-sized table to host poker or other similar card games frequently, the Brybelly Red Felt Poker Chip Table is the best pick! This high-end table is excellent for a dedicated cardroom to create a casino-like gaming environment. Being oval-shaped, it can comfortably accommodate 9 or 10 players for a professional tournament or a full ring hold'em game. Bright red felt, black vinyl rail, and dark wooden racetrack make the table look like a thousand bucks! 
Complete with dents for stainless steel cup holders (included in the set), the table can hold beer bottles or standard cans. Thanks to this feature, you are less likely to stain the table with spilled drinks. Note that if you want to serve cocktails during the game, pick up thin glasses, since regular ones won't fit in the holders. So... margarita, anyone? 
The Brybelly Red Felt Poker Chip Table uses an extra-thick 2 cm board and sturdy folding legs reinforced with special stops, thus, it won't wobble or wiggle during your home tournaments!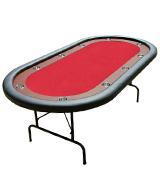 Brybelly GTAB-002
Texas Holdem PST-fgreen
Casino at Your Home
The Texas Hold-em is a compact and portable model that boasts the quality of a real casino poker table! The diamond suited surface is smooth enough for the cards to slide yet the chips won't scatter around. The green cloth has an extra benefit, it's fully spill-proof, so you have one less thing to worry about. Moreover, the manufacturer has done its best to prevent spillage and fitted the table with 2.5" deep cup holders (just like in real casinos!). This way, you can always have chilling beverages at your fingertips. So that players feel comfortable and poker elements don't fall onto the floor, the table is equipped with padded rails wrapped in premium vinyl. It's just about perfect for the game, let alone attractive as hell.
This is an octagon-shaped model, and the distance between its flat sides is 48" x 48", and the corner-to-corner distance makes 50"; take these dimensions into account when furnishing your room. While this is not a standard tournament-size poker table, it is perfectly suited for bringing the Las Vegas vibe to your home.
In case you also like smoking cigars during your poker evenings, a good humidor will be an excellent addition to your gaming room.
Texas Holdem PST-fgreen
Giantex Foldable
Affordable Table for Occasional Use
Want to make your Friday nights fun? Buy the Giantex Foldable 8 Folding Player Poker Table and turn your room into a cozy casino. It's an ideal table if you're looking for something simple that still offers all the necessary features. It won't slim your wallet but will create a special gaming atmosphere in your room! Although the table can accommodate 8 people, customers say that it works best for up to 6 people. The table is great for both stationary installation and just occasional use—when folded in half, it is mere 36.5" x 32" x 7" in size and can be stored in a closet.
The top is made of solid wood and reinforced with stainless steel frame. The table features padded forearm rests to provide players with comfort during game hours and 8 built-in plastic cup holders to keep the refreshments in the glasses, not on the cloth. The cup holders are fairly wide and shallow, you can put bottles or cocktail glasses in them, and beer cans or whiskey glasses will also be safe there. Summing up, we can say that if you don't plan to host full ring hold'em games or professional tournaments, the Giantex Foldable 8 Player Poker Table is a solid choice.
Various snacks would be a tasty addition to your neighborhood poker games. Get an air fryer and treat your guests to delicious homemade French fries. 
---
Giantex Foldable
Fat Cat 64-2039
Full Ring, Full House…
A full ring game refers to a round of 7-10 players, and if you often play this kind of poker at home, the Fat Cat Folding Poker Game Table is the one you really need! It's collapsible and will be useful if you're not going to install it permanently. The table folds up easily and is pretty light to move in and out of a room if needed. 
Innovative table lock suspension securely fixes the top and keeps the table steady. According to the feedback from consumers, the table doesn't sag even if all 10 players lean on it. Attractive green felt surface has a very professional feel and is great not only for card games but for dice poker as well. The only small drawback is the model's rather shallow drink holders without metal sidewalls. So, keep half an eye on your glass and don't spill your drink.
Perhaps, the Fat Cat 10 player poker table will become the first table on which you will collect your first Royal Flush.

If you have a big house and can afford a game room, maybe you'd like to fit a pool table there as well. Pool and billiards are engaging games that can help you relax and have fun!

Fat Cat 64-2039
HomCom B8-0001
Portable Poker
Do you need a poker table that you could bring to a picnic or to someone else's house from time to time? If yes, you will be interested in this HOMCOM Deluxe Foldable Poker Game Table Top! As the name suggests, it's a portable table top that can transform any flat surface into a poker table for a company of up to 8 people! It comes with a handy black nylon bag for hassle-free and secure transportation. So, if portability is your main concern, here's your perfect option.
In addition to plastic cup holders, this table is equipped with molded chip trays, therefore, even during heavy yacht pitching, the chips won't slide around the tabletop. Also, this BBO poker table will be super convenient for rooms with limited space. Just cover your dining table with Deluxe Foldable Poker / Blackjack Card Game Table Top and get ready to bluff. 
Darts is another exciting gambling game that you can buy to have some fun time and maybe stretch a little in between poker rounds.
HomCom B8-0001
What is a Poker Table
Poker is a popular gambling card game that isn't limited to just casinos and special poker rooms nowadays. And if you often arrange poker nights at home, you should think about purchasing special poker accessories. Today, you can add a professional touch to your gaming experience by setting a casino-grade table in your room. Regardless of whether you have a dedicated poker room or you use your living room for poker tournaments, you can find a poker table that suits you best in our brief review!
No poker game can do without a set of quality poker chips. And, of course, in every game room, there should be a roomy
beverage refrigerator
, supplying you with refreshing drinks throughout the night.