Planning a picnic with your friends and family? If so, a picnic basket may become really handy. It will keep your foodstuff and drinks
safe and fresh while reducing the chances of spilling. To make your choice less daunting, we have narrowed down the five best picnic baskets for this review.
...
Read more
...Read less
X
This site is a free online resource that strives to offer helpful content and comparison features to its visitors. Please be advised that the operator of this site accepts advertising compensation from certain companies that appear on the site, and such compensation impacts the location and order in which the companies (and/or their products) are presented, and in some cases may also impact the scoring that is assigned to them. The scoring that appears on this site is determined by the site operator in its sole discretion, and should NOT be relied upon for accuracy purposes. In fact, Company/product listings on this page DO NOT imply endorsement by the site operator. Except as expressly set forth in our Terms of Use, all representations and warranties regarding the information presented on this page are disclaimed. The information which appears on this site is subject to change at any time. More info
Picnic at Ascot Original Dorset English-Style
Picnic Basket with Blanket
If you and your family members love spending time outside and you frequently go hiking or have picnics, you may get a lot of use out of the Picnic at Ascot Willow Picnic Basket. It will keep your food, drinks, and utensils clean and safe.
The best thing about this product is that aside from the basket, you also get a full set of useful items that will make your picnic more comfortable and enjoyable. Firstly, you will get a fleece blanket with generous dimensions of 60 x 50 inches. Thanks to that, you will be able to sit on pretty much any surface with comfort. Secondly, you get a set of kitchenware for 4 people including plates, glasses, and flatware. Plus, you get some other handy utensils like a cutting board, a corkscrew, a cheese knife, and more. So, by purchasing this set, you will be able to save time and money on selecting and buying all those extras additionally.
As for the basket, it has a classic English design. The model is rather big (27.5" x 15.5" x 9.25") and because of that, it has a pretty decent weight of 13.4 lbs. Yet, thanks to the side handle, you will be able to easily carry the basket even if it's full to the brim.
In a word, if you want to enjoy your picnics to the fullest and make the preparation for them less of a pain in the neck, this set from Picnic at Ascot may be a very solid choice.
Last updated price

$

199.00

Stock
In stock
ASIN

B004ESGK08
---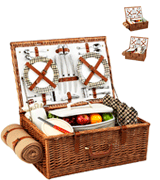 Picnic at Ascot Original Dorset English-Style
Picnic Time Piccadilly
High-Quality Flatware Included
Do you want to bring a little bit more romance to your life? If so, consider getting the Picnic Time Piccadilly Basket for Two People. This is a perfect set for a romantic evening that will help you create unforgettable memories with your other half.
By purchasing this, you get a willow picnic basket with a basic design and two top lids. Its size makes 16.5" x 11" x 9.3" and the weight is approximately 6 lbs. Such a design allows you to easily reach inside the basket and quickly get the needed item out of it. Just make sure you don't walk too fast with this basket since the lids may flap a bit.
Next, the kit includes melamine plates for 2 people with matching red and white checkered napkins. If you want to make a date even more intimate, you can bring with you a bottle of wine and some sweets. Luckily, a corkscrew and acrylic wine glasses also come included in the box.
And lastly, you get a set of high-quality flatware. Thanks to the wooden handles, it looks stylish and is convenient to hold. We also really like that the flatware comes in a roll-up pouch that reduces the chances of cutting or soiling the forks and knives during transportation.
All in all, the Picnic Time Piccadilly Basket is the best picnic basket for romantic picnics. With such a basket, throwing a surprising date for your loved one will be a breeze.

Additional Info
Last updated price

$

85.95

Stock
In stock
ASIN

B0034A4NYW
---
Picnic Time Piccadilly
ALLCAMP OUTDOOR GEAR Large Size
Doubles as a Cooler
Those who seek an affordable yet still capacious and functional carrier for outdoor gatherings may be interested in the large picnic basket from ALLCAMP OUTDOOR GEAR. This model has a stylish modern design and is very convenient in use.
What differs this model from its traditional counterparts is the fact that it is not made of willow or some other wicker. Instead, the manufacturer has used an aluminum frame with aluminum foil and covered all that with canvas. Thanks to this construction, the basket holds its original shape very well and has a leak-proof exterior. This model is also very robust and won't tear or generally show any signs of deformation even if you carry harsh containers with sharp corners in it.
Owing to the good insulation, this picnic basket also doubles as a cooler. It can keep your drinks cold for hours, which makes this bag suitable not only for picnics but also for hot beach parties. The capacity of the bag makes 5.8 gallons, which is enough to fit around 30 12-oz bottles.
As a nice touch, this model comes with an external zipper pocket that can be used for storing small personal belongings like keys, money, corkscrews, and many other items. As you can see, the ALLCAMP OUTDOOR GEAR offers a convenient, versatile basket that can come in handy on many occasions. It is quite capacious yet can be folded flat for ergonomic storage.
Last updated price

$

23.99

Stock
In stock
ASIN

B01LE7BBL4
---
ALLCAMP OUTDOOR GEAR Large Size
CALIFORNIA PICNIC Double Folding Handles
Small Yet Capacious
Are you looking for a traditional picnic basket that is convenient to carry and doesn't cost a fortune? If so, check out the model from CALIFORNIA PICNIC. It has a basic design with no lids and is fitted with two big folding handles, which ensures quick access to the food at any time. The handles are fairly wide and comfortable to grip, so carrying the basket full of foodstuff will be easy.
As for the materials, this model is made of natural woven woodchip. The material is waterproof, organic, and contains no harmful chemicals, so it is completely safe for storing foodstuff in it. On top of that, the inner side of this basket is covered with the checkered liner.
Moving on to the dimensions, we would like to point out that this picnic basket is not the biggest product you can find on the market - it is only 12.8" x 7.8" x 6.5". However, it can fit a surprising amount of food, a few plates, and even a bottle of wine, which should be enough for a small picnic (two or three people).
If the area you live in has cold autumn and winter and it's impossible to throw picnics during this time, there is no need to leave this basket empty for nothing. It can double as a nice organizer that would be very handy for storing your kid's toys, bath products, and other small things.
Summing up, if you want to throw a picnic for a few people, the CALIFORNIA PICNIC basket should fir you to a T. It is very portable yet capacious enough to hold essential things for a couple of people. With that, it can do double duty by neatly keeping small stuff when not in use.
Last updated price

$

17.97

Stock
In stock
ASIN

B07BT4XC54
---
CALIFORNIA PICNIC Double Folding Handles
LANOUOGGK Waterproof
Durable Basket
If you want to enjoy picnics and other outdoor gatherings at any location including a whimsical seaside, you may need a waterproof picnic basket, and this product from LANOUOGGK may hit the spot. It boasts amazing build quality and a good level of waterproofness.
For the production of this model, the manufacturer has used an aluminum frame and durable Oxford fabric that can withstand years of active use without tearing. The handles of the bag are very robust as well. Even if your bag is full of heavy stuff, you can be sure it won't break.
Moving on, this basket is fitted with an aluminum foil film along the whole body. This addition allows for keeping your foodstuff fresh for longer. Also, the bag has a well-sealed lid that closes with a secure zipper to protect your food items from sand and dust in case the weather gets windy. As far as dimensions go, measuring 17.9" x 10.2" x 11.2", the basket is pretty generous but when empty, it easily folds flat.
To wrap the whole thing up, the LANOUOGGK Waterproof Picnic Basket can become your reliable companion when you go on a picnic, BBQ party, fishing, beach party, or any other outdoor gathering. It will keep your food and drinks fresh for hours even in the hottest weather. And in case of rain or storm, it will keep the contents safe and dry owing to its waterproof properties.
Last updated price

$

20.99

Stock
In stock
ASIN

B07SFT83KT
---
LANOUOGGK Waterproof
What Is a Picnic Basket?
When planning a day outside, it's important to make sure you bring enough food and water with you to have a good time and not end all the fun earlier due to thirst or hunger. For this purpose, you may need a capacious food carrier, and that's where a picnic basket may come in handy.
A picnic basket is a pretty self-explanatory thing - it is a basket that can be used for carrying food, drinks, and utensils for a picnic. Originally, it was made of different wooden materials including wooden rods and wicker. However, today, many modern manufacturers tend to make them from thick fabrics.
Traditional baskets can have one or two compartments, but some of the latest models can also have a separate pocket for wine bottles and compartments for cutlery and other small utensils you may need during your outings.
To help you with your choice, we have selected 5 different products that include full-on sets and single picnic baskets that come at a bit more affordable prices. If you decide to go with a basket only, one of these picnic blankets may also interest you. Also, we recommend checking out our list of insulated casserole carriers that suit big dishes perfectly.