If you like coffee and want to enjoy the great taste of your favorite drink, you need to use a milk frother. With the help of this
small appliance, you will be able to make a delicious cup of foamy and fragrant cappuccino or latte. We have compared 5 best milk frothers to help you make the right pick.
...
Read more
...Read less
Nespresso 4192-US Aeroccino4
All-in-one Functionality
Nespresso is definitely an expert in coffee making. Always taking top positions in ratings and comparison reviews, Nespresso machines stand out for a simple design and thought-out multifold functionality. In other words, with minimum effort and no special tweaks engaged, you can make a whole variety of coffee drinks to any taste and preference. The Nespresso Aeroccino 4 milk frother is not an exception. Designed with exceptional ease of use in mind, it offers touch-of-a-button operation and great versatility.
Consisting of a frothing jug and a power base, the Aeroccino 4 is a fully automated little machine. Yet, you'll be surprised that without any additional accessories, the unit can make 4 varieties of milk, including two types of foam, cold whisked milk and hot milk. And there is no guesswork required, you just need to choose between four intuitive control buttons, each going for a separate program. Thus, going from the left to the right, the first blue-lit button is for cold whisked milk with fine foam, ideal for milkshakes and iced coffee. Next to it is a setting for the hot milk. Slightly frothed, hot milk is ideal for French-style cafe au lait. The other two buttons are for soft and thick foam accordingly to create a range of coffee drinks from habitual cappuccino to caffe mocha and latte macchiato. Whatever program you select, it will be accomplished in about 30-40 seconds.
In terms of capacity, the Aeroccino 4 is a pretty small model. However, the jug volume still allows whisking enough froth and milk for a couple of larger servings and several small cups. Thus, you can froth up to 4 oz of milk and cold whisk or heat up to 8.2 oz. What's more, inside the jug, there are special measuring marks that will help you pour the right amount of milk for the task at hand.
Branded Quality
Along with the all-in-one functionality, the Nespresso Aeroccino 4 is distinguished by its quality design. The jug is made of stainless steel, hence, it is damage-poof. From the inside, the jug is coated with ceramics. Not only is it safe to contact with the food and highly durable but also it prevents sticking and eases the cleaning. A hefty plastic handle firmly riveted to the jug is ergonomically shaped to ensure a comfortable and secure grip and safe handling of the hot vessel. Meanwhile, a transparent lid will prevent any spills and mess while frothing and let you conveniently view the whole process of turning milk into fluffy gentle foam. Other good news is that the jug is dishwasher safe. So, after use, you can either rinse it with hot water and let the dishwashing machine do the cleaning job for you. Just mind to take out the frothing spindle.
All things considered, if you look for a simple, practical, and functional milk frother for regular daily use, the Nespresso Aeroccino 4 will get you covered. Relatively compact, stylish, and easy-to-use, it will make a nice addition to any kitchen.
Additional Info
---
Nespresso 4192-US Aeroccino4
Breville BMF600XL
Froth in Larger Portions
Do larger families need more high-capacity kitchen appliances? More often than not, they really do. Even when it comes to milk frothers, having a bigger device will be more beneficial since it will help save a lot of time and allow everyone to enjoy their cup of Joe without waiting long in the morning. Sounds exactly like the type of milk frother you're looking for? Then consider the Breville BMF600XL.

It's an automatic milk frother that boasts quite a large capacity. Just to give you some numbers, you can make up to 16 oz. of milk froth (varying in density) at a time or warm up to 25 oz. of milk. That means, you'll be able to get up to 3 cups of smooth and fluffy frothed milk for your favorite foamy lattes and creamy cappuccinos or about 5 cups of hot milk to make cocoa or hot chocolate for your children or drink English-style tea, more than enough to cater to the needs of an average family and just the optimal size for small cafés, snack bars, and coffee shops.

As far as the frothing speed goes, it isn't as impressive as the capacity of the unit, with the time varying from 60 seconds up to 7 minutes. However, given the amount of foam it can froth and the volume of milk it can warm up, it's not a drawback at all. Besides, the appliance uses induction heating technology, which allows it to ensure even and uniform heat without scorching and help you achieve maximum smooth results.

The Breville BMF600XL is very simple in use and is distinguished with its excellent assembly quality. The jug is made of stainless steel, so it's impact- and damage-proof and dishwasher-safe. Hence, you can be sure that the unit will flawlessly serve you for years without breaking down any time soon.

... and Enjoy a Variety of Milk-based Drinks
The Breville BMF600XL comes with two frothing discs, each of them meant for its own purpose. As the name suggests, the latte frothing disc makes soft and silky foam for a creamy latte while a cappuccino frothing disc makes much denser foam to top up your cup of cappuccino. In addition, you can stir cold milk and warm up milk (with heating temperatures varying up to 170°F). And storing the frothing discs is fairly easy. Thanks to onboard storage, you'll always have them at hand.
However, this kitchen appliance not only makes foam and heats milk but also gives you an opportunity to diversify your milk-based drinks. The measuring cup (which is an integral part of the lid) enables you to add some ingredients right during the mixing process. Just remove the cup and add an ingredient through the hole. You can blend in drinking chocolate, some honey, cocoa powder, maple syrup, cinnamon, vanilla, sugar, etc.
To cut a long story short, the BMF600XL is a great appliance suitable not only for home but also for commercial use. It will cater to the needs of occasional coffee drinkers and true connoisseurs and provide a lot of room for experiment.

---
VIDEO
Breville -- Tips & Tricks: The Milk Café BMF600XL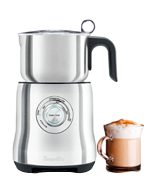 Breville BMF600XL
Secura MMF-015
Affordable and Fast
Milk frothers are generally not on the higher side in terms of cost. And yet, if you take models from premium brands which come loaded with various features, their prices can go far above $100. If you don't want to pay that much but still look for a good quality frother, we strongly recommend turning your eyes to the Secure MMF-015. This company remains the leader in the economic segment of kitchen appliances and is famous for producing high-quality appliances with decent functionality and affordable price tags. The Secure MMF-015 is just like that.

Despite a lower price tag, this frother is automatic and can be used for making froth as well as warming milk. You just need to push one button on the side of the device. Speaking of capacity, you get 8.5 oz for heating milk and 4.25 oz. for frothing accordingly. This isn't much, but it will be enough for home use, whether you live alone, with a spouse or with a few teen children. Moreover, a 17-oz milk frother is available, too, so if needed, you can choose a bigger option.

With the Secura MMF-015, frothing hot and cold milk will be easy and won't take more than a few seconds. Generally, it takes around 60 seconds to prepare foam and even less time to make cold froth for refreshing iced cappuccino or latte. Notably, the package of the Secura MMF-015 includes everything needed to start using the device without buying anything else separately, which is nice considering its affordable price tag.

Handy and Easy-to-use
Packed in a stylish carafe-like design and featuring a catchy stainless steel exterior, the Secura MMF-015 will look great on your kitchen countertop and add a touch of modern style to your kitchen interior. As classy and functional as it is, the unit is also very practical and a breeze to use.
The carafe is made of Teflon-coated stainless steel, so, the milk won't burn and stick to the walls of the carafe. For your convenience, the carafe has minimum and maximum level indicators so that you know how much milk to pour to avoid any appliance misfunction and achieve the desired frothing results. There is only one control button below two light indicators for you to effortlessly select between heating mode and cold frothing.
The Secura frother jug is not dishwasher safe and only manual wash is allowed. Yet, a handy cleaning brush that comes in the set greatly simplifies its maintenance and makes sure cleaning it of dry milk residue is no hassle at all.

In conclusion, the Secura MMf-015 milk frother will deliver the most of what you expect from this type of appliances without hitting your budget.
Additional Info
---
Secura MMF-015
Capresso 202
Good Value for the Buck
Want to be able to make coffee shop quality coffee drinks at home and have even equipped your kitchen with an espresso machine or some other type of coffee maker already? The milk steamer is the only thing missing to enjoy those flavorful and delicious creamy beverages? If so, the Capresso milk frother will come in handy to complete your barista-worthy arsenal.
The Capresso 202 is a large automatic milk frother and steamer, capable of whisking pretty large amounts of foam. In fact, the Capresso 202 outperforms many of its competitors when it comes to capacity, letting you make up to 12 oz. of hot milk or 8 oz of milk froth per one go. Converting into cups, in a single pass you'll get enough foam to top up two big cappuccinos and sufficient milk to blend three luscious lattes. This might be overkill for those needing a milk frother for occasional home use, but if you plan on using it in cafés or restaurants or you have a family of coffee aficionados, it is definitely a good option to consider.

Speaking of performance, the Capresso 202 milk frother works a bit slower than other models on the list needing around 90 seconds to make hot milk foam. But this is understandable given that this frother is also bigger than most of them.

Finally, the Capresso 202 comes with two frothing whisks and one heating disk so that you'll be able to vary the froth density and prepare a greater variety of drinks as well as rich creamy cocktails and refreshing desserts.

Well-thought Design
Due to a heftier base that the frother rests on, this model might seem a bit bulky. But it isn't so. It's big but not huge so it will not eat up a lot of your countertop space. At the same time, thanks to its bigger base, it is convenient to keep all included attachments on the appliance and make sure they can't somehow get lost.

It's also worth noting that the frother looks modern and stylish. Sleek, black and silver, and streamlined, it will add a contemporary touch to any kitchen interior. Moreover, it's stoutly built and will stand stable on any surface.

As far as the pitcher goes, it's made of lightweight aluminum and is dishwasher safe, meaning cleaning it won't be an issue. And if you've never used a milk frother before, you'll be happy to know that all buttons here are clearly marked ensuring intuitive handling.

All in all, if you seek a reasonably priced milk frother with decent functionality to make barista-style coffee drinks in the comfort of your own home, you'll be hard-pressed to find a better model than the Capresso 202.

Additional Info
---
VIDEO
Review: Capresso frothPRO Automatic Milk Frother
Capresso 202
Miroco MI-MF001B
A Match For Those Smaller Fixes
Milk offers a whole different way of drinking coffee. It softens the bitterness and adds creamy mildness, at the same time, making the coffee taste and flavor even more distinct. However, simply pouring cold milk right into the cup won't compare to blending your steaming coffee with delicate bubble-infused frothed milk that will reveal the coffee goodness to the full. Are you an espresso aficionado craving for a milky taste from time to time? If so, the Miroco MI-MF001B milk frother is for you.
This model is on a smaller side in terms of capacity and you'll be able to froth less than 4oz of milk at a time. However, what could be considered a disadvantage by some users, in fact, is a benefit for the others. This portion is just perfect to make a cup of frothy cappuccino and will meet the needs of occasional milk-based coffee drinkers. This way, you won't waste milk if you don't need more than a single cup of Joe. At the same time, you can still heat an 8oz cup of milk to blend two lattes with a rich creamy flavor.
Just like other milk frothers of this type, the Miroco MI-MF001B can froth cold and hot milk and simply warm up the milk using a frothing whisk and a heating disc that come included in the package. And given the appliance capacity, you'll get thick, fluffy, and silky foam or nicely warm milk in less than a minute, which is much faster than others. Whether you brew your cup of Joe in a coffee machine, coffee pot, or French press, with the Miroco milk frother, you'll have a chance to create a whole variety of amazingly delicious coffee drinks right in the comfort of your home. Frothed milk will add unique taste even to an instant cup.
Safe, Convenient, and Practical
With all the versatility it offers, the Miroco MI-MF001B is a fairly simple appliance. A single control button paired with comprehensible light indicators will help you effortlessly and correctly choose the operation mode. Meanwhile, level indicators will give a hint on the right milk amount for first-time users. Once frothing or heating is over, the appliance will turn off automatically, and the Strix Temperature Controls further enhance the frother safety and prevent overheat, thus, prolonging the unit service life.
A stainless steel frother is durable and will easily withstand long-lasting use while the black matte finish gives it a stylish contemporary look. Non-stick interior ensures practical use with no burns or scorches and hygienic maintenance.
Summing up, the Miroco MI-MF001B milk frother is a handy, practical, and smart little gadget perfect for smaller coffee fixes and ideal for couples or singles.
Additional Info
---
Miroco MI-MF001B
What Is a Milk Frother?
In this review, we are going to compare the most popular milk frother machines that are used in cafes and restaurants as well as at home for making coffee with a foamy topping and mixing a variety of white coffee beverages. Of course, milk frothers are used predominantly for the 'foamy' types of coffee such as cappuccino, latte, latte macchiato, and so on. A milk frother allows you to get a delicious and fresh milk foam. There are automatic electric milk frothers that look like carafes and are able to not only froth milk but also to heat it up. And there are appliances for one-hand operation: you need to immerse them into a cup of hot or cold milk just like a blender. Of course, these appliances are much cheaper but they can't warm milk.
While looking for a milk frother, you may just as well want to check out our selection of coffee machines. Or, if you love tea, take a look at this review of most popular French presses.

What Features to Compare
If you are a true coffee lover, you might have read a lot of milk frother reviews but failed to find the best one, otherwise you would not be reading our comparison. We have chosen the most popular milk frothers and compared them by the features that are the most important for buyers.
Type and Capacity

The first thing to consider is the type and capacity of a milk frother. As we have already mentioned, there are 2 types of milk frothers available: automatic milk steamers that look like metal carafes and manual frother wands (also called handheld milk frothers). Of course, the latter are more affordable, but they can't heat the milk up, which is the drawback to these models. Also, if you choose a frother wand you will be able to froth milk right in a glass coffee jar and then add coffee, whereas if you froth milk in a carafe you will need to add it manually, using a spoon, for example. If you pick an automatic milk frother and steamer - make sure to check what capacity it offers. If you need to prepare quite a lot of foam (if you are running a cafe or restaurant, for example), make sure to choose a milk steamer and frother with the capacity of at least 8.5 oz. (240 ml). If you want to use it at home, a smaller carafe will be enough. Keep in mind that you can heat the whole carafe of milk but if you want to just froth it - the necessary volume of milk you must fill in will be half the size.
Frothing Speed

The next thing to consider is the frothing speed. Here you should clearly realize how fast a milk frother works because sometimes you will not be happy to wait for several minutes until foam is ready or milk becomes hot. If you want to drink a foamy coffee as quickly as possible, buy a frother that can cope with the task within 20-30 seconds. Unfortunately, not many frothers can offer such performance and there are many automatic models that take almost 90 seconds to prepare foam. Also, consider how long it takes for a carafe to heat up the milk. Next, keep in mind that milk frothers are usually equipped with a couple of whisks: one for making foam and another one for stirring the drink while the device heats it. That said, you can find milk frothers featuring not one but two frothing whisks. The advantage of these models is that they allow you to achieve different foam density.

Extras

Finally, consider extras and usability features included with the chosen frother. First things first, pay attention to the material it is made from. Most milk frothers are made of stainless steel, but you can find models that have aluminum carafes making them more lightweight. Also, consider if a carafe is dishwasher-safe. That would make the maintenance of the unit easier a ton. That said, cleaning it under running water using a simple brush is a quick job too. Also, check out controls - they should be easy to comprehend and have some marks making it easier to figure out which button to push.