If you like coffee and want to enjoy the great taste of your favorite drink, you need to use a milk frother. With the help of this
small appliance, you will be able to make a delicious cup of foamy and fragrant cappuccino or latte. We have compared 5 best milk frothers to help you make the right pick.
...
Read more
...Read less
X
This site is a free online resource that strives to offer helpful content and comparison features to its visitors. Please be advised that the operator of this site accepts advertising compensation from certain companies that appear on the site, and such compensation impacts the location and order in which the companies (and/or their products) are presented, and in some cases may also impact the scoring that is assigned to them. The scoring that appears on this site is determined by the site operator in its sole discretion, and should NOT be relied upon for accuracy purposes. In fact, Company/product listings on this page DO NOT imply endorsement by the site operator. Except as expressly set forth in our Terms of Use, all representations and warranties regarding the information presented on this page are disclaimed. The information which appears on this site is subject to change at any time. More info
Breville BMF600XL
Froth in Larger Portions
Do larger families need more high-capacity kitchen appliances? More often than not, they really do. Even when it comes to milk frothers, having a bigger device will be more beneficial since it will help save a lot of time and allow everyone to enjoy their cup of Joe without waiting long in the morning. Sounds exactly like the type of milk frother you're looking for? Then consider the Breville BMF600XL.

It's an automatic milk frother that boasts quite a large capacity. Just to give you some numbers, you can make up to 16 oz. of milk froth (varying in density) at a time or warm up to 25 oz. of milk. That means, you'll be able to get up to 3 cups of smooth and fluffy frothed milk for your favorite foamy lattes and creamy cappuccinos or about 5 cups of hot milk to make cocoa or hot chocolate for your children or drink English-style tea, more than enough to cater to the needs of an average family and just the optimal size for small cafés, snack bars, and coffee shops.

As far as the frothing speed goes, it isn't as impressive as the capacity of the unit, with the time varying from 60 seconds up to 7 minutes. However, given the amount of foam it can froth and the volume of milk it can warm up, it's not a drawback at all. Besides, the appliance uses induction heating technology, which allows it to ensure even and uniform heat without scorching and help you achieve maximum smooth results.

The Breville BMF600XL is very simple in use and is distinguished with its excellent assembly quality. The jug is made of stainless steel, so it's impact- and damage-proof and dishwasher-safe. Hence, you can be sure that the unit will flawlessly serve you for years without breaking down any time soon.

... and Enjoy a Variety of Milk-based Drinks
The Breville BMF600XL comes with two frothing discs, each of them meant for its own purpose. As the name suggests, the latte frothing disc makes soft and silky foam for a creamy latte while a cappuccino frothing disc makes much denser foam to top up your cup of cappuccino. In addition, you can stir cold milk and warm up milk (with heating temperatures varying up to 170°F). And storing the frothing discs is fairly easy. Thanks to onboard storage, you'll always have them at hand.
However, this kitchen appliance not only makes foam and heats milk but also gives you an opportunity to diversify your milk-based drinks. The measuring cup (which is an integral part of the lid) enables you to add some ingredients right during the mixing process. Just remove the cup and add an ingredient through the hole. You can blend in drinking chocolate, some honey, cocoa powder, maple syrup, cinnamon, vanilla, sugar, etc.
To cut a long story short, the BMF600XL is a great appliance suitable not only for home but also for commercial use. It will cater to the needs of occasional coffee drinkers and true connoisseurs and provide a lot of room for experiment.

Last updated price

$

127.35

Stock
In stock
ASIN

B004RCNJ9Q
---
VIDEO
Breville -- Tips & Tricks: The Milk Café BMF600XL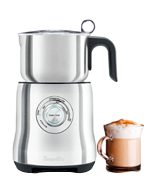 Breville BMF600XL
Miroco MI-MF005
Simple Yet Versatile Frothing Pal
Are you are a coffee lover and white coffee drinks are among your faves? Seek to make a variety of hot and cold creamy coffee beverages at the push of a single button? If so, the MI-MF005 milk frother from Miroco may catch your fancy.
Although this model comes with a single frothing whisk, thanks to a unique spinning technology, it is just as good for making a whole variety of drinks as models packed with several whisks. All you need to do is choose between hot and cold milk foam or hot milk. After that, the whisk attachment will come into action and infuse the milk with multiple air bubbles, whipping it into a soft, airy, and stable foam to top up your coffee. Actually, there's no drink the MI-MF005 can't do. From traditional cappuccino and latte to creamy macchiato and flat whites, this frother will let you have any of those delicious cafe-style coffee drinks at home. More than that, it works great for all sorts of milk and cream, including full-fat and skimmed milk, almond, soy, coconut, oat, and rice milk. So, whatever your taste, the Miroco MI-MF005 will deliver to it.
When it comes to capacity, the frother is no slouch as well. It is capable of frothing up to 8.5 oz of milk and heating up to 16.9 oz accordingly, which is enough to meet the needs of a family of coffee aficionados. Furthermore, it will take it no more than 1- 2 minutes to steam or froth your milk to perfection, depending on the volume. Besides, the device is whisper-quiet, so if you suddenly crave for a cup of Joe in the dead of night, you can rest assured the unit's operation will not disturb anyone else who is asleep.
Hot Chocolate Wizard
Apart from the heating and frothing modes common for pretty much any automatic milk frother, the Miroco MI-MF005 boasts a separate hot chocolate mode, which will be much loved by all chocoholics and kids. When you want to cheer up or seek to warm up on a chilly day, nothing can compare to a cup of steaming cocoa with little marshmallows floating atop. And with this Miroco frother, it's a doddle. Pour milk and cocoa powder straight into the jug, choose the hot chocolate mode and you're good to go. Within a few minutes, the unit will heat and stir the mix to a creamy homogeneous drink, with no lumps in it. Along with milk and cocoa, you are also free to add some honey or any syrup of your choice - the frother will homogenize the blend without a hassle. Besides, the frother is suitable for stirring buttery bulletproof coffee and other drinks with spices.
Whatever the operating mode, the device will stand stable on the base, without moving or sliding even when the jug is full. After use, the detachable jug can be cleaned under the running water or washed in a dishwasher if some deeper clean is needed. Made of stainless steel, both the jug and the whisk are durable, hygienic, and absolutely safe for foods.
To wrap it up, the Miroco MI-MF005 is a simple yet extremely functional automatic frothing unit that is very easy to use and clean and can meet all your coffee-related cravings.
Last updated price

$

69.99

Stock
In stock
ASIN

B089NL3JBV
---
Miroco MI-MF005
HadinEEon N11-BK
A Thought-Out and Mighty Frother
If you are serious about coffee and can't imagine your cup of Joe without milk and steady froth on the top, a milk frother like this one from HadinEEon is a must for you. A fully automated model, it will save you trial and error when frothing and produce ideal froth like the one baristas whip in coffee shops.
For starters, the unit is suitable both for frothing and for simply warming up milk, similar to any frother of this type. It means you can froth hot or cold foam for traditional white coffees and iced coffee drinks or simply heat up some milk for breakfast or before going to bed. And two LED indicators will make it easy choosing between cold frothing and hot options. Whipping up to 4.4 oz and heating up to 10.1 oz of milk, the model is on the mid-range side in terms of capacity. Yet, it will still meet the needs of an average family or a couple of coffee fans.
When it comes to performance, the HadinEEon frother stands strong and gets the job done brilliantly. Thus, with an integrated sensitive temperature control sensor, the unit steams the milk up to the perfect frothing temperature of 140-145°F and automatically shuts off to prevent scorches or over-frothing. In the meantime, two separate whisks specifically designed for frothing and heating accordingly will make sure you'll get consistently good results. Thanks to a magnetic whisk design, the froth will come out thick, soft, and with a velvety texture while the milk will be heated quickly and evenly.
... and a Stylish Gent
If you are going to use your milk frother on a daily basis and want to keep it on the countertop, the overall design and appearance are important aspects to consider as well. And the HadinEEon frother really excels in this concern. A glossy black jug with a stainless steel handle and lining looks very modern and lends a classy feel to it. It will blend with any kitchen interior, adding a high-tech touch to more traditional styles and perfectly matching contemporary designs.
Looks aside, the unit is solidly built and thought out to the last detail for easy and convenient use. Thus, Min and Max marks inside the jug will help you pour just the right amount of milk for the desired coffee servings while the high-quality food-safe non-stick coating will eliminate the risk of scratches and milk burns even if you add some honey, sugar, sweet syrup, or cocoa. Other than that, the tapered rim and spout will ensure spill-free milk pouring into cups.
Though the jug is not dishwasher-safe, the frother is pretty easy to clean by simply rinsing it under the running water. Meanwhile, the included brush will help you wash the frothing whisk, which can be difficult to clean sometimes.
In short, the HadinEEon electric milk frother is a reliable and high-quality unit distinguished by solid functionality and stylish design, making it a great choice for regular use in the comforts of your own kitchen.
Additional Info
Last updated price

$

0.00

Stock
May be out of stock
ASIN

B07VNSB7Z1
---
HadinEEon N11-BK
Miroco MI-MF001B
A Match For Those Smaller Fixes
Milk offers a whole different way of drinking coffee. It softens the bitterness and adds creamy mildness, at the same time, making the coffee taste and flavor even more distinct. However, simply pouring cold milk right into the cup won't compare to blending your steaming coffee with delicate bubble-infused frothed milk that will reveal the coffee goodness to the full. Are you an espresso aficionado craving for a milky taste from time to time? If so, the Miroco MI-MF001B milk frother is for you.
This model is on a smaller side in terms of capacity and you'll be able to froth less than 4oz of milk at a time. However, what could be considered a disadvantage by some users, in fact, is a benefit for the others. This portion is just perfect to make a cup of frothy cappuccino and will meet the needs of occasional milk-based coffee drinkers. This way, you won't waste milk if you don't need more than a single cup of Joe. At the same time, you can still heat an 8oz cup of milk to blend two lattes with a rich creamy flavor.
Just like other milk frothers of this type, the Miroco MI-MF001B can froth cold and hot milk and simply warm up the milk using a frothing whisk and a heating disc that come included in the package. And given the appliance capacity, you'll get thick, fluffy, and silky foam or nicely warm milk in less than a minute, which is much faster than others. Whether you brew your cup of Joe in a coffee machine, coffee pot, or French press, with the Miroco milk frother, you'll have a chance to create a whole variety of amazingly delicious coffee drinks right in the comfort of your home. Frothed milk will add unique taste even to an instant cup.
Safe, Convenient, and Practical
With all the versatility it offers, the Miroco MI-MF001B is a fairly simple appliance. A single control button paired with comprehensible light indicators will help you effortlessly and correctly choose the operation mode. Meanwhile, level indicators will give a hint on the right milk amount for first-time users. Once frothing or heating is over, the appliance will turn off automatically, and the Strix Temperature Controls further enhance the frother safety and prevent overheat, thus, prolonging the unit service life.
A stainless steel frother is durable and will easily withstand long-lasting use while the black matte finish gives it a stylish contemporary look. Non-stick interior ensures practical use with no burns or scorches and hygienic maintenance.
Summing up, the Miroco MI-MF001B milk frother is a handy, practical, and smart little gadget perfect for smaller coffee fixes and ideal for couples or singles.
Additional Info
Last updated price

$

41.99

Stock
In stock
ASIN

B07PZZTS6W
---
Miroco MI-MF001B
Secura MMF-015
Affordable and Fast
Milk frothers are generally not on the higher side in terms of cost. And yet, if you take models from premium brands which come loaded with various features, their prices can go far above $100. If you don't want to pay that much but still look for a good quality frother, we strongly recommend turning your eyes to the Secure MMF-015. This company remains the leader in the economic segment of kitchen appliances and is famous for producing high-quality appliances with decent functionality and affordable price tags. The Secure MMF-015 is just like that.

Despite a lower price tag, this frother is automatic and can be used for making froth as well as warming milk. You just need to push one button on the side of the device. Speaking of capacity, you get 8.5 oz for heating milk and 4.25 oz. for frothing accordingly. This isn't much, but it will be enough for home use, whether you live alone, with a spouse or with a few teen children. Moreover, a 17-oz milk frother is available, too, so if needed, you can choose a bigger option.

With the Secura MMF-015, frothing hot and cold milk will be easy and won't take more than a few seconds. Generally, it takes around 60 seconds to prepare foam and even less time to make cold froth for refreshing iced cappuccino or latte. Notably, the package of the Secura MMF-015 includes everything needed to start using the device without buying anything else separately, which is nice considering its affordable price tag.

Handy and Easy-to-use
Packed in a stylish carafe-like design and featuring a catchy stainless steel exterior, the Secura MMF-015 will look great on your kitchen countertop and add a touch of modern style to your kitchen interior. As classy and functional as it is, the unit is also very practical and a breeze to use.
The carafe is made of Teflon-coated stainless steel, so, the milk won't burn and stick to the walls of the carafe. For your convenience, the carafe has minimum and maximum level indicators so that you know how much milk to pour to avoid any appliance misfunction and achieve the desired frothing results. There is only one control button below two light indicators for you to effortlessly select between heating mode and cold frothing.
The Secura frother jug is not dishwasher safe and only manual wash is allowed. Yet, a handy cleaning brush that comes in the set greatly simplifies its maintenance and makes sure cleaning it of dry milk residue is no hassle at all.

In conclusion, the Secura MMf-015 milk frother will deliver the most of what you expect from this type of appliances without hitting your budget.
Additional Info
Last updated price

$

38.98

Stock
In stock
ASIN

B00JEPP64C
---
Secura MMF-015
What Is a Milk Frother?
In this review, we are going to compare the most popular milk frother machines that are used in cafes and restaurants as well as at home for making coffee with a foamy topping and mixing a variety of white coffee beverages. Of course, milk frothers are used predominantly for the 'foamy' types of coffee such as cappuccino, latte, latte macchiato, and so on. A milk frother allows you to get a delicious and fresh milk foam. There are automatic electric milk frothers that look like carafes and are able to not only froth milk but also to heat it up. And there are appliances for one-hand operation: you need to immerse them into a cup of hot or cold milk just like a blender. Of course, these appliances are much cheaper but they can't warm milk.
While looking for a milk frother, you may just as well want to check out our selection of coffee machines. Or, if you love tea, take a look at this review of most popular French presses.

What Features to Compare
If you are a true coffee lover, you might have read a lot of milk frother reviews but failed to find the best one, otherwise you would not be reading our comparison. We have chosen the most popular milk frothers and compared them by the features that are the most important for buyers.
Type and Capacity

The first thing to consider is the type and capacity of a milk frother. As we have already mentioned, there are 2 types of milk frothers available: automatic milk steamers that look like metal carafes and manual frother wands (also called handheld milk frothers). Of course, the latter are more affordable, but they can't heat the milk up, which is the drawback to these models. Also, if you choose a frother wand you will be able to froth milk right in a glass coffee jar and then add coffee, whereas if you froth milk in a carafe you will need to add it manually, using a spoon, for example. If you pick an automatic milk frother and steamer - make sure to check what capacity it offers. If you need to prepare quite a lot of foam (if you are running a cafe or restaurant, for example), make sure to choose a milk steamer and frother with the capacity of at least 8.5 oz. (240 ml). If you want to use it at home, a smaller carafe will be enough. Keep in mind that you can heat the whole carafe of milk but if you want to just froth it - the necessary volume of milk you must fill in will be half the size.
Frothing Speed

The next thing to consider is the frothing speed. Here you should clearly realize how fast a milk frother works because sometimes you will not be happy to wait for several minutes until foam is ready or milk becomes hot. If you want to drink a foamy coffee as quickly as possible, buy a frother that can cope with the task within 20-30 seconds. Unfortunately, not many frothers can offer such performance and there are many automatic models that take almost 90 seconds to prepare foam. Also, consider how long it takes for a carafe to heat up the milk. Next, keep in mind that milk frothers are usually equipped with a couple of whisks: one for making foam and another one for stirring the drink while the device heats it. That said, you can find milk frothers featuring not one but two frothing whisks. The advantage of these models is that they allow you to achieve different foam density.

Extras

Finally, consider extras and usability features included with the chosen frother. First things first, pay attention to the material it is made from. Most milk frothers are made of stainless steel, but you can find models that have aluminum carafes making them more lightweight. Also, consider if a carafe is dishwasher-safe. That would make the maintenance of the unit easier a ton. That said, cleaning it under running water using a simple brush is a quick job too. Also, check out controls - they should be easy to comprehend and have some marks making it easier to figure out which button to push.