An inflatable lounger will allow you to make yourself comfortable in just about any setting. With one of these inflatable hammocks,
you'll be able to kick back, unwind, and relax anywhere you want.
...
Read more
...Read less
X
This site is a free online resource that strives to offer helpful content and comparison features to its visitors. Please be advised that the operator of this site accepts advertising compensation from certain companies that appear on the site, and such compensation impacts the location and order in which the companies (and/or their products) are presented, and in some cases may also impact the scoring that is assigned to them. The scoring that appears on this site is determined by the site operator in its sole discretion, and should NOT be relied upon for accuracy purposes. In fact, Company/product listings on this page DO NOT imply endorsement by the site operator. Except as expressly set forth in our Terms of Use, all representations and warranties regarding the information presented on this page are disclaimed. The information which appears on this site is subject to change at any time. More info
WEKAPO Portable
Solid on Every Front
WEKAPO Air Sofa isn't necessarily cheap but the price absolutely makes sense considering how much better the model is than its counterparts in just about every way possible. Its weight capacity caps at 500 pounds, meaning that there isn't a person that the lounger won't be able to support.
The company's very own pillow-shaped headrest design is another little detail that separates the model from its inferior competition. This way, the lounger is able to provide additional support and comfort to your upper back and neck.
The model's construction is a little different too. The Ripstop polyester outer layer is tougher than the usual nylon outer, making the product particularly resistant to cuts and overall wear and tear.
The inflatable lounger features 2 storage pockets with an elastic bottle holder. The fact that these pockets are there in the first place is great. That being said, these mesh pockets aren't quite as sturdy as the outer layer, so you'll have to be a little careful with them. You will not have to be careful, however, with the bottle holder. It is as robust as it is convenient.
All in all, WEKAPO Air Sofa is the best inflatable lounger in this lineup. Its weight capacity is higher. The overall construction, including the materials and design, is better too. What's more, despite how strong and sturdy the model is, the lounger doesn't weigh more than 2.6 pounds, making it particularly easy and practical transportation-wise.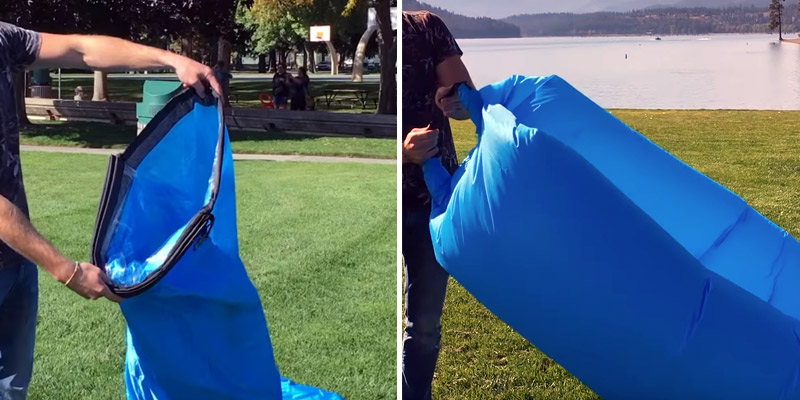 Last updated price

$

0.00

Stock
In stock
ASIN

B07BZBZBX8
---
WEKAPO Portable
Chillbo SHWAGGINS 2.0
Chillin' Like a Villain
Chillbo Shwaggins is a hilarious name, we're willing to give the people behind this product that much. We aren't the biggest fans of the whole vibe that they're trying to project here but this is a good lounger through and through, so we're not going to complain about it.
There are definitely customers out there that will be able to appreciate the pop-culture and art-world inspired colors that the model is available in. There's very little chance that some people will find the model's 2-scoop pump-free inflation necessarily inconvenient.
It's not necessarily the lounger's biggest selling point but we really like its large side pockets that you can use to hold books, glasses, snacks, and, naturally, your ice cold beer. The elastic anchor loops are a nice touch too. You can use them to stake down the inflatable lounger whenever it gets windy.
This lazy lounger measures approximately 84" x 36" x 24" in overall dimensions, more than enough space to take a solid chill pill, kick back, and relax. Its 440-pound weight capacity will be able to support your leisurely endeavors too. Just make sure to keep the time in mind because the model starts to deflate after 3-4 hours.
In short, Chillbo Shwaggins will be a perfect fit for people looking to make the most out of their outdoor adventures, anytime and anywhere. The eye-pop patterns make the model a perfect choice for music festivals. Plus, there's enough space inside for a horse.
Last updated price

$

0.00

Stock
May be out of stock
ASIN

B07CHYWWYY
---
Chillbo SHWAGGINS 2.0
ORSEN Water Proof& Anti-Air Leaking
Multitasking Air Hammock
ORSEN Inflatable Lounger is awesome on many levels. First things first, the model's price is really affordable, provided you take its characteristics into consideration. The comes fitted with the same pump-free inflating technology that allows you to blow the lounger up in 2 scoops. Its 400-pound weight capacity is definitely nothing to complain about.
We've seen the pillow-shaped headrest design before but it is particularly ergonomic here, keeping your head and neck nice and comfy.
The model's anti-deflate technology deserves some recognition too. Generally speaking, it will be able to keep the lounger properly inflated for at least 6 hours, which is impressive considering that the usual result is somewhere around 3-4 hours.
The 2 storage pockets are great, perfect for magazines, gadgets, glasses, and other accessories. The left pocket comes equipped with an elastic bottle holder. As per usual, this inflatable sofa comes supplied with a carry bag and a nice little stake. The only problem with the latter is that the plastic buckle that you use to support the stake is a little flimsy, so make sure to be careful with it.
Apart from that, ORSEN Inflatable Lounger is probably the biggest multitasker on the list. The materials are rugged and robust. There are many useful convenience features. The lounge bag's weight capacity is superb.
Last updated price

$

0.00

Stock
In stock
ASIN

B07FF67YZY
---
ORSEN Water Proof& Anti-Air Leaking
Intex 68564EP Ultra
Kick Back and Relax
Intex 68564EP isn't for everyone. The model's great but it definitely has its flaws. The biggest flaw is the price. Depending on the seller, the product goes for somewhere around 100 bucks. We aren't saying that the price isn't justified, just that most people won't be able or feel inclined to spend so much money on a luxury item like that.
The 220-pound weight capacity is alright considering that the average American weight is below 200 but that's average, meaning that there are enough people out there that the lounger won't be able to support.
On the flip side, this air lounger is ridiculously comfortable. As you can probably tell from the pictures, the model comes supplied with a separate ottoman, so you'll be able to properly kick back and relax just about anywhere you go.
The lounge chair's 2-in-1 valve with extra-wide openings will allow you to inflate and deflate the chair and ottoman in a minute. Plus, the valve is compatible with just about any modern-day pump.
Generally speaking, we do not care too much for vinyl but the flocked tops, sides, and bottom here are particularly comfortable and soft to the touch. Add to that the angled backrest and built-in cup holder and you have yourself an excellent and particularly versatile furniture piece that can very well be used for camping, tailgating, relaxing around the house, and more.
Additional Info
Last updated price

$

56.89

Stock
In stock
ASIN

B00464AJ7U
---
Intex 68564EP Ultra
Intex Floating Recliner
Beach Furniture
Intex Floating Recliner Inflatable Lounge is the most budget-friendly model on the list here. Despite the modest price, there isn't much here that separates the lounger from its more expensive counterparts.
The product doesn't come supplied with a storage bag but that's not necessarily an issue with the lounger in particular. In fact, there are these little details here that you'll be hard-pressed in a different model.
For example, the recliner comes equipped with 2 separate chambers that make sure the water doesn't get inside, meaning you can very well use the model as a swimming accessory.
There are two cup holders here, so you can bring with you double the number of refreshments. The beach lounger's 2 heavy-duty handles will let you carry it from place to place with ease and convenience.
There isn't necessarily anything particularly interesting about the lounger's vinyl construction, but we can't say that the same sentiment extends towards its overall design. The "recliner" form with an enlarged angled backrest makes the model especially comfortable.
All things considered, Intex Floating Recliner Inflatable Lounge is one of the best budget models on the market right now. Considering the price, there's very little to complain about here. It is a practical and convenient product that brings you the ultimate water relaxation.

Additional Info
Last updated price

$

31.59

Stock
In stock
ASIN

B000KHZ044
---
Intex Floating Recliner
What Is an Inflatable Lounger?
Backyard, lakeside, beach, picnics, camping, music festivals, general traveling, there are many different environments and scenarios that would be improved with an inflatable lounger. You don't want to bring with you an actual furniture piece but keeping your back, neck, legs, and buttocks nice and comfy is always a priority. With these loungers, you shouldn't have any issues with that. Take any of the models on this list and you should be able to blow it up in mere seconds.

The materials are different, so you should definitely keep them in mind when you decide on the model. That being said, every lounger here is robust and durable enough to live through your everyday wear and tear and survive an occasional cut.
A cut less occasional is something that you'll usually be able to fix using repair stickers that often come supplied with these loungers already.
As you would imagine, the size and weight capacity make a solid difference. If you're on the heavier side of the weight spectrum, make sure to stick with the lounger that will be able to support your weight.
All that being said, as comfortable as these loungers are, we wouldn't recommend spending the night outside in these things. You'll be far better off with one of these pop-up tents or family tents.