A few months back, we decided to figure out how to make play sand, as it seemed like an intriguing concept and didn't seem difficult to make. Searching through the Internet, we stumbled across some information regarding kinetic sand, as well as the recipe for it. So, we tried it on our own. Our results were just as we hoped for. Our kinetic sand came out looking a bit like brown sugar, but had the feel of real sand, and was quite useful for building sand castles. Even after storing it away for a few months, it still held the same look and feel.

So, what is kinetic sand? It's a type of semi-artificial sand that maintains a slightly sticky property, mimicking the look and feel of wet sand. It's perfect for allowing children to play with at home, and enables them to create all kinds of structures, such as sand castles and sculptures. No longer do you have to take them to the beach or constantly hose down a sandbox in your yard. Better yet, kinetic sand only sticks to itself and doesn't dry out very easily. Even if it feels a little dry after storing it for a few months, just adding a little bit of water will bring it back to its old self.

Now that you've become at least a little intrigued, you're probably wondering how to make kinetic sand. It's really not that hard to make on your own once you know how to do it. If you search online for a kinetic sand recipe, you're bound to find all kinds of different ones, many with difficult to follow instructions. However, we have the perfect recipe for kinetic sand that is quite easy to follow.

Before we delve into the recipe, let's talk about the look and feel of kinetic sand. How does it work? There is actually a commercial product called "Kinetic Sand" that is often found in hobby and craft stores. This kinetic sand uses a binding agent called Dimethicone to help maintain the "wet sand" feel to it. How much is actually used in the product is unknown, but this ingredient helps keep the commercial product feeling like just a very slightly damp sand that is sticky enough to use to build things, but not prone to clumping or sticking to every surface like real wet sand. Your kinetic sand should only stick to itself, not to your hands or to anything else it comes into contact with. In short, it should turn out just like this commercial product.

If you look around the Internet, you are bound to find many different lists of ingredients and instructions on how to make kinetic sand. We recommend sticking with the recipe that we have here, as it is both the easiest and cheapest version to make, and will serve you well with little to no maintenance. Particularly, try to avoid any of the recipes that include flour, or even ones that call for the binding agent used by the commercial product, Dimethicone, as using this is going to end up costing you the same amount as just buying kinetic sand at the hobby store.

For making your own kinetic sand, we recommend having the following ingredients:

50 lbs. Bag of real sand
6 cups of corn starch
Dish soap - varying amounts, probably a few tablespoons
Water - Around 6 cups for 50 lbs
Tea tree essential oil

These ingredients are geared towards making around 50 pounds of kinetic said. You can easily change these to the necessary proportions for whatever amount of kinetic sand you wish to make.

A large plastic container with a lid for mixing and storage. This should be able to fit the 50-pound bag of sand that you buy, or whatever amount you wish to make.

Once you have all of the ingredients and tools together, empty the bag of sand that you bought into the plastic container. The best way to do this without spilling sand everywhere is to put the bag into the plastic container, and then slit the bottom of the bag to empty it while slowly lifting it out of the container. The sand should fit in there nicely with plenty of room. As you will be mixing it together, make sure the container is large enough for this without anything spilling out of it.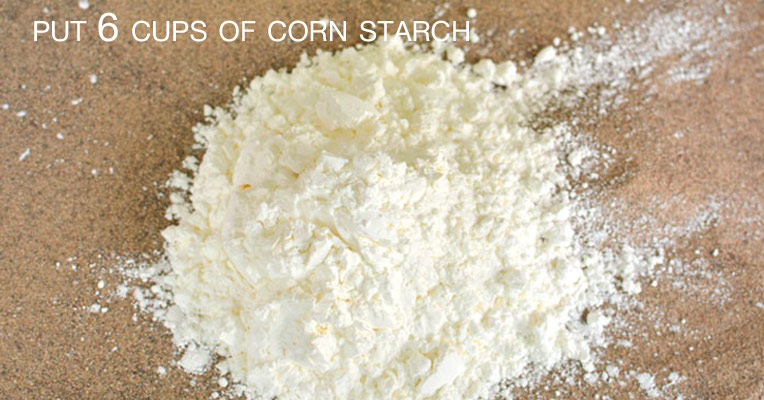 After this, put 6 cups of corn starch into a mixing bowl, and mix in 6 cups of water. Add a small amount of the tea tree essential oil into the mixture, as this will help keep the product smelling fresh over a long period of time and keep out mold. Mix together well until it is in a state where it looks and feels solid to the touch, but turns to liquid when you try to pick it up. If this mixture feels like wet sand when you touch it, add in more cornstarch.

Once the cornstarch mixture is complete, add it into the plastic bin with the sand. Add in a teaspoon or so of dish soap, which will help the kinetic sand keep its look and feel without drying out. You can mix this together with a trowel, although we just recommend using your hands to do this. If you have children, get them to join you in mixing it up with their hands if you need or want the help.

You will know when it is mixed up enough once the sand maintains its own look without looking like bits of sand and cornstarch, but feels like damp sand that is just sticky enough to stick together, but won't stick to your hands. You can add in any toys that your children might like to go with the sand, such as cups or small toy cars.

---