Graduation day can be sweet or it can be sour depending on how your college years have been but either way, a quality attire is a
must. And by attire, we mean your graduation gown. On the very last day of your school or college career, you will look fabulous in any of the gowns below.
...
Read more
...Read less
GOWN LENGTH / WEARER HEIGHT
X
This site is a free online resource that strives to offer helpful content and comparison features to its visitors. Please be advised that the operator of this site accepts advertising compensation from certain companies that appear on the site, and such compensation impacts the location and order in which the companies (and/or their products) are presented, and in some cases may also impact the scoring that is assigned to them. The scoring that appears on this site is determined by the site operator in its sole discretion, and should NOT be relied upon for accuracy purposes. In fact, Company/product listings on this page DO NOT imply endorsement by the site operator. Except as expressly set forth in our Terms of Use, all representations and warranties regarding the information presented on this page are disclaimed. The information which appears on this site is subject to change at any time. More info
GraduationForYou Matte
Quality Before Anything
The graduation set from GraduationForYou is a favorite among customers and the reason behind this fact is easily explained: when designing and sewing their products, the company pursues the quality with vigor and without slack. The gown is made from firm fabric, hence, whatever color you choose, the clothes you have underneath won't be seen through. At the same time, it is not heavy or stifling which can be an issue in the middle of the summer. The same goes for the cap: with the mesh inner finish, your kid will feel no discomfort even after several hours wearing the item.
The fabric of both the gown and the cap is matte and looks much more expensive than the set actually costs, in case you were wondering. The matte fabric keeps the cap on the head without slipping; and with how professionally it is made, the graduation robe lays on the body beautifully, without making you look squarer and bigger. It is a unisex model, too.
The quality of sewing is superb, the stitches are even throughout the whole item, all the threads are clipped. The zipper is hidden. GraduationForYou offers a nice selection of colors for their graduation sets as well as a wide range of sizes, you can choose this model for your kid's elementary school graduation even, not just high school and college.
Last updated price

$

0.00

Stock
May be out of stock
ASIN

B01LWURLYJ
---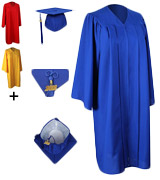 GraduationForYou Matte
MyGradDay Unisex
Chilly Summer in Your City? This Gown Is for You
The GraduationService full graduation set is, in our opinion, most suited for somewhat colder regions or chillier weather since it is made of thicker fabric which can be slightly unpleasant to bear for hours under the summer sun in, say, Miami. Hot as hell is good when it's not literally that, after all. This model also has wider and longer sleeves to keep any clothing you might want to have underneath well-hidden, meaning the manufacturer had made provisions for the graduates having long-sleeved shirts and dresses on. On the bright side, your clothes won't be seen through the gown because it is quite thick.
The fabric quality is good here, durable. The cap is one-size-fits-most. The gown also has reinforced pleats for the front, back, and shoulders, enhancing the fit and, consequently, overall look. The selection of sizes is wide and includes both traditional and full-fit ones, though some users recommend ordering one size smaller than you would generally according to your height. However, if you have wide shoulders or considerable bust, the smaller size is not an optimal choice.
The set includes a gown, a cap, a tassel, and a 2018 signet. With a price twice lower than that offered by many school-affiliated bookstores, it offers you supreme look on your senior photos as well as during the graduation ceremony.

Last updated price

$

0.00

Stock
May be out of stock
ASIN

B01IN1VWBS
---
MyGradDay Unisex
GraduationService Unisex
Your Perfect Graduation Photo Shoot
Whereas graduation is a very important event for most of us, few are ready to spend a fortune on a clothing item they will wear for a couple hours and discard. In the best case scenario, it will be used as a Halloween or school play costume. This black graduation gown (though other colors are available) costs very little, especially compared to what you will find in your school's bookstore or most school-affiliated sellers but it will do the job just as well.
This robe is sufficient for Bachelors as well as school graduates of any level (Elementary, Middle, High school). Masters and higher degree robes differ in design, though. This model is matte, not glossy, which seems to be the trend today. Matte fabrics do look more expensive. The shoulder yoke is reinforced to keep the shape, thanks to which your graduation robe won't hang on you like a sack but instead lay fitted.
The zipper might be a bit tight so we recommend that you fasten/unfasten the gown carefully if you plan on using it several times (like for both graduation photo shoot and the official ceremony).
GraduationService offers this item in a nice range of sizes and colors. However, note that this is a gown-only item, a graduation cap with tassel and signet are to be bought separately.
Last updated price

$

0.00

Stock
May be out of stock
ASIN

B01MFCXKD9
---
GraduationService Unisex
Robe Depot Unisex
For More Than One Occasion
This graduation gown is machine washable, which is a big deal if you buy it for more occasions than just a graduation ceremony. For example, it can be your kid's school play or Halloween party attire (there is a variety of options for a black robe here, from judge to DIY Harry Potter costume, though the latter will need some adjustments). Graduations also can sometimes get a little messy and unless you plan on throwing the robe away right after to accompany your "Good-bye school, Dobby is a free elf!" celebration you will need to wash it. Robe Depot made this item from a good material and took care with the stitches and linings, thanks to which it will live through machine washing, wringing, and drying and will come out nicely. After giving it a wash, the ironing takes minutes, the fabric handles it okay.
The matte polyester fabric looks nice and has a rich color (whichever you choose from the list of 13 options), the zipper is practically invisible, and the range of sizes is also wide, though we've only found certain sizes in the FF (Full Fit, for big and tall wearers) category.
There is only one item in the package, the gown, but if you wish for utmost conformity, you can buy a cap from Robe Depot as well since the company specializes on graduation attire and offers a selection in the field.
Last updated price

$

19.99

Stock
In stock
ASIN

B07517WDDD
---
Robe Depot Unisex
YesGraduation Unisex
Hot Summer Choice
If you live in a Southern state and graduate in May or even July (because things happen!), or if your school holds its ceremony indoors, this graduation set is perfect. It is made from lightweight fabric great for hot weather, especially so when your school goes with traditional black graduation gown since black attracts heat. Despite being thin and light, the fabric is durable and doesn't tear easily, making the robe last long enough to not only survive the official ceremony and the photoshoot but some uses for Halloween as well.
We'd say that the item has not the widest selection of either sizes or colors. There are five colors to choose from, besides the black: royal blue graduation gown, purple, gold, white, and navy. And the sizes only go from 45" to 60" long (that generally means from 5'1 to 6'6 height) and there is no Full Fit option. On the other hand, here you can get a separate tassel with charm in the color of your liking, so there's that.
The cap included with the set deserves a separate mention. It is designed in a way to not slip off your head even if you are fidgeting, which some of us do a lot when nervous. And when to be nervous if not during your graduation, right? So minus one worry here.
Last updated price

$

0.00

Stock
May be out of stock
ASIN

B06XPX8XBG
---
YesGraduation Unisex
What Is a Graduation Gown?
Graduation gowns are now more than an official graduation attire, the hype over teen movies and series has made them into popular Halloween costumes.
The history of graduation attire goes back into the twelveth century when clergy students wore gowns with hoods at all times, for warmth, primarily, and so that anyone could tell them apart from normal folk. Stripping off the gown for some amount of time was considered a shame upon the student and a great humiliation for them; usually, it was even executed in the face of the whole student body to teach a lesson. Throughout the centuries, the requirement to wear a distinguishable clothing for those pursuing academics was lifted and imposed again several times, it changed from constant wear to the one we know today: you only don your formal attire on for graduation photos and ceremony and maybe some events where you are the face of your college or university. The general public is still enthralled with this particular tradition, so much that even kindergartens hold mock-up ceremonies and parents put their kid in a toddler graduation gown for themed birthday parties.
Graduation cap and gown also used to be black only, though today, educational institutions are free to use their own colors. However, some uniform rules still apply in universities and colleges where colors and designs represent degrees, majors, and honoraries. The schools usually sell the gowns in their bookstores but it is not forbidden to buy them elsewhere as long as they conform to the color the school sets. The gowns can be bought in a complete set or with a gown and a cap separately. You can choose the material depending on the weather, the shape with consideration for your or your body shape, etc. We decorate our caps with passion and boast them on social networks. It's a way to show off without actually showing off.