If you're interested in purchasing a gas can, then you're probably a car owner or a person who needs to store some kind of fuel in
their household. We all know that you can actually keep your gasoline in some reused and inappropriate storages, but it is neither safe nor convenient. So check out to our gas cans review - here you can pick the can which suits your needs the most.
...
Read more
...Read less
X
This site is a free online resource that strives to offer helpful content and comparison features to its visitors. Please be advised that the operator of this site accepts advertising compensation from certain companies that appear on the site, and such compensation impacts the location and order in which the companies (and/or their products) are presented, and in some cases may also impact the scoring that is assigned to them. The scoring that appears on this site is determined by the site operator in its sole discretion, and should NOT be relied upon for accuracy purposes. In fact, Company/product listings on this page DO NOT imply endorsement by the site operator. Except as expressly set forth in our Terms of Use, all representations and warranties regarding the information presented on this page are disclaimed. The information which appears on this site is subject to change at any time. More info
Justrite 7250130
An Optimal Convenience-Safety Ratio
The Justrite can is a unique model furnished with lots of design solutions to provide maximum safety when handling hazardous fuels, solvents, or chemicals. The can is made of high-grade coated stainless steel which has no rivals in terms of durability, wear resistance, and corrosion protection. Each item has been thoroughly pressure-tested for your maximum safety, while its sealed lid is furnished with automatic positive-pressure relief mechanism to avoid any hazards or explosion.  
When it comes to the convenience of this can, we should mention that the self-closing lid will be able to provide hassle-free operation, prevent any accidental spills, and ensure optimal control of the vapors. It will take care of everything for you so that you don't need to make any additional moves after pouring the fuel or other liquids. Feel free to fill this can with up to 5 gallons of various solutions and use the convenient and ergonomic metallic handle for hassle-free transportation wherever you need. 
The process of filling the tanks is simple and handy: the metal spout will prevent fuel from spilling while the valve will allow you to interrupt the process whenever you want. There is also a special lever near the handle with which you can control the fuel spout using one hand. There is also an inbuilt flame arrester that can effectively prevent any accidental flashback ignition, but having an extinguisher in your car is still highly advisable.
Last updated price

$

81.95

Stock
In stock
ASIN

B003FZB3N0
---
Justrite 7250130
SureCan 2.2 Gal.
Maximum Convenience
If we talk about the most convenient pouring cans then we feel the need to mention the 2.2-gallon model by SureCan. It's made of polyurethane, which makes it very lightweight and easy to transport. The latter is also helped by a nice handle at the top. The size of this gas can is 12.12" H x 9" W x 13.1" D so it will fit any corner of your garage. However, the most interesting feature here is the 180° rotating nozzle located at the bottom - you can set it however you like, making the task of filling your lawnmower, trimmer, tractor or anything you want much easier while also keeping gas off your hands. The pouring is controlled with a flap, which opens by pressing the button on the top of the gas can, near the handle. Convenient, isn't it? Now you can operate single-handed! And as for filling the gas can itself, you can do it through the opening at the top side, covered with a screw cap. As you can see, this SureCan model has two openings from where the fuel can be poured so it's up to you to decide how you want it done - from the top by tipping the can or from the bottom through the nozzle.
Last updated price

$

39.98

Stock
In stock
ASIN

B00XMLLENQ
---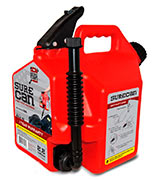 SureCan 2.2 Gal.
No-Spill 1405
The Button That Makes the Process Easier
The can model for any fuel made by No Spill is operated by a simple release mechanism. This mechanism is inbuilt into the screwing lid, which you can remove to fill the can with fuel. The fuel release is performed using a plastic spout opened and closed by pressing a special button. The gas can is able to fill any capacities without fuel spilling, so it's not only the most convenient but also the safest one. Its capacity (2.5 gallons) can be monitored thanks to two clear stripes, on the front and back sides of the gas can. The can is made of a durable yet thin polyethylene which is quite good for a gas can in terms of its lifetime. The can is very practical thanks to a thick handle. The release fuel button is located near the handle, too. The gas can has a special cap on the end of its spout so you won't spill a drop of precious oil. The peculiarities of this gas can make it an ideal option for filling almost every household equipment.
If you want your yard grass to look better then you should also pay your attention to brush cutters, most of which work on gasoline, so it will be much better to fill your equipment with the gas can like this.
Last updated price

$

24.95

Stock
In stock
ASIN

B000W72GBC
---
No-Spill 1405
Eagle UI-50-FS Red
Fits All Requirements
Every owner of any fuel-based equipment should have a can like Eagle UI-50-FS. Firstly, this can has an outstanding quality and corresponds 30 requirements of OSHA and NFPA, while entering the list of approved gas cans by UL, ULC, and FM so it's a perfect option for storing and transporting fuel and flammable liquids. The gas can's capacity is 5 gallons, and for the convenience of pouring process the can's lid has a spring-loaded mechanism that reduces the time needed to open/close the can. The lid also has a neoprene gasket which serves impermeability purpose. There is also a handle-lever attached to the lid - it's function is to control the fuel pouring. In the set with the gas can you also get a plastic nozzle, the function of which to minimize the fuel spilling. It's made in such a way that if you insert its thin part into the gas can, filling it will be much easier.
The Eagle Ui-50-FS is 13.5" in height and its external diameter equals 12.5". Galvanized steel, which the can is made of provides incredible durability and allows you to use the can much more than the analogs.
Last updated price

$

43.97

Stock
In stock
ASIN

B00GVJAXZQ
---
Eagle UI-50-FS Red
MidWest 31733 5 Gallon Spill Proof
Practical and Spacious
We consider the Gallon Spill Proof Gas Can as one of the most practical gas cans. First of all, its manufacturer has been a leader in making this kind of production for 20 years; all of their gas cans were tested and verified by the Underwriters Laboratories (UL) so their quality is undoubtedly high. This model can be filled with up to 5 gallons of fuel and may be used for storing any kind of fuel. It will definitely help the owners of small motorized equipment and will be a hand of help for pouring fuel into lawn mowers or generators. The can is made of a durable plastic, meaning no rust, corrosion, and even dents will get to it. 
The most prominent feature of the can is its two handles - one on the top and another on the back of the can. The top handle allows for convenient carrying whereas the back one makes it easier to tip the can when you want to pour the fuel in the tank. The spout also has a blocking nozzle so fuel won't spill from the can.
Last updated price

$

0.00

Stock
In stock
ASIN

B0007M4VRO
---
MidWest 31733 5 Gallon Spill Proof
What is a Gas Can?
Every car, motor household technic, or equipment owner knows the necessity of having backup fuel just in case. For fuel storage and transporting, no matter if it's gasoline or kerosene, the gas cans were created. The cans are made of quality materials and have a corresponding safety classification, and they also come with practical design elements for the most effective filling of various vessels or pouring directly into your car's tank. In our review, we've picked the top five gas cans of different designs so you could make an appropriate choice for your needs.
If you want your vehicle's engine to work longer, then you should use quality motor oil, which you can also find in our motor oil review. If you want to protect your car from the environment, then we advise you to buy a special car wax.