Are you looking for an at-home alternative to rather expensive and time taking spa beauty treatment? There is one, it's a facial
steamer. Designed to provide delicate yet efficient facial care, this unit offers multiple skin health benefits and delivers spa-quality experience. We've picked 5 most popular models to ease your choice and find the best one for your skin type.
...
Read more
...Read less
X
This site is a free online resource that strives to offer helpful content and comparison features to its visitors. Please be advised that the operator of this site accepts advertising compensation from certain companies that appear on the site, and such compensation impacts the location and order in which the companies (and/or their products) are presented, and in some cases may also impact the scoring that is assigned to them. The scoring that appears on this site is determined by the site operator in its sole discretion, and should NOT be relied upon for accuracy purposes. In fact, Company/product listings on this page DO NOT imply endorsement by the site operator. Except as expressly set forth in our Terms of Use, all representations and warranties regarding the information presented on this page are disclaimed. The information which appears on this site is subject to change at any time. More info
Icarus Jocasta FS-11N
2-in-1: Facial Steamer With Ozone Therapy
Icarus is a renowned manufacturer of professional salon and spa equipment and furniture. With their "Jocasta" facial steamer, you can enjoy all relaxing and health benefits of steaming therapy at home, saving your time and budget on visiting spas and wellness centers. 
The biggest advantage this model stands out for is an ozone therapy option. The vapor comes enriched with activated oxygen quickly absorbed through your skin. Ozone steaming combines beneficial oxygenation and detoxification effects, strengthening your immune resistance, boosting nutritive absorption, providing an unmatched anti-inflammatory effect, and promoting healthy skin tone and texture. Using the "Jocasta" facial vaporizer on a regular basis, you can tackle two issues at once. Thanks to a sterilizing and cleaning function of oxygen ionic steam, you will significantly reduce visual defects of blemish-prone skin and combat the causes of acne and eruptions. 
For your convenience, the ozone function is operated by separate control buttons located on the top of the unit. Hence, you can use steam independently and activate ozone whenever you need.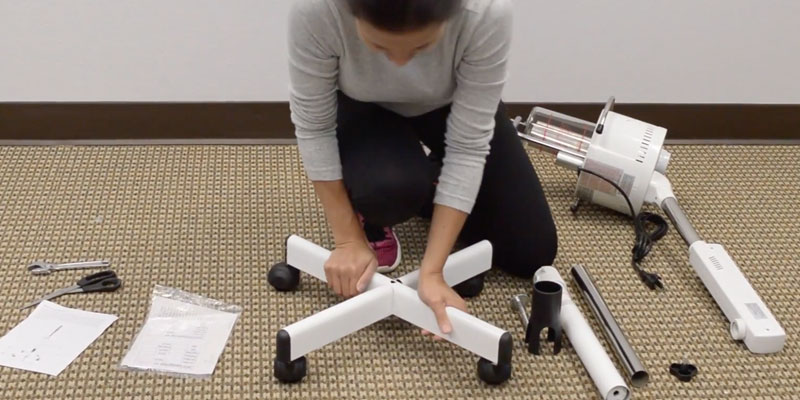 Enjoy Your Steaming Session While Lying on the Couch
At the end of the day, we usually want to lean back in the armchair or lie down on the couch and lounge in comfort. The Icarus Facial Steamer is a truly unique model that allows combining your leisure time with a pleasant steaming session that will contribute to the overall relaxation as well. Owing to its upright design and twisted arm, you can adjust the steamer height and position to your liking and direct the vapor flow to your face, no matter if you lie or sit.
Moreover, the appliance is fitted with 4 castors for easy and effortless handling and moving around the house. A water tank capacity (56 oz) is enough for 30 minutes of ozone combined steaming while the tank design of clear plastic allows conveniently checking for the water refill.
Initial Assembly
Due to its rather large dimensions, this model comes disassembled. It means that initial assembly is required. But you don't have to worry since the assembly is no hassle and no specific skills or tools are required. The only tool you will need is a spanner to screw a single fixing bolt.
Besides, the set includes a detailed illustrated user guide that makes assembly a breeze.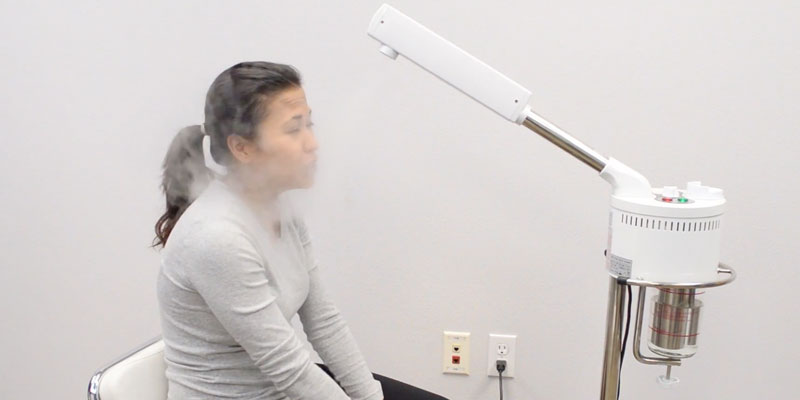 What Facial Cleanser Do You Use?
Many skin problems are caused by the use of facial care products that don't suit your skin type or age. When it comes to facial washes, it is essential to select the one that will perfectly fit your skin to avoid irritation, dryness, or excessive oiliness. In this concern, our Castile soaps review will help you choose 100% natural and hypoallergenic soap to clean and sooth your skin.
Last updated price

$

0.00

Stock
May be out of stock
ASIN

B00K6LPA2G
---
What customers say about this product
Powerful steamer, superb ozone with a gorgeous subtle violet color, lightweight and so very easy to put together and maneuver.
It was easy to assemble the item and, as these kinds of products go, is relatively sturdy.
Ozone/UV light works, no extra ticking or sounds, just the boiling water.
Icarus Jocasta FS-11N
Pure Daily Care 3 in 1 Facial Steamer
Both Facial Steamer and Humidifier
Though this unit looks very simple, you'll be impressed by how many functions and options it can offer. 
The primary functions of the Pure Daily Care is an ionic facial steamer. As such, it boasts an innovative design combining a traditional heating element with an ultrasonic vaporizer. The unit produces steam with negatively charged ionic particles that penetrate the skin 10 times faster for quicker pores opening, improved blood circulation, enhanced cells vitality, and easier oxygen absorption. Your beauty products will work much better on open pores, improving your complexion, promoting skin elasticity, and maintaining a young and fresh look of your skin longer. Thanks to its meticulous design, the unit generates a directed vapor stream to provide full face coverage.
Being excellent for skin care, the Pure Daily steamer also helps drain sinuses and airways; it is efficient for treating colds. In addition, the appliance can work as an inhalator. And adding several drops of some essential oils will further enhance the therapeutic steam effect. 
On top of that, the device doubles as a powerful air humidifier that will help you maintain the optimal microclimate in your living space. The only slight inconvenience is that for a humidifier function, the unit might require refilling a bit more often since a 6.75-oz water tank capacity ensures only up to 30 minutes of continuous steaming.
A Warm Towel Can Make the Difference
A warm towel is essential for some cosmetological procedures. In spa salons, they often use warm towels for body and hair wraps; it works great with preliminary applied nourishing or recovery masks and creams, promoting beauty products absorption by your hair and skin.
With the Pure Daily Care facial steamer, you can have a warm towel at hand in mere minutes, since another handy function this all-in-one unit boasts is towel warming. Simply put your towel in a special compartment and select the necessary mode with a control knob. That's it! While you steam, the device will prepare your fresh moist towel. What a nice option!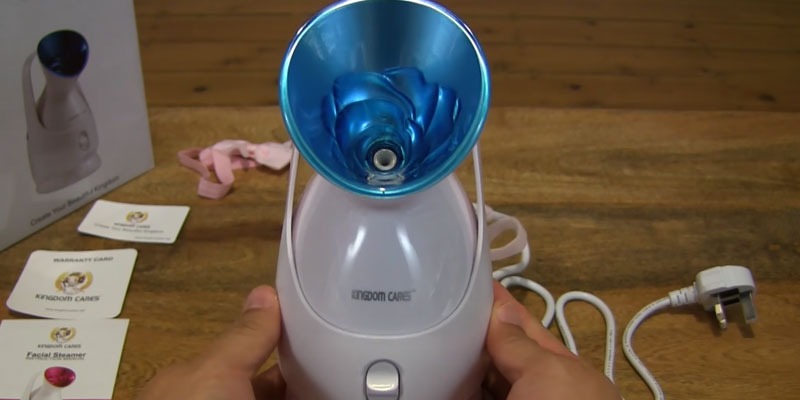 5-in-1 Blackhead and Blemish Remover Kit
Along with unmatched functional versatility, the Pure Daily Care set offers one more bonus any beauty enthusiast and professional esthetician will appreciate. It's a high-quality 5-piece skin kit with all the tools needed for efficient painless blemish and blackhead extraction. For hygienic use and safe storage, the tools of surgical grade stainless steel come in a handy plastic carrying case. Compact and lightweight, it will fit into any bag or purse, catering to your beauty needs wherever you are.
Clean Your Body From Inside
Proneness to acne, eruptions, and blackheads depends not only on your skin type but also on the food you eat.
Detox teas will help your body eliminate toxic wastes greatly affecting your overall well-being. Drinking these herbal teas on a regular basis will promote weight loss and the healthy look of your skin.
Last updated price

$

39.95

Stock
In stock
ASIN

B01BPKUCRE
---
What customers say about this product
Also great for about 30-60 min of humidifier use.
The size is small enough to put beside the sink if you to do a facial while inside the bathroom.
Came with a very cool zippered pack of tools for cleaning black heads and all that gunk you want out!... Great buy.
Pure Daily Care 3 in 1 Facial Steamer
Conair MDF3R
Perfect Tool for Beautiful and Healthy-Looking Skin
Pamper your skin and give your face a fresh, clean, and hydrated look with the Conair Facial Sauna System. It will undoubtedly add to your facial care routine, offering the most thorough way to cleanse the skin. 
As efficient as it is, this appliance stands out for easy operation and intuitive controls. You only need to place the unit on an even surface, fill the water tank and turn the steamer on with a power button on the front panel. It will take about 3 minutes to heat the water and start generating hot vapor that will gently steam your face. Simple as that! 
Though the water reservoir is rather small, its capacity is enough to maintain a 15-minute steaming session. Once the water runs out, the appliance will automatically switch off to prevent overheating. To pour the necessary amount of water, the set includes a 2-oz measuring cup. Another pleasant bonus is a mechanical timer, which allows varying treatment times to your needs (from 3 to 15 minutes) and will automatically turn off the unit when the steaming session is over.
Two Functional Cones
In the box, you will find two attachments, each having its intended use. 
A wider facial cone is designed for full face coverage from the forehead to the chin for complex skin care. It's especially effective for opening the pores and preparing your skin for the next steps.
A narrow nasal cone is meant for deep cleaning of targeted areas through exposure to concentrated steam. It's of great use for people with oily skin prone to bumps and acne. Besides, you can use this attachment to treat sinus problems. It will be ideal for cold or allergy relief if you add oils.
Note: to avoid skin irritation and redness, the distance to the steam source should be no less than 8 inches.

Facial Brush Is the Key to Clear Skin
The Conair Facial Sauna System is one of the most comprehensive kits containing everything you need for healthy-looking, glowing skin. Thus, in addition to the above-mentioned steaming cones for different exposure areas, the set is complete with a special facial brush to proceed with deep cleaning. 
The brush is powered by two AA batteries and features two speeds to customize operation intensity to your skin type. Besides, it is fitted with two interchangeable attachment heads. A rotating brush will delicately yet efficiently exfoliate and buff your face skin while a sponge head will help you apply cleansing foam or moisturizer to sooth it. 
The facial brush will become a real find for those who seek painless and effortless way to get rid of blackheads. Combined with a facial sauna, it provides almost immediate results, keeping your skin duly hydrated, diminishing the signs of aging or sun damage, and improving your complexion.
How to Get Rid of Calloused Skin?
It is not only our face that requires regular attention. Overall body care is no less important, especially when it comes to our feet. The skin on the feet is prone to roughness and callosity that cause discomfort and prevent natural skin cells regeneration. Callus removers were designed to tackle this problem and gently remove calloused skin from your feet making them soft and smooth as they would be after procedures in a beauty salon.
Last updated price

$

20.99

Stock
In stock
ASIN

B017COTV8S
---
What customers say about this product
It holds a small amount of water but just enough for the proper steam time.
It's just the right size and is easy to use.
I also love the color, the timer, and the level of heat that the steam reaches.
Conair MDF3R
Secura S-199
Easy Operation. Efficient Performance.
A distinguishing feature of the Secura Facial Steamer is a winning combo of extremely easy operation and highly efficient performance. 
The unit is activated and controlled by a single button located on the front panel. A 3-oz water tank is detachable for spill-free filling and ensures about 8-10 minutes of continuous operation that is usually enough to open and unclog the pores. A facial cone and steaming nozzle feature a well-thought design for better coverage and powerful directed steam. The nozzle is illuminated with a blinking blue light indicating that the unit is on. 
The output steam temperature is about 100°F. It is nicely hot and many estheticians consider it the optimal temperature for efficient yet safe steaming without the risk of burns or irritation even if you have sensitive skin. 
Aside from being a beauty tool, Secura will be helpful for your home too. Gentle yet effective for shiny and smooth face skin, it can be also used for interior humidifying.
Heating Water in a Flash
The biggest advantage of Secura over other brands is its quick steaming. While the majority of modern models start to mist in a couple minutes, the Secura produces steam after only several seconds. Thanks to an innovative powerful heating element, it takes this unit only 40 seconds to boil the water and vaporize it. This time might vary depending on filling water temperature and hardness, of course, but anyway, this appliance will work faster than its competitors and generate powerful steam every time. 
It's not unusual that during the steamer operation and for some time after its switch-off, the unit body remains rather hot. For added safety, this model features a cool-touch handle to avoid burns when you need to carry the hot appliance.
How Often Should I Use the Unit for the Best Result?
Many people believe that the more often they use their facial steamers the quicker they will achieve the desired results. However, it's not the case since skin cells don't regenerate as quick as we expect. Besides, excessive steaming might cause severe skin irritation.
To get the best skin care results with the Secura facial sauna, the manufacturer gives particular recommendations for different skin types. For oily skin, 10-minute daily steaming sessions are optimal to efficiently remove the dirt and unclog the pores. Meanwhile, for sensitive skin, 1 or 2 steaming sessions per week are enough.  
Besides, thanks to a super-fine hot steam easily absorbed through the skin, the Secura facial vaporizer moisturizes and cleanses your skin in a quick and efficient way. Hence, it makes a worthy and affordable alternative to rather expensive exfoliating scrubs, creams, and chemical peels.
An Obligatory Procedure Before Any Beauty Treatment
Any professional esthetician or beauty expert knows that tools must be sterilized before any cosmetological procedure; it prevents inflammation and protects from infections. In professional beauty centers, they usually use special sterilizers while at home you can use alcohol-based sterilizing solution or piping hot water to sanitize your tools and instruments. But sanitizing tools is not enough, you should thoroughly wash your hands as well. This is where hand sanitizers will come in handy. They will not only kill bad bacteria and germs but will also care for your hand skin.
Additional Info
Last updated price

$

33.99

Stock
In stock
ASIN

B00G4R48AQ
---
What customers say about this product
The steam lasts about 10 minutes, exactly the right amount of time. The steam itself feels very silky
Great product. I love that it is small and really compact. I can carry it with me when I travel in my checked-in bag and it really helps to freshen up the skin.
Love that it has on and off button. Handle is handy.
Secura S-199
KINGDOM CARES KC-1330
Compact. Powerful. Affordable.
At a glance, this model might seem too small to be efficient but do not let its size fool you! After the first use, you will feel and see the difference. It's cleaner, smoother, and better-moisturized skin that looks fresh and natural. 
An advanced ceramic heating element quickly vaporizes clean water and produces strong steam flow directed at the targeted area by means of a nozzle and round facial cone. Though during the first steaming session, it will take you some time to find a convenient sitting position for optimal face coverage, once you get used to it, you will quickly discover and enjoy all the benefits of this delicate home spa. Fine steam quickly penetrates your skin, improving its nutritional absorbency, replenishing it with moisture, and enhancing cells vitality. 
As effective and powerful as it is, this model is easy and convenient to use, too. You will enjoy one-button operation while an automatic shut-off timer will save you the trouble of constantly checking the steaming session time. A valuable feature contributing to the unit safety is a built-in sensor. It will switch off the unit when the water runs out, preventing overheating and damage. In the box, you will also find a hair ribbon to securely fasten long hair and prevent its tangling and disturbing you during your beauty procedures.
Another thing you will definitely like about this KINGDOM CARES steamer is an affordable price that makes this personal care appliance even more attractive.
Benefits of Nano-ionic Steam
Facial steaming goes far beyond traditional cleansing with soap and water and makes a great alternative to exfoliation with a brush or scrub. 
When it comes to steaming with the KINGDOM CARES, it is even more efficient owing to the nano-ionic steam produced by a unique integrated ultrasonic vaporizer. Compared to normal steam, nano steam contains negatively charged ionic particles and easily penetrates deep skin layers. Gentle steam temperature helps unclog the pores, remove any dirt, oil, and makeup leftovers. In addition, nano-ionic steam boosts skin rejuvenation, promoting healthy and youthful complexion. 
While traditional face washing rather masks skin problems, steaming tackles and prevents them.   
Additional Water Purification
Though the manufacturer recommends using distilled water to prevent deposits in the water tank and scale on the heating element, the KINGDOM CARES steamer also features a steam sterilization option to protect the user from germs and harmful bacteria that might contain in water. The unit comes equipped with a built-in UV lamp to deliver the purest and the most effective steam to your skin and prevent any contaminants entering through your open pores. The lamp boasts long service life, saving you time and budget on its regular replacement.
Beauty and Elegance in Everything
An attractive and cared-for look is comprised of healthy skin, well-groomed hair, and well-done manicure. If you have no time to visit beauty salons, with a nail drill and nail dryer, you can have a nail salon at home. A nail drill will help you make a professional grade manicure and pedicure while a LED or UV nail dryer will quickly and efficiently dry the nail polish on your fingers and toes.
Last updated price

$

23.99

Stock
In stock
ASIN

B01DRH86CQ
---
What customers say about this product
The steam heats up really quickly, and starts coming out after about 30 seconds.
I love that it turns off automatically once the tank is empty.
It's compact in size so it's very easy to store
KINGDOM CARES KC-1330
Infographics
---
What is a Facial Steamer
Everyone wants to look young and attractive and what shows your age better than your skin? As a rule, healthy and radiant skin is a result of regular and thorough care. A facial steamer is one of the best ways to enjoy spa-like skin treatment at home whenever you need. It exposes your skin to hot water vapor to unclog the pores, promoting blood stream oxygenation and cells regeneration. Try this simple yet highly efficient device and your skin will feel and look better after only several steaming sessions!
For those who suffer from migraines and headaches, a head massager will become a real lifesaver that brings long-expected pain relief. Meanwhile, massage chairs will let you dive into the relaxation of a complex body massage to shake off the stress and tension of a busy day.
What Features to Compare
Steam Generation
Most common facial steamers simply heat the water and convert it to steam without any additional cleaning. Hence, you will have to use pure water or clean it before pouring into the water reservoir. However, there are models that do water purification, for example by means of UV light, to eliminate any possible bacteria and germs. The most sophisticated units also offer steam ionization function to boost cells regeneration, rejuvenate your skin and improve its elasticity.
 Water Tank Capacity
The higher water reservoir capacity is the longer you can enjoy steaming without having to stop to refill water. Basically, modern units feature from 2 to 60-oz water tanks for continuous steaming within 10 to 60 minutes. A function of an automatic shut-off when the water runs too low will become an extremely helpful bonus in terms of safety and convenience.
Controls 
When it comes to the facial steamer operation, the prime advantage is the simplicity of use. Usually, the units are controlled by means of several control buttons or knobs, but some models boast one touch operation. 
Usability
Today, the manufacturers bend every effort to make you steaming sessions not only efficient but also greatly comfortable. Though most facial sauna systems are designed to be used in a sitting position, there are some types that allow you to lie down and fully relax. On top of that, some models come equipped with cleansing brushes, sponges, or even facial sets for the whole range of skincare procedures.
FAQ:
Q: What are facial steamer types?
A: Basically, facial steamers fall into two major types. One is the small portable steamers for home use while the other is larger units with a rolling base, ozone hood, and, in some cases, a magnifying lamp designed mostly for professional use in spas, beauty salons, wellness centers. In a variety of models offered on the market today, you will surely find the one that will suit your personal needs.
Q: What does the facial steamer do?
A: The undoubted benefits of steam therapy include: 
Deep dry skin hydration;
Skin texture and tone renewal;
Acne and decongestion reduction;
Skin care products enhanced penetration;
Efficient skin preparation for further treatment. 
On top of that, many models for in-home use also double as inhalators and are efficient to treat a runny nose, fever, and cough.
Alternatively, you can use this small unit as an air humidifier or aromatherapy device.  
Q: How often should I do facial steaming?
A: Though many people steam daily, excessive steaming is not so beneficial. To enjoy the best skin effects, it's better to steam your face several times a week. And make this procedure a part of your regular skin routines to get consistent results. 
Q: How long should a steaming session last?
A:  The optimal steaming session time is from 6 to 10 minutes depending on your skin type and condition. Premium quality units usually deliver efficient results within about 5 minutes. However, if you're just trying steaming therapy, it's recommended to start with 6 or 7 minutes.
Q: Are facial steamers safe to use?
A: Yes, usually, steaming units are comfortable and safe to use. Though some people might find the steam too hot, most users find it relaxing and soothing. Anyway, these personal care appliances commonly have a built-in temperature control to prevent water heating up to unsafe temperatures. Hence, the steam won't burn your skin.
Q: What is a safe distance between the face and the unit during the steaming session?
A: It's recommended keeping your face at a distance of about 20 cm (8 inches) from the steam source to prevent redness and irritations or even avoid burns if you have sensitive skin.
Q: Do I need to clean my facial steamer?
A: To prolong the service life of your personal care appliance, try to stick to several simple rules:
To prevent molds and rust, always empty water tank after use and let it dry.
Regularly clean the water tank to prevent any deposits or scale buildup.

Q: Should I use any care products after a steaming session?
A: Since the pores are open after steaming, you can use an exfoliator or cleansing mask to get rid of dirt and remove dead skin cells. Then use some toner or moisturizer to sooth your skin. Just remember to use care products that suit your skin type.
Sources:
1. Tara Thomas What Are the Benefits of a Facial Sauna? LIVESTRONG. February 2, 2014.
2. How to Do a Steam Facial, wikiHow.
3. Liesa Goins How to Fight Dark Spots on Your Skin, WebMD.
4. Home Remedies for Black Spots on Your Face, Top 10 Home Remedies.
5. Facial, Wikipedia. September 5, 2016.
6. Susan Sentry Benefits of Face Steaming, HowStuffWokrs.
7. Katherine Mariaca Benefits of Facial Steam, LIVESTRONG. February 17, 2015.
8. Learn 10 Benefits of Face Steaming & How To Do Facial Steaming Correctly! RewardMe. November 23, 2016.