Smartphones & Accessories
Jawbone BIG Jambox vs Ultimate Ears Megaboom
Product Comparison: Jawbone BIG Jambox vs Ultimate Ears Megaboom
About the product
BIG JAMBOX turns any mobile device (phone, tablet, media player, computer) into a portable, party-powering, hi-fi sound system that wirelessly delivers amazingly clear, full audio at any volume.
PartyUp from Ultimate Ears lets you connect wirelessly to up to 150+ Ultimate Ears speakers using the Ultimate Ears app***, so you can take your parties everywhere. Caves. Mountains. Lakes. Rooftops. You name it. So grab your friend's speakers and your friend's friend's speakers and head to any location you can dream up to take the party to a whole new level.
Music services supported
Amazon Music, Spotify, Pandora, iHeartRadio, TuneIn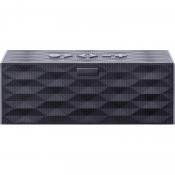 Jawbone BIG Jambox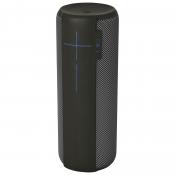 Ultimate Ears Megaboom
Product benefits
BIG JAMBOX has a built-in microphone that lets you enjoy hands-free calls and video chats using Skype, GoogleTalk, and FaceTime. Whether you're in a conference room or cooking in the kitchen, your conversations will come through loud, crisp, and clear.
Shockproof
Features
Exclusive LiveAudio technology lets you experience your music like never before—as if you're sitting front row, hearing it live.
360-degree sound, IPX7, Pair Up to PartyUp, support Bluetooth Hands-Free Profile (HFP1.5)
Accessories
Wall charger, stereo cable, and micro-USB cable
Micro USB cable
Bluetooth transmission range (max)
Operating systems supported (for stored files)
Android Jellybean and higher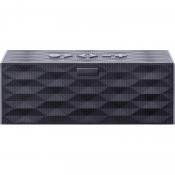 Jawbone BIG Jambox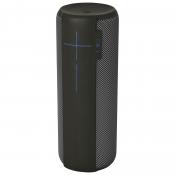 Ultimate Ears Megaboom
Bluetooth version (if specified by manufacturer)
Warranty / Certifications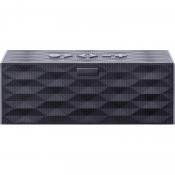 Jawbone BIG Jambox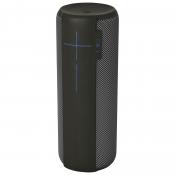 Ultimate Ears Megaboom
Product manuals
http://cdn2.bhphotovideo.com/lit_files/97405.pdf