Windows are our eyes when we look into the street. Naturally, we need to keep them clean and limpid. The squeegee will help. In this
article, we will review the best squeegees available and help to choose the one to fit your needs.
...
Read more
...Read less
X
This site is a free online resource that strives to offer helpful content and comparison features to its visitors. Please be advised that the operator of this site accepts advertising compensation from certain companies that appear on the site, and such compensation impacts the location and order in which the companies (and/or their products) are presented, and in some cases may also impact the scoring that is assigned to them. The scoring that appears on this site is determined by the site operator in its sole discretion, and should NOT be relied upon for accuracy purposes. In fact, Company/product listings on this page DO NOT imply endorsement by the site operator. Except as expressly set forth in our Terms of Use, all representations and warranties regarding the information presented on this page are disclaimed. The information which appears on this site is subject to change at any time. More info
Cleret 5022
Shape and Material
Cleret 12 cleaning squeegee features a cleaning blade with the twin wiping edge designed to clear every water drop and fog with the first swipe on the surface. With this wonderful tool, you will forget about water spotting on the tiles at all and achieve perfect cleanliness everywhere. This usable shower squeegee has got a straight profile that provides a perfect angle for more effective cleaning.
Durability
This is a great shower squeegee that works beautifully on multiple surfaces and makes no scratches on tiles and glass. People note that it works for years and doesn't seem to fail to do the job all this time. There's a big difference between the blade with a single edge and dual wiping edges. The last one manages to do cleaning faster and more effectively. The flimsy wall hanger is the only little flaw of this squeegee. Customers note that it quickly falls away from the wall and it is difficult to glue it back to the place. In the rest, it is a very decent squeegee that may last for several years.
Best For
This is a very compact and easy-to-use squeegee designed for application on the most surfaces. It is easy to change the holder from small to a taller one and use it on windows and glass doors faster with enhanced comfort. After each use, just pull the holder out and hang the unit on a wall hanger (included with the squeegee).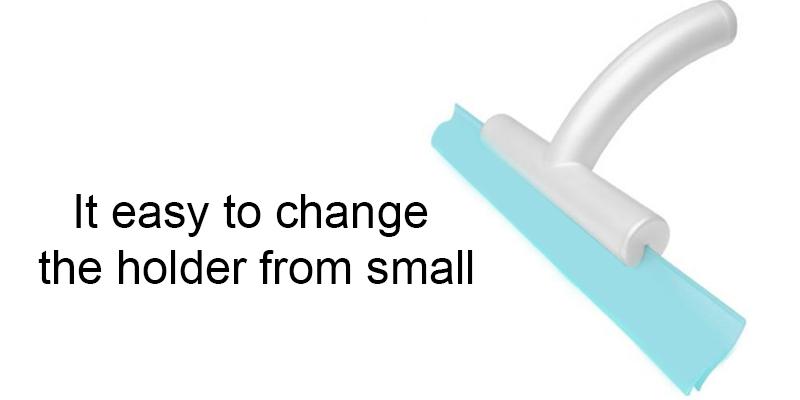 Last updated price

$

8.29

Stock
In stock
ASIN

B00EDZ3XZC
---
Cleret 5022
Jet Clean JCES3SizeP1
3 Better Than 1
Every housewife knows that washing windows hardly brings pleasure, particularly if she has a large house that needs a regular cleanup. As well as any driver constantly faces the need of cleaning vehicles suffered from adverse weather conditions. If you use a conventional sponge, brush or napkins for cleaning, don't you wonder why scratches always appear on the surface? When you have a proper tool at hand, you'll get no troubles with washing. Contemporary squeegees allow cleaning car and house windows, mirrors or tile safely and properly. This Jet Clean squeegee obviously differs from other models. Its major advantage is its 3 different-sized blades included in the package. Hence, you can choose the blade which size suits your cleaning needs best. For example, if you want to groom tiles or mirrors of your bathroom after taking a shower, pick the smallest 7.8" blade and easily maneuver between the bathroom fitment. In addition, this blade will come in handy for washing car windows; you may also take the medium 9.8" blade which is more versatile. The biggest 11.8" blade is able to clean large house windows and other large surfaces. This blade removes water from windows excellently, providing comfort whether you are working indoors or outdoors. If you deal with large windows or other surfaces, we advise using an extension pole (can be ordered separately).
For Record
There is a huge variety of ways to wash windows. Still, everybody wants to make them crystal clean. We'd like to give you some advice.
Detergents are better to be applied with a sponge and then spread over an entire surface.
Wear rubber gloves when you deal with household chemistry to avoid skin irritation.
Refrain from powder detergents for washing windows and mirrors since their abrasive particles may damage the surface.
If you need to remove stains from a sticky tape or glue from glass or tile, apply detergent on a surface, wait for a few minutes, and then scrape the stains away with a metal edge of a squeegee blade.
More Products To Consider
Ettore 86000 Super Bucket with Handle, 3-Gallon will facilitate applying detergents on windows.
Jet Clean Easy Reach Extension Pole for Pro Window Cleaning Kit & Easy Squeegee - a handle for cleaning large windows.
Additional Info
Last updated price

$

0.00

Stock
May be out of stock
ASIN

B015QOF7D4
---
Jet Clean JCES3SizeP1
OXO 1062122
Shape and Material
OXO All-Purpose squeegee is a perfect tool for showers. It's got a straight profile that is supposed to do the job well and last for quite a long time. The blade feels soft. You may need some time to get used to its softness and get the right amount of pressure on it. Once you manage, you'll see how quickly it is to clean glass surfaces and leave no residue from the water drips. A lot of buyers buy this cleaning squeegee to replace their fragile rubberized analogs and say it is great. Some people note it could be a little bit wider, but generally, most of the customers are completely satisfied.
Durability
OXO Good Grip All-Purpose squeegee is known to be rather durable. People who used the rubber squeegees say they are very lasting and high-quality. It easily copes with foggy mirrors, soapy shower doors and even the dew on the windshield. When a suction cup loses its shape, it's very simple to get it back to norm. Just put it in boiling water for a few minutes, take it out and let it dry. That's enough for the suction cup to recover the shape and be ready for the next cleaning.
Best For
A silicone edge on this glass squeegee works perfectly on a majority of tiles and glass surfaces. The customers who have used this squeegee for some time confirm that it works better on the smaller surfaces and requires considerably fewer strokes and does the job significantly faster. It's also easy to store. A handle of the squeegee can be easily put into the holder so the assembled unit takes very little space in the bathroom.
Last updated price

$

7.98

Stock
In stock
ASIN

B000CCDBRK
---
VIDEO
OXO 1062122
Desired tools B1
Shape and Material
This universal cleaning squeegee has got two-sided silicon blade that allows you to clean most smooth surfaces with ease. The size of this squeegee is quite small, so it is lightweight and easy to handle. It also doesn't require a lot of space on a shelf and thus, its storage is also convenient. Compared with other squeegees in our review, this one has got the smallest blade width. While it's not critical for cleaning narrow surfaces, you may need to do more sweeps to remove the dirt from wide and heavily polluted areas.
Durability
The silicon blades of this squeegee are wear-resistant and durable. You may not need to buy a new one for quite a while since it comes with two replaceable 8-inch blades, saving you time and replacement costs. The manufacturer cover their squeegees with a 1-year warranty, giving protection and confidence in the quality of their products. Hence, the least you should doubt about Desired Tools squeegee is its service life.
Best For
The Desired Tools squeegee will assist your daily clean-up with ease. It's an irreplaceable tool for cleaning your bathroom. The soft, flexible, silicone blades ideally cope with the dirt and stains worn into doors, windows and tiles, requiring from zero to none physical effort from your side. This squeegee can also come in handy for cleaning car windows. It doesn't leave streaks and effectively removes dust and other contamination. The item is available in three colors: white, blue and gray. Excellent!
Last updated price

$

11.97

Stock
In stock
ASIN

B0114A566C
---
Desired tools B1
ToiletTree Products Shower, Window and Car Glass
A Perfect Solution for Bathrooms
We call your attention to the squeegee for cleaning windows and other smooth surfaces by ToiletTree Products. This squeegee comes with a medium-sized 10" blade made of a high-quality rubber. Based on practice and customers' feedback, this ToiletTree squeegee has proved to be a good tool for use in bathrooms. Many of us often find bathroom walls, doors or mirrors covered with waterdrops and soap foam after taking a shower. When all this gets dry, mirrors do not look appealing. Even more so if the tap water is rather hard. Yet, on having the squeegee from ToiletTree Products at hand, you will cope with cleaning with ease. All the drops will be removed with a slight movement of your hand, leaving the surface dry and streak-free. We'd like to mention that the delivery package includes a suction cup hook and a strap to attach or hang the squeegee to dry out after showering. The spray bottle built into the handle is the main advantage of this squeegee. Pour detergent or water into this bottle and make cleaning even more efficient! Now, you don't have to drag a bucket full of suds around every corner where you wash. Whether you clean mirrors or windows in your house or car, they will shine as if they were brand-new. Absolutely effortless work with brilliant results is guaranteed!
A Piece of Advice
If you want to avoid streaks and stains after washing, use alcohol-based agents or specialized window cleaning detergents. After applying detergent, make the surface dry with... this super squeegee! In case you have no cleansers at hand, you can use other substances. For example, you can use vinegar that you surely have in your kitchen. Mix it with water in 1:1 ratio and get an excellent cleaning agent for windows! The result is fabulous, while the expenses are minimal. Still, there might be some odors for a while, but the cleaned surfaces will glare.
More Products To Consider
Try Rain-X 630023 Shower Door Water Repellent for cleaning your shower cabin.
Last updated price

$

12.95

Stock
In stock
ASIN

B00FZ5MXO6
---
VIDEO
Toilet tree Squeegee with Built in Pump Spray Bottle
ToiletTree Products Shower, Window and Car Glass
What is a Squeegee
A squeegee is a tool with the rubberized blade that is commonly used to clean flat and vitreous surfaces from dust and dirt. Just a few strokes of the spongy blade allow users to clean the glass quickly and make it shine like a new one. Floor squeegees are usually screwed to a longer pole so you've got less strain in a spine and more flexibility. The window and car squeegees are supplied with a shorter handle that can be changed to a longer one by wish. A squeegee is a great invention of the modern world aimed to facilitate the cleaning and control the flow of liquids. If you still use a simple tissue to wipe out the tiles, it's time to buy a squeegee.
Among the most efficient home appliances you could get for cleaning your house are upright vacuums and canister vacuums.
What Features to Compare
Shape and Material
When looking for a squeegee it is vital to understand how it will work on different surfaces. Otherwise, you may get a decent item but absolutely useless for your floor. That's why it is worth considering the following parameters - material, hardness and size, and only then buy a squeegee for your needs. Knowing this, it's gonna be much easier to find a squeegee that would deliver the desired performance. Another thing to pay attention to is the shape of a squeegee and its profile. V-shaped squeegees are the most popular among the customers. They are designed to work literally on all flat surfaces and leave no ink after each use. However, you can also find double and triple squeegees that combine the functionality of several squeegees all in one. The size of a squeegee is quite important too.
Service Life

If you don't want to bend over for hours trying to remove the hard dirt from the floor, it is going be a sensible idea to get a squeegee on a long pole with the wider rubber blade. Small units with narrow squeegee blades would work better for windshields and small-scale jobs as they require more strokes and efforts. So, actually, all the above-mentioned characteristics directly determine how easy will be the use of a certain squeegee.
Best For
The last thing to pay attention to is the surface where you will use your squeegee. There are home and multi-purpose squeegees to choose from. The multi-purpose squeegees are more versatile, and used for removing the moisture from house and car windows, tiles, mirrors and other smooth surfaces. There are also squeegees for cleaning abrasive materials like bricks, floors, floated surfaces, etc. With this squeegee, you can easily clean the wet floor after washing your car.