Best Car Inverters 2017
If you wish your LCD TV, laptop or other electronics to be powered on the road, you'll need a car inverter. To maximize
a power of the car battery and run your devices wherever you want, read this review and choose the right car inverter!
....Read more
....Read less
What Is It
It's obvious that we want to use electronic gears on the open road just as easily as at home. Basically, it's impossible without DC to AC car inverters. A car power inverter is a device which increases direct current (DC) and converts it into alternating current (AC). The inverter is connected either into a 12V cigarette lighter or directly to a car battery. This device is used for charging and powering various electronics such as laptops, cell phones, games consoles right on the go or when a car engine is switched off. A car power inverter will perfectly fit those who spend a lot of time at the wheel during business trips or travelings and want their devices to be always charged.
If you'd like to watch your favorite movies and videos right in a car, we recommend you to check out our other review on Car DVD Players.
What To Look For
The first thing to look for when choosing the right model is the Wave Output of car inverter. By this criterion, we can distinguish two major types of power inverters: pure sine wave and modified sine wave. A pure sine inverter is rather simple and generates the same power rate that we get from a home grid system. Pure sine inverters are used for charging medical equipment, large TV-sets and other home appliances with brushless motors. For most other devices that we use each day such as laptops, cell phones, tablets, etc., modified sine wave inverters would be more than enough.
The next crucial point to consider is the required Wattage, so you need to decide in advance which electronic appliances you'll more likely need to power up. The total wattage for all devices connected at a time shouldn't exceed the rated wattage of the inverter. Make sure to consider the peak power, for there are some appliances that draw higher power when they start up.
Connectivity also matters. DC/AC inverters differ in a number of built-in power outlets as well as USB-ports for charging electronic gadgets. USB ports, in their turn, can vary in the rated current, too, so as to give users an option to charge multiple portable devices with a different wattage rate via a single unit.
Ease of Use and Safety are no less important features you can benefit from. Some inverters have special buttons and LED indicators that show a current status of the running process and allow you to switch on/off some functions. Most inverters also feature a built-in fan which cools the device and prevents overheating. Power inverters usually have various automatic shut-off capabilities against current overload, overheating, short circuit. There is often an auto-off function which is useful when the battery's voltage gets too low. Additionally, consider design of inverter, its size, and weight. These factors determine whether it's possible and convenient to place the device in your vehicle.
...Read more
...Read less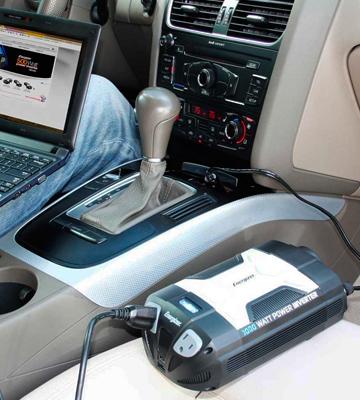 Energizer Power Inverter
Energizer Power Inverter
Impressive Power
If you love spending time with your family or friends in the open air, you are most certainly interested in comfort. To prepare food or entertain ourselves with different electroniс devices, we naturally need electricity. At such moments you can take advantage of ENERGIZER 1100 Car Power Inverter. This device is one of the most powerful DC/AC car battery inverters, so it can be used for running a small refrigerator, TV set, or even hand tools. This inverter has a maximum continuous power of 1100 watts and peak capacity of 2200 watts. Therefore, you don't need to worry about overload and potential damage to the inverter.
Thought-out in Details
We found out that the built-in LCD display shows all necessary information about running process: the car battery source, power consumption value and temperature level. Energizer 1100 also features an integrated cooling fan which works in the automatic mode and prevents overheating. In addition, this inverter has all essential features required for safe use such as protection against overvoltage, undervoltage, overload, and short circuit.
The next point to be noted here is that the inverter can be connected by two ways: either directly to a car battery or a cigarette lighter. It has 2 standard North American outlets and 2 USB ports with the maximum current output of 2.1 A. So, you'll be able to charge all portable devices that plug into USB-port.
To sum it up, it's safe to say that Energizer 1100 is one of the best DC/AC inverters for a car which has all safety features and provides a high-quality power supply for a great number of electronic devices.
More Products to Consider
If you want this car battery inverter to be connected to a cigarette lighter, you need the Cigarette Lighter Plug.
Additional Info
---
Energizer Power Inverter
BESTEK Power Inverter
BESTEK Power Inverter
Multiple Ports for Various Purposes
Seeking for the optimal DC/AC inverter for a car, we have reviewed BESTEK 400W Power Inverter. The first vital point is that this device is capable of charging several devices simultaneously! Apart from standard AC outlets, this inverter contains 4 USB-ports. All your gadgets will get the juice they need! Taking into account that the power output and peak capacity equal 400W and 1000W respectively, this model can power a small fridge and a TV-set either.
Considering USB ports separately, it should be noted that each of them is intended for different current, so you can apply them for various needs. For example, it's possible to juice up a cell phone by connecting it to 1A port. Other devices, however, should be connected to 2.1A port in order to ensure quick charging. Thanks to a compact size of the inverter, it doesn't take much space in a car and can be put between seats. There is no need to connect this device to the car battery, you can utilize a cigarette lighter as well.
Protection From Short Circuit
The car power inverter is protected by fuses that prevent failure of the device in case of short circuit. The fuse box is located conveniently, so you'll be able to replace fuses easily via only a screwdriver. You don't need to dismantle the inverter entirely!
We consider that this car power inverter will be a perfect choice for business people who use electronic devices for their work. With this inverter, you will always have an opportunity to charge your devices even just on the go!
More Products to Consider
If your cable is too short, take advantage of Extension Cord Cable!
Additional Info
---
VIDEO
Bestek 400W Inverter Review
BESTEK Power Inverter
Tripp Lite PV200CUSB Car Inverter Cup Holder
Tripp Lite PV200CUSB Car Inverter Cup Holder
Decent Job!
Sometimes we do need to charge our gadgets on the open road. Rough driving, however, can interfere this process and pretty often all devices should be reliably fixed. As for Tripp Lite PV200CUSB, its housing is designed in such a way that it allows you to put the inverter into the cup holder. It's really convenient because you no longer need to look for the right place for the setting! The maximum output power of the device is 400W - it's enough for charging your laptop and a few gadgets at a time. To switch on the car inverter, it's just necessary to push the power button which can be easily found due to its backlight. PV200CUSB also has a built-in cooler that prevents overheating and all necessary safety features preventing overload and overvoltage.
We consider Tripp Lite PV200CUSB a decent inverter for the majority of car owners which can be used to run almost all electronic gears.
Did You Know?
In 2014, the world-famous company Google announced a competition for creating the most compact car inverter. The primary goal of the contest was to involve the best minds to create new alternative energy sources. The total prize amounted $1,000,000. One of the terms of the competition was the necessary power no less than 50W per cubic inch of the invented device size. The grand prize was awarded The Red Devils team from Belgium. Their device had a power density of 143W/inch3. Quite a lot!
More Products to Consider
If you're a pickup truck owner, we recommend you to pay attention to the Best Tonneau Covers!
Additional Info
---
Tripp Lite PV200CUSB Car Inverter Cup Holder
Cobra CPI290CH Cup-Holder Design Power Inverter
Cobra CPI290CH Cup-Holder Design Power Inverter
Compact and Protected
Sometimes it's very important to save some space in a vehicle. This is what Cobra CPI290CH does! This DC/AC car inverter has all necessary features allowing you to effectively use the car battery for charging different electronic devices. The output capacity of the inverter is 200W and the peak power is 400W. To connect this car inverter to a cigarette lighter, you can take advantage of a special plug. The given model features one 3-prong grounded AC outlet and two USB-ports. The ports are intended for different current, and you can charge gadgets via 2.1A USB-port in no time. The design of the model allows putting it in a cup holder. The inverter is reliably protected from voltage changes and also has a shut-off function when the battery source is low. The model will be a superb solution for car owners who drive on a regular basis and need to charge their portable devices from time to time. A compact design and a spring-loaded cup cover give an opportunity to use the inverter even in small cars.
About the Company
Cobra Electronics Corporation is one of the global companies specialized in developing and producing equipment for car enthusiasts. The company has got numerous awards for their achievements and one of them is CB Radio. As early as in 1963, the group of engineers designed the world's first citizens band (CB) radio. The Cobra name caught on with consumers and eventually evolved into the symbol and brand name of this signature product. Over the last 50 years, the company has grown to become a leading designer and marketer of consumer electronics products. Once a small television repair business located in a garage, Cobra Electronics products are presented in more than 75 countries and 55,000 storefronts throughout the world now.
Acquiring Cobra Electronics's products, you choose high-quality electronic devices as well as a great service!
More Products to Consider
For those who use cell phones at the wheel, we'd like to suggest buying Car Phone Holders.
Additional Info
---
Cobra CPI290CH Cup-Holder Design Power Inverter
BESTEK Power Inverter Converter
BESTEK Power Inverter Converter
All That You Need
Having examined BESTEK 300W Power Inverter, we concluded that it's one of the best devices in its category. The peak power is more than two times higher than nominal, so there is no necessity to worry about failures caused by overload. A built-in two-color LED illuminates green when the load is normal and red when the inverter is overloaded. It's necessary to add that all outlets and USB ports are located on the front side of the device, so it will be a piece of cake for you to run all your electronic devices on the open road! Moreover, its super long 2ft cord will allow those who sit on rear seats to charge gadgets too.
To sum up, it's certainly a great buy for drivers! The compact design of the model will give you a possibility to store it under the seat in any car or truck!
Alternative Transportation
The car battery is considered to be an auxiliary device, its main purpose is to start the engine. For electric cars, however, a rechargeable battery is the most important part of a vehicle. In this age of sophisticated technologies, electric cars have become widespread especially due to environmental aspects. Interestingly enough, the history of electric vehicles had begun 50 years earlier than cars were equipped with a "classical" combustion engine. For a long time, no one had remembered about this type of transport. Interest in electric cars revived in the 90's of the last century when the question of ecology became acute. And the first electric car was GM EV1 produced and released during 1996-2003.
More Products to Consider
If you wish to use a car inverter and cigarette lighter at a time, we advise acquiring the special 12V 2-Way Splitter.
Additional Info
---
VIDEO
300 Watt Power Inverter with Dual AC Outlet and USB Charging - BESTEK
BESTEK Power Inverter Converter