Adult training wheels will help those people who haven't been able to learn how to ride a bike during their childhood. Using these
bike stabilizers for adults, you'll master the bicycle in no time at all.
...
Read more
...Read less
X
This site is a free online resource that strives to offer helpful content and comparison features to its visitors. Please be advised that the operator of this site accepts advertising compensation from certain companies that appear on the site, and such compensation impacts the location and order in which the companies (and/or their products) are presented, and in some cases may also impact the scoring that is assigned to them. The scoring that appears on this site is determined by the site operator in its sole discretion, and should NOT be relied upon for accuracy purposes. In fact, Company/product listings on this page DO NOT imply endorsement by the site operator. Except as expressly set forth in our Terms of Use, all representations and warranties regarding the information presented on this page are disclaimed. The information which appears on this site is subject to change at any time. More info
EZ Trainer 24"- 28" Adjustable
A Reliable Support System
The biggest difference between every other model on this list and the EZ Trainer product in question is just how well-thought-out, simple, and practical the latter is. Because it is adjustable, this contraption is just as good for adults looking to learn how to ride a bike and for older individuals suffering from a lack of balance.
What this difference adds up to is the necessary stability but without sacrificing the real cycling experience. Using a flexible torsion coil technology, this product maintains the riding position people use when they ride a bike without training wheels, thus allowing lateral movements.
Another little detail that separates this stabilizer kit from its far less impressive counterparts is the quick-release system that already comes supplied with the wheels. With this system, you'll be able to install the wheels in a matter of minutes.
Finally, the weight capacity. Where most training wheels aren't capable of supporting a weight load above 200 pounds, this product can hold up to 300. The only drawback to the increased weight capacity is that the contraption itself weighs a little more than usual but not too much to negatively affect the cycling experience.
Bottom line, this EZ Trainer product offers the best adjustable training wheels on our list for people with a large stature and hefty physique. This is also our best offer for those who love riding a bicycle but unable to do so without extra support anymore due to balance issues.
Additional Info
Last updated price

$

0.00

Stock
May be out of stock
ASIN

B00HQJ9X6K
---
EZ Trainer 24"- 28" Adjustable
CyclingDeal 20"-29" Adjustable
Can Handle any Load
CyclingDeal with this particular deal puts the "adult" in "adult training wheels". We, as in adults, seldom care that much about aesthetics and looks in general when it comes to these things. What we want is usually just stability and durability. And, with this product, that's exactly what you're getting.
Incorporating a heavy-duty tubular and plate steel construction, this training contraption will be able to withstand the rough and tumble of any road. The robust construction is also part of the reason the model's weight capacity is so impressive. Able to support up to 264 pounds of weight, it is suitable for a great variety of people, doesn't matter the stature, frame, or overall complexion.
These bicycle stabilizers fit bikes with 22" to 29" wheels, which is nothing we haven't seen before but they do also fit 700c bikes and that's a nice change of pace from the usual deal. That means you'll be able to hook these babies up to a mountain bike or a road bike and take your training to the next level.
Lastly, the product is fully compatible with quick-release and non-quick release rear wheels. The only thing we have against it is the amount of time and effort it takes to put the whole thing together.
Other than that, these bike stabilizers for adults from CyclingDeal are as rugged, tough, and robust as they come. With these wheels, you'll be able to train on any terrain and practically any bike.
Additional Info
Last updated price

$

159.90

Stock
In stock
ASIN

B074FT749X
---
CyclingDeal 20"-29" Adjustable
Bike USA 24" - 27"
500 Pounds is Doable
Figuring out the bicycle as an adult can be incredibly difficult. The movements and the balance just don't come as naturally to older people as they do to children. But, with this Bike USA Stabilizer Wheel Kit, you should definitely be able to figure it out. Since their weight capacity adds up to a whopping 500 pounds, there isn't a single person (bar very few individuals with, let's be honest here, some serious weight issues) that it won't be able to support.
First and foremost, this is a kit designed for people with mental and physical challenges and it does not disappoint in that department whatsoever. But that doesn't mean you can't use these adult training wheels to learn and master the bike. You might have an issue or two with some bicycle lanes since these wheels extend your bike's width to 26 inches. But, other than that, this kit works like gangbusters.
With its tubular steel construction and plastic-coated u-bolts protecting the bike from scratches, you will unlikely be able to harm neither yourself nor the bike. Plus, they don't make the mistake of attaching to the axle, the weaker mounting point. Instead, the wheels mount to the rear chain. This way, they always stay in place.
Long story short, Bike USA Stabilizer Wheel Kit is easily the best option here for mentally handicapped or physically impaired individuals. It is, without a doubt, the strongest and probably the largest kit on the market today. That said, it will still fit through a regular doorway.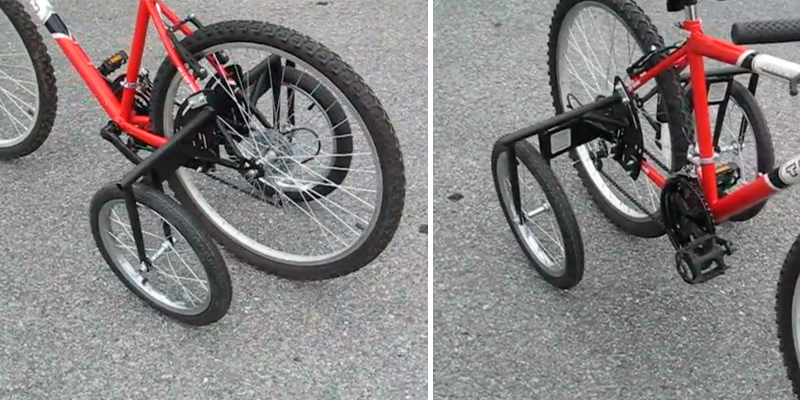 Additional Info
Last updated price

$

219.99

Stock
In stock
ASIN

B001BRE0G6
---
Bike USA 24" - 27"
BikeHard Adjustable 20-26"
Ride Anywhere
This BikeHard adult training wheelset is all about its rugged and sturdy construction. There isn't a customer that won't be able to enjoy its benefits as the product is equally compatible with 20-inch children's bicycles and 26-inch adult bikes (the numbers refer to the bicycle wheel diameter, naturally).
The rugged construction is a result of robust materials and tough components used in its design. You have thick rubber tires, a couple of heavy-duty steel wheels rolling on reinforced steel bearings, as well as extra-rugged and fully adjustable steel stabilizers. All of these materials and parts are the reason the weight capacity of this set adds up to 220 pounds, perfect for the majority of adults. Plus, the steel bearings produce next to no noise, require very little maintenance, and have a really long lifespan.
The only issue we have with this product is the fact that it isn't compatible with quick-release skewers. Other than that, provided the rear wheel features a threaded 26T axle, you'll be able to install the wheels and they won't interfere with the movement of 6- or 7-speed rear derailleur gears.
In other words, what we have here is a set of adult training wheels that doesn't discriminate between users. It is an excellent option for grown men and women who haven't been able to master the bicycle in their formative years. With these wheels, you'll be able to ride anywhere.
Additional Info
Last updated price

$

0.00

Stock
May be out of stock
ASIN

B00GO44VFG
---
BikeHard Adjustable 20-26"
Greensen Universal 16-22 inch
Teach Your Kid
Greensen Universal is a slightly different product compared to every other entry on this list. Though the "universal" part isn't necessarily false, it is a little misleading. The thing, the weight capacity of this set caps at 70 pounds. As you would imagine, there is practically no adult in the world that weighs 70 pounds or less. We've added the product in this review because it will help adults teach their kids the proverbial ropes. But it won't help grown-ups figure out the bike themselves.

That being said, this is an excellent set for parents. The wheels are adjustable and will fit any bike with wheels between 16 and 22 inches in diameter. They're made of plastic, so they aren't as durable as their steel counterparts. But that also means they aren't as heavy either. With rubber coating, the wheels ensure safety and prevent accidental injuries.
What we really like about this product is how easy it is to set the whole thing up. The instruction manual that comes with the package is comprehensive and informative. Every necessary detail and part, every nut, bolt, and screw comes supplied with the wheels too, so you won't have to buy anything separately.
Again, Greensen Universal will not help you learn how to ride a bicycle. But it will help parents teach their kids to do so. Though flawed as an overall product, this is a great set for kids. It will allow them to master 2 wheels without suffering major injuries.
Last updated price

$

21.99

Stock
In stock
ASIN

B07GGZ9RC1
---
Greensen Universal 16-22 inch
What Are Adult Training Wheels?
Most learn how to ride a bicycle at a very young age. But you'd be surprised how many people in their 20s, 30s, 40s, and practically any other age group have no idea how to do it. If you're one of them, don't worry. There's no shame in that. We all have gaps in our knowledge, something that we reckon we should have learned way earlier but haven't had the chance to do so. With these training wheels (sometimes referred to as supporting wheels or balance wheels) for adults, you'll be able to fill that gap. They'll help figure out the balance and every little detail that goes into riding a bicycle in the safest, most comfortable manner.
As an adult, you know the price of broken bones and how medical bills can add up even if you have a decent insurance plan. Using these wheels, you won't have to pay that price. We've found some of the best training wheels on the market today. These models are compatible with most bicycles, they're safe and effective, and they won't cost you a whole lot. What else is there? Just grab one of them and start learning, you'd be surprised how much fun it can be.
Now, get yourself one of these bike seats to make yourself comfortable on your bike and a bike helmet to keep yourself safe.