While travel trailers are already sold with trailer tires more often than not, they're seldom great tires. These ones, however, are
quite alright. In fact, these are some of the best trailer tires for mobile homes, RVs, and different travel trailers on the market today.
...
Read more
...Read less
X
This site is a free online resource that strives to offer helpful content and comparison features to its visitors. Please be advised that the operator of this site accepts advertising compensation from certain companies that appear on the site, and such compensation impacts the location and order in which the companies (and/or their products) are presented, and in some cases may also impact the scoring that is assigned to them. The scoring that appears on this site is determined by the site operator in its sole discretion, and should NOT be relied upon for accuracy purposes. In fact, Company/product listings on this page DO NOT imply endorsement by the site operator. Except as expressly set forth in our Terms of Use, all representations and warranties regarding the information presented on this page are disclaimed. The information which appears on this site is subject to change at any time. More info
MILLION PARTS ST205/75D15
Durable H188 Treads
The Million Parts ST205/75D15 Tires show up even when the trailers themselves are trailing behind (metaphorically speaking). First, credit where credit is due, the rims that come with these tires are relentless. Endowing them with more strength as well as support than cheap knock-offs, the company's rims ensure that the tires do not start deforming under pressure. Speaking of, these are C-class (6-ply) tires, meaning that they can handle as much as 1,820 pounds without hiccups.
But the more attractive quality is the durable H188 tread patterns on these bad boys. With the treads measuring 6.5 millimeters (0.25 inches) depth-wise, you can hit slippery roads without worrying that one sharp turn can easily create a huge accident.
What we're not as crazy about are the tires' sides. Generally speaking, the folks at Million Parts make overall tough tires but these are not quite as resistant against side punctures as the company's products usually are, so we would recommend erring on the caution side when possible. Setting aside this little misstep, the Million Parts ST205/75D15 Tires will be covering above 80,000 miles with relative ease and without making you regret going with these trailer tires once.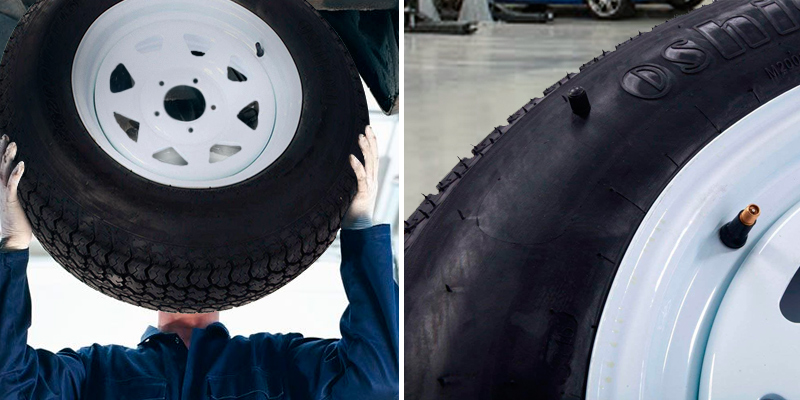 Last updated price

$

182.59

Stock
In stock
ASIN

B072JK5PD1
---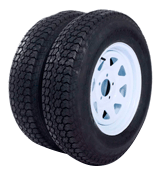 MILLION PARTS ST205/75D15
AutoForever ST205/75D15 F78-15 205/75-15
Six-Ply Build
The AutoForever ST205/75D15 Tires can take a sizable beating without showing a single damage sign. Right off the bat, we're working with C-class tires here, meaning that the 6-ply construction allows them to hold loads over 1,800 pounds without deforming. At the same time, the heavy construction does an excellent job protecting the tires from punctures and providing matching abrasion resistance.
Aside from basic specs (15-inch diameter, 6-inch width, and a bolt pattern that features 5 lugs on 4.5 inches), the company does not disclose much about the rims that are shipped with these tires. Still, we can tell that they're working with a powder-coated finish, protecting the rims from forming rust patches and falling victim to corrosion. We can also tell that they're quite stylish, looking more expensive than the price tag would suggest.
Back to the tires though, the tread depth on these fellows is generous (6.5 millimeters) but the issue is that they become quite loud when you start going above ~50-60 mph, a little irritating and upsetting considering how impressive this product is otherwise. Nevertheless, we can still recommend AutoForever ST205/75D15 Tires to people with fitting wheels and travel trailers that are not crazy about the whole traveling light idea.
Last updated price

$

162.98

Stock
May be out of stock
ASIN

B07F42RV7W
---
AutoForever ST205/75D15 F78-15 205/75-15
Weize ST205/75R14
Double Steel Bolts and Nylon Caps
The Weize ST205/75R14 Trailer Tires are pretty humble compared to the tires that precede them on this list. They're not bad per se, just not as good as the best prospects on the market today (and the price reflects the slight but noticeable quality dip). In spite of this sentiment, these tires are still plenty attractive.
To start with, they are armed with double steel belts as well as double polyester cords, making the tires more durable overall. To make their case even more convincing, the tires widen the shoulders, making them excellent at dissipating heat and preventing the treads from prematurely wearing out. Contributing toward the same cause, the treads come equipped with nylon caps wrapped around them, preventing tread separation and instilling sufficient confidence on wet and snowy roads.
The maximum load capacity does not instill the same confidence though. While advertised as D-class, meaning that they should be able to hold up to 1,760 pounds, the tires can seldom support above 1,600 pounds without sagging.
All things considered, the Weize ST205/75R14 Trailer Tires are not flawless but, when you take the price into account, they make excellent mid-range tires for medium-sized and even above-average trailers. They're also great spare tires.
Last updated price

$

0.00

Stock
May be out of stock
ASIN

B08B3ZY4WL
---
Weize ST205/75R14
Roadstar 4.80-12 480-12 4.80 X 12 12"
Non-Vehicular Use
The Roadstar 4.80-12 Tires will not enable vehicular use. No, these are B-class tires, they cannot support more than 785 pounds, meaning that even the smallest, most lightweight campers will not work with them. These are the tires you put on those trailers that you drag behind the vehicle. Besides that, they can accommodate construction work, agriculture, utility, infrequent boat and cargo hauling, short-distance trips, etc.
The tires compatible with Alumacraft, Karavan, Lund, Continental, Craft, Stratos, Crestliner, Nitro, Ranger, Tracker, Triumph, Warrior, just about every boat trail band out there. They're also compatible with most utility/cargo trailers, like the ones from Big Tex, Lark United, Wells Cargo, Top Hat, you name them.
Construction-wise, making the treads more discreet, these tires decrease the rolling distance. Then again, with less prominent treads, the tires are also not quite as good on wet roads as the models that are endowed with sizable treads. On the upside, the subject tires come equipped with wide shoulders, improving the contact with the road and making them more responsive.
Long story short, the Roadstar 4.80-12 Tires will fit/work with most trailers that are not also vehicles themselves.

Last updated price

$

99.95

Stock
May be out of stock
ASIN

B071KPY5WC
---
Roadstar 4.80-12 480-12 4.80 X 12 12"
MILLION PARTS 4.8-12-4PR-5LUG P811
Any Road Will Do
The Million Parts 4.8-12 Tires are alright at what they do but not quite as impressive as the company's more expensive tires. Of course, they also do not cost as much as premium models, so we're not necessarily complaining here. We can, however, complain about the thin paint coating on the rims that does not last, so you'll have to apply a new layer relatively soon.
We cannot complain about the rims themselves though. As always, they're excellent, preventing the tires from deforming even when the pressure goes above the acceptable maximum. Made from high-quality rubber, the tires enable quick braking and seldom leave noticeable signs on the road. To add more, they're practically silent, even when you're riding on gravel roads.
With the B-class capping their load capacity at 785 pounds, these tires will not be able to support vehicles, needless to say. That being said, they're more than fine with small utility trailers, agriculture models, the trailers that haul boats and lightweight cargo, and more. As long as we're not talking about anything around or above 1,000 pounds, the Million Parts 4.8-12 Tires are the right tires for the job. With them, you can even hit bumpy roads without worrying about the trailer you're carrying.
Last updated price

$

102.99

Stock
In stock
ASIN

B071W8Y33H
---
MILLION PARTS 4.8-12-4PR-5LUG P811
What Are Trailer Tires?
There are almost countless different trailers. Initially, trailers were unpowered vehicles that you tow with a powered vehicle. Nowadays though, the term also includes and covers recreational vehicles (RVs), travel trailers (also known as campers), mobile homes, and more. The tires that we're covering here do not work with flatbed, refrigerated, lowboy, step-deck, and other trailer types that you haul with a truck.
No, the ones that we're reviewing here are designed for personal use (though some will fit infrequent cargo hauling, agriculture use, etc). With them, you have to look at the maximum load capacity first. While C-class tires can support at least 1,800 pounds, meaning that they easily accommodate campers and RVs, D-class tires will not hold more than 800 pounds, meaning that vehicular use is out of the question here. Setting the load capacity aside, as always, these tires are made of different rubber, incorporate different treads, and come with or without different rims, so take all of these elements into account before you decide which ones you're going to purchase.
When you're done, you can also consider these trailer covers to protect your trailer from the elements and tire shines to extend the tires' service life.