A tension rod is a simple home accessory, a furniture item that will help you hang up curtains or divide rooms. It might not seem
like much but a rod like that can be used for many different purposes too, so don't hesitate to get yourself one of these accessories.
...
Read more
...Read less
X
This site is a free online resource that strives to offer helpful content and comparison features to its visitors. Please be advised that the operator of this site accepts advertising compensation from certain companies that appear on the site, and such compensation impacts the location and order in which the companies (and/or their products) are presented, and in some cases may also impact the scoring that is assigned to them. The scoring that appears on this site is determined by the site operator in its sole discretion, and should NOT be relied upon for accuracy purposes. In fact, Company/product listings on this page DO NOT imply endorsement by the site operator. Except as expressly set forth in our Terms of Use, all representations and warranties regarding the information presented on this page are disclaimed. The information which appears on this site is subject to change at any time. More info
RoomDividersNow Premium
Premium Support Structure
"Premium tension rod" is a bit of a dubious title. But if we had to give it to one of these products, it would have to be the item in question. Of course, it doesn't differ that much from your usual deal, but here, it is the small details that count.
For example, both the rod and the end caps are made of steel, making the product quite a bit more durable and reliable than most of its plastic counterparts. On top of that, the 1-inch rod houses a robust 1-inch wide spring. A spring like that gives you more strength and wall-gripping power than your typical spring.
The end caps are pretty wide too. Featuring 1.6 inches in diameter, they cover more surface area, giving you, again, a much more reliable holding power.
Curtain rods aren't often the items on display but, just like any home accessory, they either add or take away something from the overall look of the room. And this thing, with its attractive black finish, does not take away anything from your interior.
Unfortunately, the rod isn't corrosion-resistant and that's something you will have to come to terms with. On the other hand, the model is great as far as installation is concerned. The clear rubber end pads ensure a clean installation process. No drilling will be required. Plus the allen wrench that comes with the rod will help you loosen the end caps and easily add or remove curtains from the rod.
In short, the tension rod from RoomDividersNow is our best pick for a reason. Appearance-wise, it will be a good addition to any contemporary or modern interior. It doesn't require much in terms of installation. But it still provides a robust and reliable support structure.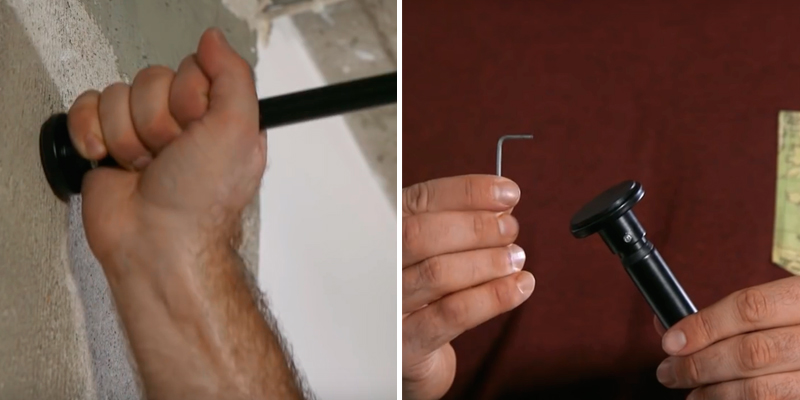 Additional Info
Last updated price

$

0.00

Stock
In stock
ASIN

B017M8BLNC
---
RoomDividersNow Premium
ALLZONE Room Divider
Put It to Work
First and foremost, a tension rod is supposed to provide a reliable support structure. Which is exactly why so many people put their trust in the AllZone company when it comes to these home accessories.

The foundation of this product is, of course, the steel rod, the rod that features 1.26 inches in diameter. Being larger than the absolute majority of similar options, this thing will not fail you in the long run. It will not deform nor will it sag. You can rely on this heavy-duty rod to hold blackout curtains.
Since the model is capable of supporting a maximum load of up to 20 pounds, you can use it in a variety of DIY projects. It will hold cups, provide a foundation for a shoe rack, or anything along these lines.
As it is often the case with high-end tension rods, the item in question comes equipped with plastic rubber grippers. So you won't need any tools to put the rod in place. You won't have to drill. You won't have to damage your walls.
As far as the model's composition goes, there isn't much to complain about here. The rod is made of brushed stainless steel. It is particularly corrosion-resistant and it doesn't rust.
All in all, you could definitely use this long tension road to separate a closet from the rest of the room. Or you could put it above your windows. But considering the sheer strength of the product, we would recommend it to DIY enthusiasts first and foremost.
Last updated price

$

0.00

Stock
May be out of stock
ASIN

B075ZT2FYV
---
ALLZONE Room Divider
AmazonBasics Basic
Not That Basic
AmazonBasics, as the name suggests, usually presents us with a basic product, enough to cover your standard demands. But the model in question is anything but basic.
For starters, it gives you an adjustable length. By twisting the left side of the rod away from you and the right side towards you, you'll be able to expand or retract it. Just make sure that the rod is longer than the opening by about an inch and a half.
This way, you'll be able to create enough tension that's required for a secure and tight fit. If you do that, you won't have to worry about the rod slipping or falling down.
In order to be considered a practical tension rod, there's one thing that it has to offer, and that thing is the simplicity of installation. Fortunately, we could say that the product nails it.
To set it up, you won't have to go find your toolkit to grab a wrench and a few screws. There will be no drilling. The rubber pads provide a reliable foundation on their own, so it will take you no more than a few minutes to install the rod.
Our last order of business is appearance and that's not where the product drops the ball either. It's not much but the sleek modern profile and a number of colors that you can choose from will help you match the rod with the surrounding décor.
To rephrase our earlier point, as far as curtain rods are concerned, the model from AmazonBasics is anything but basic. On the contrary, it is a versatile furniture item that can be used with shower curtains as well as for hanging curtains in windows or doorways.
Last updated price

$

0.00

Stock
May be out of stock
ASIN

B075DBTMNB
---
AmazonBasics Basic
BEOKREU HEAVY DUTY
Any Surface Will Do
One thing we really like about this curtain rod from BEOKREU is just how versatile it is. Sure, it might not seem like it, given that the model is relatively short and its carrying capacity isn't that stellar. Nevertheless, versatile would still be the best word to describe this product.
The rod comes equipped with really wide end caps, both of which feature almost 2 inches in diameter. Caps like that cover much more surface area, providing the most reliable holding power. Add to that the particularly sticky rubber pads and you have yourself a tension rod that will not fall off, no matter the surface.
You can use it on wallpaper walls. You can install this thing on smooth walls as well as rough walls. Be it a tile wall or a wooden frame, just about any surface will do. They won't slip nor will they drop down.
Construction-wise, the rod features a robust foundation. Made of rust-resistant steel, it will remain a solid condition for years to come. It won't bend in the middle nor should it fall victim to corrosion.
The company behind this product says that it will enhance your décor. But if you ask us, that's a bit of a bold claim. The rod looks nice and it certainly won't ruin the overall vibe of any room but that's about it.
In conclusion, the best thing about the tension rod from BEOKREU is how well it works with different surfaces. Plus, you won't need any hardware to put them in place. The rod will not slip, even when supporting a wet shower curtain.
Last updated price

$

18.99

Stock
In stock
ASIN

B07CWLY6M9
---
BEOKREU HEAVY DUTY
AIZESI 4PCS
A Few Extra Applications
The model from AIZESI takes a bit of a different approach. Instead of the usual short tension rod, it gives you 4 different pieces that you can put together or separate. It might not sound like the biggest change on paper but a construction like that gives you a lot more options and a number of additional applications.
With this rod, you'll be able to easily isolate the kitchen, a great solution for studio apartments. You can use it to build a shoe rack. A rod like that will help you make a cabinet. From a bar counter to a bookshelf or a flower stand, there's practically no limit to the model's application.
Sure, the tension rod has its flaws. The biggest issue we have with it is its 0.5-inch diameter. That said, despite how thin it is, each tube is still capable of holding up to 5 pounds of weight, which isn't that bad all things considered.
As far as construction is concerned, there isn't much to cover here. You have the usual stainless steel foundation that copes well with rust and corrosion. The non-slip rubber pads do a pretty good job of keeping the rod in place. And the tough steel spring prevents the model from bending in the middle.
To sum it all up, the tension rod from AIZESI will prove a pretty good choice for people who like to get creative with their furniture items. Using these 4 rods, you'll be able to do a whole lot more than you would with a standard curtain rod. That said, you can just as well use it as a simple curtain rod.
Last updated price

$

20.99

Stock
In stock
ASIN

B076TRQJ2V
---
AIZESI 4PCS
What Is a Tension Rod?
As you would imagine, a tension rod is a fairly simple accessory that you can use to hang curtains or room dividers. But there's actually a bit more to these things than you would think. For starters, their application isn't quite as limited.
You can use one of these items as a plant hanger. Some people use them as shoe racks. It can serve as a support structure for vertical storage accessories. You can make a DIY coffee station out of a rod like that. It can give you a way to organize your ribbons. At the end of the day, it is just a rod, and there will always be a lot of creative applications for something so simple and versatile.
Of course, you don't have to get all creative with these things. If you just want to hang your curtains, it's fine too. Just make sure to pick up the right length and consider the maximum load that the rod is capable of supporting. There are a few differences there when it comes to extra features and the choice of materials but they seldom make that much of a difference, so you should be able to easily make the right choice.
Again, if you're not in the mood to let your inner DIY freak run wild, you can just buy a proper shoe rack or a tie rack instead of trying to make one yourself.