Once a month every woman needs some extra care and protection to feel safe and comfy on those special days. And good sanitary pads
can make all the difference. So, whether you seek an alternative to your tried and tested disposable pads or want to completely change your menstrual routine, our choice of top-selling sanitary pads will have you covered,
...
Read more
...Read less
Materials and Construction
X
This site is a free online resource that strives to offer helpful content and comparison features to its visitors. Please be advised that the operator of this site accepts advertising compensation from certain companies that appear on the site, and such compensation impacts the location and order in which the companies (and/or their products) are presented, and in some cases may also impact the scoring that is assigned to them. The scoring that appears on this site is determined by the site operator in its sole discretion, and should NOT be relied upon for accuracy purposes. In fact, Company/product listings on this page DO NOT imply endorsement by the site operator. Except as expressly set forth in our Terms of Use, all representations and warranties regarding the information presented on this page are disclaimed. The information which appears on this site is subject to change at any time. More info
Teamoy 10Pcs Super-Absorbent Reusable Washable Cloth
A Smart Eco-friendly Protective Kit
Whether you are a confident reusable pad user in search of some better product or a first-time user who has made a solid decision to stay with cloth pads, this set of reusable sanitary pads from Teamoy will hit the spot in both cases.
What you'll get is a complete kit containing everything to keep you comfy and protected at that time of the month while saving your peace of mind about the planet's health and safety. Thus, it offers 10 pads in three different sizes including large, medium, and small. The pads vary in length, width, and thickness to meet your varying protection needs during the cycle. Besides, they come in various design patterns to help you quickly find the appropriate pad. While longer pads will keep you leak-proof on heavy-flow days, super-light smaller napkins can be even used as daily panty liners.
Featuring a multi-layer design, all Teamoy pads are super-comfy and super-absorbent. The charcoal bamboo fiber on the top is extremely soft and won't rub or irritate even the most sensitive skin. In the meantime, a combo of microfiber in the middle and a waterproof outer layer will seal the moisture inside and eliminate any risk of leaks. And ample wings (just like those in disposable pads) will deliver reliable side protection.
Suitable both for manal and for machine wash, these pads are a breeze to keep clean while the wet bag included in the set will let you have your protection kit with you when away from home and hold dirty pads when on the go.
To resume, the Teamoy reusable pads are a quality product that will not only save you the need to go to the store for pads every month but also let you handle your period in a more environmentally friendly way.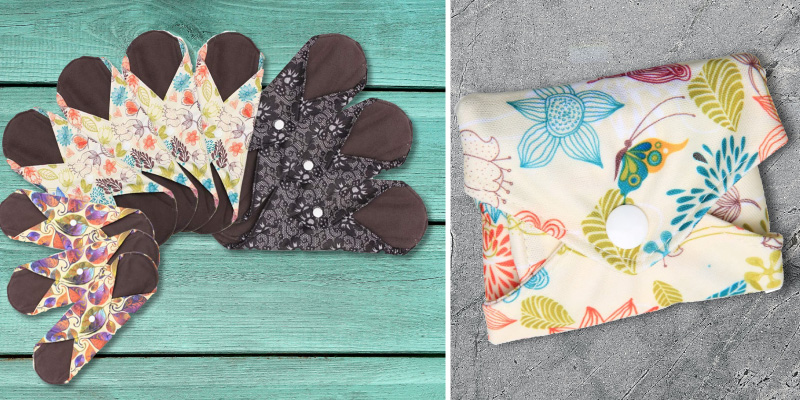 Additional Info
Last updated price

$

25.00

Stock
In stock
ASIN

B078S6KRX2
---
Teamoy 10Pcs Super-Absorbent Reusable Washable Cloth
Always 126Pcs Super Absorbency Ultra Thin Feminine
The Branded Protection
When it comes to disposable sanitary pads, Always offers hard-to-beat comfort and protection. Present on the market of female hygienic products for decades, this brand is confidently a winner due to technological and design innovations that make the menstrual cycle for women much less of a hassle.
First and foremost, the Always pads are ultra-thin like almost no other pads on the market. A super-soft top layer is very delicate to the skin while adhesive wings will let you perfectly tailor the fit to your underwear and comfort so that you'll hardly feel the pad is there when wearing it.
Despite the thin design, though, these pads are highly protective. The cotton cover absorbs the liquid in an instant and won't let it out anymore while the Leak Guard core in the middle soaks up the moisture and turns it to gel in mere seconds, and the polypropylene outer layer will seal moisture inside. As such, the whole system leaves blood discharge no chance to leak on your clothes. Meanwhile, size 2 ensures increased coverage for moderate to heavy flow and, paired with a flexible fit, it will keep you clean and comfy even when cycling, jogging, or being engaged in any other sort of sports activity.
To add more, the product comes in a bundle of three packs, each holding 42 pads. So, it will have you all set for a couple of months for sure.
Simply put, with the ultra-thin pads from Always, there will be no compromises, neither in terms of protective performance nor in terms of a comfortable fit. Striking a perfect balance between these two main selling points, Always pads are many women's favorites, and deservedly so.
Additional Info
Last updated price

$

20.91

Stock
In stock
ASIN

B01IZ5FDNA
---
Always 126Pcs Super Absorbency Ultra Thin Feminine
Wegreeco 6Pcs Bamboo Reusable
Safe and Versatile
Designed with a strong focus on user wellbeing and comfort and environmental health, these reusable sanitary pads from Wegreeco are highly functional and extremely versatile.
Completely made of fabrics, these pads contain no chemical absorbents or toxic materials. So, they are hypoallergenic and absolutely safe for sensitive skin, which makes them a real saver for women with severe allergic reactions to disposable pads. Speaking of the materials in more detail, the inner liner is a nice-to-the-touch artificial charcoal bamboo cloth that will cause no chafing or irritation to the skin in the delicate area. Besides, this fabric is highly absorbent to quickly give you a dry feel and is distinguished by distinct natural deodorizing and antibacterial properties. It will neutralize bad odors related to blood discharge and inhibit bacterial growth to keep your clean and fresh, whatever the flow intensity. On the other hand, the microfiber underneath the bamboo cover immediately soaks the moisture and the waterproof laminated outer will hold it inside, securely protecting your clothing from leakage.
To continue, unlike other washable pads featuring a single snap closure, the Wegreeco pads are created with dual snaps not only to give you more flexibility when adjusting the pad fit but also to keep it firmly in place, with no sliding or crumpling even when you are active.
In the pack, you'll get 6 pads in one size. Yet, the size range goes from small through medium to large to cover all menstrual cycle needs. Depending on the size, the pads differ in length and thickness to provide flow-appropriate coverage and protection level. And though buying pads in all sizes is a bit of investment, it will pay off pretty qujickly.
As such, these reusable feminine pads from Wegreeco will be a great choice not only for menses but also for postpartum and after-surgery bleeding as well as for all sorts of mild incontinence problems in elder women.
Last updated price

$

11.99

Stock
In stock
ASIN

B081CKP4SN
---
Wegreeco 6Pcs Bamboo Reusable
Rael 28Pcs Certified Organic Cotton
Enjoy the Best of Both Worlds
If you want the comfort and eco-friendly design of cloth pads and the protective performance and convenience of disposable ones, the organic menstrual pads from Rael strike a perfect balance in this concern. A super-absorbent filling makes these pads as leak-proof as popular plastic-based counterparts. At the same time, all materials the pads are made of are biodegradable and will do no harm to the environment when disposed of while saving you the need to clean them after use.
Safe for the planet, the pads are also safe for the user, which has been proven by dermatological tests, and are super comfy. The top layer is a soft cotton sheet made of certified 100% organic cotton from Texas. Breathable, hypoallergenic, and super-gentle, it won't chafe or irritate even highly sensitive skin. The layer in the middle is the natural wood pulp bleached without chlorine and a highly absorbent polymer free from toxins while the outer shell is a thin polyethylene free from harmful chemicals. This combo of materials works miracles on soaking up and retaining the moisture, thus, providing the ultimate level of protection and comfort. Meanwhile, leak blocker wings will ensure a non-sliding fit and prevent overflowing on the sides, essential for high-flow days and nights.
The pack of 28 pads will keep you set for the whole monthly cycle and, given the product quality and benefits it brings, the price is fairly honest.
To wrap the whole thing up, the Rael sanitary pads take the best of both worlds to provide secure, comfy, health- and environmentally safe menstrual protection with no fuss of pad washing.
Additional Info
Last updated price

$

11.80

Stock
In stock
ASIN

B071HDJH7W
---
Rael 28Pcs Certified Organic Cotton
U by Kotex 56Pcs Security Ultra Thin Heavy Flow
Affordable and Dependable
Sanitary pads are prime necessity hygienic products for just about any female on a monthly basis. Though not that expensive, they still might become quite an investment, if you have several menstruating gals in a family. This is where the U by Kotex pads will come to the rescue.
With Kotex, at a price far below 10 USD, you'll get a box of 56 pads, which will suffice for a single cycle or more, depending on your flow intensity and total cycle length. Notably, each pad comes individually packed so that you can conveniently take it with you and then wrap the used pad for hygienic disposal.
Though budget-friendly, the U pads don't lag behind more expensive rival products in terms of protection quality and comfort. Thus, the multi-layer pad construction is highly absorbent and provides secure leakage defense, with the top liner leaving moisture no way out. The 3D Capture core in the middle immediately soaks up the discharge, and the waterproof polyethylene outer traps it inside. Overall, this system delivers up to 10 hours of protection for heavy flow, keeping you dry and fresh day and night. In the meantime, the pad is neither too thick nor bulky. Just the other way round, it is surprisingly thin and very flexible to perfectly adjust to your body shape while the longer design works for better coverage. Besides, thanks to the ultra-soft and gentle cotton top and unscented design, the U pads are hypoallergenic and were dermatologically proven to be safe for sensitive skin.
The only gripe you might have about these sanitary pads is that they have no side wings. On the other hand it makes the pad fit more discreet while special deep channels direct the moisture to the center, preventing leaks on the sides. And a quality adhesive will keep the pad firmly in place, with no sliding even when you are active.
Summing up, these disposable feminine pads from Kotex are an affordable hygienic product that offers reliable quality and dependable protection and will meet the needs of larger families with several women.
Additional Info
Last updated price

$

6.36

Stock
In stock
ASIN

B006R6U9SY
---
U by Kotex 56Pcs Security Ultra Thin Heavy Flow
What Is a Sanitary Pad?
Every woman is different and so is the way she handles menstruation. While some gals choose tampons or menstrual cups, others stay with sanitary pads, napkins, or towels. And, as of today, pads still take the lead when it comes to menstrual protection. Worn externally, they are suitable for pretty much any woman while the advanced materials applied in pad production provide leak-proof protection for hours.
One thing to remember when choosing sanitary pads is that there is no single pad good for everyone. Your individual comfort and secure protection are the key aspects of a good sanitary pad that will work best for you. To ensure a perfect fit and proper coverage, sanitary pads vary in length, thickness, shape, and the protection levels they lend. Thus, thicker and longer pads are meant to tackle heavy-flow days and deliver leak-free overnight protection while smaller and thinner pads are great for normal to low-flow days. The items with wings also minimize the risk of leaking on the edges. In general, a properly selected pad won't cause discomfort or restrict your movements and at the same time will save you the need to constantly stay alert and watch for leakage.
Speaking of the sanitary pad type, your choice will fall between disposable and reusable pads. While the first ones provide better protection and definitely entangle less fuss, the latter, usually made of natural materials, are eco-friendly, hypoallergenic, and budget-friendly in the long run.