Physics books allow you to gain some understanding and perspective regarding everything that surrounds us and is somehow related
to us. The best physics books make the most complex subjects in the world accessible and digestible.
...
Read more
...Read less
X
This site is a free online resource that strives to offer helpful content and comparison features to its visitors. Please be advised that the operator of this site accepts advertising compensation from certain companies that appear on the site, and such compensation impacts the location and order in which the companies (and/or their products) are presented, and in some cases may also impact the scoring that is assigned to them. The scoring that appears on this site is determined by the site operator in its sole discretion, and should NOT be relied upon for accuracy purposes. In fact, Company/product listings on this page DO NOT imply endorsement by the site operator. Except as expressly set forth in our Terms of Use, all representations and warranties regarding the information presented on this page are disclaimed. The information which appears on this site is subject to change at any time. More info
Stephen William Hawking The Illustrated Brief History of Time
Clarity and Wit
Calling the updated and expanded edition of Stephen Hawking's The Illustrated Brief History of Time brilliant would be quite an understatement. Though there are many talented authors, there's no one who can break down these mathematically formidable subjects with such vivid clarity.
Sure, people with no physics/STEM background might find still the book difficult to digest. But what can you do, these are demanding subjects.
At the same time, featuring more than 240 full-color illustrations, including incredible satellite images, photographs made via the Hubble Space Telescope, and the most vivid computer-generated images displaying three and four-dimensional realities.
These illustrations, images, and photographs are accompanied by detailed captions clarifying them, letting the uninitiated readers experience the mind-boggling vastness of intergalactic space, as well as black holes' nature, and the microcosmic world of particle physics where matters and antimatter are constantly colliding.
In short, the updated and expanded edition of The Illustrated Brief History of Time is easily one of the best physics books ever written. No one besides Stephen Hawking could break down the cosmological physics' complexities with such clarity and wit.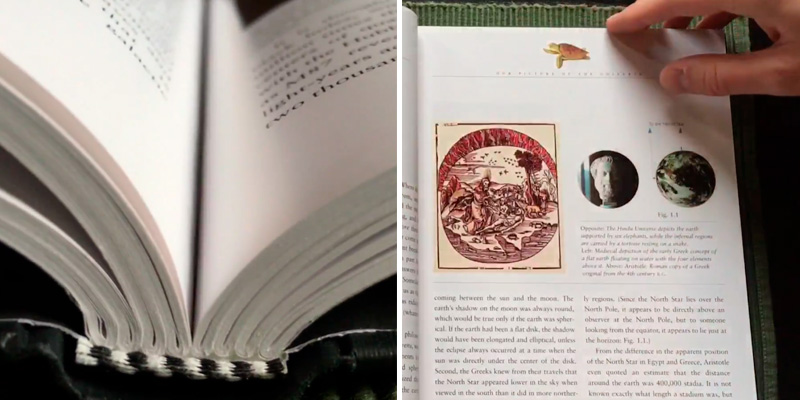 Last updated price

$

22.49

Stock
In stock
ASIN

0553103741
---
Stephen William Hawking The Illustrated Brief History of Time
Karl F. Kuhn Basic Physics: A Self-Teaching Guide
Best Physics Books for Beginners
Karl F. Kuhn's Basic Physics: A Self-Teaching Guide makes physics accessible to readers with no science backgrounds.
Some have even gone as far as to call the book's 1st edition the most complete and easy-to-use guide available for understanding physics. We can get where these reviewers were coming from.
The book makes learning key concepts more of a pleasure than a chore. You'll be able to quickly figure out the basics behind energy, light, sound, electricity, and color.
First and foremost, the book's easily digestible because it requires pretty much no math. Sure, there are mathematical treatments/applications included in the optional sections, so you'll also be able to mathematical approach. You won't be forced to do so though.

At the same time, the book provides readers with frequent questions and offers problems to respond to, increasing the readers' learning speed and retention. The chapters cover Newton's Laws of Motion, Atoms and Molecules, Gravity, The Conservation of Momentum and Energy, and The Quantum Nature of Light.
There are tests at the end of these chapters, so you'll be able to find out whether you've been able to figure out the chapter's subject or not. There are also objectives lists for each chapter, so you can always skip ahead or find help when necessary.
Last updated price

$

39.98

Stock
In stock
ASIN

0471134473
---
Karl F. Kuhn Basic Physics: A Self-Teaching Guide
Neil deGrasse Tyson Astrophysics for People in a Hurry
Illuminating yet Delightful
Despite his Twitter antics (or maybe even partially thanks to them), Neil deGrasse Tyson has been able to become the most beloved and celebrated modern-day astrophysicist. Of course, his countless TV appearance helped but it is the author's books that allowed him to make a name for himself to begin with.
The man excels at streamlining and simplifying difficult ideas, taking these mind-bogglingly complicated/complex concepts, stripping these ideas down to the nuts and bolts, padding these proverbial nuts and bolts with the most colorful allegories and the dorkiest jokes, and making these intricate subjects more than accessible to the layman.
Tyson's explanations are succinct yet dynamic, so you'll be able to follow and grasp various astronomical topics that would be practically impossible to comprehend without his help and/or physics background.
Riffing on subjects like gravity, dark matter, light (including its speed and makeup), and the shape of space, the beloved astrophysicist is able to maintain this chatty tone that makes these complex principles relatively comprehensible to most people.

Although the book's been written for people in a hurry, we urge you to consider taking your time. The author's sparkling wit makes the chapters almost too consumable, so you'll finish the book in a few days and will want to reread as soon as possible.
Last updated price

$

9.49

Stock
In stock
ASIN

0393609391
---
Neil deGrasse Tyson Astrophysics for People in a Hurry
Carlo Rovelli Seven Brief Lessons on Physics
Delightfully Poetic
Carlo Rovelli's Seven Brief Lessons on Physics is short. The book's not even 100 pages long. At the same time, the book has been described as this whirlwind tour into the biggest physics ideas and the author has already been compared to Stephen Hawking on multiple occasions.
The book offers the most playful and entertaining introduction to modern physics, briefly yet briskly touching upon Einstein's general relativity, tackling quantum mechanics, explaining elementary particles, pointing out gravity's peculiarities, confronting black holes, approaching the universe's complex architecture, and even flirting with the role that humans have, are, and will play in this bizarre play, this weird yet exciting and wonderful world.
The author's delightfully poetic. His guide is scientific yet philosophical at the same time. In less than 100 pages, the man manages to take us to our knowledge frontiers, approaching the space's fabric, the cosmos' origins, and going back to our mind's working.
In other words, the book is excellent at celebrating the joy of discovery. Rovelli's prose is elegant yet clear. Somehow, the author is able to explain the biggest ideas in physics sometimes within 2-3 pages.

Last updated price

$

12.48

Stock
In stock
ASIN

0399184414
---
Carlo Rovelli Seven Brief Lessons on Physics
Brian Greene The Elegant Universe
Peel Away the Layers of Mystery
Brian Greene's The Elegant Universe is no joke. Initially, the book's able to introduce the string/superstring theory and provide a relatively comprehensive yet non-technical assessment of that theory. The later chapters become pretty hard to understand though.
The man's brilliant, there's no doubt about that. A brilliant string theorist but, at the same time, a surprisingly brilliant author too. The man might even be able to do for string theory pretty much what Stephen Hawking did for black holes.
The book's a thrilling ride that takes you through the most captivating landscape, making the reading experience exciting yet rewarding.
Peeling away mystery layers, Greene's able to reveal the universe that comprises eleven dimensions, dimensions where the space fabric proceeds tearing and repairing itself, while all matter - from the tiniest quarks to the most enormous supernovas - is generated by these vibrations that are essentially microscopically tiny energy loops.
Sounds quite complicated, right? Nevertheless, Greene's book works wonders making these sophisticated concepts accessible and even entertaining. Though the book's topics are quite abstract, you'll definitely come out from this experience understanding the universe and theoretical physics better than ever before.
Last updated price

$

11.59

Stock
In stock
ASIN

039333810X
---
Brian Greene The Elegant Universe
What Is a Physics Book?
Generally speaking, physics are as accessible to the uninitiated adults as advanced trigonometric equations are to toddlers. From Einstein's general relativity to quantum mechanics, from elementary particles to gravity, from black holes to light, energy, sound, color, and electricity, we're not even approaching everything that physics tackle and encapsulate.
Physics offer the most sophisticated, intricated, complex and complicated concepts, ideas, and principles. You cannot even hope to understand these things without major assistance. As you would imagine, these physics books are there to provide that assistance.
Though very different, these modern books will guide you through the cosmos and explore just about everything modern-day physicists know about the universe. Some books on the list are accessible to beginners. Other books will be hard to follow for people who don't have any physics and/or STEM background.
We can tell you this much though - all of these books will turn out far more interesting, engaging, and entertaining than you would expect. They're great for college and high school kids. You'll be able to learn physics from these books no matter the age.
These book stands will enable you to read these books as comfortably as possible. After physics literature, we could recommend, for instance, Stephen King's books since these are as engaging but far more accessible and arguably more entertaining.