A military shovel is a swiss army knife or outdoor activity tools. It might seem a bit bulky but this thing will be able to replace
a dozen of additional hiking and backpacking equipment. So if you are on the lookout for one, with these military shovels we've selected for you, it should be easy to for you to find one.
...
Read more
...Read less
X
This site is a free online resource that strives to offer helpful content and comparison features to its visitors. Please be advised that the operator of this site accepts advertising compensation from certain companies that appear on the site, and such compensation impacts the location and order in which the companies (and/or their products) are presented, and in some cases may also impact the scoring that is assigned to them. The scoring that appears on this site is determined by the site operator in its sole discretion, and should NOT be relied upon for accuracy purposes. In fact, Company/product listings on this page DO NOT imply endorsement by the site operator. Except as expressly set forth in our Terms of Use, all representations and warranties regarding the information presented on this page are disclaimed. The information which appears on this site is subject to change at any time. More info
EST Gear Military
The Ultimate Survival Shovel
The people behind the EST Gear Military Folding Shovel are calling this product the ultimate survival shovel. Is that an accurate assessment? Long story short - it is. Before anything else, what we have here is the most versatile package.
The instrument can be used as an ice pick, a saw, knife, hexagon wrench, bottle opener, spear, axe, hoe, whistle compass, wire cutter, rope cutter, fire starter, trowel, nail puller, ruler, hook, screwdriver, and, of course, a shovel. It is hard to imagine a scenario where this variable tool/weapon will not prove useful. As you would imagine, the folding/modular design allows you to assemble, disassemble, and remove certain parts basically hassle-free.
Made from hardened, heat-treated, solid carbon steel, the reinforced shovel head is tough enough to survive any situation, whereas the military-grade aluminum handle makes the model lightweight and comfortable to work with. What you have to keep in mind is that the shovel is shipped very sharp, so we highly recommend exercising caution.
Bottom line, the EST Gear Military Folding Shovel is indestructible. Packing 18 essential tools into one, lightweight, long-lasting shovel, this product is something that even the most seasoned campers will appreciate.
Additional Info
Last updated price

$

119.99

Stock
In stock
ASIN

B083H4SL1V
---
EST Gear Military
FiveJoy C1
A Complete Survival Tool
The people at FiveJoy advertise this model as virtually indestructible and we can certainly see their point. Both the blade and the knife are made of heat-treated high-quality solid carbon steel. On top of that, the blade incorporates aerospace-grade aluminum. The handle is also made of similar aluminum alloy. It features a foam cushion with slip-proof and water-resistant properties.
But it isn't just the construction that makes so many people put their trust in this product. For instance, the unique lock adjustment will allow you to adjust the shovel angle using a special screw-locking device. This device makes it really simple to alternate between different functions and positions. You'll be able to use the space at 40°, 90°, or 180° angles as a hook, hoe, or shovel.
The biggest selling point of any military shovel is its versatility. With this model, you'll have versatility up the wazoo. There are a hidden rescue knife and an emergency whistle. You can use it as a saw. The magnesium road will help you start a fire. Somewhere in it, you will find a bottle opener and a variety of other components that can be put to a number of different tests.
With outdoor gear, size matters and so does the weight. Which is why we couldn't gloss over the fact that that we have here is one of the most lightweight and compact military shovels.
In other words, the FiveJoy C1 is a tool for people who mean business. The product was made to travel the distance with you. Its tough-as-nails construction allows the shovel to withstand the toughest conditions. The rust-resistant finish completes the build that will last a lifetime.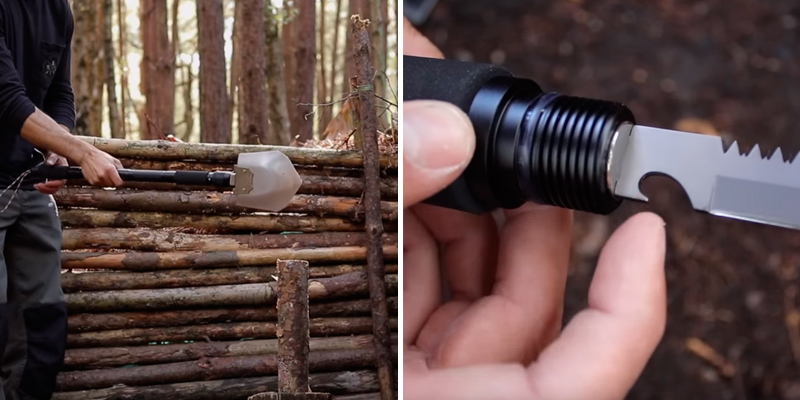 Additional Info
Last updated price

$

39.99

Stock
In stock
ASIN

B014F0QL3K
---
FiveJoy C1
IUNIO Standard
Military Quality with Extra Functionality
IUNIO market this tool as a standard military portable folding shovel but we would say that they're being just a tad modest here. Not that there's anything wrong with a standard tool like that but the product is a bit more than that.
For example, the majority of similar instruments do not include extension bars. You can use these extension bars to turn this tool into a regular shovel, comfortable for digging in a standing position. By adding more or fewer extensions, you'll be able to choose the length of the shovel according to your height. Hell, if you feel particularly creative, you can even add these extensions and use the shovel as a paddle.
In terms of construction, you have the usual arrangement here, including a high-carbon steel shovel blade and handle. The handle incorporates a rubber grip, the usual framework that provides a more comfortable and firm grip. Your standard serrated saw edge will help you chop brushes, cut firewood, or just replace a pickaxe in general.
Add to that the bottle opener and you have yourself a truly multifunctional that either incorporates or replaces a shovel board, saw, nail extractor, hoe, fish scaler tool, an emergency whistle, a fire bar, and a hammer, among other things. Finally, the product comes with a tactical waist bag and a hanging rope, so you will have multiple ways of transportation.
In short, this entrenching tool from IUNIO is even more versatile and functional than a standard military shovel. There isn't a group of people that wouldn't be able to find some use for it, from those who enjoy off-roading, SUVing, tent camping or backpacking to people who like hiking, hunting, fishing, or just plain gardening.
Last updated price

$

33.99

Stock
May be out of stock
ASIN

B01HM80KN4
---
IUNIO Standard
Military issue E-Tool
Military Gear For Army and Civilians
Genuine military folding shovel is as good of a description as any for this particular product. Though it does not trail behind as far as versatility goes, what people usually associate with that "military" term is a certain build quality and that is where the model excels.
On one hand, you have the usual steel blade. It is rough, rugged, and robust, but nothing we haven't seen before. But a black powder-coated finish gives the blade additional durability. The rust- and corrosion-resistance properties of that finish will allow the whole thing to survive the often harsh conditions of the great outdoors.
Sure, the model has its flaws. Though most of them are negligible, the fact that the whole thing weighs more than 2.5 pounds is something we couldn't just gloss over. It isn't that much of a difference compared to a typical survival shovel but those few extra ounces often matter more than you would think.
Having said that, this is still a quality product. From the sharpened axe edge to the serrated saw edge, there is practically no limit to what you'll be able to do with this thing. Plus, just because it weighs a bit more than most of its counterparts, doesn't mean that this is a bad travel option. The tri-fold design and the triangular handle make the tool really compact. Plus, the ODG vinyl shovel cover will help you keep the said shovel in a great condition.
All things considered, this entrenching tool has its flaws. But the build quality more than makes up for those flaws. As a tactical shovel, this product is as great as they come. It is more than suitable for training military personnel. That said, you do not have to be part of the army to put this thing to good use.
Last updated price

$

38.00

Stock
In stock
ASIN

B00AWTD7HM
---
Military issue E-Tool
REDCAMP Military
Dig Dig Digging Away
Compared to everything we have reviewed above, the REDCAMP Military Folding Camping Shovel is basic. Still, relative to the price, this is an attractive product. From digging and sawing to cutting, hammering, and shoveling, this tool enables it all. The sharpened edge will facilitate comfortable digging even into dry soil, while the serrated saw edge will have no issues cutting through roots and compost, not to mention mud, sand, and snow. Using this shovel, you'll be able to easily dig the tires out. Switching between digging, sawing, and shoveling will prove quite easy too, thanks to the tri-fold design and the aluminum revolving part that offers smooth movement without becoming loose eventually.
From the construction perspective, despite the inexpensive price, the product is not made from the same shoddy materials that cheap tools are made from. On the contrary, this shovel is constructed from 50# high-carbon steel, both its body and the handle. Even the carry pouch is quite nice, even though it fades eventually.
Anyway, if you want something that will aid self-defense, camping, backpacking, hiking, fishing, hunting, and even gardening, the REDCAMP Military Folding Camping Shovel will not leave you disappointed.
Last updated price

$

19.99

Stock
In stock
ASIN

B07GVGN3C4
---
REDCAMP Military
What Is a Military Shovel?
A military shovel, also known as an entrenching tool, is a collapsible spade that the military has used for a variety of different purposes for quite some time now. It wasn't until recently that survivalists, hikers, campers, and other types of people who enjoy different outdoor recreation activities have started to also employ the services of this tool. And it doesn't come as a particular surprise since these things are essentially swiss army knives of shovels. A tool like that is indispensable on a lengthy hiking or backpacking trip. You can use it for gardening. War re-enactment groups have been using these shovels for years now.
The models that feature a rotatable blade can be used as a makeshift canoe or a rowboat anchor. The ones that fold into a U-shape can serve as a slightly uncomfortable but perfectly practical chair. Depending on their construction, some of these tools will allow you to cut firewood or chop brushes. You can bring it with you on a fishing trip to behead as well as gut any fish. Hell, you can even use some of these things as a paddle or a cooktop.
You know what else will be helpful on a backpacking trip? An actual swiss army knife, so go get one of those while you're at it. Though highly versatile, these shovels won't replace an LED flashlight or a sleeping bag, so you might want to stock up on those as well.