Comfortable and functional seating is important to create a child-friendly space for your children. A kids recliner will help you
organize a room for your little one and create a warm and homey space so that they can learn, play, and grow in comfort, building their independence and confidence. But with so many brands available on the market, choosing the right kids recliner may not be the easiest task for parents. If you're still not sure what you're looking for, we are here to give you a helping hand with our comprehensive review of the best child recliners.
...
Read more
...Read less
X
This site is a free online resource that strives to offer helpful content and comparison features to its visitors. Please be advised that the operator of this site accepts advertising compensation from certain companies that appear on the site, and such compensation impacts the location and order in which the companies (and/or their products) are presented, and in some cases may also impact the scoring that is assigned to them. The scoring that appears on this site is determined by the site operator in its sole discretion, and should NOT be relied upon for accuracy purposes. In fact, Company/product listings on this page DO NOT imply endorsement by the site operator. Except as expressly set forth in our Terms of Use, all representations and warranties regarding the information presented on this page are disclaimed. The information which appears on this site is subject to change at any time. More info
Flash Furniture BT-7985-KID-MIC-BRN-GG
Create a Perfect Relaxing Environment for Your Little One
The Deluxe Contemporary Recliner is made for children and can be a great addition to their playroom or bedroom. It features a number of really great features that kids will enjoy. Let's take a closer look at them. 

The chair is 28" high and 25" wide, providing enough space for a child to sit comfortably. It can hold up to 90 pounds and weighs just 32 lbs, so it's quite easy even for a child to move it around a room. This big kid recliner has a sturdy hardwood frame and raised plastic feet that help to keep the chair in place. For safety reasons, it's filled with fire retardant foam and reclines only when a child is in a seated position and the footrest is pulled out 1 inch.

The chair is soft and cushy which allows using it as an extra sleeping space. The cushions are thick and extra padded for ultimate comfort. The headrest is well padded, so your child will feel comfortable to rest their head on, relaxing their neck and shoulders. A real standout feature of this chair is its ability to recline. The sturdy reclining ottoman piece supports a kid's feet while they rest. Another useful feature is the flip-up storage arms that are handy for holding game controllers, remote controls, books, favorite toys, possessions and other items your kids like to carry around. 
All in all, the Deluxe Contemporary Kids Recliner is a great piece of furniture made exclusively for younger children and pre-teens. This child-sized reclining chair will enhance any bedroom environment and provide kids with a perfect spot to relax, play video games, watch TV, or read their favorite book. Covered with snuggly and soft microfiber upholstery, it will provide cozy comfort for your family and friends. 

Additional Info
Last updated price

$

140.22

Stock
In stock
ASIN

B007K363YM
---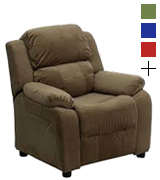 Flash Furniture BT-7985-KID-MIC-BRN-GG
Flash Furniture BT-7950-KID-CAMO-GG
A High-comfort Recliner to Reflect Your Child's Personality and Lifestyle
A kids recliner is an excellent idea if you're going to create a cozy reading corner for your little one or just want your child to relax in comfort in the bedroom, playroom, or anywhere else in your home.

Let your child relax in comfort and style with the Flash Furniture Contemporary Kids Recliner. The chair has a wood frame that is sturdy and incredibly durable, so it will last as long as any quality full-size reclining chair. The thick armrests and plush padding let your child sink into the softness of the chair. The raised plastic feet hold the recliner in place, so it won't tip over when your little one moves around in it.

All parents know that children are always in danger of spilling something. The distinctive feature of the Flash Furniture Recliner is the cup holder which is purpose-built into the armrest. This allows your little one to free up their hands and securely hold their drink while using the recliner chair. So, you don't need to worry if any juice or milk gets spilled over the recliner. Besides, in case of any accidental spills, the vinyl upholstery can be wiped down with a damp cloth without any fuss, making it easy to keep the chair squeaky clean and retain its new look for many years.
It's essential that any item of kid's furniture be safe. The Flash Furniture recliner is manufactured to the same strict quality and safety requirements as grown-up furniture. Designed with safety in mind, the recliner will only tilt back if your little one is in a seated position and pulls out as an ottoman.

This high-comfort recliner is the ideal place to relax for your little one. The vibrant camouflage design is visually engaging that is excellent for attracting your kid's attention and stimulating their imagination. You can choose from a great variety of colors that will best reflect your kid's personality and lifestyle.
Additional Info
Last updated price

$

139.58

Stock
In stock
ASIN

B016EDJUT8
---
Flash Furniture BT-7950-KID-CAMO-GG
Flash Furniture DG-ULT-KID-BRN-GG
Create a Relaxing Sanctuary for Your Kid
Your recliner is a place where you can unwind after a long and stressful day at work, watching TV or reading the newspaper, at least until your kids take it over. Children take special delight in doing the same things as you do since it's their way to investigate the world and master new skills. Why don't you get your little one their own recliner to keep peace in your house?
The Flash Furniture Brown Contemporary Kids Recliner is a pint-sized chair which has all of the features that you would expect from adult-sized chairs. This children's recliner chair is designed to provide exceptional comfort with an overstuffed padded seat and back cushions as well as comfortable armrests. The durable frame is made of sturdy hardwood to withstand all of the climbing and flopping down of your active child. The vinyl material is durable and resistant to scuff marks and tears. The hardwood legs give the chair an elegant finish as well as stability and support, even when your little one is climbing on the back or arms.

Along with the sturdy construction, the recliner also includes a headrest cover. Not only does this help to protect the chair itself, it gives an added level of comfort for your kid. Besides, the reclining chair comes with a convenient cup holder in the arm. Now spills can be prevented, and your child can rest their drink while reading a book or watching their favorite show.

The contemporary classic design of this kids recliner chair will never go out of style that makes it a great fit for any home decor. The vinyl upholstery is available in a wide array of colors, so it's easy to find the one that your child will love. The vinyl fabric is durable and easy to keep clean, which is always an added bonus when you are dealing with small kids. It's resistant to liquid spills and can be quickly wiped clean with a damp cloth.

Additional Info
Last updated price

$

113.04

Stock
In stock
ASIN

B006JJMCKW
---
Flash Furniture DG-ULT-KID-BRN-GG
Crew Furniture 991610
Function, Comfort, and Style in One!
You may be thinking that a reclining chair is better suited for the older generation. However, kids recliners are gaining in popularity over recent years as well. These child-friendly reclining chairs have lots of benefits, one of which is the option to provide kids with a comfortable spot for reading, relaxing, taking a nap or watching TV. 
The Crew Furniture Child Recliner is designed especially for the kids and has many useful features. Made of metal and wood, this child recliner is padded with polyurethane foam filling and polyester fiber and upholstered with an ultra soft polyester microsuede cover. The upholstery and padding are securely fixed to the sturdy frame, which helps keep the recliner stable and allows your little one to explore the chair without risks of breaking it. The chair is gracefully decorated with faux button tufting similar to that of traditional button tufted chairs. The tufting is made with round stitches, making it a much safer option compared to chairs with buttons that may pose a choking hazard if fallen off.
This chair is compact and lightweight, so you can take it wherever your little one goes. The trendy color options and contemporary style of the chair will complement a great variety of home decors. For safety reasons, an adult should help kids with reclining and return the footrest to the closed position when the chair is not in use. The recliner can be cleaned with a damp cloth to retain the appearance of the fabric and help it last longer.

Function, style, and comfort are what you can expect from the Crew Furniture Child Recliner. Whether watching their favorite TV show or reading their favorite books, this soft and sturdy foam chair is sure to become your kid's favorite place to lounge on every day. Create a relaxing sanctuary for your little one that's both quiet and comfortable!

Last updated price

$

82.88

Stock
In stock
ASIN

B01MXCNZ8I
---
Crew Furniture 991610
Merax WF036881
Fully Featured and Built to Last
When it comes to your kids, you want a product that is fully featured and built to last. If this sounds exactly like the type of kid's recliner you're looking for, look no further than the Merax Kids Recliner Sofa Chair.
The reclining chair is stuffed with foam padding, giving your little one everything they need to be as comfortable as possible, no matter what position they are relaxing in. It's sturdy and built to support your child's body, including the neck and back to promote healthy growth. The best feature on this reclining chair is the built-in storage facility where you can store your kid's toys and books to keep your home neat and tidy.

This compact kid's recliner chair will fit perfectly into your room's existing layout and can be squeezed into any space, allowing it to be easily stored. The chair has an easy-wipe surface, allowing you to mop up those inevitable spills without any fuss. This helps you maintain cleanliness and hygiene, which is a useful feature, especially if your kids are active and love to make a mess. 
The Merax kids leather recliner is perfect for any stage of your child's life, providing years of comfort as they grow. It will provide an optimal level of comfort with every use while your little one is resting.

Last updated price

$

0.00

Stock
May be out of stock
ASIN

B077NWD7JK
---
Merax WF036881
What Is a Kids Recliner?
We all use reclining chairs to unwind our body after a busy day in the office. A recliner refers to an armchair or sofa which leans back with you when adjusted to the preferred angle. It also goes by the name lounger or reclining chair. Previously thought to be used by older generations, recliner chairs have become a favorite in many households and changed the way relaxation and family time occurs, and for good reason; it delivers relieving comfort while providing many functional features.
But have you ever thought your adorable children may also need their own reclining chair? Kids also get tired after outdoor activities or a long day at school and they also need to relax before they jump over to other activities. By investing in a good recliner chair for your children, you can expect endless hours of fun and games while encouraging healthy play and development. It's a perfect spot for studying, reading books, watching TV, or playing video games. A kids recliner comes with lots of handy features. Unlike a conventional sofa or chair, it has adjustable back support and footrest so that kids can lean back and put their feet up. Also, the chair evenly distributes your child's body weight and alleviates pressures from muscles and joints. Some kids recliners feature a cup holder built in the armrest that is very useful to put their drinks while resting. There are also recliner chairs that fold outwards to transform into a little sofa bed that will help your little one to fall asleep on it comfortably.
If you want to relieve tension, soothe aching muscles, and relax your body after a hectic day, the massage recliner will allow you to achieve this in the comfort of your home. And the lift chair is a perfect solution for those who have difficulty getting up from a chair without assistance.