Living life to the fullest is, at the end of the day, what we all strive to do. Well, that and filming our adventures in order to
make our friends jealous. With the help of a GoPro gimbal, you'll be able to capture the sort of footage that'll make your buddies green with envy.
...
Read more
...Read less
X
This site is a free online resource that strives to offer helpful content and comparison features to its visitors. Please be advised that the operator of this site accepts advertising compensation from certain companies that appear on the site, and such compensation impacts the location and order in which the companies (and/or their products) are presented, and in some cases may also impact the scoring that is assigned to them. The scoring that appears on this site is determined by the site operator in its sole discretion, and should NOT be relied upon for accuracy purposes. In fact, Company/product listings on this page DO NOT imply endorsement by the site operator. Except as expressly set forth in our Terms of Use, all representations and warranties regarding the information presented on this page are disclaimed. The information which appears on this site is subject to change at any time. More info
EVO Gimbals EVO GP-PRO
The Joystick to Rule Them All
Though it is certainly a bit of a cliche description, the best thing about this model is just how versatile and flexible it is. It's obvious just by looking through the list of everything this gimbal has to offer that the experts behind it know their stuff, packing their product with just about every feature you would want out of it. And while there are plenty of those to go around, the first component we would like to mention is the 4-way joystick. Using the latter, you will be able to adjust your camera's tilt, pan, and roll angles with a level of convenience and simplicity that you would be hard-pressed to find anywhere else. Simply press the joystick of this EVO GoPro gimbal the same way you would press a button on a console joystick and choose one of the available 3 modes: pan follow, lock, and full follow.
Of course, it doesn't matter how many different features your gimbal comes equipped with if it is incapable of serving its primary purpose, which is to stabilize the video. That is why the manufacturers made sure to implement not just the standard 3 axis setup and a high torque motor but also a CPU that runs the most sophisticated stabilization algorithms, the combined work of which adds up to a refresh rate of 4kHz. Simply put, all of it provides the gimbal with the necessary speed to instantly react to changes in terrain and respond accordingly.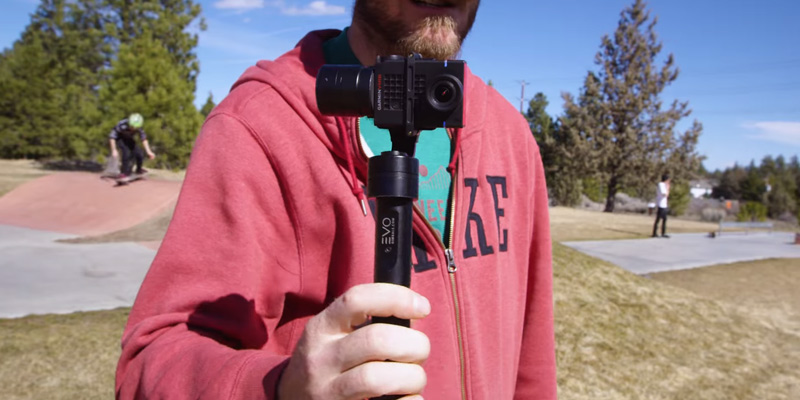 Shoot Longer Footage
Action cameras from GoPro are built to withstand a considerate amount of abuse, so the people behind gimbals are forced to respond in kind so that their products would be able to keep up with those cameras. In case of this 3 axis gimbal GoPro, we're talking about a solid aircraft grade aluminum construction, one of the very few materials that have the ability to survive the aforementioned abuse while being practically weightless.
Again, it's important to remember that even the most expensive and sophisticated gimbal is essentially a supplementary part of an action camera setup, the kind of part that becomes practically useless the moment that the camera itself stops working. In order to prevent that from happening, the company behind this gimbal included a couple of charging cables that will be able to fit just about any GoPro camera out there. Using those, you'll have the ability to extend the battery life of your action camera up to 2 times. And that is fairly impressive given that the gimbal itself offers up to 5 hours of battery life. Finally, as we said earlier, the model is compatible with virtually every GoPro camera out there, the full list of which you can find in the "Compatibility" section above the review.
All things considered, we'd say that the model in question will prove to be the best GoPro gimbal for quite a number of different customers. From people who value the ability to control as much of the process as possible to those who want reliable smooth footage under the most demanding conditions.
Additional Info
Last updated price

$

179.00

Stock
In stock
ASIN

B01AB5SFGE
---
EVO Gimbals EVO GP-PRO
GoPro AGIMB-004
It's Time to Go Pro
Gimbals may not be in as high a demand as cameras themselves, but there are still quite a few options on the market, more than enough to make people wonder which one to choose. And that can be a bit of a tricky task. For instance, if you simply browse through the number of features and the additional accessories of this GoPro Karma gimbal, you may come to the conclusion that there are plenty of more impressive offers out there. But that wouldn't be necessarily true.
First of all, what we have here is a GoPro official accessory, and that means something. Aside from a level of quality that always accompanies their products, you'll also receive a certain peace of mind knowing that the gimbal will fit your camera like a glove and will work with the latter to deliver a smooth, steady footage. It should also come as no surprise that the model is compatible with GoPro body mounts. Plus, both the camera and the gimbal can charge at the same time. It might not sound like much but it will save you a lot of time in the long run.
Of course, the folk at GoPro would not have been able to get away with a name like Karma Grip without providing customers with a comfortable grip. So, when it comes to handheld use, you know you can rely on a large rubbery surface that makes the handle both comfortable and convenient.
Highlight the Worthy Moments
At the top end of the previously mentioned handle, you'll be able to find the control buttons. Your standard power button, aside from the obvious application, will also allow you to toggle the shooting mode. The lock button will provide you with the opportunity to choose stabilization modes, and we will leave it up to you to figure out the purpose of the record button. However, what makes this particular setup stand out is the HiLight Tag button. As the name suggests, it will let you highlight certain moments throughout the video, which will help you edit the footage later.
When it comes to performance, this GoPro gimbal doesn't drop the ball either, but we wouldn't expect any less from an official GoPro accessory. Without requiring any help from the user, the model does a great job stabilizing the image vertically while still being able to pan horizontally. Even the follow mode that allows for some vertical tilt will not be able to shake up the image. That, along with the fact that you can use this gimbal inverted, makes it a great choice for skaters and other individuals that dabble in some low-angle shooting. Another aspect of this model that may seem insignificant but is actually quite important to a lot of users is that it doesn't produce that annoying motor noise that plagues so many other gimbals.
In conclusion, if you happen to be a proud owner of GoPro Hero5 or GoPro Hero6 and you don't mind spending a few extra bucks, there's really no reason not to give this GoPro gimbal a try. The model is about as convenient as these things get and the performance is simply top-notch.
Additional Info
Last updated price

$

214.99

Stock
In stock
ASIN

B074PQRB4K
---
GoPro AGIMB-004
Hohem 4332087895
Best Action Camera Stabilizer
GoPro cameras have become quite popular lately, as they are perfectly made to be "action cams". Being small, easily mountable, and quite durable, there are quite a few people who like using them to record almost any activity that they participate in, no matter how fast or extreme. However, one of the problems that people run into with them is that they suffer from the same problems with shaky or jittery video as almost every other camera on the market. For anyone who wants or even needs a stable, smooth video experience with a GoPro, a camera stabilizer is a must.
Fortunately, those who love taking their GoPros with them and want a good gimbal shouldn't have to look any further. The Hohem 3 Axis Stabilizer Handheld Aluminum Electronic Full 360 Degrees Gimbal for GoPro is the perfect gimbal for anyone with a GoPro. Even if you don't have a GoPro, but another action cam, this gimbal also supports it, as well as many iPhone and Android smartphone models. Featuring a 3 axis gimbal with full 360 degree precision, this gimbal can help make what once were shaking recording experiences into something smooth and slick, with a professional quality to it that many other gimbals simply can't match.
Compact and Durable
Made of a strong full aluminum alloy, this gimbal is quite rugged and durable, giving you a fully trusted experience without worry of breakage. It includes a 5-way joystick along with a multi-function button that allows for easy but flexible controls over the camera, supporting panning, pitching and lock modes, all in 360 degrees. The stabilizer maintains extremely level and smooth video recording, despite the number of bumps or shakes that it is experiencing. It can be easily mounted onto almost any vehicle, or even used as a handheld gimbal. The battery life of the device is designed to match the battery life of the GoPro camera, so that you shouldn't need to worry about one running out of battery power before the other. However, there is a charging port on the gimbal that allows you to charge up your GoPro camera while in use. Just be sure to use your own charging cable, as one is not included. For those of you who may use a smartphone instead of a GoPro or other action camera, there is even Hohem Gimset app available for both iPhone and Android that allows you to enhance your video recording experience. Considering all of the features packed into this high-quality gimbal, anyone who wants professional quality video should take a look at it first.
Last updated price

$

0.00

Stock
May be out of stock
ASIN

B074K3JYPT
---
Hohem 4332087895
REMOVU S1 Gimbal
Mount It Anywhere
Sometimes, you aren't that limited in your options when it comes to the action camera's placement. For instance, experienced snowboarders like to change things up every once in a while and switch the position of a GoPro camera from the helmet to the shoulder to the hand. And other times, you have to mount the camera wherever you can. Fortunately enough, REMOVU S1 Gimbal will be able to accommodate customers that frequently run into any one of those scenarios.
What makes this particular model stand out is quite simple: the device can be mounted virtually anywhere a GoPro camera can be mounted. Want to mount the camera with a gimbal to your shoulder? Go for it. Would like to attach it to your bike and shoot some bicycle motocross footage? Nothing is stopping you. And, as you would imagine, any kind of helmet will do, too.
Of course, it also comes with a hand grip for those who prefer handheld approach when it comes to their extreme sports or simply for shooting some of the milder activities like hiking or walking around the city. But, to make things particularly interesting, the manufacturers have included the ability to separate the handle from the body. And while that in itself isn't a particularly unique feature, a wireless joystick remote that comes with the detachable handle certainly falls under the unique category. With the help of that joystick, you'll be able to control the GoPro gimbal from a distance, including the ability to adjust the angle of a camera and to change the gimbal mode.
Don't Fear the Water
With mounting possibilities out of the way, we would like to briefly touch upon the subject of performance, given that this is one of the stronger points of this model. In short, a setup that relies on top-notch brushless DC motors and precise rotary sensors is what allows the gimbal to deliver the most stable shots regardless of the activity or the scenario in general. By removing vibrations and unnecessary movements, the model lets even the least experienced users shoot the sort of smooth video that looks almost indistinguishable from the professional footage.
Of course, you don't get an action camera to take selfies in a bathroom mirror. You buy them because a smartphone or your regular camera simply do not have what it takes to survive the most extreme environments. This GoPro gimbal mount, on the other hand, was built specifically to withstand those environments. Aside from an overall sturdy construction, both the motors and the body of this model were designed to be particularly water resistant, with the rainproof housing to boot.
Having said all of that, we would recommend the REMOVU S1 Gimbal to a variety of extreme sports enthusiasts, especially those who would like to shoot footage in the rain or snow without having to worry about damaging their precious camera equipment. Plus, the sheer number of mounting options is impressive on its own.
Additional Info
Last updated price

$

0.00

Stock
May be out of stock
ASIN

B06W57PYM1
---
REMOVU S1 Gimbal
FeiyuTech WG2
Ditch the Stick
The company behind the FeiyuTech WG2 3-Axis Wearable Gimbal decided to go with a bit of a different approach compared to similar products. While you will be receiving quite a number of different accessories, a handle stick is not going to be one of them. So, naturally, what we have here won't prove to be that great of a fit for people who prefer a handheld approach to filming their adventures. That said, if you didn't care too much for the latter to begin with, we couldn't recommend this gimbal highly enough.
But before bringing up a few of the more uncommon specs and characteristics, we would like to point out some of the more orthodox solutions. First things first, a GoPro gimbal wouldn't be worth much without at least some protection against liquids. Knowing that, the manufacturers made sure to implement waterproof elements that allowed their product to receive an IP67 level of verification, which is enough to allow the model to work as deep as 1.5 feet underwater. With this gimbal, you can take your GoPro camera scuba diving or surfing since its rugged construction will be able to rival that of your favorite action camera. Speaking of which, the GoPro gimbal is compatible not just with a few GoPro products such as the GoPro 4, GoPro 3+, GoPro 3 (without backpack LCD) but also with YI 4K, SJCAM, AEE, and pretty much any other action camera that is similar in size to those models.
Film Your Adventures
Now, as for the controls and the mounting capabilities, we mentioned earlier that you won't get your usual handle with this gimbal. However, you will receive an adapter mount For GoPro Session and a T-clamp that will allow you to mount the model to a helmet, bicycle, selfie pole, and a number of other objects. On top of that, the manufacturers also included their very own brand new tripod in the package that will allow users to exercise a handheld approach and provide you with some additional mounting options. Of course, when it comes to the aforementioned approach, it won't prove to be quite as comfortable as your regular handle, but it will get the job done if the need for that arises in the future.
As far as controls are concerned, the GoPro gimbal in question does not intend to trail behind its competition, to put it mildly. The auto-rotation feature makes the model follow a manually set rotation route, a solution that does wonders in terms of simplifying the often complicated time-lapse photography, making the entire process not just easier but a lot more fun as well. The design enables 360 degrees limitless rotating in both tilting and rolling axes. Finally, you can use both the Feiyu ON APP or a Bluetooth remote control in order to change the filming angles, so allow your creative side to take over every once in a while and shoot some truly imaginative footage. And if you don't feel like it, there are always the preestablished modes that will do the bulk of the job for you.
All in all, the FeiyuTech WG2 3-Axis Wearable Gimbal is a model for people who like to travel just as much as they love to film. Not to mention that the particular GoPro gimbal will be able to fit not just GoPro models but also a variety of similarly sized action cameras, further extending the range of potential customers.
Additional Info
Last updated price

$

0.00

Stock
May be out of stock
ASIN

B0744CY6Y3
---
FeiyuTech WG2
What Is a GoPro Gimbal?
Unless you've somehow managed to avoid the topic of extreme sports altogether, there's a good chance you're already quite familiar with the GoPro brand as well as what they stand for and represent. Whether you're looking to conquer the steepest slopes, the tallest mountains, the deepest parts of the ocean, or the most imposing waves, you'll need a GoPro camera to capture these moments if you would like to revisit them later or show off to your friends and relatives what is it exactly that you're made of. The only problem with those scenarios is that even GoPro cameras are incapable of shooting a steady image in such an unstable environment in and of themselves. That is where a GoPro gimbal comes in. Without going into technical details, a gimbal designed for GoPro models and other action cameras is a tool that provides a supporting and stabilizing structure required to film a steady video. Using a device like that, the operator of a GoPro camera will be able to keep the camera level on all axes despite the constant movement of the said camera.
Of course, if you don't already own one, we would suggest investing in a GoPro camera first.
What Features to Compare
All in all, a GoPro gimbal isn't the most complicated technological wonder out there. Nevertheless, there are still quite a few things you have to keep in mind when you go shopping for one of these things. First off, we would recommend paying a decent amount of attention to the battery life of the device that you're looking for. Of course, as it always is with any other product out there, there is no downside to having as much of the latter is possible. But the particular aspect doesn't really exist separately from the others, so you may be sacrificing certain features in favor of this one.
Generally speaking, the models that offer more battery life tend to be those that also weigh the most. Which is why weight should also be high on your priority list. Even though most GoPro gimbals offer a variety of mounting capabilities, you will be spending a lot of time holding the camera in your hand, so those few extra ounces can often make a huge difference.
With weight out of the way, one of the most important aspects of a GoPro gimbal is what it can offer in terms of controls. When you're snowboarding down a double black diamond piste or trying to remain still on a surfboard, you won't have the time nor the ability to go through your action camera's settings. Fortunately enough, with a quality gimbal, you won't have to. Though the number of options differs between the models, the majority of stabilizers will provide you with the opportunity to start recording, pause the footage, choose between shooting a video or taking a photo, and so on.
Another element you should consider is compatibility. While we're reviewing strictly GoPro gimbals here, there are quite a lot of different action cameras that the company has produced and manufactured over the years, so you will have to make sure that the model you're looking for is compatible with your GoPro camera.
Finally, you might also want to look into all of the additional accessories and supplementary parts that you will be receiving with the package. Some companies will include a charger and a cable while others may or may not provide you with a harness, a carry bag, a remote control, or a removable handle.
Did you know?
It's in the Name
Even though there is an abundance of different action cameras from dozens or even hundreds of manufacturers, GoPro has become such a household name that most people often use the name of the company to describe action cameras in general and not just the ones from a particular company, similar to the way people refer to searching for something on the Internet as "googling" or "xeroxing" as the way to describe the process of copying a document. Though people don't really use GoPro's name as a verb for obvious reasons, their name has become as synonymous with action cameras as the Internet search mechanisms with Google. But what is it exactly that makes the particular company so special that allowed it to experience such a ridiculous commercial success? That's what you're about to find out.
Shoot in 3D
Of course, the particular technology isn't as uncommon when it comes to regular cameras, but GoPro was actually the very first action camera company that provided their customers with the opportunity to shoot footage in three dimensions. In order to do that, you will need a couple of Hero3+ models and Vitrima, a tandem housing case that will hold both cameras. Once you're done filming the video, you can combine the footages from both cameras into a 3D format with the help of the GoPro Studio editing software.
Flexible Software
Speaking of which, the aforementioned GoPro Studio editing software is arguably one of the biggest reasons behind GoPro's customers' loyalty. Let's be honest here for a moment - most people don't actually jump off airplanes or go on the most ridiculous scuba diving adventures. That said, most people don't know the ins and outs of Sony Vegas, Adobe After Effects, or any other professional or semi-professional editing program either. Which is exactly why we would recommend virtually any new owner of a GoPro device to download the GoPro Studio as soon as you get your hands on that camera. With the help of the latter, any inexperienced user will be able to trim, edit, or simply mix video clips, not to mention how easy it is to add music or subtitles using one of their templates.
The Channel is NOT a Gimmick
A considerable number of companies these days offer their customers access to their very own video channel. Unfortunately, nine out of ten of those companies use their channel as an advertising outlet that has little to no entertainment value. And you couldn't come up with a less accurate description for the GoPro's channel even if you wanted to. Instead of gigabytes of video footage designed to convince you to buy their products in the most obvious way possible, the GoPro channel features and highlights some of the most inspiring and exhilarating user-generated footage, with a level of quality that you would be hard-pressed to find anywhere else on the Internet. Naturally, we aren't talking about a charity organization and the end goal of the channel doesn't differ that much from other companies' channels. But instead of relying on cheap marketing tricks, they let their customers' excitement and enthusiasm towards their products speak for them.